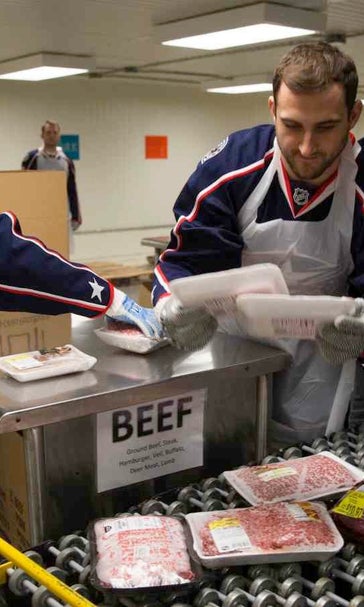 Blue Jackets 'Day of Service' highlights commitment to helping others year-round
BY foxsports • December 22, 2013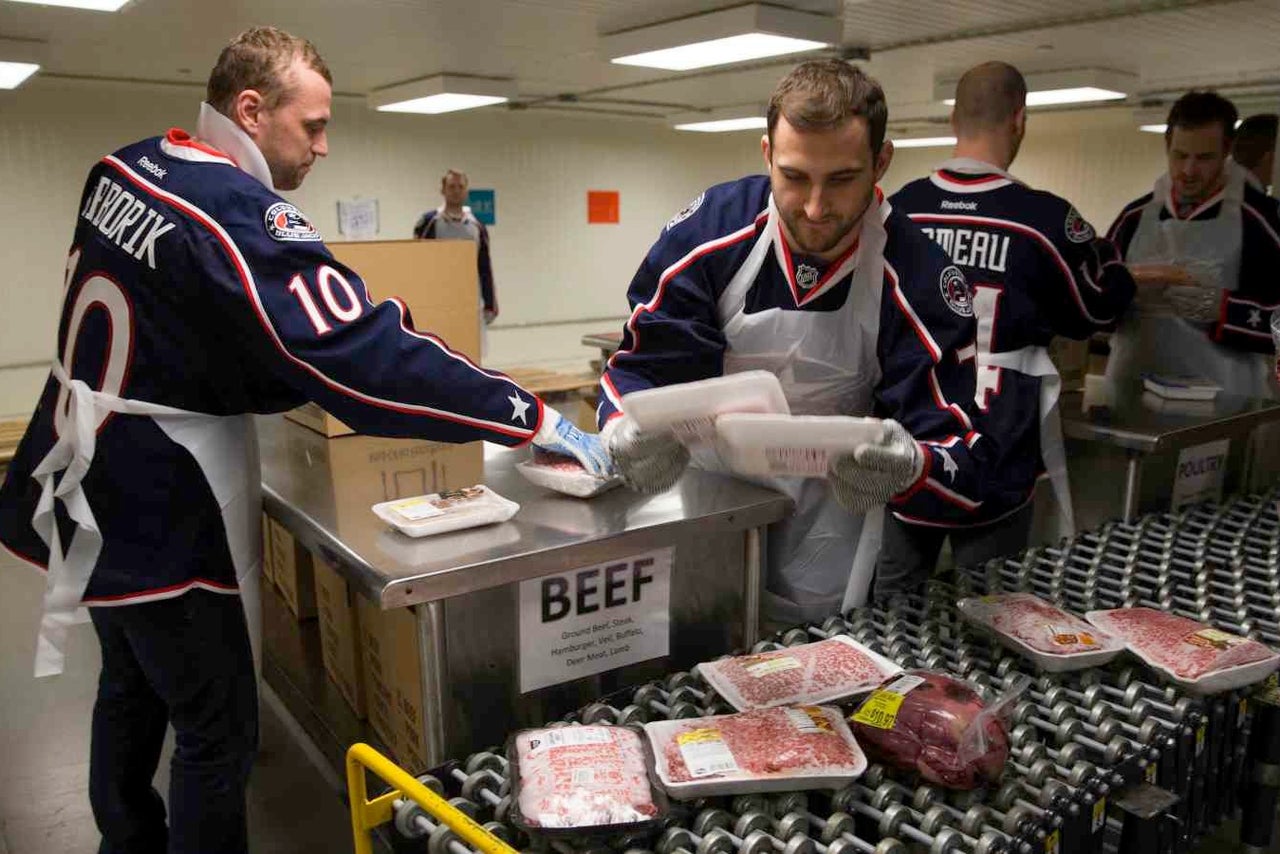 When Columbus Blue Jackets goaltender Mike McKenna signed his first contract with the organization this off-season, he saw something he hadn't seen before -- an addendum that you're committed to community service.
"Giving back is a point of emphasis -- a commitment," said McKenna. "It's the nature of this team."
That commitment was in action last Tuesday as all Blue Jackets players participated in a "Day of Service" that had players visiting one of three places: the Furniture Bank of Central Ohio, the Mid-Ohio Food Bank, or St. Stephen's Community House.
"We're lucky we could spread it around," said McKenna. "We had the right-sized groups to really get things done."
Jackets forward Cam Atkinson was with the group that visited the Furniture Bank.
"I hadn't been in a workshop like that since middle school," said Atkinson. "It was cool to experience that again."
Atkinson spent his afternoon working with teammates on making beds, dressers, and tables, but there was also time to make sure some good-natured ribbing went on.
"Matt Calvert was next to me and all he had to do was drill two holes and put two nails in," laughed Atkinson. "I had the hard work of all the sanding, his job was easy."
All joking aside, Atkinson doesn't shy away from the opportunity to use his time to help others. He hosts annual events during the off-season including his "Keep Hope Alive" festival.
"I think it's our duty," said Atkinson. "We are very fortunate to do what we do. I think it's everyone's job to take some time from your day and make a difference."
McKenna went with three other players to St. Stephen's Community House where they spent the day packaging over one hundred meals for families in need. The guys also reorganized the House's food pantry into a more suitable space.
McKenna believes the benefits of the players' work extends inside the locker room as well.
"Giving back fosters a positive environment both with the players and the community," said McKenna. "Getting out and doing things away from the rink is where you get a chance to build bonds -- it helps everyone."
But McKenna wasn't done giving his time after St. Stephens. The goalie gave back to the hockey community as well. Later that day, he visited with some high school goaltenders at a local hockey camp with Jackets goaltending coach, Ian Clark.
"It was a no-brainer," said McKenna. "For me, at that age, it would have been a big deal to have someone like Ian-- maybe even someone like me -- come out."
The fact that Tuesday had McKenna giving back in a variety of ways speaks to his willingness to help out wherever he is needed -- but there is one cause he is most passionate about.
"We do a lot to help humans, but I also like to do a lot of work with animals," said McKenna.
McKenna is getting involved with "Athletes for Animals," an organization founded by fellow-NHLer, David Backes.
"Right now we're just starting to get organized and get something on our schedules," said McKenna. "We're looking to help fill one more void -- and that's helping animals as well."
To see how you can help the Columbus Blue Jackets Foundation support the community, visit http://www.bluejacketsfoundation.org.
The Blue Jackets next home game is Sunday, Dec. 29, against divisional opponent Pittsburgh Penguins.For more information or to buy tickets for the 6 p.m. game, visit bluejackets.nhl.com.
---