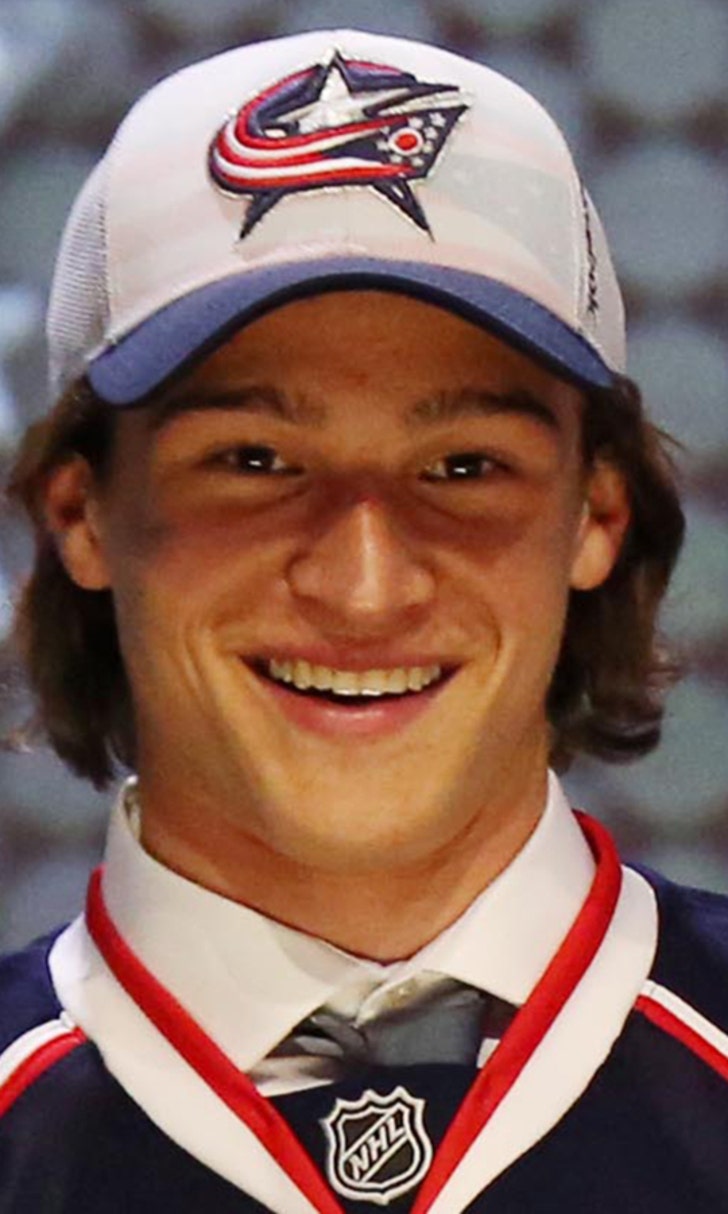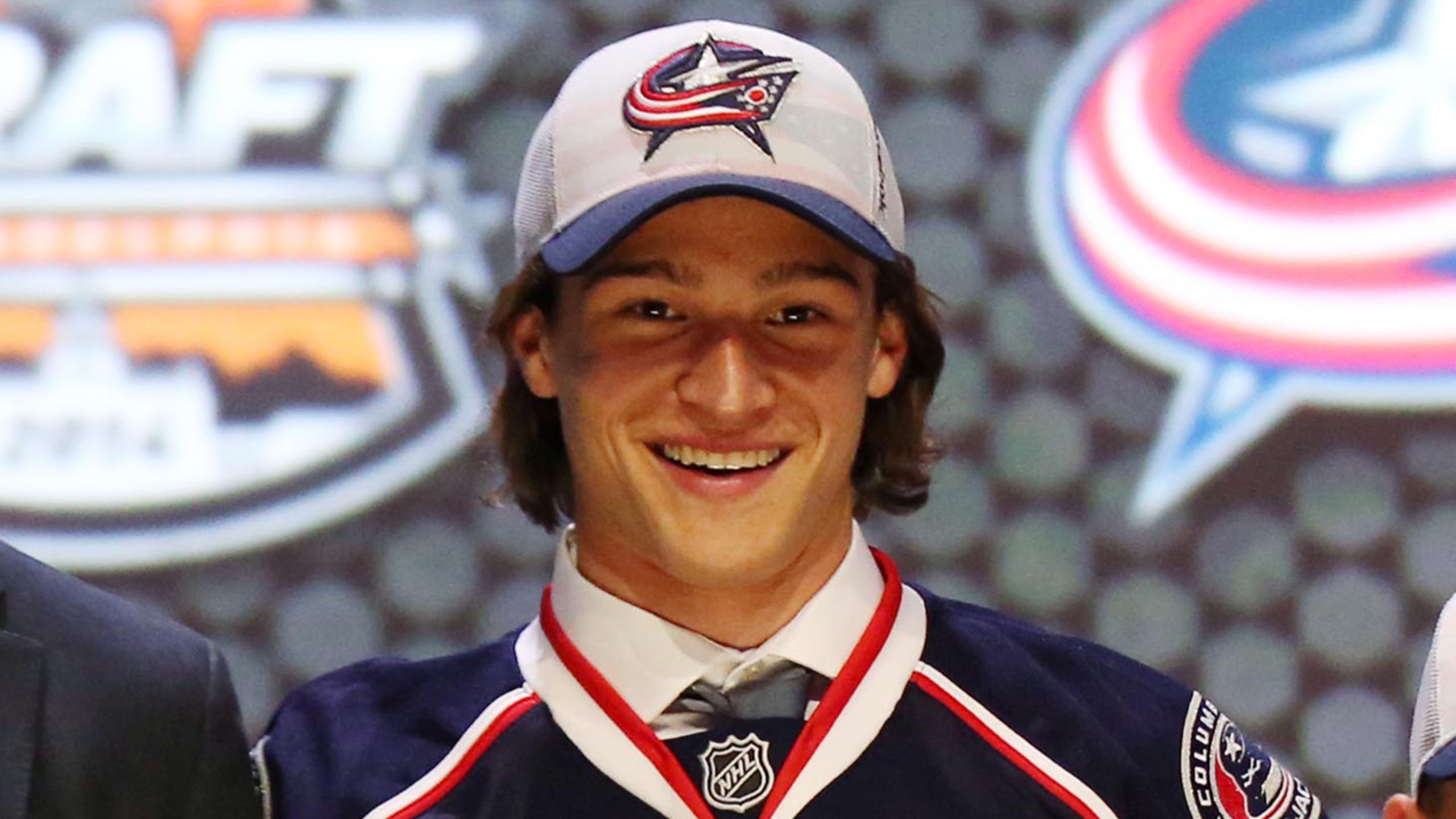 Blue Jackets bright future is just around the corner
BY foxsports • March 7, 2015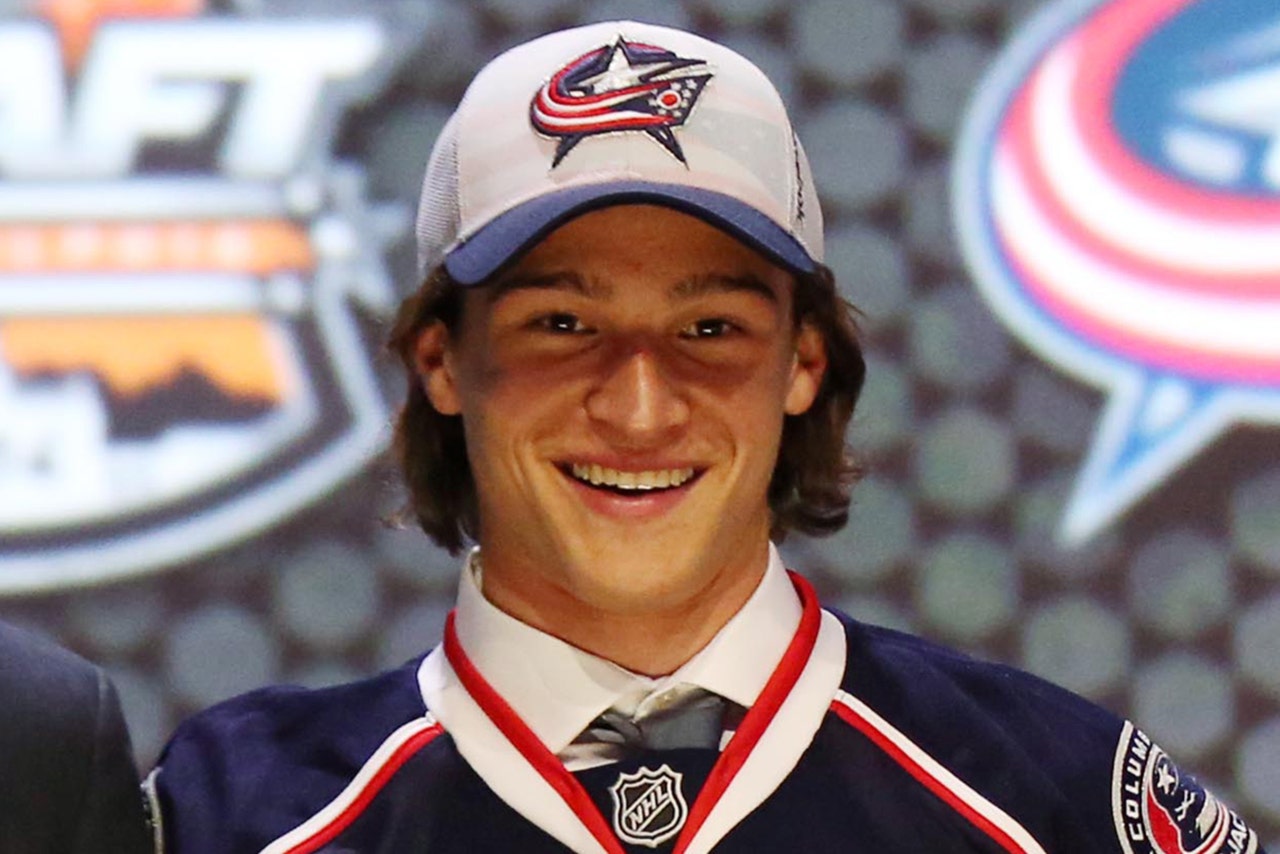 Blue Jackets' rookie Alex Wennberg set-up rookie Marko Dano for the game-winning goal in New Jersey, in the process giving the Columbus faithful hope for the future. Both were selected in the first round of the 2013 draft, with Wennberg being selected 14th overall and Dano 27th overall.
Wennberg, the 20-year-old Swede, has two goals and nine assists in 54 games. The stats don't present a "wow factor," but the way he plays the game since his recall from the club's AHL-affiliate, the Springfield Falcons, is close to sublime. He has a poise and vision that is allowing him to control the puck and find seams in which to pass that other players might not even attempt. His average time on ice is 15:01.
Dano, a 20-year-old Slovak, has recorded four goals and three assists in just 18 games. The 5-foot-11 Dano plays with the tenacity of a pitbull, charging into the corners to chase the puck or deliver a hit. He's also able to kick in the afterburners when that extra burst of speed is needed. He's averaging 12:23 time on ice this season.
Another member of that 2013 draft who was also selected in the first round (19th overall) has seen some time with the Blue Jackets this season as well. 20-year-old Canadian left winger Kerby Rychel played five games with the big club this year, notching 0-3-3 and averaging 10:41 time on ice.
Part of the bright future has to include the "Danish Dynamo", also known as 19-year-old right winger Oliver Bjorkstrand. He has 52 goals and 43 assists in 50 games for the WHL Portland Winterhawks this season. Last year, he went 50-59-109 in 69 games for the Winterhawks. His junior team may sound familiar, as Blue Jackets' top-line center Ryan Johansen also played his major junior hockey in Portland.
Columbus' first-round pick in the 2014 draft was a Youtube sensation before the Blue Jackets selected him with the 16th overall pick. 18-year-old left wing Sonny Milano decided against going the collegiate route and signed an entry-level contract with Columbus. He is now playing junior hockey with the Plymouth Whalers and has recorded 20-41-61 in 44 games.
Also a player to keep an eye on is Minnesota-native Mike Reilly, a defenseman with the University of Minnesota. The fourth-round selection (98th overall) in the 2011 draft, leads all Golden Gophers with 6-32-38 in 33 games. He's an excellent offensive player who is projected to be an eventual top-pairing defenseman in the NHL.
Now, imagine if you will these players on the roster with many of the current Blue Jackets. It's OK. You can get all excited and jump around. I'll wait...
Do you feel better now? Good. It makes one almost giddy at the prospect of these players all skating on the same team and wearing union blue in the not-too-distant future. They will be playing with a more veteran group of guys such as Nick Foligno, Brandon Dubinsky and Ryan Johansen. Boone Jenner and Ryan Murray will have another couple of years of experience by that time, also.
What might a top-nine forward corps look like with all of these players suiting up? Let's find out, shall we?
F1: Jenner / Johansen / Bjorkstrand
F2: Foligno / Dubinsky / Milano
F3: Dano / Wennberg / Rychel
One would also have to add into the mix right wing Cam Atkinson, owner of a new three-year contract extension. Looking into a crystal ball, one would think that center Mark Letestu (UFA) and left wing Matt Calvert (RFA) will be signing contract extensions in the next few months, so they too, can be added to the lineup. And where will right wing David Clarkson slot in?
Alas, this is all purely hypothetical. The people that have the best idea of what this team will look like are Blue Jackets general manager Jarmo Kekalainen and his staff. And he is one man that you probably would not want to play poker with. But however this shakes out, the Blue Jackets will have one of the strongest lineups they have ever had in the history of the franchise.
The Blue Jackets host the Colorado Avalanche Saturday at 7:00 p.m. with the FOX Sports Ohio pregame show "Blue Jackets LIVE" beginning at 6:30 p.m.
---