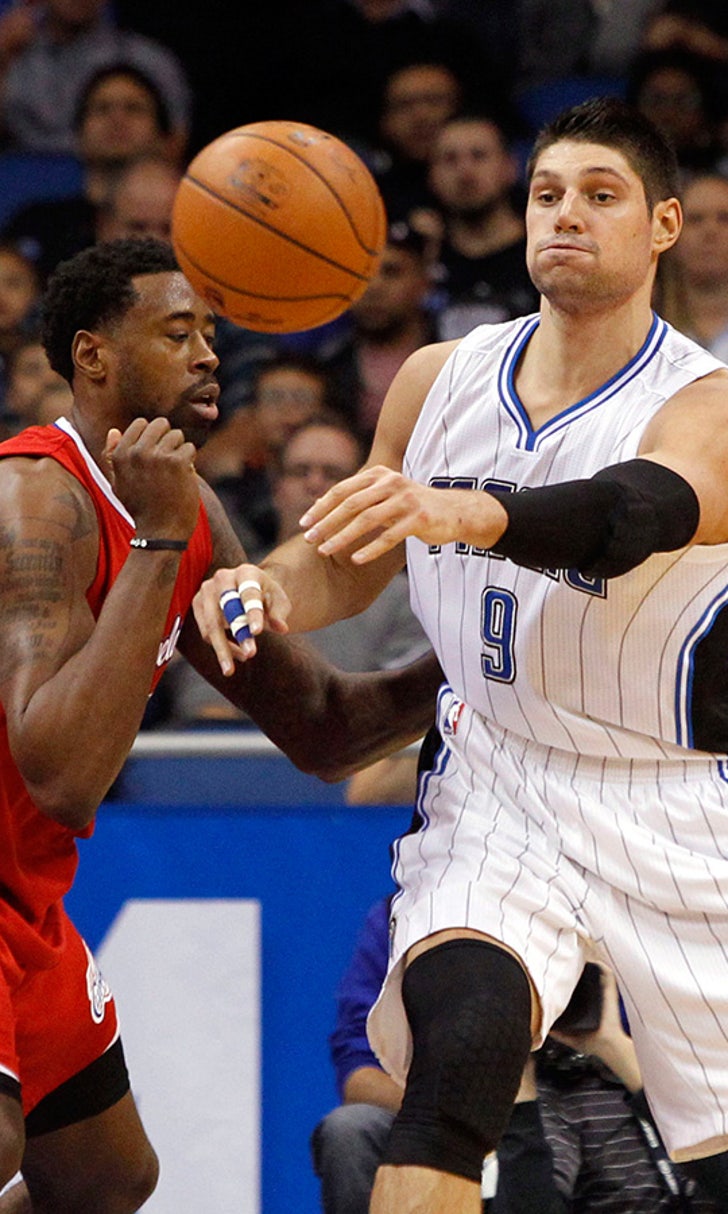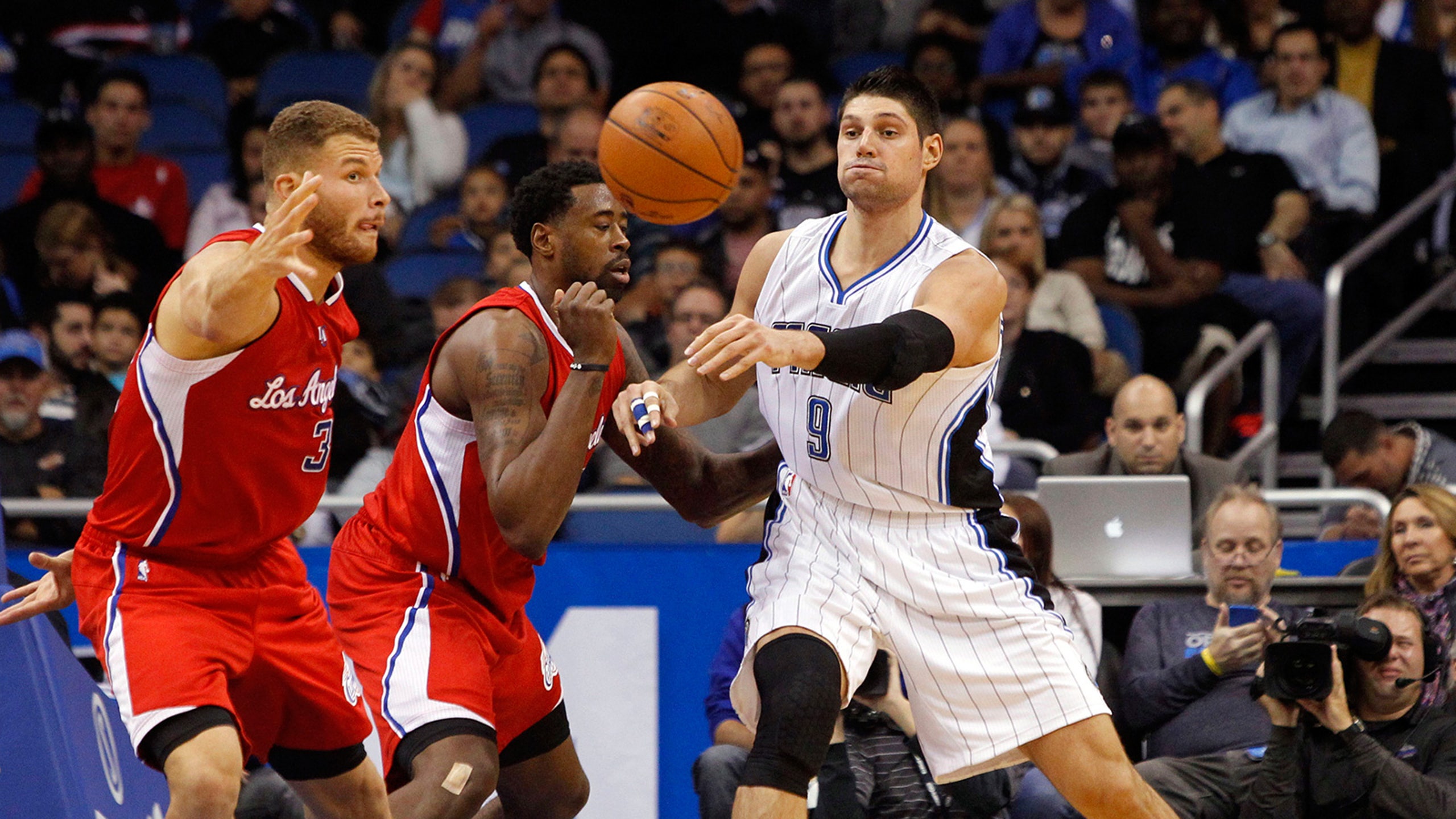 Blowout loss to Clippers can't obscure value of Vucevic to Magic
BY foxsports • November 19, 2014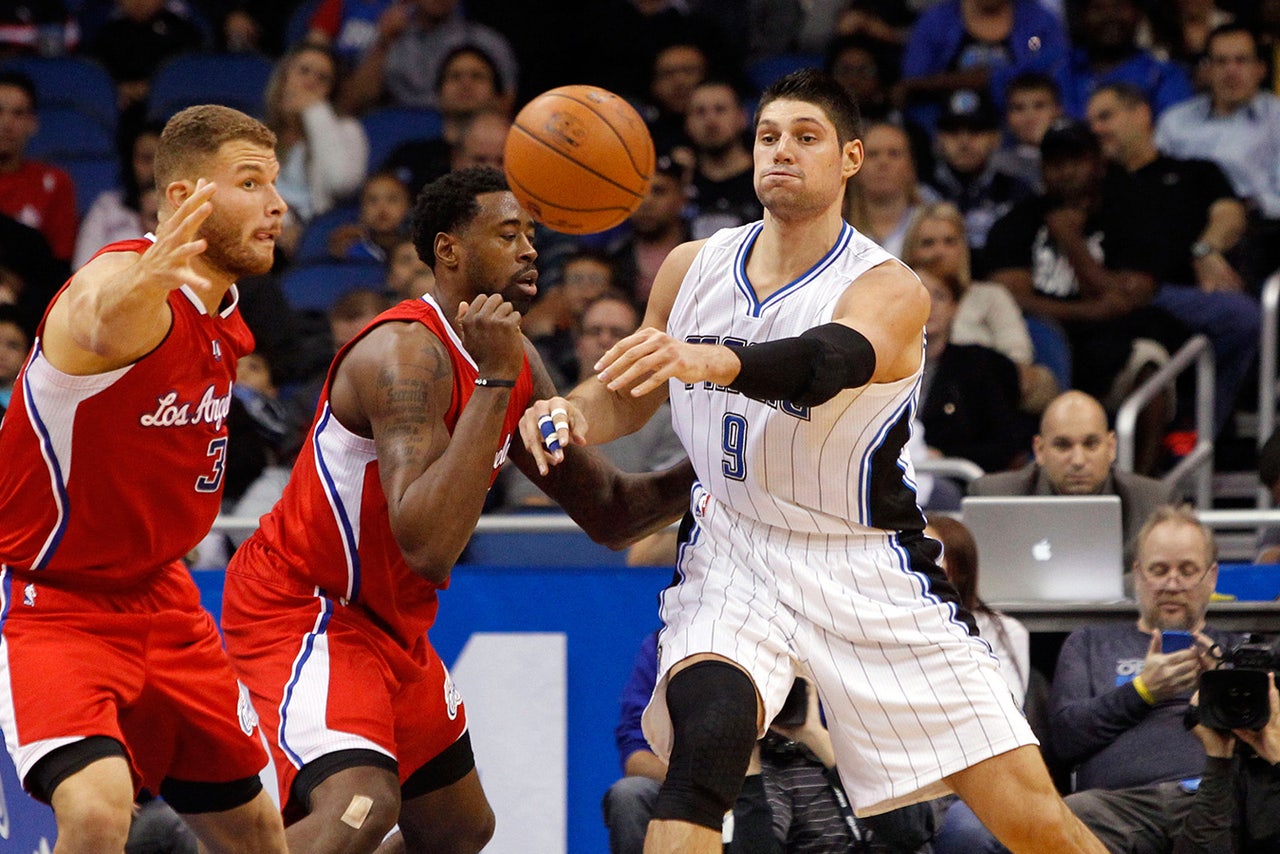 ORLANDO, Fla. -- Even in a 24-point defeat, it's tough not to notice what Nikola Vucevic brings to the Orlando Magic on a nightly basis.
That recognition is finally beginning to extend to points well beyond central Florida.
"Vucevic is an all-star," Los Angeles Clippers coach Doc Rivers said Wednesday night before his team handed the Magic a 114-90 loss. "He's a terrific player. He's probably the best player in the league that nobody knows. You don't hear anyone talking about him. But when you look at his raw numbers, they're superstar and all-star worthy."
The numbers Vucevic had against the Clippers when they came to Orlando a year ago were the type seldom seem nowadays among NBA centers. As if to show his 30 points and 21 rebounds in a victory that night were not a one-time thing, he had 12 points and nine rebounds through one quarter.
But his teammates, with the exception of Tobias Harris, struggled to match his efficiency against a team which is a legitimate title contender.
"They played great tonight," Vucevic said of the Clippers, who led by as many as 28 in the fourth quarter. "They were good defensively and offensively. They executed well. They basically ran their offense almost perfectly. And they're a great team. They're a team that's fighting for a championship. So it was a good learning experience."
"They played well. It's as simple as that," Magic coach Jacque Vaughn said. "Give them credit. It was not our best night."
At times in the second half, it was all too reminiscent of the 101-81 beating the Clippers inflicted on the Magic in Los Angeles in January. That was a game Vucevic missed due to a concussion.
This time, the player who the Magic had to do without was Evan Fournier. When Kentavious Caldwell-Pope of the Detroit Pistons tried to contest his dunk at the rim Monday night and knocked him to the floor, Fournier sustained a left heel contusion that forced him to join Kyle O'Quinn and Devyn Marble on the bench in street clothes.
"Evan's been part of what we're doing," said Vucevic, who has bonded with the native of France because he's the only other member of the Magic able to speak Fournier's native tongue. "He's been playing great for us. Hopefully he won't be out long because we need him on the court. Injuries are part of the job we do, and when somebody goes down, we've just got to regroup and do it together."
Vucevic had 19 points and 14 rebounds before getting the entire fourth quarter off. Only two starters on either team played during the final 12 minutes, with one of those being Willie Green, who started in place of Fournier.
Green went only 2 of 10 from the floor, while Victor Oladipo was just as cold and was guilty of four of the Magic's 15 turnovers.
"He's throwing passes to guys he hasn't thrown passes to since training camp," Vaughn said of Oladipo. "This process is far from being a finished product for sure."
In a matchup of the league's top two rebounders, Vucevic got the best of Clippers center DeAndre Jordan. But with a cast that includes two All-Stars in Blake Griffin and Chris Paul, the Clippers don't need Jordan to be a focal point of their offense.
Vucevic, who was averaging 18.8 points and 11.8 rebounds through the Magic's first 12 games, needs to keep racking up comparable numbers for a team that plays eight of its next 10 contests on the road. If he's able to continue doing that, compliments like the one Rivers had should become less and less rare.
"Coming from a coach like Doc Rivers, one of the best coaches in this league, means a lot," Vucevic said. "It means that my work's been recognized, my level of play has been recognized. I know I have a long way to go before I get to where I want to be at. But those comments mean a lot, and it's extra motivation for me to keep working."
"No one knows about him. Those in the media here aren't doing their job," Rivers said with a good-natured laugh.
You can follow Ken Hornack on Twitter @HornackFSFla or email him at khornack32176@gmail.com.
---