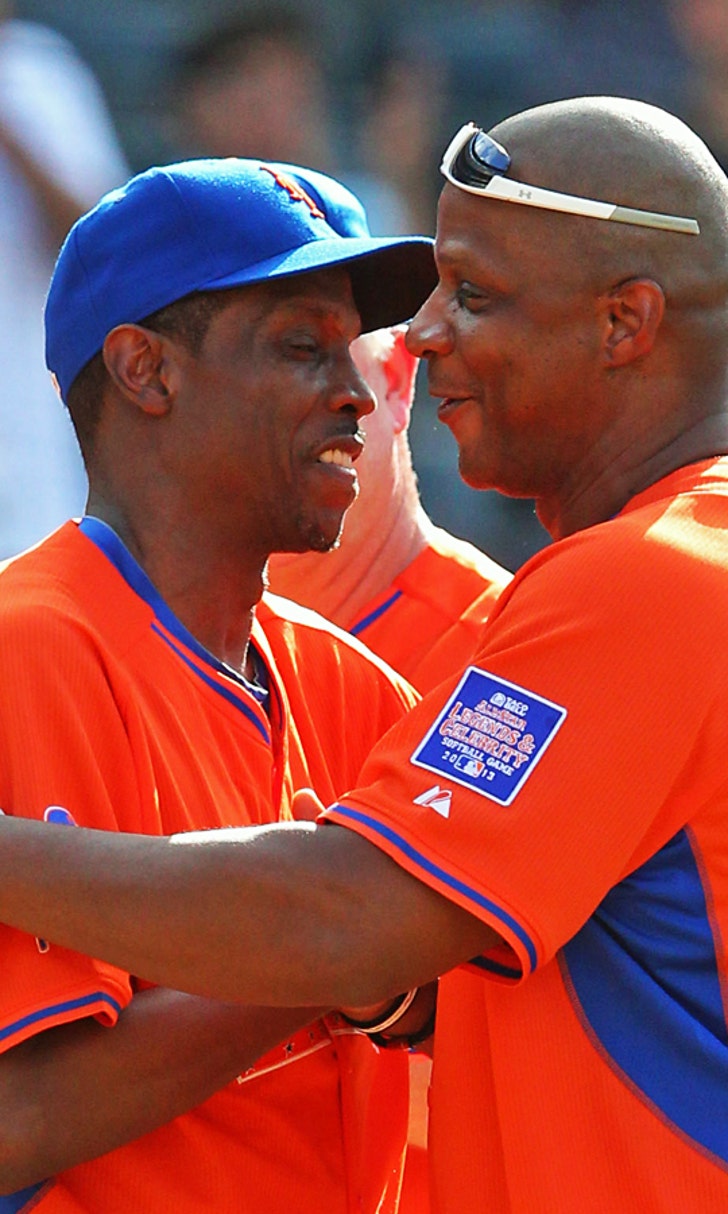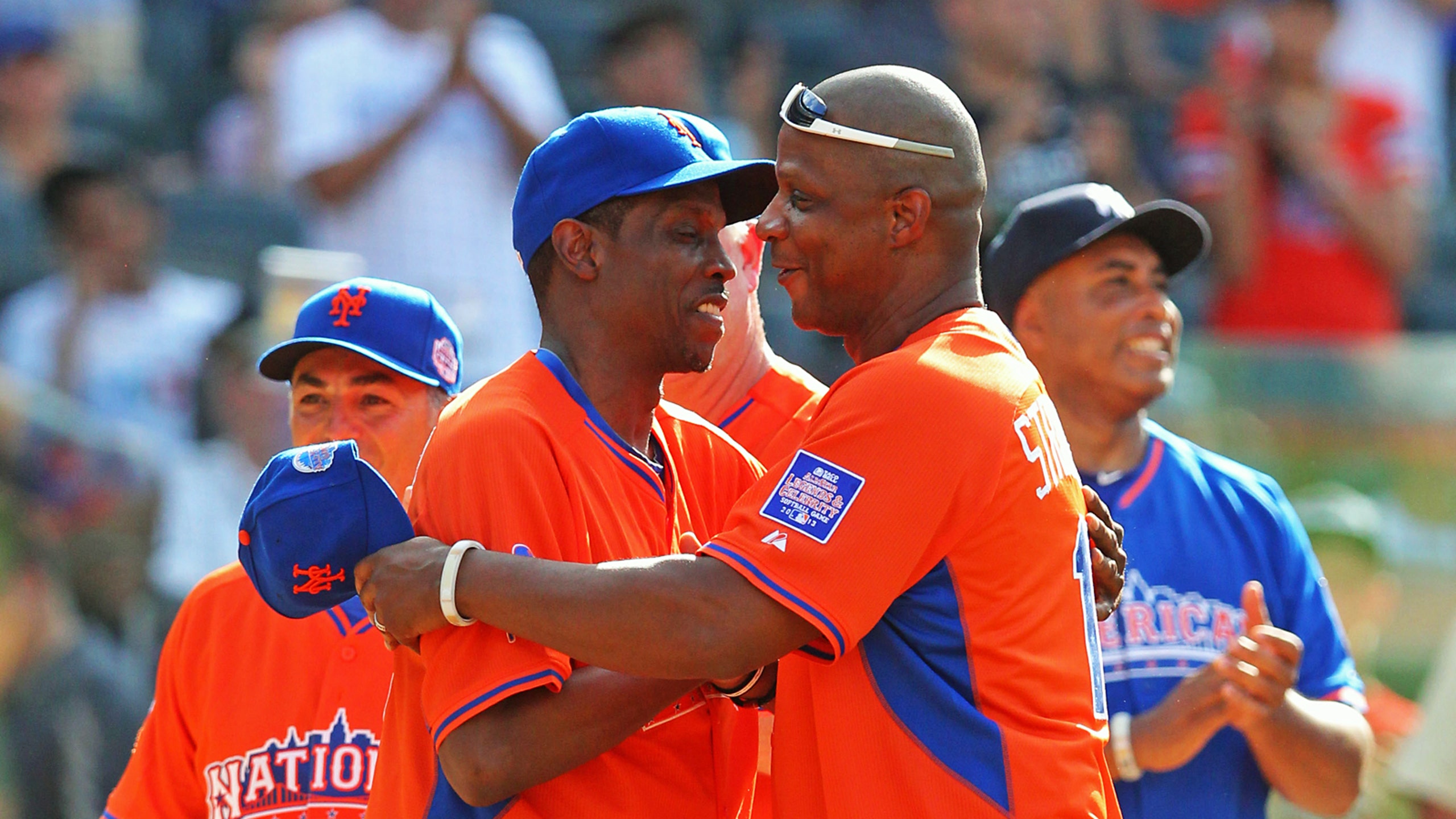 Bloop Hits: The Mets' battling rappers
BY foxsports • December 18, 2014
The 1986 New York Mets might be the quintessential team of the 1980s. Not only did they win more games (108) than any other team in that decade, but they were arguably the most entitled, hedonistic, coke-hoovering crew of a supremely entitled, hedonistic, coke-hoovering era. And in a decade that saw hip-hop music rise to prominence, their players were responsible for not one, not two, but three rap singles. 
The first and most notorious of these was "Get Metsmerized," an agonizingly awful group effort featuring George Foster, Darryl Strawberry, Dwight Gooden, Lenny Dykstra, Rafael Santana, Rick Aguilera, Kevin Mitchell, Tim Tuefel and Howard Johnson ...
Though written and produced by Aaron Stoner, Jeff Gordon and Bob Held (the latter of whom would go on to pen tracks for past-their-prime acts like Alice Cooper, Deep Purple and Riot), this one was the brainchild of Foster, who figured that the Mets — heavily favored to take their division in '86, and riding a new peak of popularity in the NYC area — could cash in with a "Super Bowl Shuffle"-type novelty single.
But whereas "Super Bowl Shuffle" was officially sanctioned by the Chicago Bears, with all proceeds from sales of the team's 1985 single going to charity, Foster failed to clear his brilliant idea with the Mets before going into the studio … and had no interest in directing the profits anywhere but into the pockets of himself and his cohorts. Additionally, as Jeff Pearlman noted in his immensely entertaining '86 Mets chronicle, The Bad Guys Won!, the Bears at least had the decency to wait until they'd played (and won) their 10th game of the '85 season before recording "Super Bowl Shuffle," while Foster and his teammates still had 160 games left on their schedule when they cut "Get Metsmerized."
The team's successful championship run eventually validated such unseemly arrogance, but no amount of titles could ever justify their collective ineptitude on the mic. While Mitchell at least sounds like he might have spent his senior year of high school rhyming along to the Sugarhill Gang's "Rapper's Delight," and Dykstra injects a welcome burst of energy into the track — much as he did to the team's lineup — everyone else sounds about as lost as a missionary in mid-'80s Times Square. Sure, Tuefel was never fated to end up on a Pitchfork list of underrated white rappers, but Gooden delivers his lines like he's reading a ransom note from his captors, and Strawberry's rhyming is so far off the beat that it practically rips a hole in the space-time continuum.
Foster's envisioned conquest of the charts never panned out, in part because the understandably horrified Mets' front office stonewalled the song's release for much of the season. (They opted instead to commission and promote the bland-but-catchy "Let's Go Mets," which featured no actual Mets players on the track.) Ironically, by the time "Get Metsmerized" finally hit the shelves in August, Foster — who was as unpopular in the Mets clubhouse as he was with the Shea faithful — had already been released.
Even more ironically, considering their appalling contributions to "Get Metsmerized," both Gooden and Strawberry soon released rap records of their own. Gooden, in fact, might be even less present on "Dr. K," his 1986 single with Mellow Mel and the MCL Rap Machine; lending credence to their earlier assessment that the former NL Rookie of the Year and Cy Young winner was "not outgoing/Kind of quiet and shy," the young pitcher shows up around the 1:50 mark to trade a couple of half-hearted rhymes with the crew. Doc's jheri curl on the picture sleeve might be the most impressive thing about the whole endeavor. Meanwhile, Mellow Mel and the MCL Rap Machine more or less vanished from the face of the earth after the record was released in October 1986, a fact which should hardly surprise anyone who's actually listened to it...
Strawberry, on the other hand, made a surprisingly credible comeback with his second studio foray. Teaming up with then-hot Brooklyn rap groups U.T.F.O. ("Roxanne, Roxanne") and Whistle — who'd recently hit the charts with "(Nothin Serious) Just Buggin" — and in-demand L.A. rapper/songwriter/producer The Real Richie Rich, Strawberry released the awesomely titled "Chocolate Strawberry" on the even-more-awesomely named Strawesome Records in 1987:
Though he wisely lets the professionals carry the weight for most of the track — a legitimately bangin' old-school joint — Straw takes a respectable turn at the mic, dropping asides like "Yo I ain't soft/I even get paid on my days off" with enough swagger to make you forget about how awful he was on "Get Metsmerized." It wasn't a hit, and it didn't inspire Strawberry to forsake his playing duties for a new career as a rapper (something that the Mets organization was reportedly worried about at the time), but "Chocolate Strawberry" is the unquestionable winner in the amazin' rap battle of the New York Mets.    
---