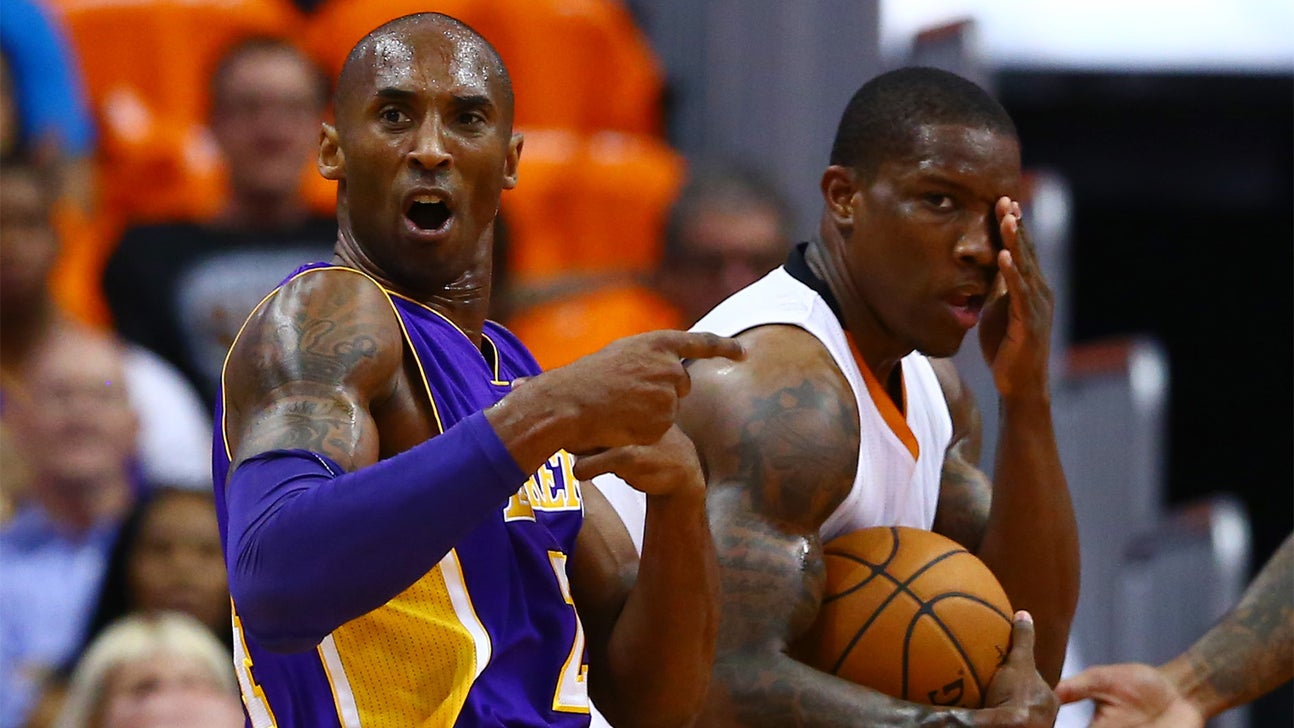 Bledsoe shows star-caliber, all-around skills in season opener
Published
Oct. 30, 2014 2:58 p.m. ET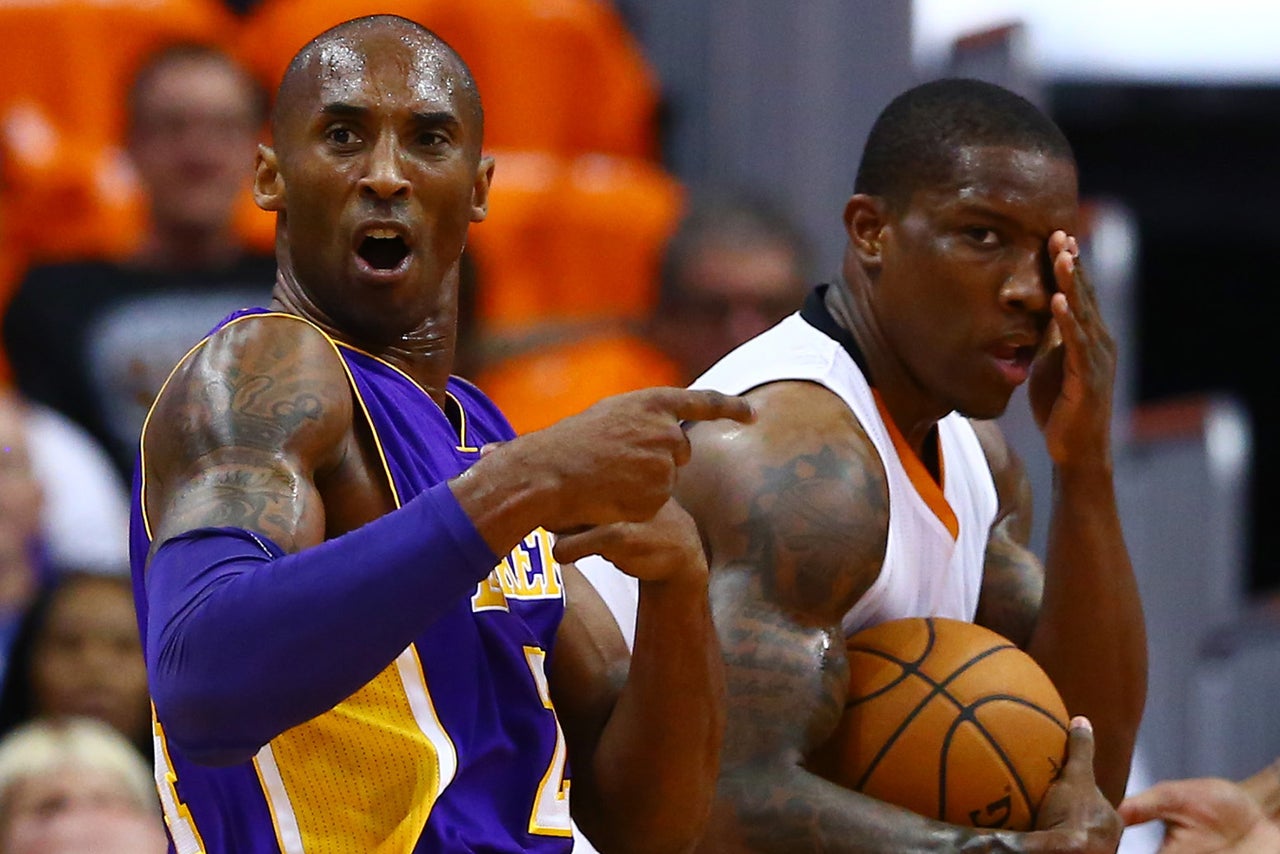 PHOENIX -- The roll call of elite point guards in the Western Conference is impressive and familiar.
Those answering "yo" include Tony Parker, Chris Paul, Steph Curry, Russell Westbrook and Damian Lillard. Reaching inclusion on such a top-heavy list requires an extended run of stellar performances, a task made even more statistically difficult with two more standout PGs on your own team.
But Eric Bledsoe's line during Wednesday night's shellacking of the Los Angeles Lakers is a pretty nice beginning in the quest for several achievements.
Star turns and -- more importantly -- victory can flow from what he provided in the season opener.
In a few ticks over 26 minutes, the 24-year-old Suns floor leader gave his team 16 points (on a mere seven field-goal attempts), nine assists and six rebounds.
He made 3 of 4 attempts from 3-point range and was dinged for only one turnover.
"He's pretty determined this year," Suns coach Jeff Hornacek said. "The contract thing is all settled, and he just wants to prove he's one of the best players in the league."
If his Game 1 play continues, Bledsoe eventually may be rewarded when opposing superstars -- such as Kobe Bryant -- whack him in the face while attempting to make defensive maneuvers.  (Lack of a foul award on two such occasions inspired Bledsoe to receive calls of a different sort . . . technical fouls.) Being tossed late in the third quarter of a blowout didn't exactly sidetrack the Suns, but with tougher times ahead, an upgrade in composure will be required.
While Hornacek acknowledged that perseverance is the goal, he thinks Bledsoe and Goran Dragic (who also was smacked during a Bryant steal attempt that did not result in a foul call) are in line for more favorable consideration from officials.
"These guys deserve some respect from the calls," Hornacek said. "When these guys are getting slapped in the face and they're not calling it, then I don't mind a guy getting upset like that.
"Eric's been into every game we've had this year in terms of intensity, and so sometimes that's going to happen. At that point, we were up by 25 or however many it was . . . we were OK, but we'll have to get his attention if the game's a little closer. We can't afford to have him out."
With the sample size of one entire game, the Suns check it 13th among NBA teams for pace (possessions per 48 minutes). Against the Lakers, the Suns' tempo was registered at 94.7; they were 95.8 over 82 games in Hornacek's first season.
It should be noted their 119-point showing was good enough for a per-game-average of second in the league, suggesting the offensive efficiency (a league-leading 125.7 points per 100 possessions) is through the roof.
Making 16 of 32 attempts from behind the 3-point line will do that.
"If we can get 16 every night," Hornacek said, "we'll be happy."
Although Phoenix recorded 15 of its 19 fast-break points while truly on the run in the opening half, Hornacek's legion of ballhandlers often walked the ball up the court following the Lakers' infrequentl -made field goals.
Pushing the ball regardless of how it was possessed has been a point of emphasis between last season and now.
When asked for evidence of a tempo upgrade during the preseason, Hornacek -- who's seeking a serious rise from a ranking of eighth in pace last season -- was optimistic.
"It was getting better," he said before the Lakers and Suns tipped off. "We were getting the ball in quicker. I think that's the big key -- once the ball goes in, just go right back at 'em.
"Most times, there's not a big difference between the ball coming off the rim right there and getting the rebound, rather than just taking the ball out of net and going. If we can get the nearest guy to grab the ball, we just gotta be careful with those outlet passes. Teams will see that and come back to get a steal. We'll have two PGs out there most the time. The guy taking the ball out of the net will have to be alert . . . and if somebody's in the vicinity, just throw it to the other guy."
With P.J. Tucker serving a three-game suspension and the existence of his on-court synergy with twin brother and starting power forward Markieff, Marcus Morris had an opportunity to open the season on the first team.
All he did against L.A. was score 21 points -- making 8 of 14 shot attempts, including 5 of 9 from 3 -- and force Bryant to work for most of his 31 points.
Such efficiency could provide Marcus with a solid chance of retaining that starting role.
"Well, it's always possible," Hornacek said. "If we go 3-0, why would we change the lineup? Obviously, we have two more games to go, but we really liked the effort of those guys, that first group tonight."
Second-year center Alex Len didn't post eye-popping stats in his 18:42 of burn against the Lakers.
But tucked inside his numbers -- three points (1-of-4 shooting), five rebounds and one block -- was a rim-adjacent stubbornness on defense.
With numerous shot alterations, Len's size was a factor.
"He's long, he takes up space, he doesn't give up anything easy," Hornacek said of the 7-foot-1 Ukranian.
Len, the fifth overall selection in the 2013 NBA Draft following his sophomore season at Maryland, just seemed happy to get through a game healthy.
"I definitely felt good out there," he said. "I felt stronger than last year. I do whatever I have to do. I think I played well defensively just contesting shots."
---