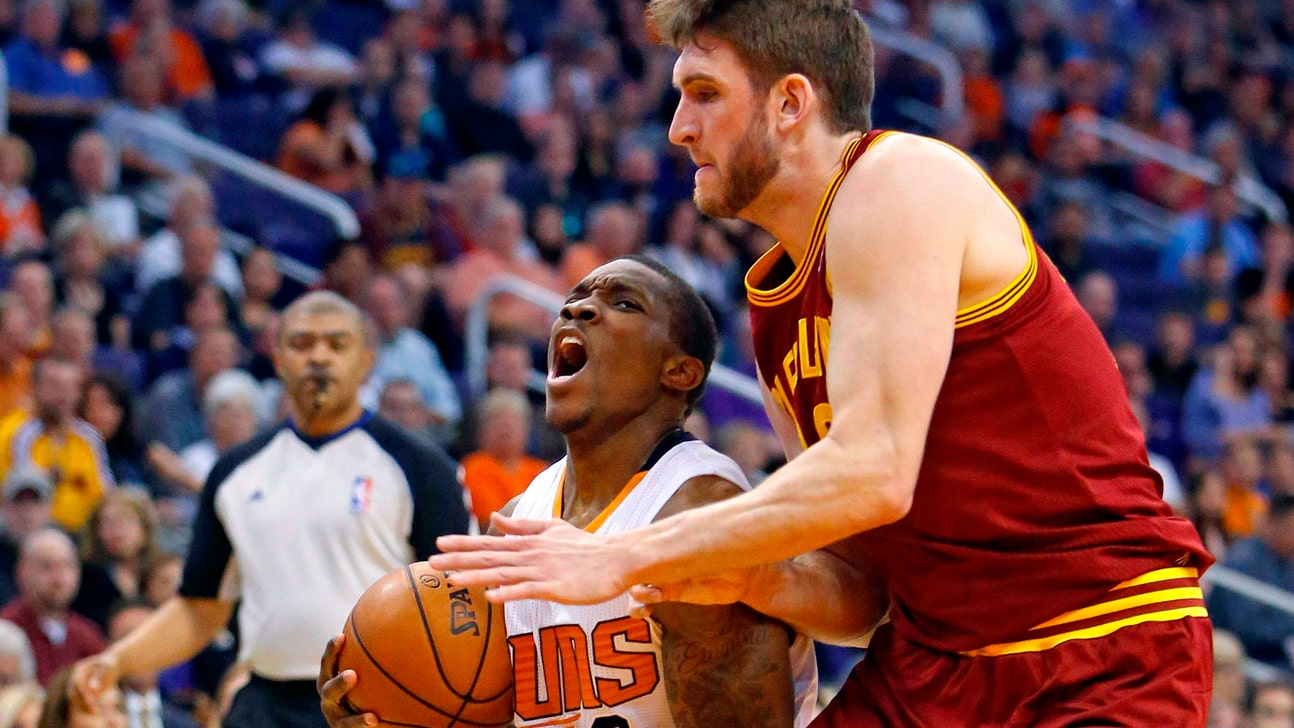 Bledsoe returns but Suns drop third straight
Updated
Mar. 4, 2020 11:36 p.m. ET

PHOENIX -- Eric Bledsoe can do a lot of helpful things during a basketball game.
But he can't just trot onto the court and cure a team defense that's been the NBA's worst in recent weeks. At 6-foot-1, he can't singlehandedly prevent the opposition from dominating the boards and piling up 27 second-chance points.
There also wasn't much Bledsoe could do to prevent a 59-percent team effort at the free-throw line.
And in his first uniformed participation spanning 34 games, he couldn't prevent the Suns from absorbing a 110-101, wire-to-wire defeat Wednesday night administered by the Cleveland Cavaliers.
What Bledsoe could do was distill the Suns' major issue into a few painful sentences.
"We have to play like we've been playing from the jump -- proving people wrong," Bledsoe said after giving his team 15 points (on 5-of-16 shooting) and nine assists with no turnovers. "Like I said, we're not coming out like we used to.
"We just gotta play D. We're letting teams score any way they want to."
The Cavaliers may not have planned an opening offensive salvo from center Spencer Hawes, but he was a source of almost half of his team's points in the first quarter.
"You let a team score 37 points in the first quarter," Suns coach Jeff Hornacek said, "they're going to be tough to stop the rest of the night."
The Cavaliers, ranked 24th for offensive efficiency, were handed 17 points from Hawes in the first 12 minutes. Hawes, who actually went coast to coast for a bucket during this nightmare quarter, didn't do much after that.
He finished with 19 points, but Kyrie Irving (a game-high 23) and a collection of players that now have 25 wins in 65 games had enough juice to withstand a couple of uneven Suns surges.
While playing alongside Bledsoe for the first time this calendar year, Goran Dragic found 19 shots (he made eight). Gerald Green, who was averaging 26 points per game in March, squeezed off 14 and made four.
One thing Dragic did hit was an Anderson Varejao screen that left him battered and bruised after the game. Wearing a towel over his head while sitting in front of his locker, The Dragon and a small gathering that included Channing Frye and Bledsoe was reminded by injured teammate Leandro Barbosa of how damaging a home loss to Cleveland can be.
So, on an evening when the Memphis Grizzlies and Dallas Mavericks -- seeded seventh and eighth, respectively, in the Western Conference -- won, the Suns celebrated Bledsoe's return from knee surgery by losing for the seventh time in their last 10 games.
While struggling to win 17 of the last 33 without him, the Suns balanced on the narrow edge of the playoff chase. With Goran Dragic and Gerald Green reaching new levels of offensive prowess, this edition of the Phoenix team seemed to compensate with awful defensive focus.
"It's a little bit of everything," Hornacek said when asked to assess those defensive ills. "There's nothing that sticks out as 'ah, there's the real problem'."
It was hoped that Bledsoe could fold his playmaking skills into a thriving offense while providing greater resistance at the point of the Suns' defense.
"Obviously, Eric is very good on the ball," Hornacek said. "Any pick and roll situations ... Eric does a pretty good job of handling that kind of stuff. That'll help us from being scrambled, defensively.
"Hopefully, just be more solid as a team defense when he's out there."
Well, while surrendering 110 points to a team coached by Mike Brown and working without suspended stopper P.J. Tucker -- the Suns did limit the Cavs to 46.9-percent shooting. Phoenix's previous seven opponents had bagged at least 50 percent of their shots from the field.
And Bledsoe, demonstrating more patience and vision than has Dragic when blitzed on ball screens, did enough to show that his passing chops certainly are in order.
He also appeared to have the same burst and change-of-direction capacity that should command a lucrative, long-term contract this summer.
"I felt great, for the most part," Bledsoe said. "I tried to come in and fit with the team playing so well."
And now that the team really isn't playing well -- especially on defense -- Bledsoe must do more than fit in.
"It's going to change," he said. "It's going to have to. We have a tough stretch of games going on the road, so we just have to take care of business."
---