Bitcoin St. Petersburg Bowl breakdown: NC State-UCF
BY foxsports • December 18, 2014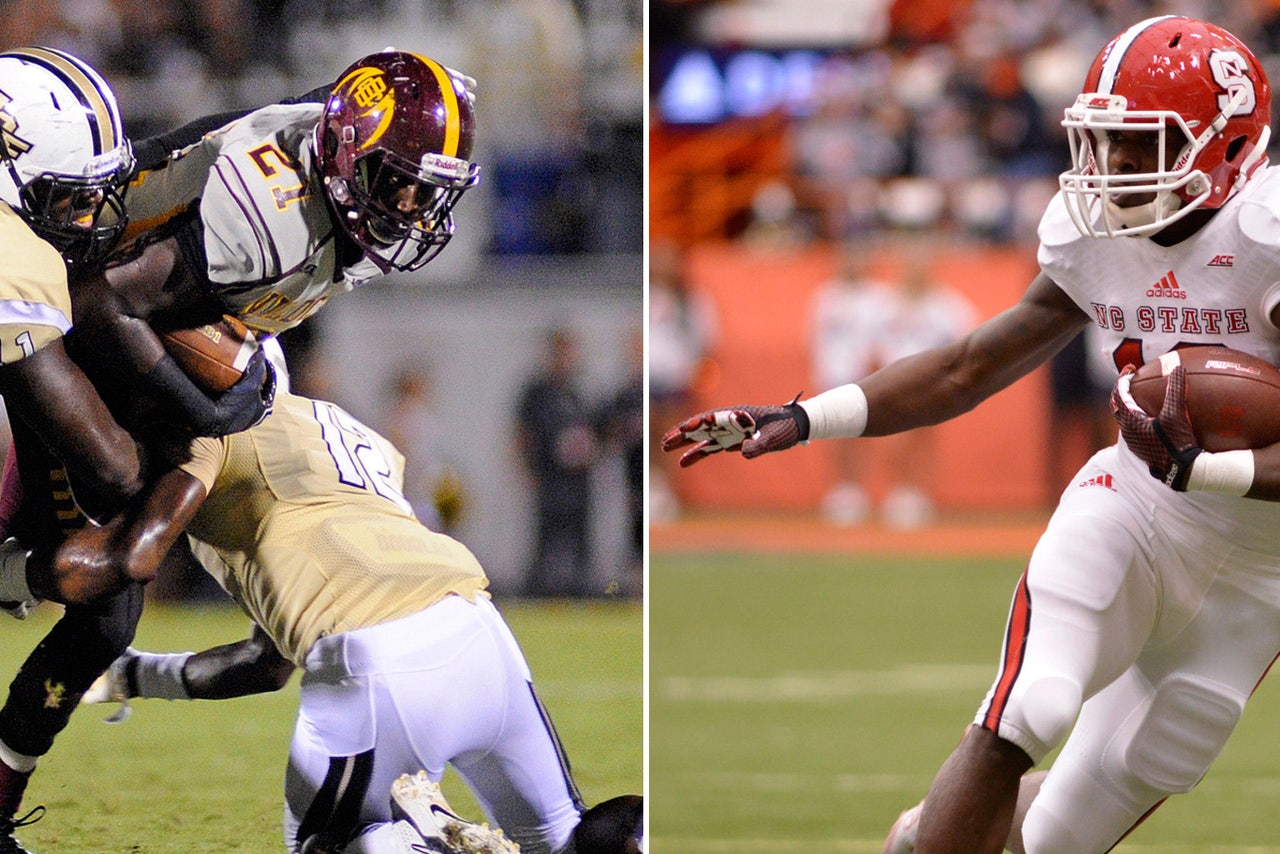 One of the best battles on the field during the Bitcoin St. Petersburg Bowl will happen when NC State is on offense and UCF is working to slow the Wolfpack down.
NC State running back Shadrach Thornton finished seventh in the ACC in rushing, but really came on of late. He posted his only two 100-yard-plus games over the final two weeks, a 110-yard posting at home versus Wake Forest and a 161-yard game against North Carolina on the road. He's heating up at the right for NC State to end its season on a three-game win streak.
Ready to keep Thornton at bay, however, is a UCF defense that was the best in the American Athletic Conference at stopping the run. Not only did the Knights' ability to slow rushing attacks down lead to a league best 97.42 rushing yards per game against, UCF ranked fifth in the country against the run.
Only Alabama -- which allowed just three rushing scores -- gave up fewer than the eight touchdowns on the ground that UCF allowed.
Thornton is going to do a lot of work for the Wolfpack, but NC State's fortune might lie on its quarterback, Jacoby Brissett.
Brissett started the season strong, and almost pulled off an amazing upset of Florida State when he threw for 359 yards and three touchdowns in a 15-point loss that was closer than the score indicated. Brissett hasn't gotten up for big games, going 0-4 against ranked opponents, though. UCF isn't ranked, but this bowl game is the kind of canvas that Brissett would like to paint well on.
UCF Cornerback Jacoby Glenn was named the AAC's co-Defensive Player of the Year after he led the conference in interceptions (7) and passes defended (18). Glenn will be favored in any coverage matchup he's a part of, but it will be up to him to make something big happen. Brissett only threw five interceptions this season.
19: UCF held its last two opponents to a combined 19 yards rushing, and both games were on the road. The Knights held South Florida to five yards on 22 carries (0.23 yards per carry) and East Carolina to 14 yards on 27 carries (0.52 ypc).
17.9: Not only are the Knights a run-stopping force, they're also incredibly stingy on the scoreboard. UCF held four teams to seven points or fewer this season, and rank ninth in the country in points allowed with 17.9 per game.
3: NC State doesn't have a bad red-zone rating on defense, as the Wolfpack have allowed a 58.5 touchdown percentage on 41 trips opponent's have made inside the 20-yard line. UCF, on the flip side of that coin, is terrible at converting in the red zone. The Knights ranked 109th in the country with only 26 touchdowns in 56 trips into the red zone.
51.2 -- 48.8: NC State enters its bowl game as the ACC's most balanced offense. With only a .024 differential between run and pass, the Wolfpack are hard to predict. NC State calls a pass play 51.2 percent of the time, and run play 48.8 percent.
If the Wolfpack are able to gain yards on the ground with both the pass and the run, NC State has a chance to win this football game. But that's unlikely.
With such a stout run defense, UCF should find ways to slow Thornton down. If NC State must rely on Brissett to generate points, the Wolfpack could be in trouble.
Brissett has shown he can limit mistakes and put his team in a position to win football games, but he hasn't been the guy who could put NC State on his back and lead it to a big-time victory. That's what he's going to need to do against UCF in the Bitcoin St. Petersburg Bowl.
The advantage lies with the Knights.
---