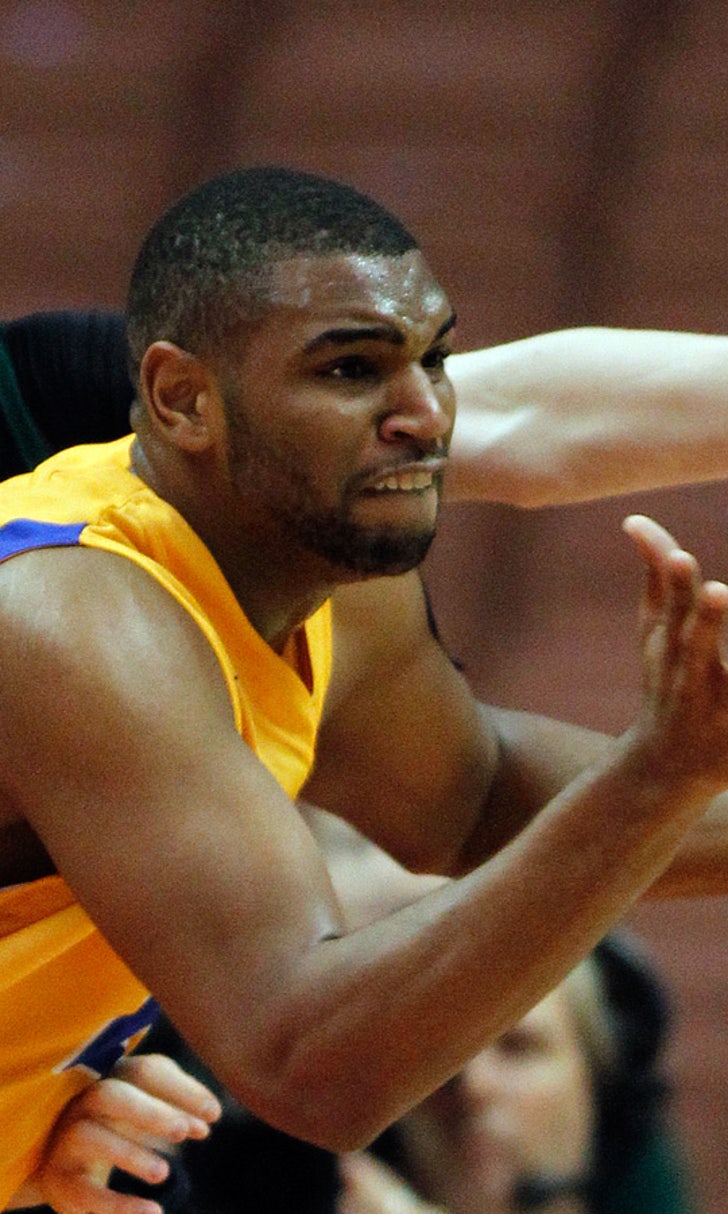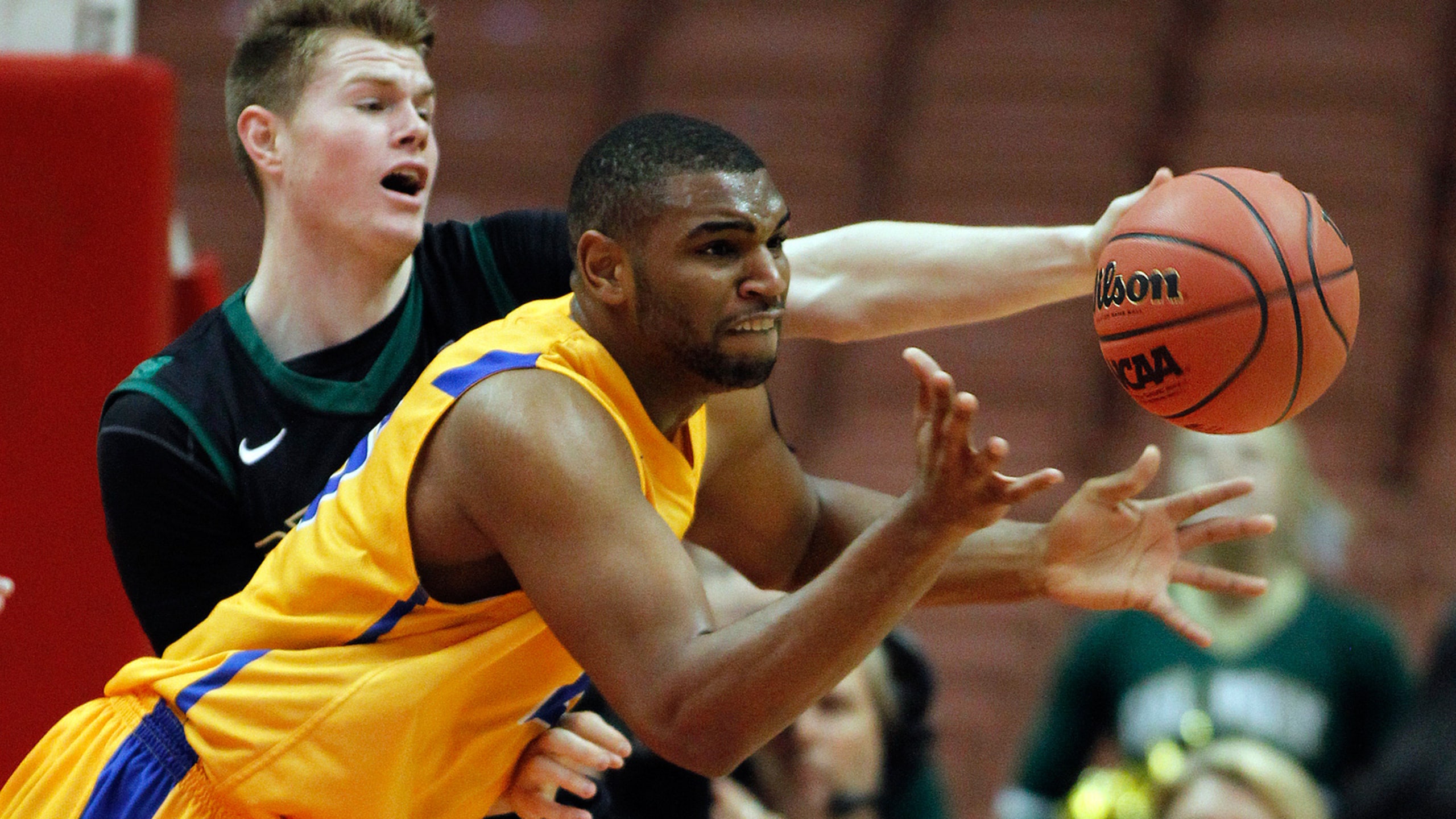 Big West Tournament: UCSB stunned; LBSU defeats CSUF in first round
BY foxsports • March 13, 2014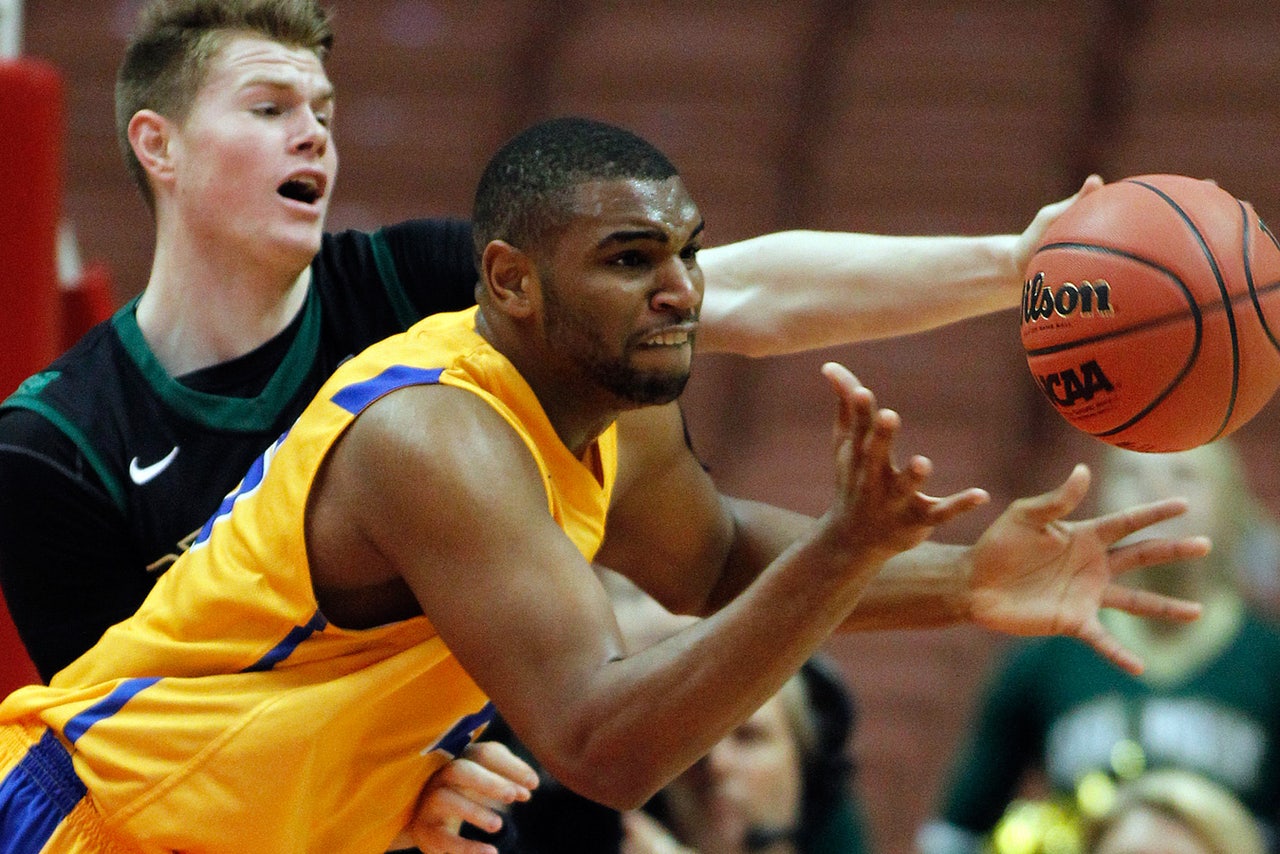 ANAHEIM, Calif. -- The month of March brings Madness and in Thursday's opening round of the Big West Championship Tournament, the first game of the day at the Honda Center left UC Santa Barbara a little more than mad.
In what can only be described as a stunning upset, No. 2 seed UCSB was blown out 69-38 by rival Cal Poly, the No. 7 seed in Anaheim this week. It was quite possibly the worst postseason loss in an illustrious program history mostly characterized by Big West Tournament wins. It's the largest margin of defeat for the Gauchos in the conference tournament since 1991 - a 95-67 loss to UNLV - and the 38 points scored are the fewest by a UC Santa Barbara team in tournament history. 
This was the team most penciled into their brackets, even though upstart UC Irvine is the top seed. League MVP Alan Williams and a coach that has turned the team into one with a reputation of perennial sexy bracket-buster type of reputation. 
"We certainly didn't expect to come out and get beat like this and play like this," said head coach Bob Williams. "It's on us to reevaluate at this point and look in the mirror and see what transpired today."
The Cal Poly men's basketball team opened the 2014 Big West Tournament by hammering UCSB in the quarterfinals 69-38: http://t.co/OrVqnzMfud

— Cal Poly Athletics (@CPMustangs) March 13, 2014
Previously, the Gauchos' worst loss of the season was a 13-point loss to UCLA at Pauley Pavilion in non-conference play and that was a game they nearly won -- they were tied with the Bruins with just eight minutes left.
After opening up to a 7-0 lead, the Mustangs (11-19) took off and never looked back. They held the Gauchos (21-9) to 32.7 percent shooting from the field and only a total of four players scored at all -- two of which netted only a single field goal each. They went 0 for 4 from the line and 6 of 19 from the arc. Alan and Michael Bryson shouldered the load: Alan went 7 for 17 scoring 14 points with 10 rebounds and Bryson went 7 for 10 with 19 points. 
"We conceded that Williams is a better player than anyone we have. He's the MVP," said Mustangs' head coach Joe Callero. "We feel that you can't stop Al Williams. I think he's a future NBA player but we wanted to make sure the game was played at a different pace.
Cal Poly beat UCSB in an uncharacteristic style of play -- a higher-paced, higher-pressure game that isn't typical of the bleed-the-clock, half-court game they have become known for. It was almost as if they beat Santa Barbara at their own game.
"We wanted a lot more ball pressure we just decided to turn the pressure up everywhere," Callero said. "A little uglier, a little faster, a little more distorted."
And ugly was exactly the what the game was.
"It's crushing," Alan Williams said. "We don't like the taste in our mouths right now. It's sickening."
No. 3 Long Beach State 66, No. 6 Cal State Fullerton 56
The rivalry theme continued in the second game of the day when Long Beach State and Cal State Fullerton squared off. Before last week's contest between the two at Titan Gym in Fullerton, first-year head coach Dedrique was told by a booster that the whole season would go for naught if they didn't beat The Beach.
The Titans (11-20) might have gotten the best of the conference's powerhouse team last weekend but the 49ers avenged loss and advanced to the semifinal round.
Taylor is now a little more well-versed in the rivalry."It will always be there and will continue to grow," he said. "It's a nice rivalry. But you have to tip your hat to that program because they did what they needed to do to win the game."
It was a decisive second-half run that shut the door on the Titans but more important for Long Beach (15-16) is the fact that they are playing without a target on their backs for the first time in three seasons. They didn't come into the tournament as the top-seeded favorites and they didn't come into the game with the deepest and most talented roster in the conference. 
But they did come in with enough skill and fire to make some noise.
"We didn't come here to play one or two games, we are not about rebuilding in the Big West," said head coach Dan Monson. "I always say, 'If you're packing one suit for a tournament, you've already lost.' Last year I packed three and left after two. We are very disappointed that we didn't defend our regular season championship and we expect to win it now...
"We're not as talented as some of the teams in the past but that doesn't mean we can't be a better team."
---