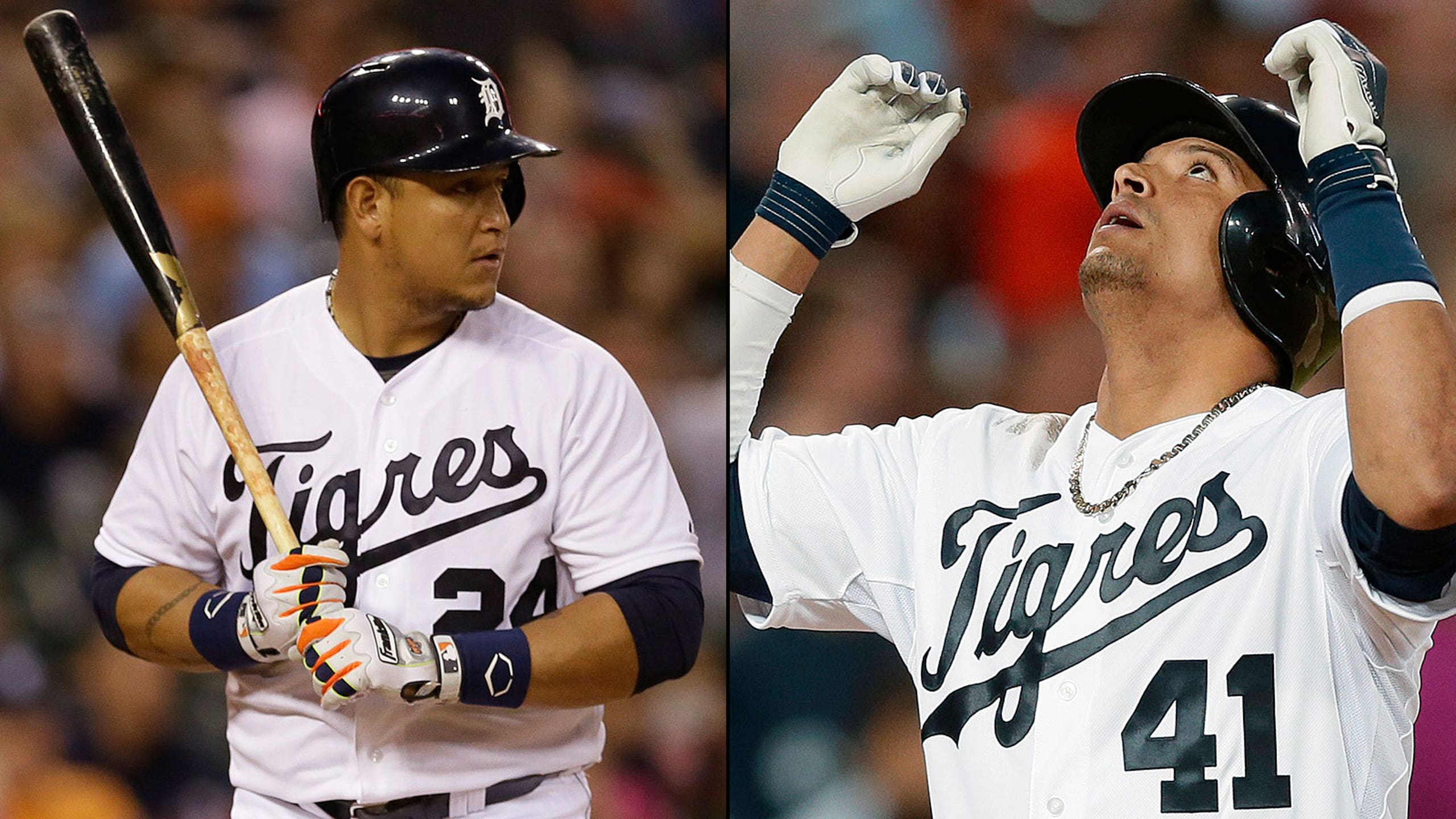 Big bats boom as Tigers rout Rockies
BY foxsports • August 2, 2014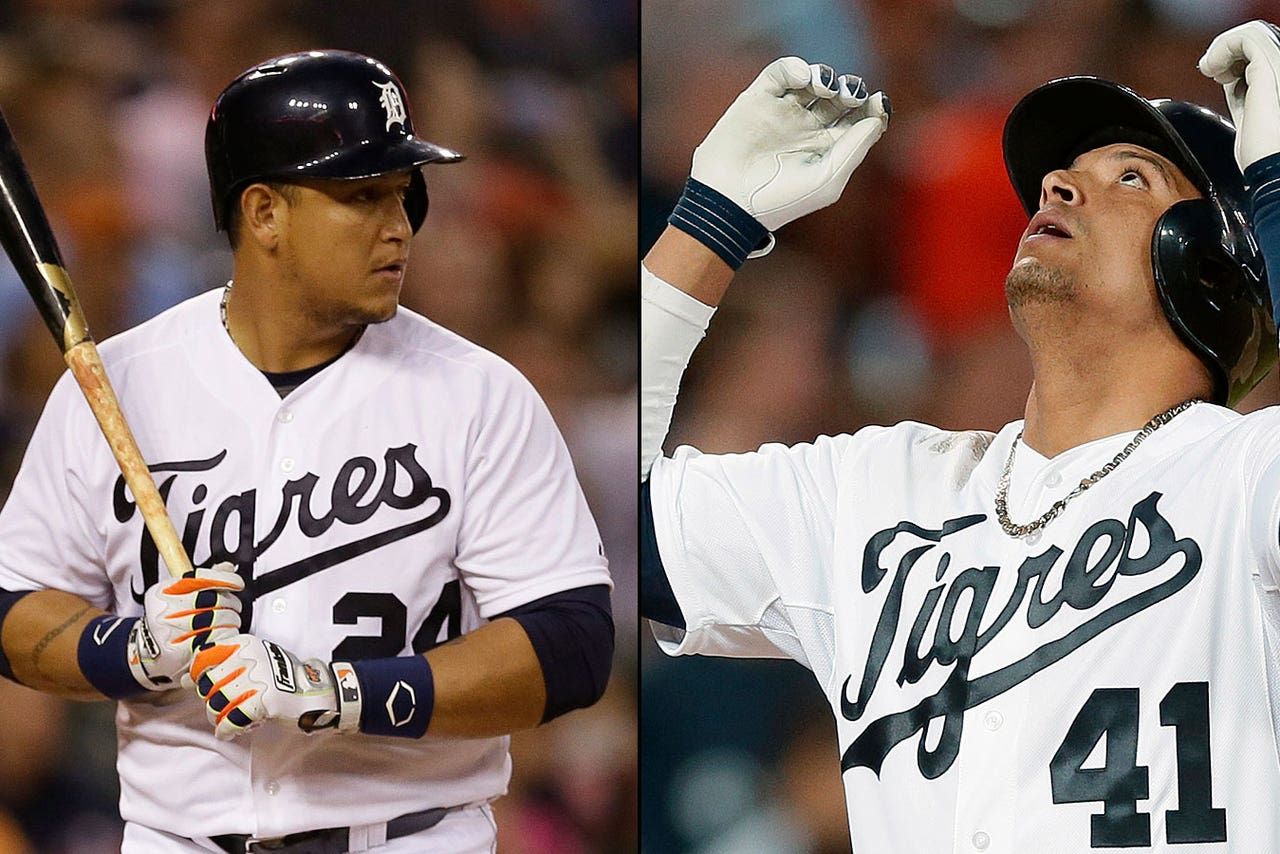 DETROIT -- There was plenty to like for the Detroit Tigers in Saturday night's 11-5 thumping of the Colorado Rockies.
Rick Porcello struck out 10 and gave up two runs in eight strong innings to tie for the most wins in the majors at 13, and Detroit scored in every frame they batted in for the first time since 1912.
But something that hadn't happened in more than two months loomed the largest. Miguel Cabrera and Victor Martinez hit homers in the same game for the first time since May 30.
The No. 3 and 4 hitters in the lineup both absolutely crushed Tyler Matzek pitches to ignite the sellout crowd of 42,811 at Comerica Park.
Cabrera hit his 17th of the season an estimated 445 feet into the second row of shrubbery in center field -- just to the left of the scoreboard and brick wall featuring the names of Detroit Hall of Famers.
He's played gardener before, reaching those shrubs for a trimming. But it had been awhile since Cabrera crushed a true monster shot like this one.
"You can't help but get excited when you see that," Porcello said. "I was a fan. That was pretty awesome."
Said Tigers manager Brad Ausmus: "There's not too many people that can reach that."
Martinez hit his 22nd homer of the season two innings later, a three-run blast in the fifth that put the game into rout mode.
"It was the second time he'd hit a homer after an intentional walk (to Cabrera)," Ausmus said. "That was a huge home run at the time."
David Price, the new rotation member acquired from the Tampa Bay Rays, was feeling the power of his new teammates. He applauded long and loud in the dugout after Martinez's shot.
"That was great, crazy -- just cool," said Price.
There were dark clouds, high winds and a brief rain that appeared to be the foreshadowing of a storm. But the greatest natural force of the night was supplied by Miggy and V-Mart.
"Those two guys are our thunder," Porcello said. "And when they are driving the ball, our offense is more than fine."
In an effort to beat the late traffic caused by the postgame fireworks display, both sluggers had left the clubhouse before reporters entered following Ausmus' press conference. So feel free to insert your own pyrotechnics reference to Cabrera and Martinez here.
It's been some time since they exploded like they can.
Cabrera went from June 30 to July 23 without a homer, but now has three in the last 11 games.
Martinez missed 11 games before the All-Star break with an injury and hadn't hit a homer since July 3 before Saturday.
Back in May, though, when the Tigers ran their record to 27-12 and looked like a 100-win team, Cabrera and Martinez combined to club 17 homers. They hit homers in the same game four times that month.
If Detroit is going to be the team to beat, Miggy and V-Mart must mash and mash often.
"When you get homers from the heart of your lineup, it's a big plus," Ausmus said.
Cabrera also made some history with his homer. It was his 244th as a Tiger, which tied him with Lou Whitaker for sixth place. It was also his 382nd overall, tying him with Hall of Famer Jim Rice and Frank Howard, whose power was truly scary. He was one of three to clear the left-field roof at Tiger Stadium.
For some perspective, Rice and Howard both reached that total in 16 seasons. Cabrera has matched their haul in his 12th year.
The team's top power sources were plugged in once again, and it seemed to spark the offense to do something it hadn't since Ty Cobb was the star player. It was 1912 the last time Detroit scored in all eight innings of a nine-inning home game.
"That was pretty neat," Porcello said. "But I'm just thinking of Miggy's homer. That was awesome."
---