Big 12 will remain a race until Kansas can close
BY foxsports • February 7, 2015
They led Oklahoma by 20. They led Utah by 21, Georgetown by 13, Texas Christian by 13 and Florida by 11.
Average margin of victory in those contests: 4.8 points.
For 10-minute stretches, the Kansas Jayhawks are the baddest windshield in America. It's the 10 minutes in which they decide to play the bug that worry you.
There aren't a lot of elephants in Bill Self's room -- no star center, general lack of height, poor finishing at the rim, some problematic free-throw shooting as of late -- but there's one pachyderm that just won't go away: Kansas' remarkable ability to pin a victim to the mat, then consistently fail to keep its foot on that victim's throat.
Take Saturday. (Go on. Take it.) Seven minutes into a visit to Oklahoma State, KU led by 14.
The Jayhawks led by 11 at half.
They lost by five, 67-62.
When it's right, Team Self makes it rain from the arc (19th nationally in 3-point percentage going into the weekend), fights for second shots (34th in offensive rebounding percentage before Saturday) and bullies the other guys in the paint (23rd in blocks per game).
But the Jayhawks (19-4, 8-2 Big 12) have this unfortunate tendency to switch off for long stretches, too, whether that's a byproduct of effort, concentration, fatigue, lineup configurations -- KU goes eight deep, but are the right five together for the right stretches? -- or something else. The Jayhawks began the weekend ranked 34th nationally in average first-half points (35.2) ... and 64th nationally in second-half scoring (37.4).
KU's line over the final 20 minutes in Stillwater: eight field-goal makes, two free-throw makes (on six attempts), three treys (on 11 attempts), seven turnovers, 21 points.
"We've got to get our edge back," Self told KUSports.com.
That swagger was in perilously short supply at Gallagher-Iba, with poise right behind. On a Michael Cobbins follow-up dunk with 10:50 left in the contest, the Cowboys' big man was free from any kind of noticeable box-out. In the second half, the Pokes (16-7, 6-5) made treys -- they were bound to -- and went big, pulling a page from the Calipari playbook. With 6-foot-9 center Mitchell Solomon (four points, four rebounds, three steals) taking up space, the hosts -- down two five minutes into the second period -- raced out to a 12-3 run, capped by Le'Bryan Nash's spinning layup with 7:27 left.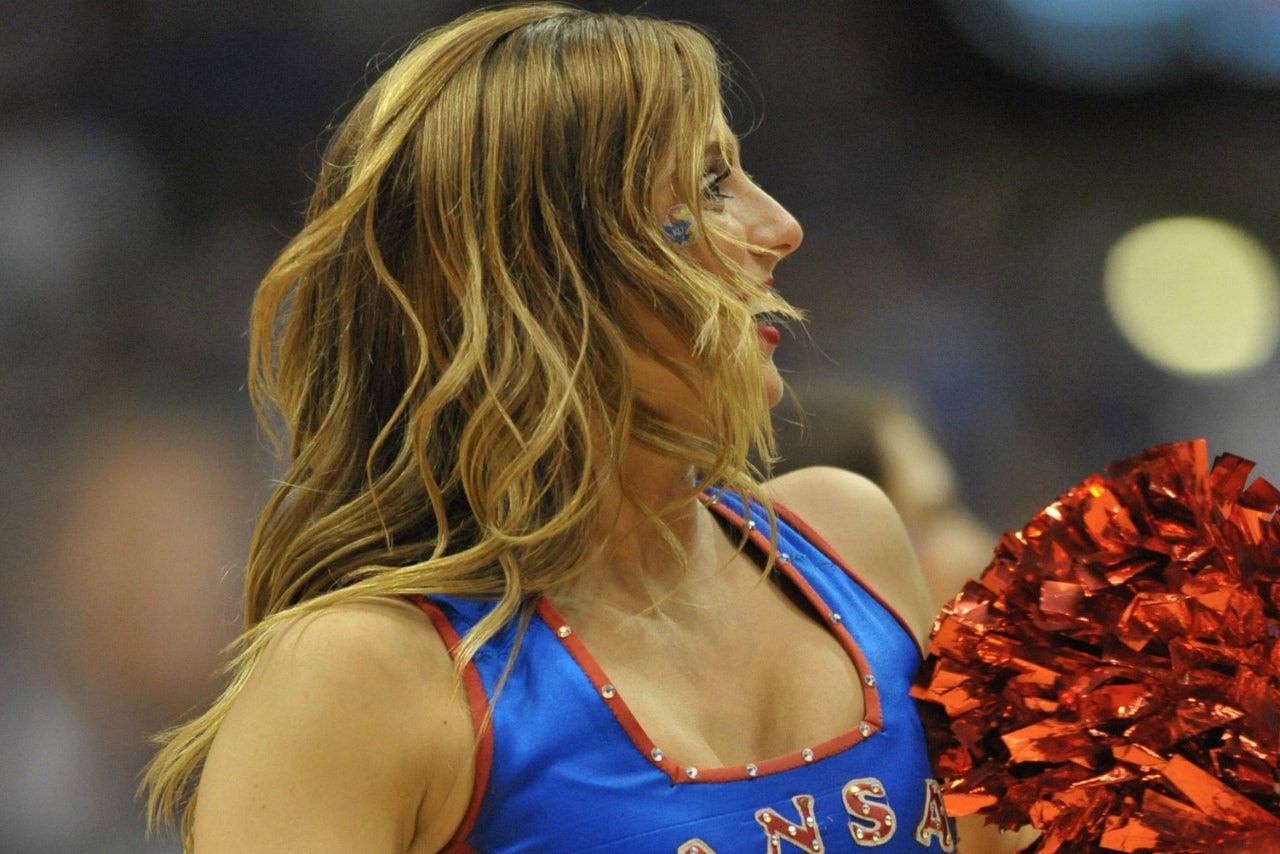 Lookin' good! Check out our gallery of Big 12 hoops cheerleaders.
Meanwhile, for all their balance, the Jayhawks still sort of go as the freshmen and the bench go, for better or worse. Kelly Oubre's disappearing act (one point in 14 minutes) in Big 12 road tilts continues, while Cliff Alexander scored eight points in the first period and none in the second, spending a good chunk of the final stretch on the pine along with classmate Devonte' Graham (zero points, one assist, two turnovers in 14 minutes). Veteran post men Perry Ellis and Jamari Traylor combined for 16 rebounds, which is good, but 7-for-19 shooting, which is not, and somehow managed to the turn the rock over eight times between them.
That dog won't hunt on the road, especially in this league.
You are what you are, and even on their best days, the Jayhawks are a bit, shall we say, mercurial. On the day, KU was 11 for 33 from two, 10 for 20 from three, and 10 for 19 from the stripe, which means Self either needs to:
a) chew a few more backsides; or
b) just say, "To hell with it," and go the full Grinnell. Treys for everybody!
Self would sooner shave his head than open what's behind door No. 2, but don't laugh it off: The Jayhawks connected on 7 of their 9 first-half 3-point attempts, with Mason and Greene a combined 6 for 6 over the first 20 minutes. The hosts, conversely, finished the half 0 for 8, and even with ace sharpshooter Phil Forte reportedly under the weather, a reversion to some kind of mean was probably inevitable.
And sure enough, the Pokes opened the second half on a 14-1 run. Some two minutes into the final period, the Jayhawks already had turned the ball over 13 times; the Cowboys, just five. Oklahoma State drained two treys -- its first of the contest -- in back-to-back trips, and Forte's triple pushed the Pokes on top 44-42 with 16:28 left. Forte drained another jumper almost five minutes later to give the hosts a 51-49 lead, one they would never relinquish.
Ergo, the Cowboys are now one of six schools within three losses of the Jayhawks in the race, hardly the most encouraging opener of a 16-day stretch for KU that features four of six on the road -- including stops in unfriendly Stillwater, Morgantown and Manhattan.
Even Lubbock on Tuesday isn't a so-called "gimme," given how the Red Raiders have been shooting at home. Either the Jayhawks are going to lock this bad boy up over the next fortnight, or things on Planet Bowlsby are about to get a lot more interesting-slash-uncomfortable. And if KU keeps closing the way it did on Saturday, best lay your chips on the latter.
You can follow Sean Keeler on Twitter at @SeanKeeler or email him at seanmkeeler@gmail.com.
---