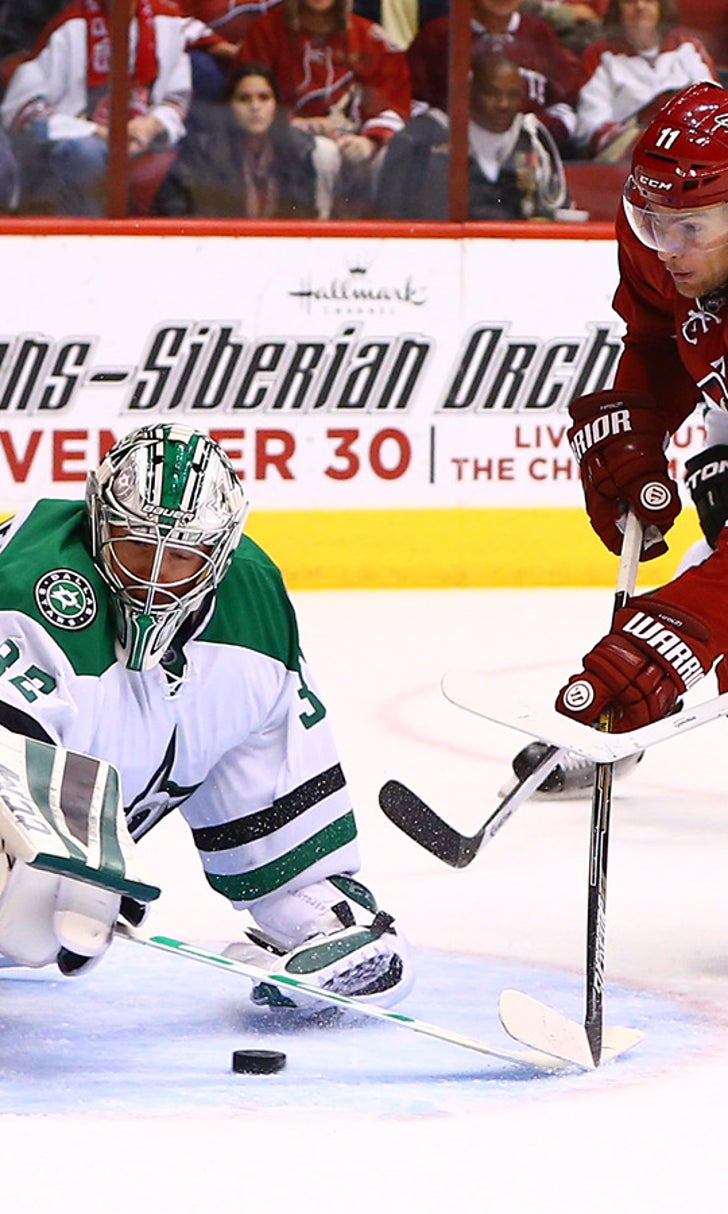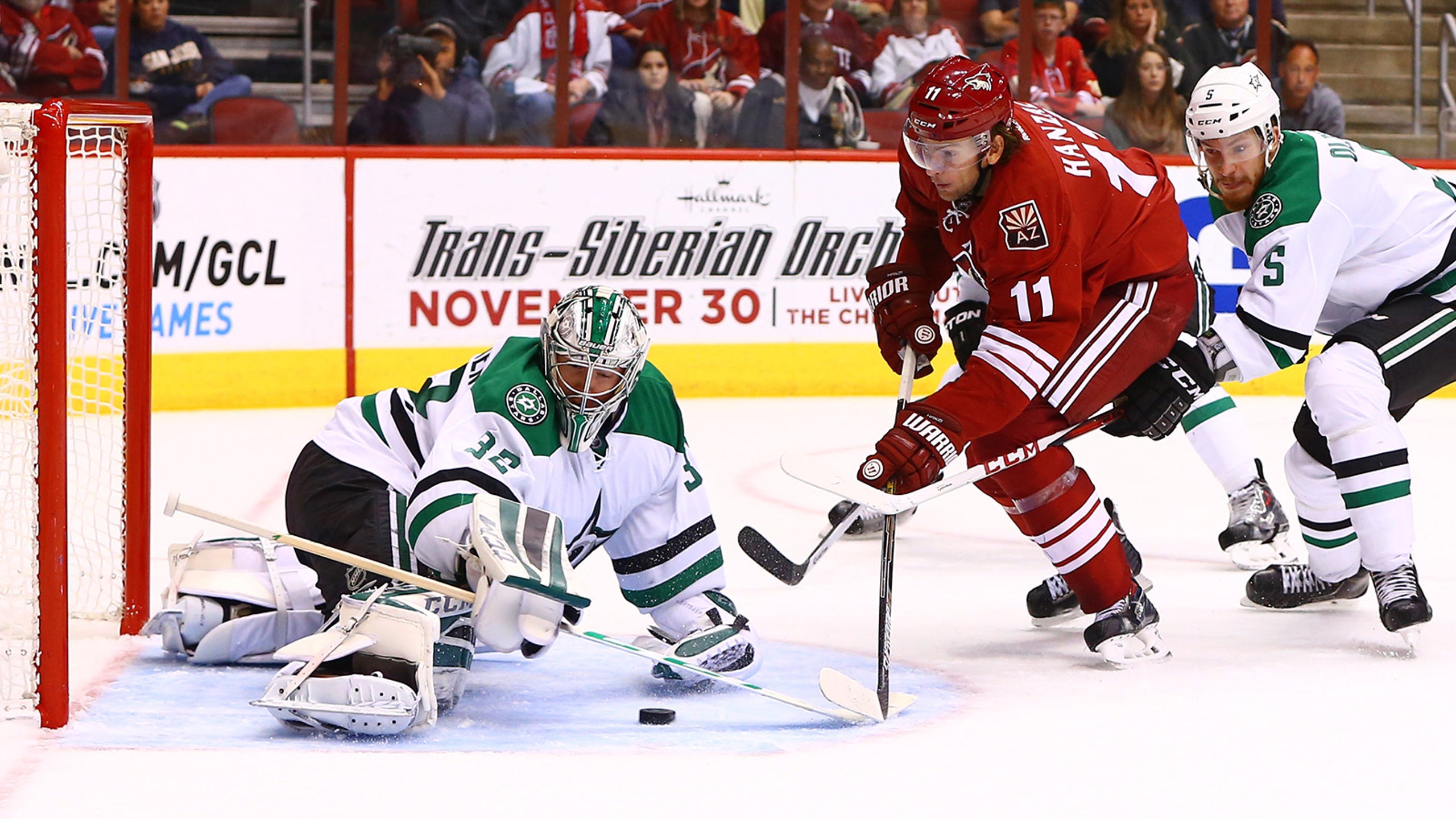 Bettman: Vegas relocation for Coyotes 'categorically untrue'
BY foxsports • November 19, 2014
GLENDALE, Ariz. -- NHL commissioner Gary Bettman said Tuesday, via text, that he still isn't sure when Andrew Barroway's deal to buy the Coyotes will close, but Coyotes co-owner Anthony LeBlanc told the Doug & Wolf show on 98.7 FM on Wednesday that Barroway could be interviewed at the Dec. 8-9 Board of Governor's meetings in Boca Raton, Fla.
"My expectations are one thing, but that hasn't been confirmed as of yet," LeBlanc clarified via email. "After a successful interview would come a vote, and it is unclear the time frame of when a vote will take place.
"I am hopeful that we will be in a position to have Mr. Barroway interviewed by the executive committee of the Board of Governors. We continue to work with Mr. Barroway and with the league to finalize the transaction in an expedient time frame."
LeBlanc said almost two weeks ago that there was a possibility the deal could close before the BOG meetings. It appears that will not happen.
While he could not confirm a closing date for the deal, Bettman did take aim at the persistent rumors that Barroway struck a backroom deal to either flip the team for profit or move it to Las Vegas when the franchise can exercise its out clause with the City of Glendale after the 2017-18 season.
"Categorically untrue," Bettman texted. "We don't make backroom deals."
A recent report from Mike Russo of the Minneapolis Star-Tribune suggests the league has interest in Vegas, but that interest would come in the form of expansion. The league is far more likely to pursue that avenue for one simple and oft-stated reason: The expansion fees could fetch the league at least $500 million per club, an amount that would be split among the 30 teams.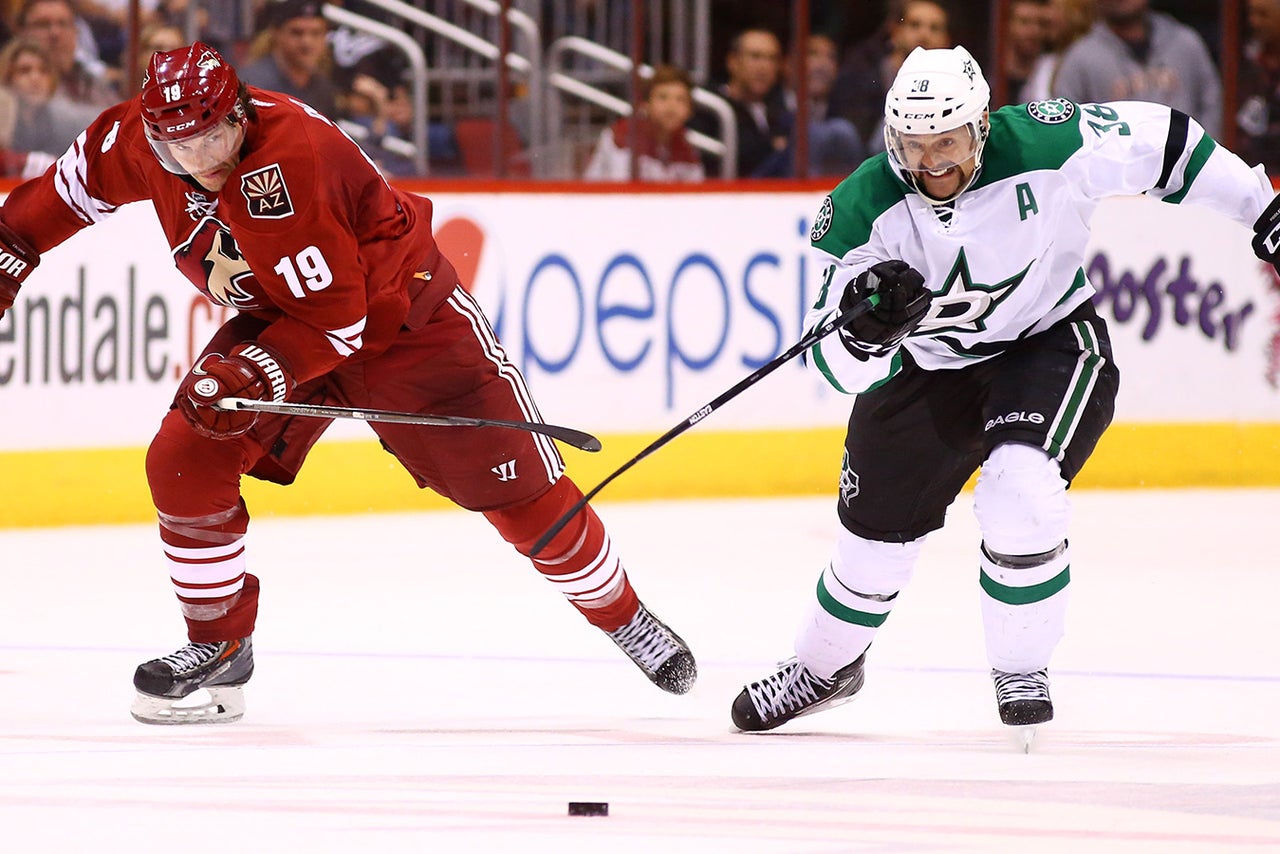 COYOTES at STARS
When: Thursday, 6:30 p.m.
Where: American Airlines Center, Dallas
TV: FOX Sports Arizona
Records: Dallas 6-9-4, Arizona 8-9-2
Injuries: Arizona Fs Rob Klinkhammer (upper body) and Martin Hanzal (lower body) are day to day. F David Moss (upper body) and D Brandon Gormley (lower body) are week to week. Dallas Fs Patrick Eaves (foot) is likely to play. F Ryan Garbutt (upper body) is out for a week. F Valeri Nichushkin (hip surgery) is out four months. D Patrik Nemeth (right arm laceration) is out for the rest of the season.
Quick facts: The Stars beat the Coyotes, 4-3, on Nov. 11 when Garbutt scored on a shorthanded breakaway with 1:16 remaining in regulation. ... The Stars have just two wins in their last 12 games (2-8-2). ... Dallas is 1-5-4 at home, giving it the second-worst home record in the league for points and the lowest win total. ... Stars F Tyler Seguin scored two goals on Tuesday night against Carolina -- his fourth multi-goal game of the season. ... The Stars waived D Kevin Connauton on Tuesday. He was claimed by Columbus.
Coyotes governor George Gosbee has asserted numerous times that owners and the league aren't going to give up guaranteed revenue to allow a team to relocate for far less revenue. 
The Coyotes didn't release much information on Martin Hanzal's lower body injury that kept him out of Tuesday's 2-1 overtime loss to Washington. All coach Dave Tippett said was that he left the ice after the morning skate complaining that he didn't feel well and he is listed as day to day.
Since the 2009-10 season, Hanzal hasn't played more than 65 games in any single season. He has already missed four of the team's 19 games this season.
To a man, the Coyotes will tell you Hanzal is the team's most valuable forward because he touches the game in so many ways. He plays down low on the power play, he kills penalties, he normally plays against the opposition's top talent and he is also expected to chip in with secondary offense.
Part of his injury issues may stem from the fact that he plays in front of the net and takes a beating because of his size. But when the team is so reliant on a player and he misses significant time each season, it creates problems.
Both Hanzal and forward Rob Klinkhammer (upper body) are questionable for Thursday's game in Dallas. Forwards David Moss (upper body) and defenseman Brandon Gormley (lower body) did not make the trip.
Coyotes defenseman Chris Summers and Michael Stone blocked a combined nine shots Wednesday against the Capitals, two off Summers' head and one off Stone's jaw that opened up a cut and required stitches.
"Those aren't fun," Tippett said.
They are a necessary element of success, however, and when they are coming with regularity, they're also a sign that a team is competing hard. Summers was particularly effective on the penalty kill.
"For me, it's been a few weeks since I've been in the lineup, so I've got to make my mark somehow; contribute in any way I can" he said. "Blocking shots I guess was it." 
The Coyotes are fifth in the NHL in blocked shots with 305.
Follow Craig Morgan on Twitter
---
---