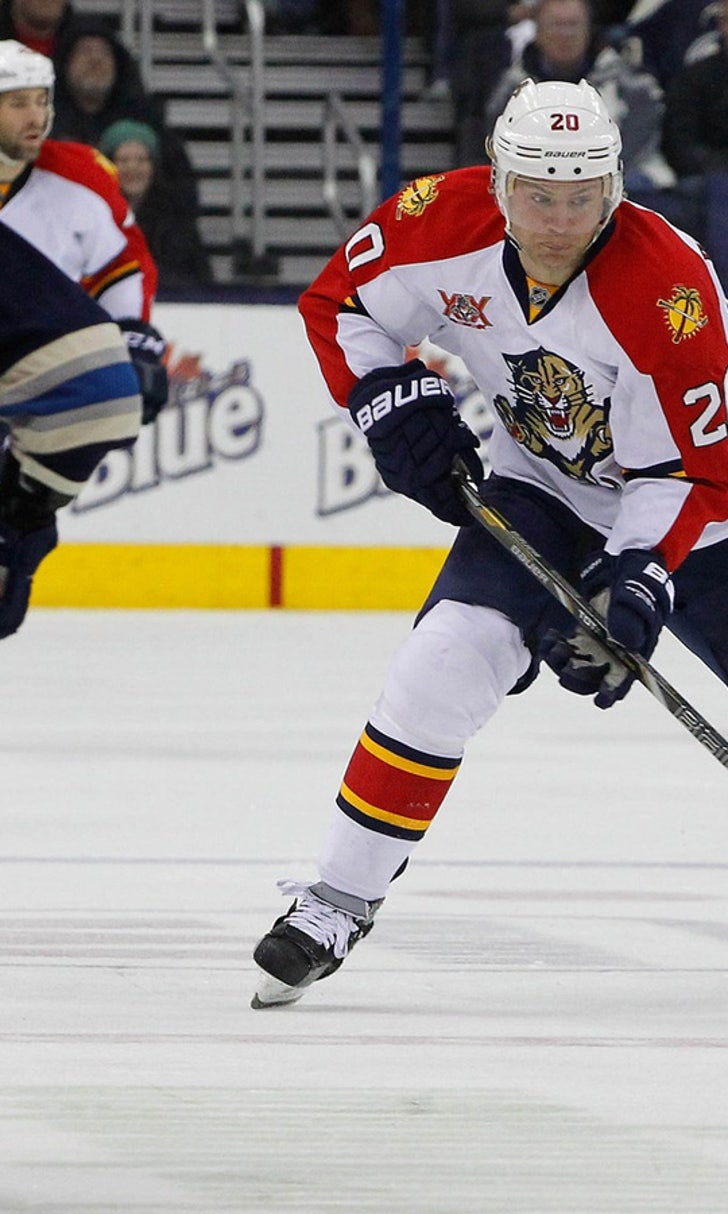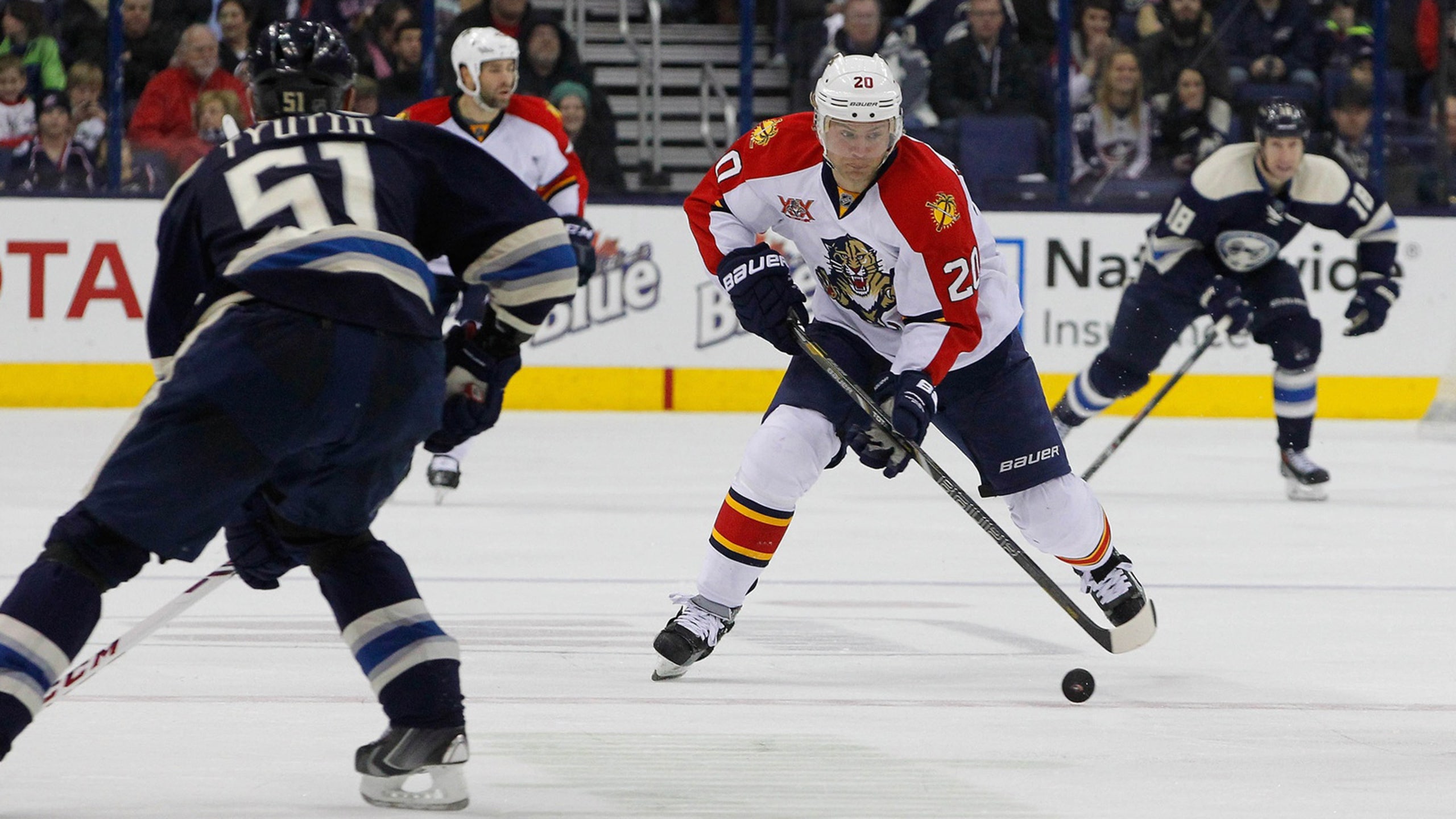 Before the CBJ puck drops: Florida Panthers
BY foxsports • March 1, 2014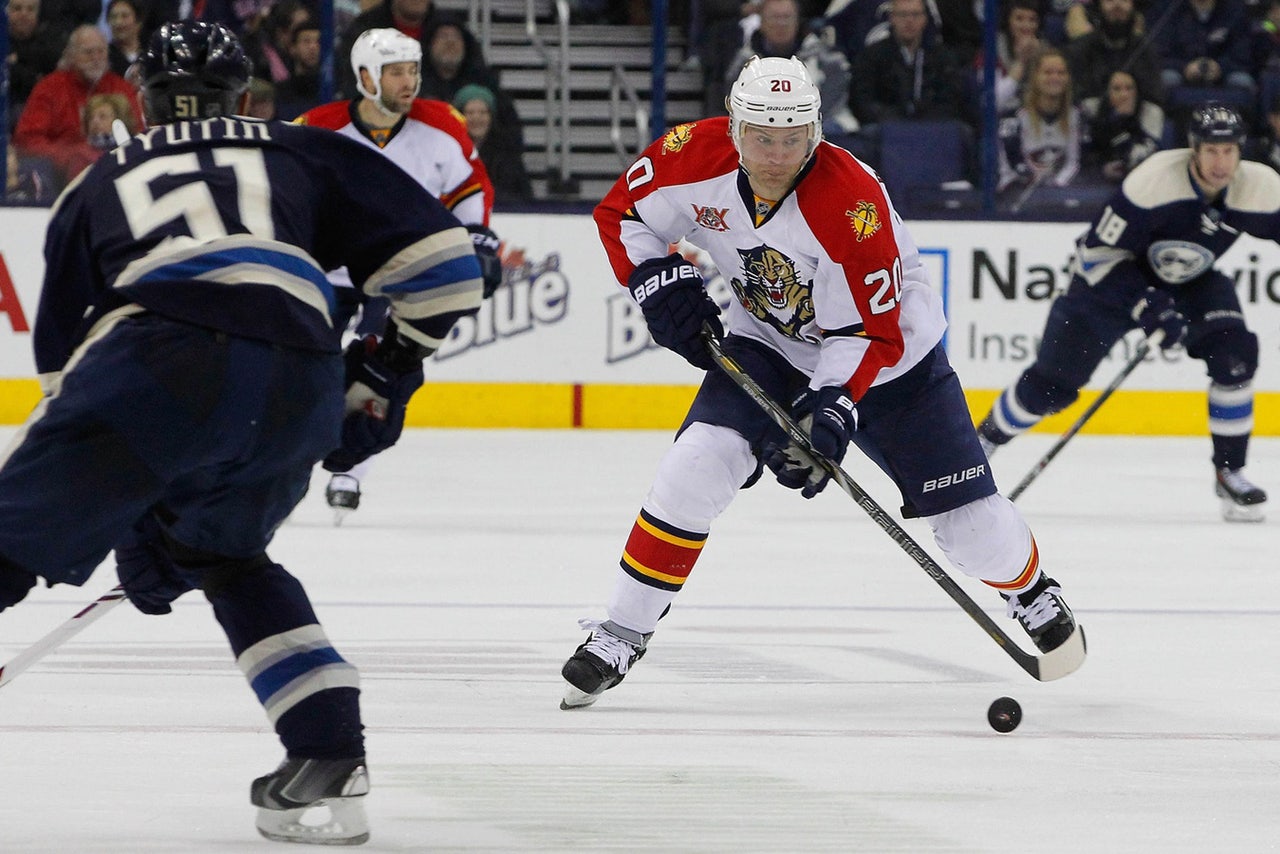 GAME 60: Florida Panthers
22-30-7 -- 7th place in the Atlantic Division
3-7-0 in last 10 games
SCORING RANKINGS
Florida
Goals for: 2.30 goals/game - 28th in the NHL
Goals against: 3.10 goals/game - 28th
Columbus
Goals for: 2.85 goals/game - 8th in the NHL
Goals against: 2.80 goals/game - 18th
SINCE WE LAST MET (On February 1):
The Blue Jackets dispatched the Panthers, 4-1, in a pleasant home game at Nationwide Arena.
Because of the Olympic break that took almost three weeks of NHL hockey away from us, the Panthers haven't done much since the beginning of February. Truth be told, no other team did much, either. Florida is 1-3-0 since out last kerfuffle, and the three pre-Olympic games weren't close. The Panthers handled the Toronto Maple Leafs, 4-1, then dropped successive games to the Detroit Red Wings (3-1) and Carolina Hurricanes (5-1).
In a sign that things might - just might - be looking up in the land of sunshine and palm trees, the only post-Olympic game that Florida has thus far played was a 5-4 regulation loss to the Washington Capitals. Unlike the other games mentioned above, a 5-4 game suggests some fight in the Atlantic Division cellar dwellers. Perhaps the Olympic break's practices did the team some good. Except perhaps the Olympic knee injury to young forward Aleksander Barkov, who is out for another 2-4 weeks.
In other news, the Panthers' desire for additional public support for their financially flagging operation (the franchise appears to be losing something to the tune of $20-30 million per year) appears to be moving forward. A recent Broward County report [link: http://www.sun-sentinel.com/news/broward/fl-panthers-proposal-analysis-20140215,0,7796638,full.story] suggests that civic leaders think that the team's 14-year, $5.6 million per year request is high, but they are willing to consider further supports beyond current contributions to keep the team from relocating and leaving the BB&T Center largely empty.
But let's put the off-ice issues behind us. On the ice, the team is deep in seventh place in the Atlantic - 12 points behind sixth place Ottawa. The Florida Panthers are lucky that the Buffalo Sabres are having a season for the ages and are in the process of dismantling their roster, for their point total would put them in the cellar in the Metropolitan and Pacific Divisions. I haven't heard any rumblings just yet, but don't be surprised if the Florida Panthers move some talent out of town before the league's Wednesday afternoon trade deadline in exchange for prospects and draft picks as they try to build some semblance of a foundation while staying above the NHL's salary cap floor. Astute trade deadline trackers will be scouring the Panthers' roster for possible trade targets.
Top scorers in Sunrise are:
- Forward Brad Boyes (17 goals, 11 assists, 28 points)
- Forward Scottie Upshall (10 G, 17 A, 27 pts.)
- Defenseman Brian Campbell (5 G, 21 A, 26 pts.)
- Defenseman Tom Gilbert (3 G, 22 A, 25 pts.)
- Forward Tomas Fleischmann (6 G, 18 A, 24 pts.)
- Forward Nick Bjugstad (13 G, 11 A, 24 pts.)
How to put it gently? What little scoring there is in Florida...it's spread around.
While I can't find any supporting evidence for this, I think it safe to predict that Tim Thomas, who has started 38 of Florida's 59 games thus far, will get the nod in net over Scott Clemmensen. Thomas is 15-19-3 with a 2.86 goals against average and a .908 save percentage.
WHY THIS GAME IS IMPORTANT:
After the grisly 5-2 loss on Thursday night in New Jersey, the Blue Jackets need - badly - to get into a winning groove if they want to stay in the 2014 Stanley Cup Playoffs hunt. So that's one very compelling reason for this game's importance.
The other is in relation to the post-Olympic break preview that I wrote. The Blue Jackets have 24 games between the Olympic break and the end of the regular season. Only eight of them are against teams that had fewer standings points than the Blue Jackets. New Jersey was one, and the CBJ lost that game. Columbus plays Florida twice - today and in the regular season finale on April 12 in Sunrise. These eight games against "lesser" opponents should be the foundation for the 13-10-1 record that Columbus needed to sneak into the playoffs. Without those eight games, Columbus is going to have an uphill climb.
The other important component of this game is the looming Wednesday afternoon trade deadline. Plenty of scouts will be at Nationwide Arena today, and the Blue Jackets have to hope that all of their players show up so as to impress general managers around the league. While we don't know who exactly is being discussed, it's clear that the Blue Jackets are most definitely trying to make some roster improvements before the deadline. In fact, ESPN's Craig Custance told me that while the CBJ intended to send two team executives to Boston for the annual MIT Sloan conference on sports analytics, they only could send one "because of the trade deadline".
WHO I'LL BE WATCHING:
It's a home matinee in front of a friendly family audience against a team that can't score much and doesn't do well stopping goals, either. So take your pick today. Do you want to see Marian Gaborik continue his recovery from his broken collarbone with yet another goal or three? Maybe Nathan Horton makes something happen and grabs a goal for himself? And perhaps Brandon Dubinsky and R.J. Umberger reappear on the scoresheet? Or will Sergei Bobrovsky will pitch a shutout?
All those suggestions are compelling, but I'm going with Ryan Johansen today. The Blue Jackets need him to get back on track to be successful over the balance of the season, and this is about as soft an opponent as they come. And yes, The Johan likes the kids. I know.
YOUR FOX SPORTS OHIO BROADCAST INFORMATION:
It's a home matinee today, so set your watches accordingly:
- Brian Giesenschlag's "Blue Jackets Slap Shots" magazine show airs at 1PM.
- Brian and Dan Kamal bring you the "Blue Jackets Live Pregame" at 1:30PM.
- The puck drops at 2PM, with Jeff Rimer and Bill Davidge on the call.
- Brian and Dan return immediately following for "Blue Jackets Live Postgame" with insight and analysis.
Yet another big game. The team's back isn't against the wall quite yet with regards to the playoffs, but they need this one to have any sort of comfort going forward.
---