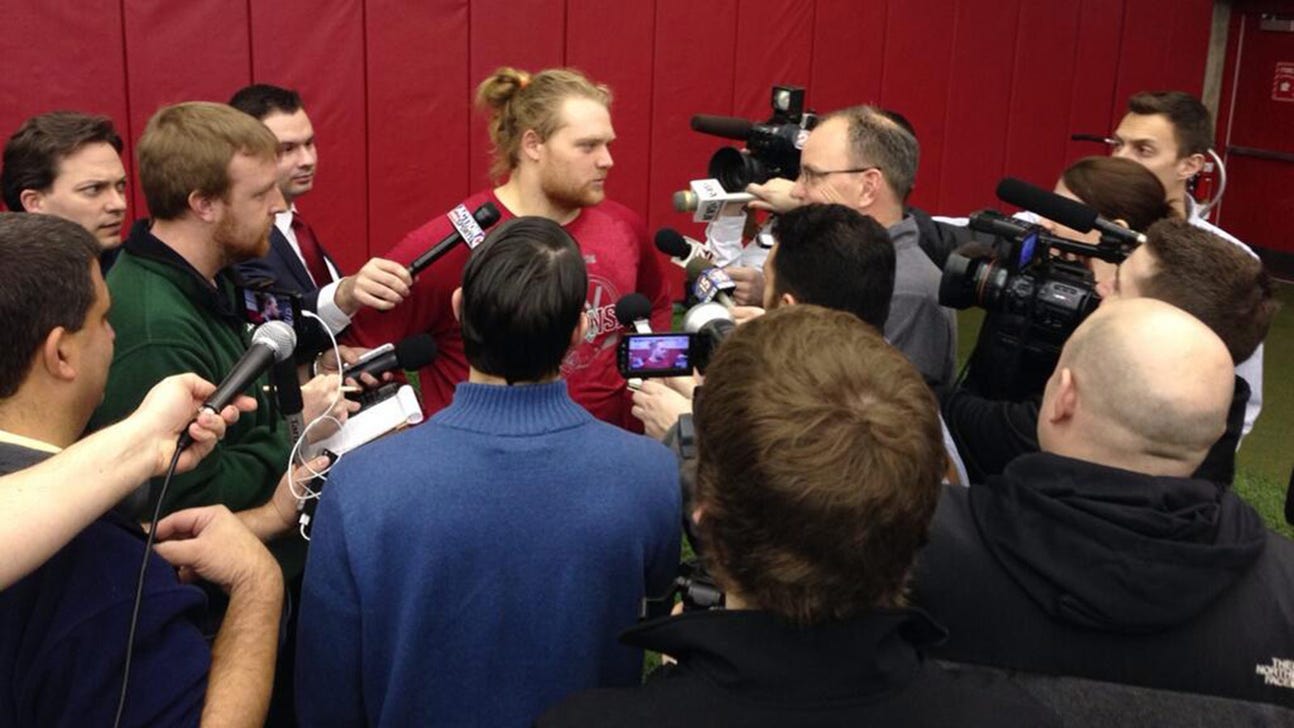 Beau Allen: I hope I surprised NFL teams, scouts
Published
Mar. 13, 2014 2:00 p.m. ET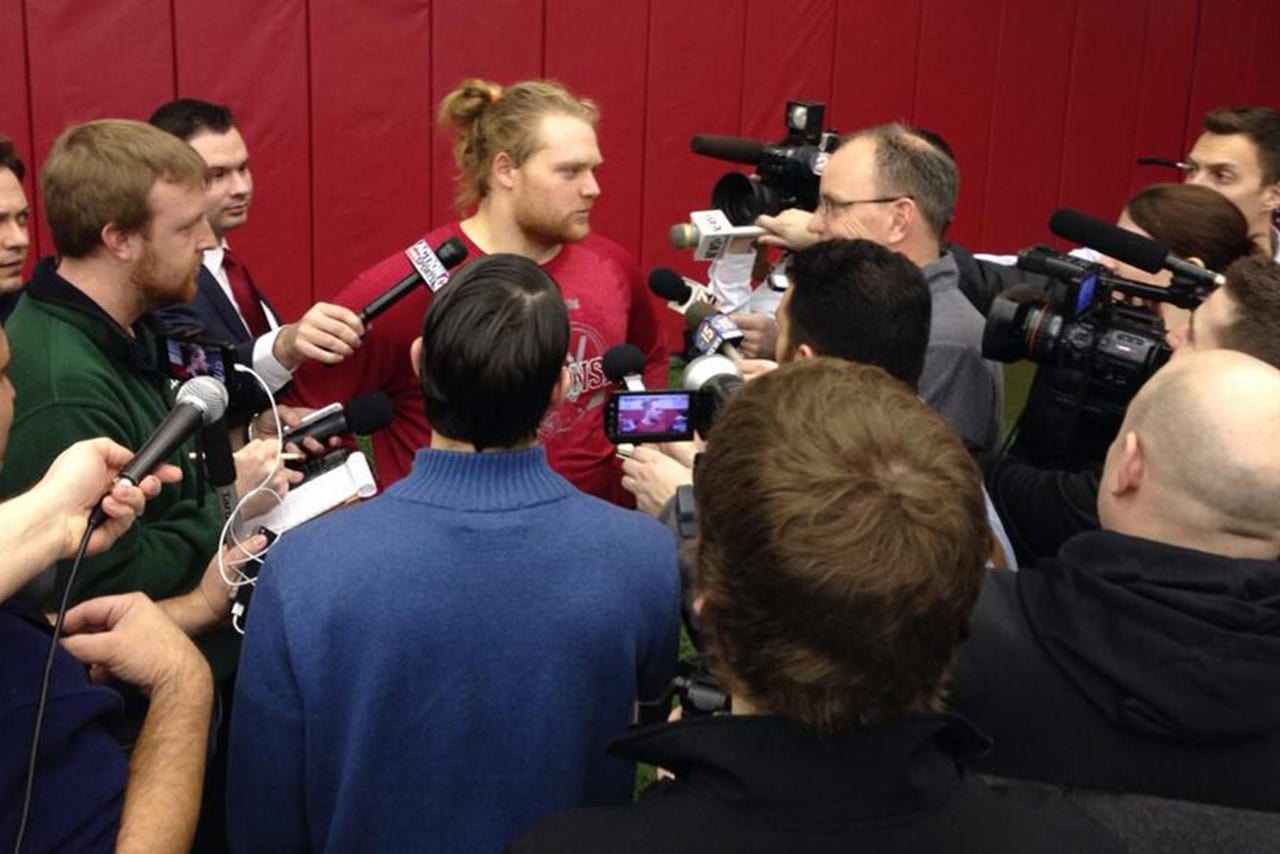 Obviously I wasn't at the combine and I really had to make the most of the Pro Day and had to make the most of my opportunity and I think I did that.
I'm really happy with the way I performed overall. Looking back I wish I could have done better on one or two of the drills, but I'll take the times I got.
I think everyone was for the most part really happy with my performance. I think going into it some scouts and some teams underestimated my athleticism and weren't expecting me to put up some numbers like that, so I hope I surprised some NFL teams and scouts, especially. That was my goal.
One of my biggest goals of Pro Day was to show scouts I'm athletic and I can move well for a big guy, and I think I did that. If you take my numbers -- I guess I'll rattle them off here.
I had a 31-inch vertical, which is good. I was shooting for that. My personal record is 32.
Broad jump I hit 8 feet, 8 inches. I think I could do a little better, but that's still pretty good for me.
I didn't run a 40, I ran a 10 -- although one team clocked me on a 20, which is good. I think in hindsight I could have run the 40, but I wanted to play it safe.  I tweaked my hamstring just a tiny bit and the 40 was the first event of the day, so I played that one safe. I don't think the 40 is that important for a defensive tackle anyway.  One scout I talked to after Pro Day said he clocked me at a 1 .67 10 and a 2.87 20, and I think I could have run a 5 or sub-5 in the 40 if I was really moving with those numbers. I think that shows good explosion and good get-off, which is important for a defensive lineman.
In my pro agility I was clocked at a 4.5, which is good. My 3-cone, the scout I talked to after Pro Day said I had a 7.27, which is good for me.
Then I hit 30 reps of 225 on the bench. I was shooting for 32-33, but I kind of got overzealous and repped them out too fast and got off my pace a bit, but like I said I was overall real happy with my performance.
There were a lot of teams there. For the most part they don't speak too much with players. I caught up with a couple of them, but I think the scouts just want to watch you go about your business, watch the way you warm up and see your demeanor throughout the day. And basically if they like what they see and you're a prospect they're interested in they'll reach out to you in the future. I think I did well because I've been reached out to by a lot of different teams and have a lot of interviews and workouts planned, so I definitely did what I wanted to accomplish.
I was talking to Pat Muldoon before Pro Day and we were marveling about how we've done thousands of reps of the short shuttle and 40 starts and you prep so hard for it and it is literally the only thing on our minds the past two months, and then you only get one pro agility, you only get one 3-cone.  So that kind of blew us away a little bit. There's so much importance into that one rep. Really if you think about it, too, there's never going to be another time where I'm going to do a 3-cone timed or a timed pro agility or a vertical jump, so the numbers I put up on Pro Day are pretty much my numbers for however long I play football. But I thought it went really well and I wouldn't have done anything differently. My preparation, focus and attention to detail on the technical drills really paid off.
I definitely think I helped myself. All the people I've spoken to kind of agree with that -- the coaches and scouts. I still think I'm flying under the radar a little bit. Don't know if people in the media and people like that really appreciate some aspects of my game, but at the end of the day it is what the coaches and scouts think and they have access to every bit of my tape from all my games at Wisconsin and at the end of the day what they think is all that counts.
Starting this week I'll have a couple of private workouts, which is obviously exciting because it gives an NFL coach the chance to see me and it is obviously a lot more personal than Pro Day. From there, just travel around. I have a lot of interviews lined up, which is definitely good. It means most of April I'll be traveling around. Hopefully I get even more private workouts and interviews. And then just staying physical and active before the draft. It's crazy how much time there is before the draft.
***
I was eating so healthy and it was so funny, my dad came to the Pro Day to watch and support me and brought me some candy. A couple of my friends got me some candy for after Pro Day. The agency that represents me got me a big bag of Trolli gummy worms and stuff like that.  But I think that might have been short-lived for me because I have to impress at these workouts and get ready because rookie minicamp is coming up real fast. I think rookie minicamp is a week after the draft, so definitely have to get ready for that.
---