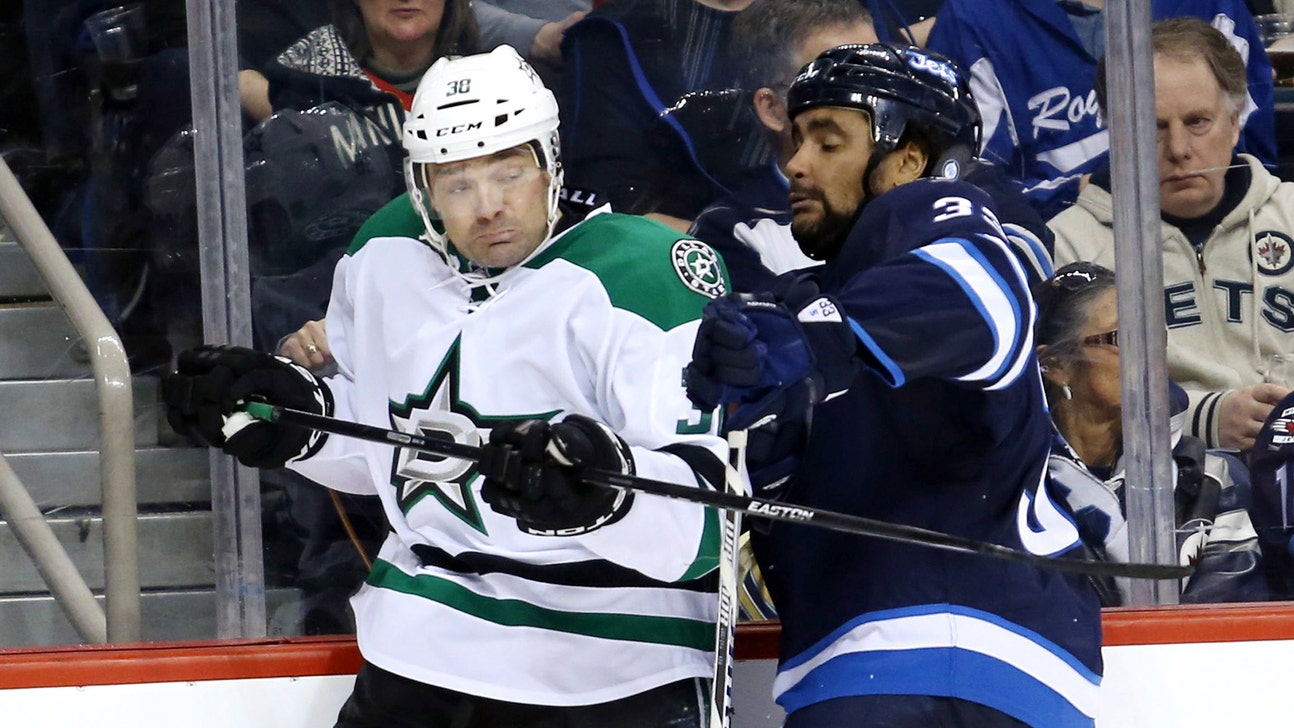 Bag of Pucks - March 18 - Dave Tippett, the Coyotes, and Your Emails
Updated
Mar. 4, 2020 8:20 p.m. ET

Let's just get this through our heads right now.  They aren't going away.  They aren't going to lay down and they sure aren't going to make this easy on you.



So, before we start this entire game, just understand that simple fact.



The Phoenix Coyotes, a team that you likely have very little regard for, owns the Dallas Stars right now and you might not even know it.



My first real thoughts about the Coyotes was disgust, due to a sadness that tiny, sweet Winnipeg was losing its Jets to indifferent Phoenix in 1996.  Then, they took advantage of William Wirtz and his Chicago nonsense by fleecing the Blackhawks for Jeremy Roenick that same summer, who then joined Keith Tkachuk and Shane Doan to form a scrappy team in the desert who were both entertaining and abrasive.



Next, of course, came the Hatcher/Modano/Roenick connection and the beauty of the one of the most heated feuds in Dallas Stars history, but as the Stars were winning every year, the Coyotes of Roenick and Tkachuk were 1-and-done for 6 out of 7 seasons and an annual punchline.  Late in the 2000-01 season, right about the time Wayne Gretzky was part of an ownership group that took over the team, Tkachuk was traded to St Louis and then later that summer, Roenick went to Philadelphia in free agency (the Stars thought they were in on him, and the settled for the Pierre Turgeon consolation prize).  Thus ended the Coyotes playoff era, save for one last 2002 1-and-done.



From there, 6 years of incredibly poor hockey, worse attendance, an arena move out of downtown Phoenix, Gretzky named himself coach, bankruptcy, rumors of several moves to Canada, and finally, the league takes over operation of the franchise.  You may recall that Brett Hull was their big free agent signing (2 years/$4.5m) before the 2004-05 season (the lockout cancelled season) and played the first 5 games of the 05-06 season in his dad's #9 before retiring with 1 assist as a Coyote.



So, how did the Dallas Stars, their brethren in bankruptcy in 2009 turn the Coyotes around?



Well, as you may recall, Dave Tippett was hired to replace Ken Hitchcock in 2002 (with Rick Wilson watching the bench in between for a few months) and the Stars went to the playoffs in each and every season from 02-03 up until '08 when they made their Western Conference Finals run.  As you may recall from last week, that led to the summer of Sean Avery's signing which was Hull's last big Stars idea and effectively set off a grenade in the Stars room that they did not recover from in that entire 2008-09 season.  Hull and Tippett were voted quickly off the island after that season, Hull by the hand of ownership (what was left of it) and then new GM Joe Nieuwendyk dismissed Dave Tippett on his first day in office in early June 2009, and thus ended Tippett's 9-year run in Dallas.  At the time, it was sold as a fresh start and pretty much everyone accepted that the era had "run its course" and it was time to turn the page.



Tippett returned to his cabin in Minnesota that year to examine his options and to relax, knowing he would land on his feet after doing such a fine job for so long in Dallas.  By the end of the summer, he had accepted an assistant coach job in Phoenix to work with Gretzky who had spent 4 years behind the Coyotes bench and never was able to make heads or tails of the whole thing.  He was also caught up with all of the many issues involving bankruptcy, relocation, and various ownership bids and it seemed his run was ending.  Tippett is the most qualified man in the room as Gretzky is stepping down amidst the chaos in September of 2009,  so he takes over what is widely regarded as the worst, most impossible job in the NHL.  A Phoenix team with limited talent, no funds, and no fan base is his next coaching gig.



Well, you know what happened next, but if not, here is a helpful graphic demonstrating the runs of Tippett's old team - Dallas, and his new team since the day he was fired in Dallas:




| | | | | |
| --- | --- | --- | --- | --- |
| Year | Dal Points | Dal Playoffs | Phx Points | Phx Playoffs |
| 09-10 | 88 | No | 107 | Yes |
| 10-11 | 95 | No | 99 | Yes |
| 11-12 | 89 | No | 97 | Yes - WCF |
| 12-13 | 48 | No | 51 | No |
| 13-14 | 75 | ??? | 77 | ??? |
| Totals | 395 | 0-4 | 431 | 3-4 |


That 36 point advantage for Phoenix is an average of 7 points per season difference between the Coyotes and the Stars.  That is significant and a sign of clear superiority over the stretch.



It is impossible to measure talent discrepancies and effects of each team dealing with bankruptcy and league control of their franchises, but if there is one single move that seems to have changed the course of two different franchises, it would seem to be the firing of Dave Tippett.  Can it be traced all the way back to Sean Avery?  Sure.  But, the dominoes didn't have to fall like this.  They did and it is what it is, but wow.



So, here we are on the morning of March 18th.  Phoenix has now pulled ahead of the Stars in the standings for the first time since the Olympic break, having played 2 more games than the Stars.  They still have Tippett, still have Mike Smith in goal, now also have Mike Riberio as one of their top offensive players and even old friend Jeff Halpern scored the game winner in Los Angeles last night.



They aren't going away.  They never do.  They have had the same financial handcuffs on and yet have still outplayed the Stars for just about every second of every day since Tippett was fired.  Now, the Stars try to turn history as the new regime in Dallas is just trying to fix the issues.  But, despite the divisional changes, it is still that annoying team in the desert standing in the way.



And, as we have mentioned, Game #82 is in Glendale.  Surely, that game will mean plenty, won't it?



Get used to them.  To go to the playoffs, you must face them and strike them down.  They are not going to go quietly.  Do not underestimate them.  You have no right to do so around these parts.



=====



OK, let's roll through some emails-


Would love to see a Sturm opinionated prospect update of the kids down below- 

Brian Waddle
Well, I will tell you Brian, I am not a great resource for knowledge of hockey prospects.  I get interested every year at draft time, but then I fall out of touch during most of their growth except for checking in with the brass from time to time on the relative progress of each of the kids.  The players who are in juniors, US colleges, or even the AHL are all subject to the roller coaster rides of development, so unless someone is interested in watching 10 games of a player, the are risking getting anecdotal info that might actually be misleading.  That is a long way of saying, I am not the guy to ask.



However, I do know that Jim Nill and his crew believe in taking it slow.  Very slow.  They believe in it because it has worked over the course of time to let each guy prove his worth at each level.  That is why Jamie Oleksiak has been in Austin all year and has been playing those who can aid his development at a level that can assist his confidence.  They have plenty of hopes for him, but they want him to set his own timetable.  In prospect talk, we get tired of hearing a guy's name for 3 years.  But, in hockey, that means he has gone from 18 to 21.  21 is still a very young athlete and they aren't all Tyler Seguin.



They are very high on Oleksiak and Brett Ritchie, John Klingberg, and Jack Campbell - and all can knock down the door as soon as next season.  They are moderately high on Radek Faksa, Patrik Nemeth, and Devin Shore, but they are the next wave or have a lower ceiling (in Nemeth's case).



The system is in good shape, but they are still thought of as in the bottom half of the league in terms of talent.  I am sure that would be way different if Val Nichushkin was on the farm - their ranking might be Top 10 with just that one adjustment - but, these rankings are not that important.  Production at the top level is ultimately all that matters.  The farm is better, but still plenty of room for studs who can take over games.


It seems a lifetime ago we lost the great Zubov. We have seen countless "next" prospects come and go. Vishnevskiy, Larsen, and now the new "next" prospect John Klingberg. If Oleksiak is to Matvichuk/Sydor, and Nemeth to Hatcher, then Klingberg must be Zubov. How high is Klingberg's stock in the front office? Will he be in NA next season? Do you think he might end up in the NHL by the end of 2015?

P.S. Who goes to make room?

P.S. Hope its Rome.

-Dylan
Klingberg is the one they are excited about as a dynamic defensemen with the puck who can do magical things on the point of a power play.  He is still in Sweden playing big minutes, and they would love for him to play a year in Austin before rushing him up here, but if there is a Zubov-comp (Yeesh, why do that to the poor kid) it would be that Swede.  The other, Nemeth, is thought of as a big, stay-at-home guy who might be the Nik Grossman of his office - I don't think Hatcher works for me.  So, could Klingberg get here within 12 months of this blog?  Sure.  But, that might be pushing their perfect plan.



But, yes, Dylan.  Odds are good that these new prospects will be more like Larsen than Zubov. There just is a thing called reality that always gets in the way of these guys breaking off Hall of Fame careers.


Bob,

As great as Seguin and Benn have played together this year, the other forward spot seems to be open.  If we get to the playoffs, who do you see Lindy using on the top line with Jaime and Tyler? Does he go with Val or does he go with a veteran like Erik Cole?





Jordan 
Wow.  This assumes the Stars make the playoffs, so this would make me very happy under all scenarios.  I anticipate in just smiling throughout the playoffs if they happen.  No stress.  No expectations.  Just smiles that post-season hockey is back.  



But, I suppose if this were to happen, my calm would last until the puck drops and then I would raise my bar of expectations.  Who is their 3rd?  Well, honestly, Val is struggling recently and looks like he may have already played his best hockey of his 18th year on this planet.  Who can blame him?  This has been an incredible experience for him.  But, does he have still another gear?  



And if not, who goes up there to stay with 14 and 91?  Not sure.  Obviously, Rich Peverley was the best other option, so maybe this is something they work through for the next stretch.  Alex Chiasson spends enough time with those 2 on the power play that this might actually be the play.  I like Erik Cole where he is and that is as sort of the lead dog on the 2nd line and he has been great in the last month.  But, let's just focus on the playoffs, which for Dallas are happening right now, I suppose.  




On the new individual retirement banners, Broten's says -'95. He came back and played in 97 though and the original banner we put up said '97. What up with that?
Another question...I get that Tim Thomas is an unconventional goalie and his style works for him, but does that style include getting way out of position by overly committing to plays in the crease or has he just had bad positioning in his few games here?

 

Ryan
It seems strange to me that the entire defense tends to follow the play of Alex Goligoski. If he's bad they're all bad and when he plays well they follow suit.  How is that he has such an overwhelming effect on the entire defense?

Well, talking about Alex Goligoski is its own industry sometimes, and after the Calgary and Winnipeg games, #33 is back in the crosshairs of criticism for looking absolutely poor at various times and generally those poor times are leading right to scoring chances or goals.  And then the camera always catches him skating away looking at the ice in defeat.  His confidence level is very apparent and easy to perceive when it is low.  He returns to Pittsburgh tonight where another defensemen plays who had major confidence issues in Dallas, but now that he plays with Sidney Crosby and Geno Malkin, Matt Niskanen is one of the highest plus/minus players in the game.



It is a team sport and Goligoski has plenty of talent and use for this franchise, but he has to get his spot in order and right now with his pairing with Trevor Daley, that particular duo have got to be better for this thing to get to the finish line.  They are playing tough minutes against tough competition, but this team has no better idea right now and these are the cards they have to play.



Enjoy Pennsylvania, and let's hope the Stars can leave with a few results.  

---