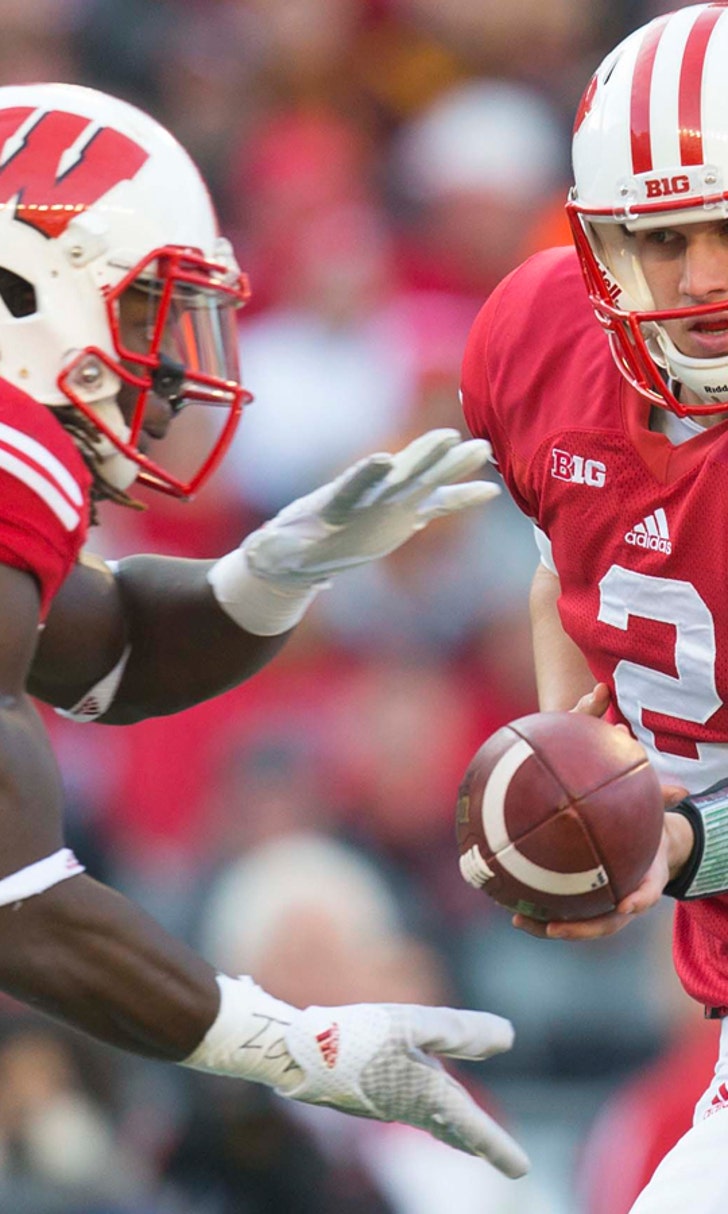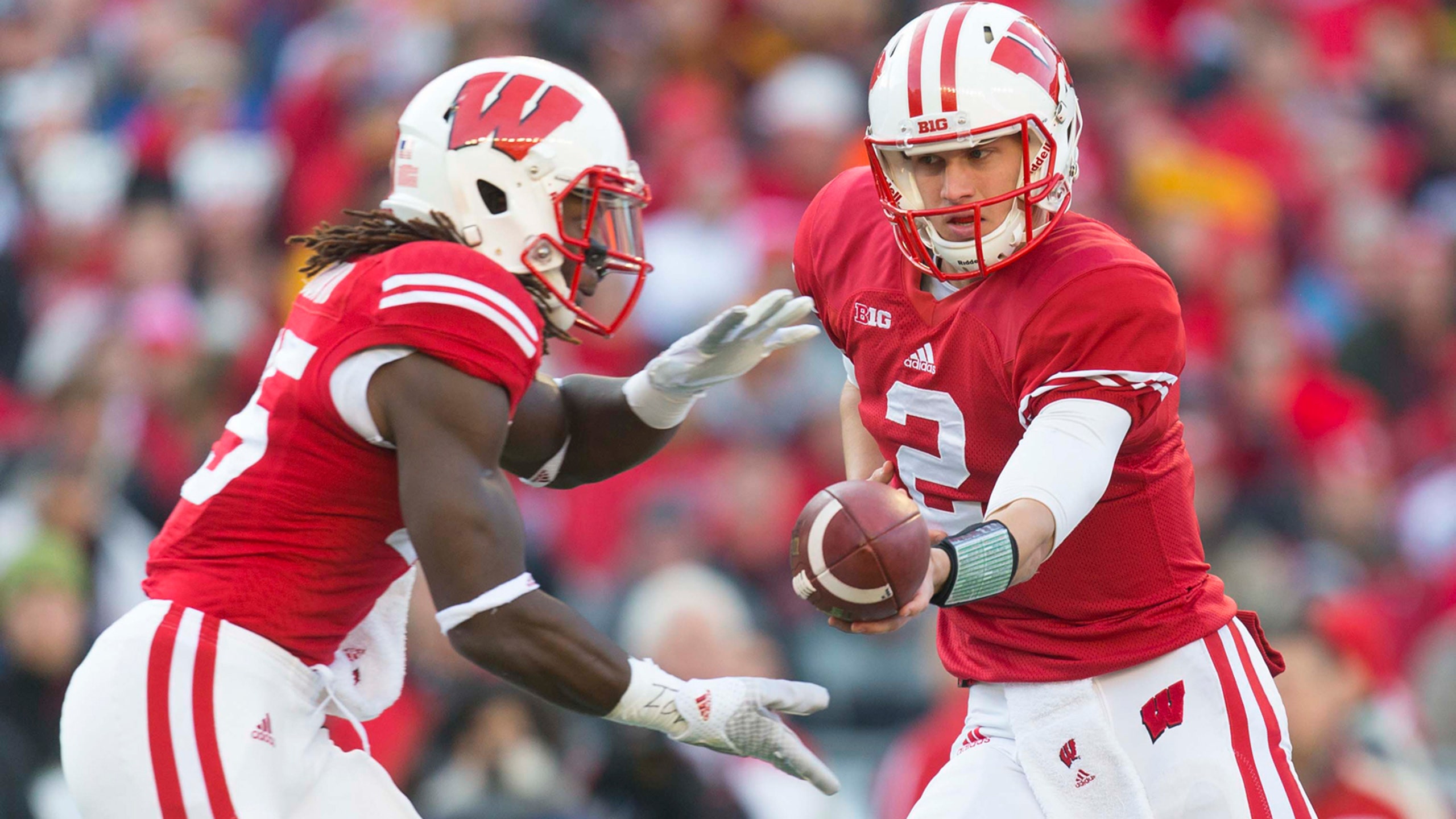 Badgers season report card: Offense and special teams
BY foxsports • January 5, 2015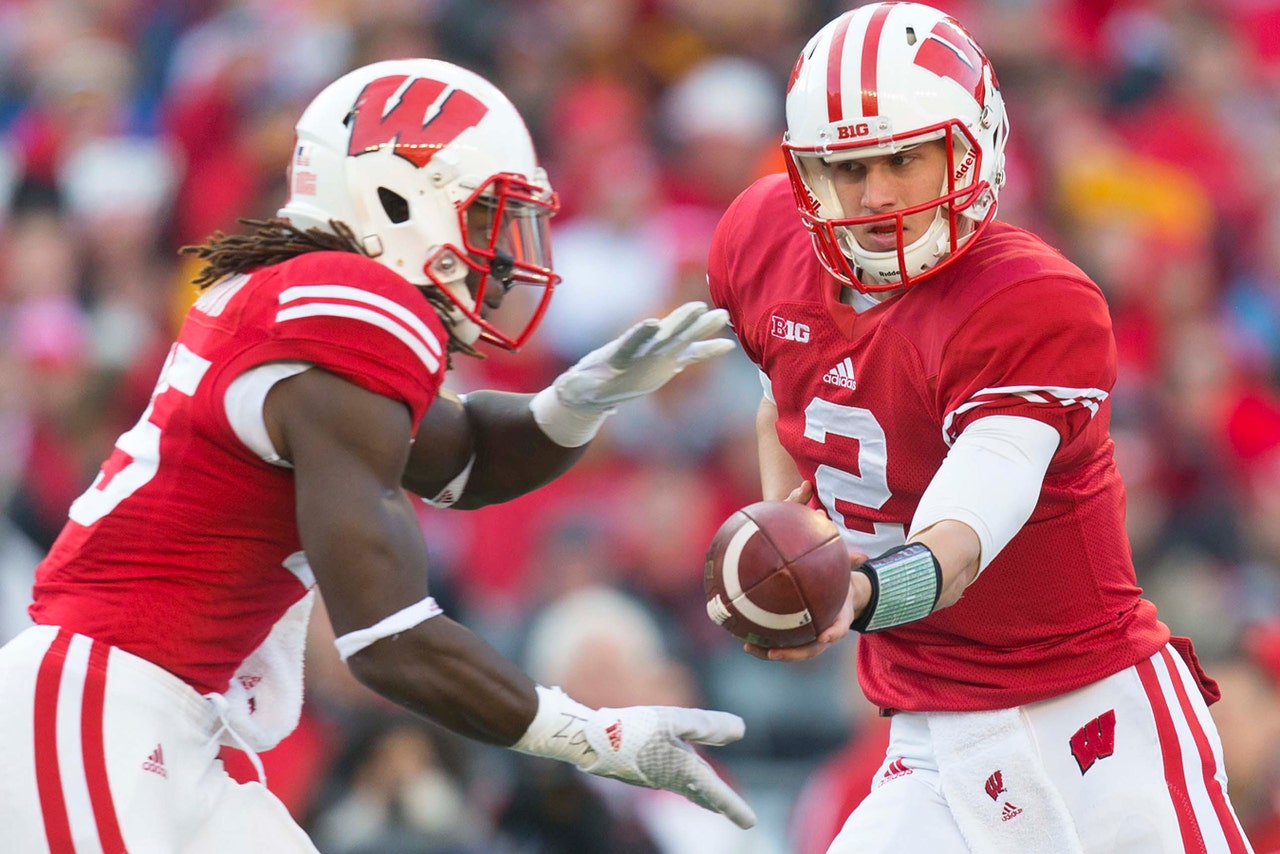 Wisconsin's offense finished the 2014 campaign averaging 34.8 points per game, which ranks third in program history for a single-season. But the effectiveness of each position group fluctuated significantly.
Most people would agree Badgers running back Melvin Gordon was the best tailback in the nation and a big reason Wisconsin won the Big Ten West, captured the Outback Bowl and finished with 11 victories. And even more people would agree the Badgers' quarterback play was never good enough, leaving question marks about what could have been.
How did each unit perform? Here is my season-ending report card for Wisconsin's offense and special teams groups:
Quarterbacks: D-plus
What can be said that hasn't already been discussed among the Badgers' fan base about this position? What transpired in 2014 out of Wisconsin's quarterbacks was simply unacceptable. If it weren't for Melvin Gordon running his way to all sorts of records, the Badgers' offense would have substantially nosedived. And here's some perspective:
Of the 128 teams in the FBS, only 18 threw more interceptions than touchdown passes this season. Wisconsin (15 touchdowns, 16 interceptions) was one of those teams. The rest of the list: New Mexico State, Kent State, UNLV, Southern Miss, Idaho, Penn State, Temple, Vanderbilt, Tulane, Wake Forest, San Diego State, Northwestern, Michigan, Indiana, Texas-San Antonio, Syracuse and SMU.
Of the other 17 teams, only two -- Penn State and San Diego State -- finished with a winning record. Both teams went 7-6, and only the Nittany Lions actually won a bowl game outside of the Badgers in this group. The combined record of those 17 teams was 61-144 (.297 winning percentage).
In other words, it's simply astounding Wisconsin was able to finish 11-3 with such a poor passing offense. Gordon's season seems even more amazing now.
As for the problem this season, Wisconsin's coaching staff took a big swing and miss by opting to start Tanner McEvoy at the outset. It wasn't that McEvoy was necessarily the wrong choice. Rather, it's the fact he was the wrong choice for this specific offense, as the coaching staff decided to try and make McEvoy the type of drop-back passer that better fit Joel Stave's skill set. McEvoy was awful in the season opener against LSU -- 8 of 24 for 50 yards with no touchdowns and two interceptions -- which should have been a telltale sign that something needed to change.
McEvoy was excellent against Western Illinois when he completed a school-record 17 straight passes and threw for 283 yards with three touchdowns. Every throw, however, was a short pass with room for receivers to operate because the Leathernecks loaded the box to stop Gordon. McEvoy also was an exceptional runner, and he finished with a quarterback program record 574 rushing yards and six touchdowns. But he never was able to hit the deep play-action pass this team needed.
When McEvoy finally was pulled midway through game five this season, Stave got his chance. But this was not the Stave we saw last season who finished second for single-season touchdown passes (22). Stave lost his confidence in August when McEvoy beat him out for the starting job. And he also did not have anybody close to a Jared Abbredris-type to save him on those deep play-action passes. Stave steadily improved during Wisconsin's seven-game winning streak to capture the Big Ten West. Still, he was exposed against quality competition in Ohio State and Auburn, when he threw one touchdown and six interceptions.
What does the future hold for Wisconsin's quarterbacks? It sure looks as though Stave will enter 2015 as the leader in the clubhouse based on his 28 starts. But a guy with that much experience simply cannot make the types of mistakes he did down the stretch. McEvoy would seem a good bet to move to safety or some other position where he can be better utilized. Bart Houston could challenge Stave for the starting spot, but he faces an uphill climb given his lack of game experience. And D.J. Gillins and Austin Kafentzis may be too green to seriously threaten Stave.
Running backs: A-plus
Melvin Gordon produced one of the finest seasons we have ever seen from an FBS running back: 2,587 yards, 29 touchdowns and a yards-per-carry average of 7.5. He became the fastest player in FBS history to reach 2,000 yards in a season and finished second on the single-season rushing list. He won the Doak Walker Award, took second in the Heisman Trophy voting and seemed to single-handedly lift the Badgers to a double-digit-win season.
Gordon rushed for at least 100 yards in 12 of 14 games and went out with a flurry against Auburn in the Outback Bowl, when he rushed for 251 yards and three touchdowns. His most memorable performance was the 408-yard game against Nebraska, which he accomplished in three quarterbacks. It set a new single-game rushing record, though it lasted for only a week until Oklahoma tailback Samaje Perine broke the mark. Can you imagine what Gordon would have rushed far had he played in the fourth quarter?
Gordon earned the bulk of the praise, which was well deserved. But sophomore Corey Clement proved to be an excellent backup. He finished with 949 yards rushing, nine touchdowns and a yards-per-carry average of 6.5. And he rushed for over 100 yards against Bowling Green, Illinois, Rutgers and Auburn. He was able to spell Gordon during key stretches and keep the rushing attack strong.
It's really fortunate for Wisconsin that Gordon stayed healthy all season because the Badgers did not have the services of freshmen Taiwan Deal and Caleb Kinlaw because of injuries. Toward the end of the year, Clement dealt with a shoulder stinger that made it tough for him to carry the ball. During one game, the Badgers used a timeout so a gassed Gordon could earn a breather because there was no other reliable tailback to insert while Clement was injured.
Wisconsin has broken the single-season program rushing record in three consecutive seasons, increasing from 3,309 yards in 2012 to 3,689 yards in 2013 to 4,482 yards in 2014. It's hard to see that most recent mark being broken anytime soon.
Receivers: C
When Chris Jones and Dareian Watkins never even made it to fall camp, one had the feeling this was going to be a long season for Wisconsin's wide receivers. Maybe those two players wouldn't have made a difference this season. But losing two of five recruits in the freshman class certainly didn't help matters.
The remaining three freshmen -- George Rushing, Krenwick Sanders and Natrell Jamerson -- all have plenty of talent and could be key contributors in the next few seasons. They were not, however, huge playmakers in 2014. Rushing caught five passes for 62 yards, Sanders one pass for 10 yards and Jamerson did not record a catch. Rushing and Jamerson were used in certain jet sweep situations just to provide them with an opportunity to see the field.
The real star of the wide receiver group was Alex Erickson, who did a pretty bang up job trying to fill in for Jared Abbrederis. Erickson caught 55 passes for 772 yards with three touchdowns to become the team's No. 1 receiver. Unfortunately, he didn't get a ton of help from the rest of the receiver group. Kenzel Doe came on strong late in the season and caught 17 passes for 197 yards with a touchdown. Jordan Fredrick, a superb blocker, added 13 catches for 126 yards. And the fact Erickson and Fredrick will be back next season is encouraging.
Still, most would have liked to see more from the Badgers' receivers. Rob Wheelwright, one of the more highly regarded high school receiving recruits for Wisconsin in recent memory, caught only one pass for 17 yards in his sophomore season. Reggie Love, who had a strong fall camp, caught only two passes for 15 yards and seemed to fall on the depth chart as the season progressed. And Jazz Peavy never really entered the picture after suffering an injury during the fall.
The quarterbacks didn't have a very good 2014 season. But if that's to improve, the receivers must play better next year.
Tight ends: B-plus
Wisconsin lost the tight end trio last season of Jacob Pedersen, Brian Wozniak and Brock DeCicco. And with most programs, that type of turnover would have decimated the unit. But the Badgers rebounded nicely thanks to the steady leadership of senior Sam Arneson and the development of Troy Fumagalli.
Arneson finished second on the team with 29 catches and 387 yards. He led the Badgers with four touchdown catches. And by midseason, he had become Stave's safety valve when Wisconsin absolutely needed a first down conversion. Just watch the last drive of regulation against Auburn, when Stave connected with Arneson for seven yards on third-and-five to help the Badgers kick a late field goal and force overtime.
Fumagalli, meanwhile, really stepped up to provide a secondary tight end option. He caught 14 passes for 187 yards and has a bright future with three more years of eligibility remaining. His 14-yard reception on third-and-eight during overtime of the Auburn game saved Wisconsin from having to attempt a 40-yard field goal. Instead, kicker Rafael Gaglianone buried a 25-yarder, which proved to be the game winner.
Austin Traylor, a redshirt junior, added three catches for 24 yards and was a solid blocker. Though Arneson's departure will hurt, Wisconsin's tight end group is solid next season with T.J. Watt, Austin Maly, Eric Steffes, Fumagalli and Traylor, among others.
Offensive line: A-plus
The effectiveness of an offensive line can sometimes be difficult to measure, but all you've got to do is look at the holes created for Melvin Gordon and Corey Clement this season to know this unit was tremendous. The O-line also finished seventh in the country in sacks allowed, surrendering just 0.93 per game. Among Big Ten teams, only Michigan State was better. No other Big Ten team ranked in the top 24.
Right tackle Rob Havenstein was as good as they come in college football. Not only was he an intimidating 6-foot-8 and 333 pounds, but he had the talent and leadership ability to make sure this line never crumbled. Havenstein played in 54 career games, which tied the school record for most games played. And 42 of those were starts. Throw in seniors Kyle Costigan (42 games, 35 starts) and Dallas Lewallen (26 games, 21 starts) and that's a truly veteran bunch. Costigan played with so many injuries, it was hard to count. But he toughed out the pain to finish his career on a high note.
Center Dan Voltz (25 games, 20 starts) and left tackle Tyler Marz (38 games, 27 starts) are the only starters returning next season. Marz will be the unquestioned leader of that group, and both players gained valuable experience in 2014. Maybe the line won't have as many high draft picks as previous Wisconsin lines, but the group proved to be every bit as good collectively as any Badgers O-line in recent memory.
Kicker: A
After searching for a reliable kicker the past couple of seasons, Wisconsin found a good one in freshman Rafael Gaglianone. He lived up to the billing as one of the best kickers out of high school by drilling 19 of 22 field goal tries, including two clutch kicks against Auburn in the Outback Bowl. He buried a 25-yarder with seven seconds remaining in regulation to force overtime, and he hit the eventual game winner from 29 yards out.
Gaglinaone showed his range in the season opener by making a 51-yard kick against LSU. He also hit a 50-yarder against Iowa. And his consistency was especially impressive. He closed the season making his final 14 field-goal attempts. He also made 59 of 61 extra point attempts.
Punter: C-minus
Drew Meyer's punting numbers have taken a curious dip each season since he averaged 41.5 yards per attempt as a redshirt freshman in 2012. Last year, he averaged 38.6 yards per punt, and this year he averaged 37.4 yards. There are sometimes reasons for a yardage drop-off. For example, pinning an opponent inside the 20 because the offense has moved the ball to midfield can substantially reduce punting average. But Meyer pinned opponents inside the 20 a total of 18 times this season, compared to 19 last year and 36 times in 2012. He also had five punts of 50 or more yards compared to six last season and 14 in 2012.
Perhaps Meyer was asked to do too much this season in the way of changing his routine. Wisconsin's coaching staff wanted to tinker with having a rugby-style punter, which did not fit Meyer's skill set. Ultimately, the staff tried third-string quarterback Bart Houston in that role. Houston punted seven times for an average of 34.7 yards but was not reliable enough to be used on a consistent basis (what third-string quarterback would be?).
Meyer's final game against Auburn typified his season because it was up and down. He averaged only 26.3 yards on three punts, and the first traveled just 24 yards. His second punt went 32 yards and pinned Auburn at its own 7. But his last punt went 23 yards and was not struck particularly well.
Meyer's 37.4-yard average this season ranked No. 104 out of 108 qualifying punters. And he'll have to perform better if he wants to hold onto the job in his senior season.
Punt/kick returners: B
Kenzel Doe created an occasional adventure as Wisconsin's punt return man because of his propensity to fumble. But, for the most part, he was a solid returner in his senior season. Doe ranked 16th nationally in punt return average (10.5 yards) and trailed only Nebraska's De'Mornay Pierson-El (17.5) and Ohio State's Jalin Marshall (12.0) among Big Ten players. Doe ranked 68th in kick return average (22.3 yards).
For a 5-8, 176-pounder, Doe maximized his ability during his Wisconsin career. Maybe the final statistics weren't what he wanted, but he proved to be a valuable piece to an 11-win team. He'll leave Wisconsin with a career kick return average of 23.9 yards, which ranks fourth in program history.
Follow Jesse Temple on Twitter
---