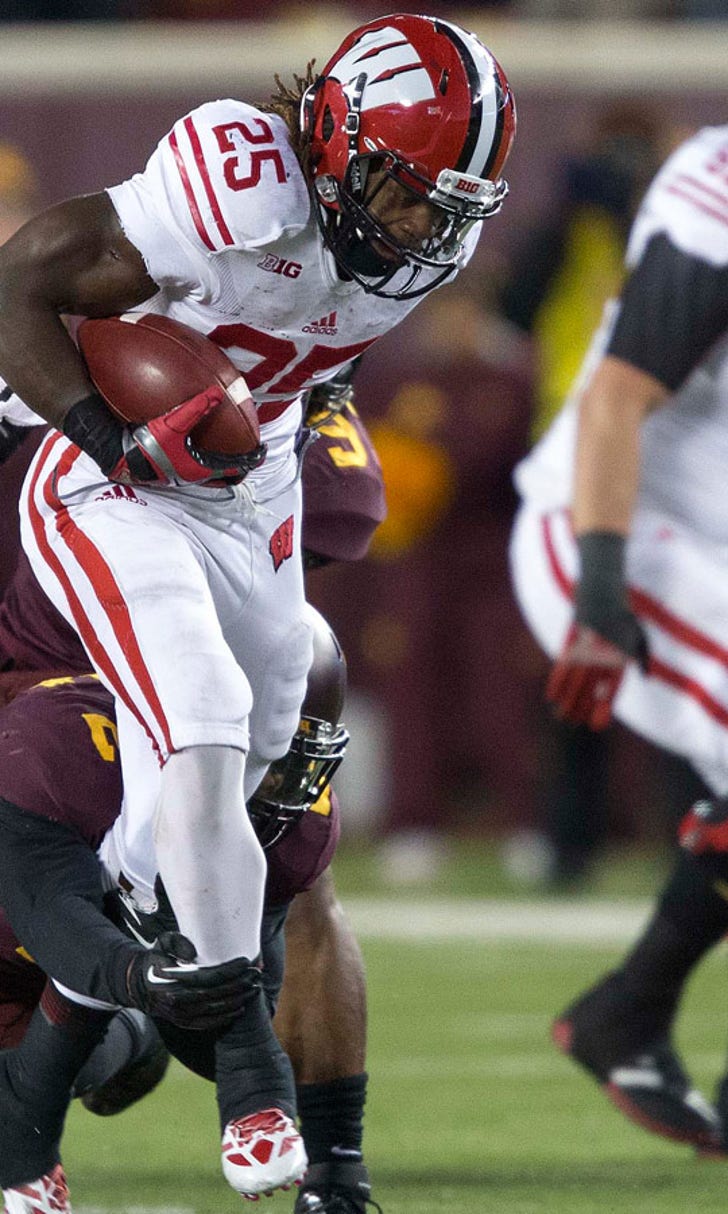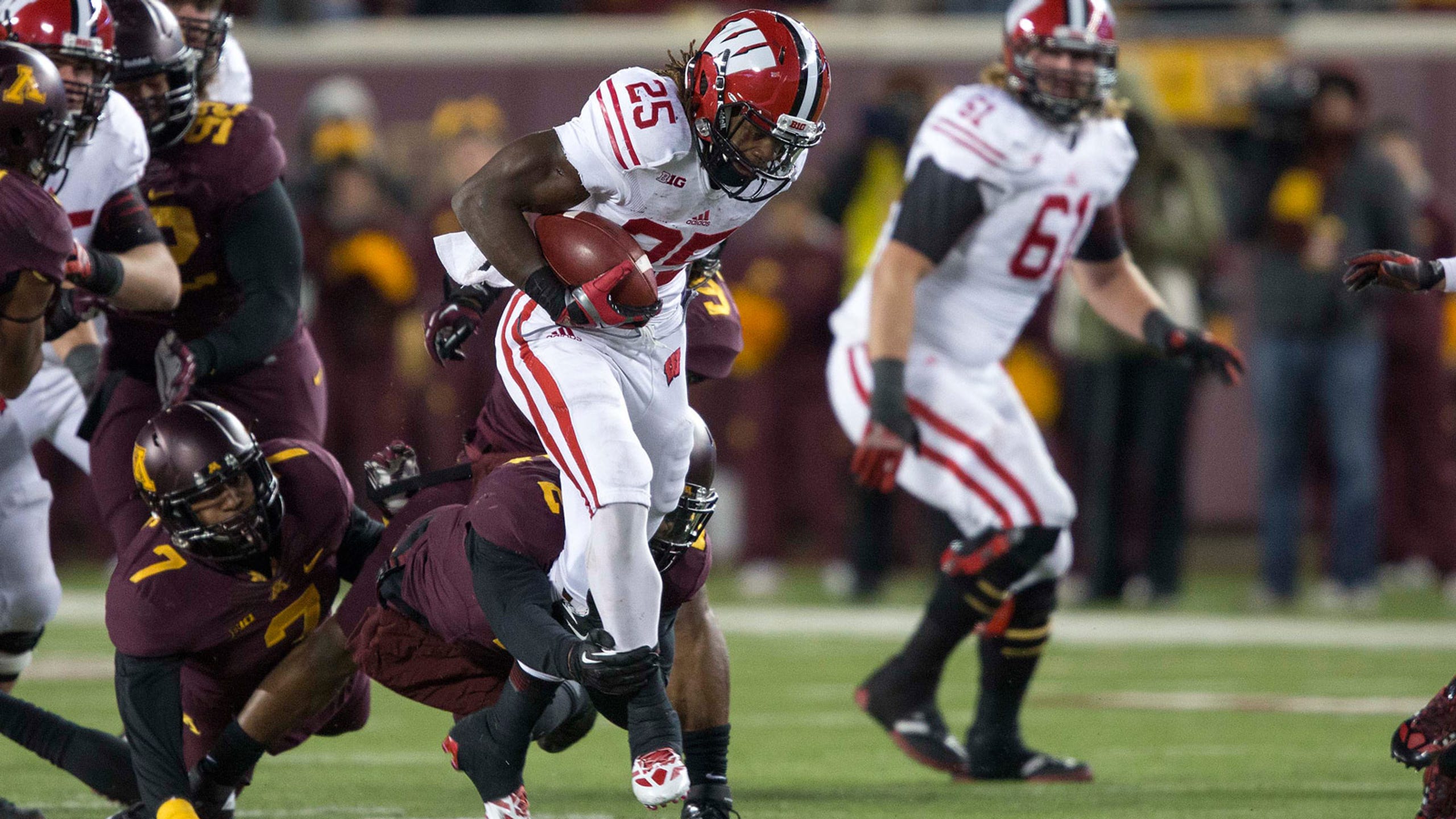 Badgers-Gophers point-counterpoint
BY foxsports • November 28, 2014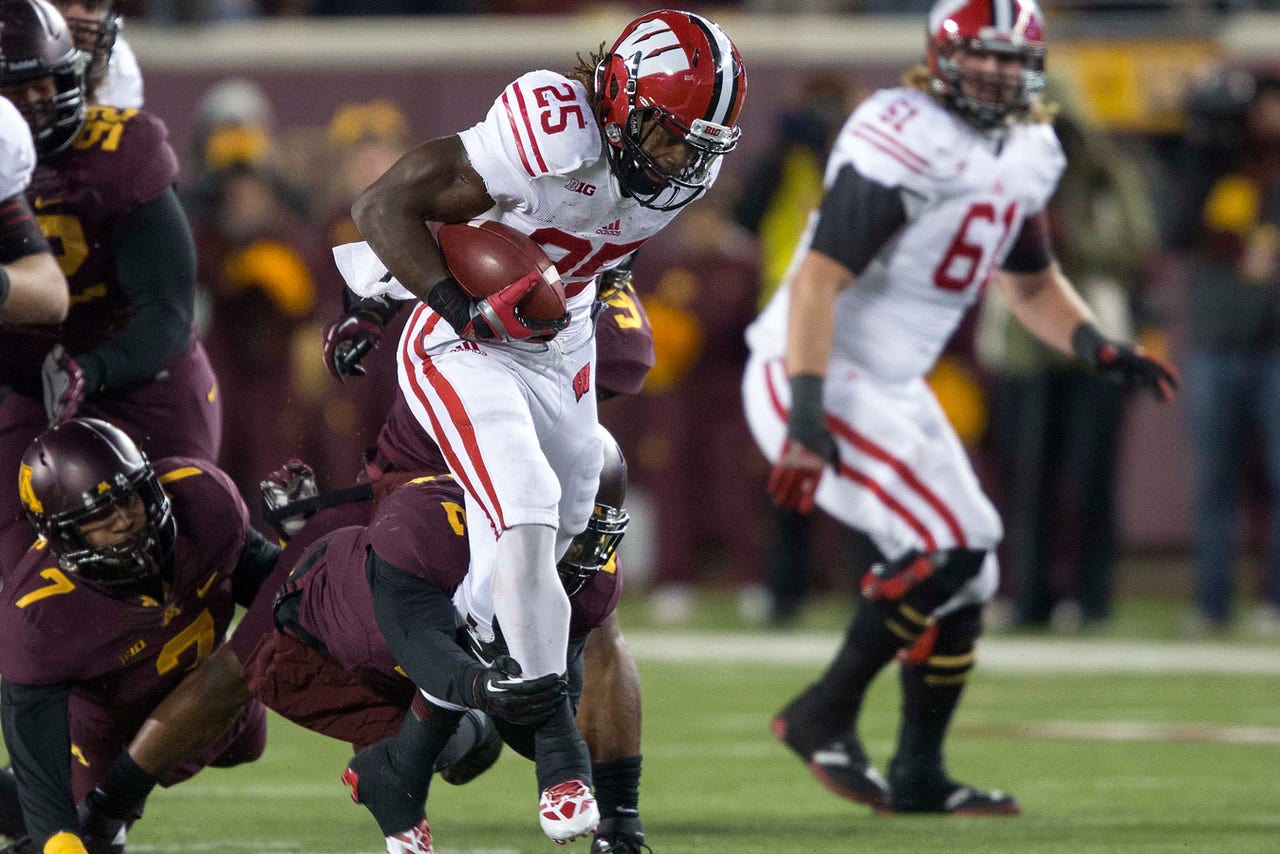 The annual battle for Paul Bunyan's Axe between Wisconsin and Minnesota will be renewed once again Saturday in Madison. And this regular-season finale is perhaps the most significant game between the Badgers and Gophers ever.
Given the stakes, that statement is no hyperbole. No. 22 Minnesota (8-3, 5-2) and No. 14 Wisconsin (9-2, 6-1) will play in a winner-take-all game to determine the Big Ten West division championship for the right to play in Indianapolis and a conference title. Wisconsin has won three Big Ten championships in the past four years, while Minnesota has not won a Big Ten title since 1967.
So, which team has the advantage this year?
FOX Sports Wisconsin Badgers beat writer Jesse Temple and FOX Sports North Gophers beat writer Tyler Mason cover these teams every day and offer their take in a five-question point-counterpoint.
1. What is the weakness of the team you cover and how can it be exploited?
TEMPLE: If there is one area that has held Wisconsin back at times this season, it's been the lack of a consistent passing game. In losses to LSU and Northwestern, Badgers quarterbacks combined to complete 20 of 53 passes (37.7 percent) for 188 yards with one touchdown and six interceptions. That's as ugly as it gets.
The Badgers have improved tremendously since Joel Stave took over for Tanner McEvoy as the starting quarterback, and Stave's past few games have been among his best. Still, there really haven't been any games yet in which Stave had to win the game for Wisconsin. If Minnesota can slow running back Melvin Gordon -- which is no easy task -- it could create quite a challenge for the Badgers' passing attack, which ranks ahead of only Minnesota in the Big Ten.
MASON: Not unlike Wisconsin, the passing game is hands down the Gophers' biggest weak spot. Minnesota has one of the better running backs in the Big Ten in senior David Cobb, and the Gophers' defense has continued to make strides in the right direction. But in the four years under head coach Jerry Kill, Minnesota has consistently ranked near the bottom of the conference in passing offense. This year is no different, as the Gophers' 134.7 passing yards per game rank dead last of the 14 Big Ten teams -- just slightly worse than the Badgers (141.7)
Redshirt sophomore quarterback Mitch Leidner is in his second year, but his first full season as the starter. He split time last year with Philip Nelson, but Leidner was handed the keys to the offense this past offseason when Nelson announced he was transferring. Since then Leidner has not progressed to the degree that many fans hoped he would. He's remained an inaccurate passer -- his 51.1 percent completion rate is 118th out of 124 FBS quarterbacks. It hasn't helped that Minnesota's wide receivers have been slow to develop. Leidner does have one big target in sophomore tight end Maxx Williams, but none of the receivers have emerged as go-to threats.
2. Wisconsin hasn't lost this game in 10 years and will be playing at home. What needs to happen for Minnesota to win?
TEMPLE: Minnesota ranks second in the Big Ten in turnover margin at plus-11, while Wisconsin uncharacteristically has a negative takeaway ratio (minus-two). If the Gophers want to have a serious chance to spring the upset -- and the 13-point Vegas spread certainly indicates it will be a tall task -- then they have to secure turnovers.
Joel Stave has thrown only four interceptions on 118 passes this year, but he is susceptible to making mistakes under pressure. Melvin Gordon, meanwhile, has had issues with fumbling the past few games. It also wouldn't hurt if Minnesota running back David Cobb is healthy enough to play. Cobb ranks eighth in the country in total rushing yards (1,430) and obviously a huge key to the Gophers' success.
MASON: I was actually going to cite the same thing Jesse did -- winning the turnover battle -- but I'll provide another answer for the sake of variety. I think Mitch Leidner will need to make a few big throws through the air in order for Minnesota to come away victorious. The Badgers are no doubt keying in on the Gophers' run game, especially if senior running back David Cobb does play. Cobb is questionable with a hamstring injury, so his participation in Saturday's game could change the complexion of things.
If Cobb doesn't play, it will be even more essential for Leidner to get into a rhythm in the passing game and perhaps connect on a few deep passes. Against a Wisconsin defense that leads the Big Ten in pass defense, that won't be an easy task. The Badgers have only surrendered 162.2 yards per game through the air this year. If Leidner can somehow find a few holes in that secondary, it could open up the running game for the Gophers.
3. Which unsung player needs to step up for the team you cover to win?
TEMPLE: I'm not sure if Tanner McEvoy classifies as an unsung hero, but his importance in limited duty cannot be overstated for Wisconsin this season. McEvoy had to deal with the deflation of losing the starting quarterback job to Joel Stave after five games, but he has handled his role in the team's two-quarterback system quite well since then. He only enters the game for specific read-option play packages, but he's been incredibly effective.
Last week, McEvoy scored on a huge 45-yard touchdown run in which he faked out Iowa's entire defense, which thought Melvin Gordon had the ball. McEvoy has three runs of at least 40 yards this season, and he's scored a rushing touchdown in each of the last three games. If defenses bottle up Melvin Gordon or shut down Joel Stave in the passing game, McEvoy simply presents another offensive weapon. How many quarterbacks out there average 9.5 rushing yards per carry? Just McEvoy.
MASON: One of the biggest plays of the Gophers' game against Nebraska was made by wide receiver KJ Maye, who caught a 35-yard pass on 3rd-and-6 to keep Minnesota's final scoring drive alive in the fourth quarter. It was just Maye's 10th catch of the year, and it was no doubt his most important. With a depleted and underachieving receiving corps, someone needs to step up in the passing game for Minnesota. Why not Maye?
The 5-foot-10 junior has been big in the running game this year, too, as he's been used plenty on jet sweeps with pretty good success. Maye's 135 rushing yards rank fifth on the team -- ahead of backup running backs Donnell Kirkwood and Roderick Williams. If Cobb is limited or out Saturday, Minnesota could use the jet sweep with Maye as an added wrinkle in the running game.
4. Does Wisconsin need Melvin Gordon to have a big game to win? Conversely, how can Minnesota stop Gordon?
TEMPLE: If Minnesota truly wants to stop Gordon, the Gophers likely will have to take a page from the Western Illinois playbook -- which, quite frankly, probably won't work this late in the season. But in Game 2, the Leathernecks overloaded the box (sometimes with as many as 10 players) to force anybody other than Gordon to beat them. And what happened? Gordon carried 17 times for a season-low 38 yards.
Tanner McEvoy, meanwhile, set a school record with 17 consecutive completions and finished 23 of 28 for 283 yards with three touchdowns. McEvoy has completed only 24 of 48 passes in every other game with two touchdowns and five interceptions, which goes to show that even a mediocre passing quarterback can have a field day if the defense allows. With Joel Stave's proven passing ability, loading the box like Western Illinois isn't likely to be successful.
As to whether Wisconsin needs Gordon to produce a big game, it seems hard to believe Gordon would do anything else at this stage. The guy is putting together one of the greatest seasons by a running back we've ever seen and is averaging 271 yards rushing over the past three games. If Minnesota can hold Gordon below 120 yards -- which has happened only once against Western Illinois -- the Gophers should consider themselves fortunate.
MASON: At this point in the year, given how limited we've seen Wisconsin's passing game is, I think Gordon needs to have a good -- but not necessarily great -- game against Minnesota if the Badgers are to beat the Gophers. I'm not saying Gordon needs to run for 408 yards again or set any other sorts of records. Minnesota has had some success slowing down some of the Big Ten's other running backs, including Nebraska's Ameer Abdullah. The Huskers star rushed for just 98 yards on 20 carries, well below his season average. If Abdullah had a bit more impact last Saturday, the final score might have been different. Minnesota can afford to let Gordon get some yards -- and Jerry Kill admitted as much, saying the Gophers know he can't completely be stopped.
But if Gordon does get going, Minnesota can't afford to let anyone else from Wisconsin beat them, too. That means now allowing McEvoy, Stave or both to get going in the passing game. Minnesota's secondary will still have to respect the pass even though the Gophers are anticipating a heavy dose of Gordon. If Minnesota's defense forgets about stopping the run on any given play, that could be the time Wisconsin strikes through the air.
In terms of how to stop Gordon, that's a question that every team has seemingly tried to answer (with little success) throughout the season. Kill noted that Minnesota will have to close gaps early and not allow Gordon to slip his way into holes on the line. If he finds a crease, even the tiniest sliver of running room, he could be off to the races. As Kill put it, Gordon is like a missile, and Minnesota needs to deactivate him before he can launch. Easier said than done, though.
5. Prediction time -- which team will claim Paul Bunyan's Axe?
TEMPLE: During Wisconsin's current 10-game winning streak against Minnesota, the Badgers have outscored the Gophers by an average of 37-21. I know this Minnesota team is supposed to be different. But so was last year's nationally ranked Minnesota team, which lost 20-7 to Wisconsin in Minneapolis. Given that this game is in Camp Randall Stadium -- a place where Wisconsin is 67-7 since 2004 -- I just don't see the Gophers winning. The stakes are incredibly high, and everybody knows it. Wisconsin's defense will be out to prove that last week's rough outing against Iowa was a fluke, and Melvin Gordon -- likely in his final college home game -- will have another big day. Wisconsin 31, Minnesota 14.
MASON: While I agree with Jesse that Wisconsin will win, I think it will be a closer game than that. This Gophers team has thrived on being the underdogs, playing with a chip on their shoulder for much of the season. Nobody gave them a chance against Ohio State, and they held a high-powered Buckeyes offense to 31 points. Minnesota was again the underdog at Nebraska last weekend but came away with a win to keep its Big Ten West title hopes alive. The Gophers are once again not expected to win on the road as they travel to a stadium in which they haven't won. It's been a great season for Minnesota, and winning Saturday would make it truly special. But I get the feeling the Gophers fall just a bit short on Saturday. Badgers 31, Gophers 28.
Follow Jesse Temple on Twitter
---