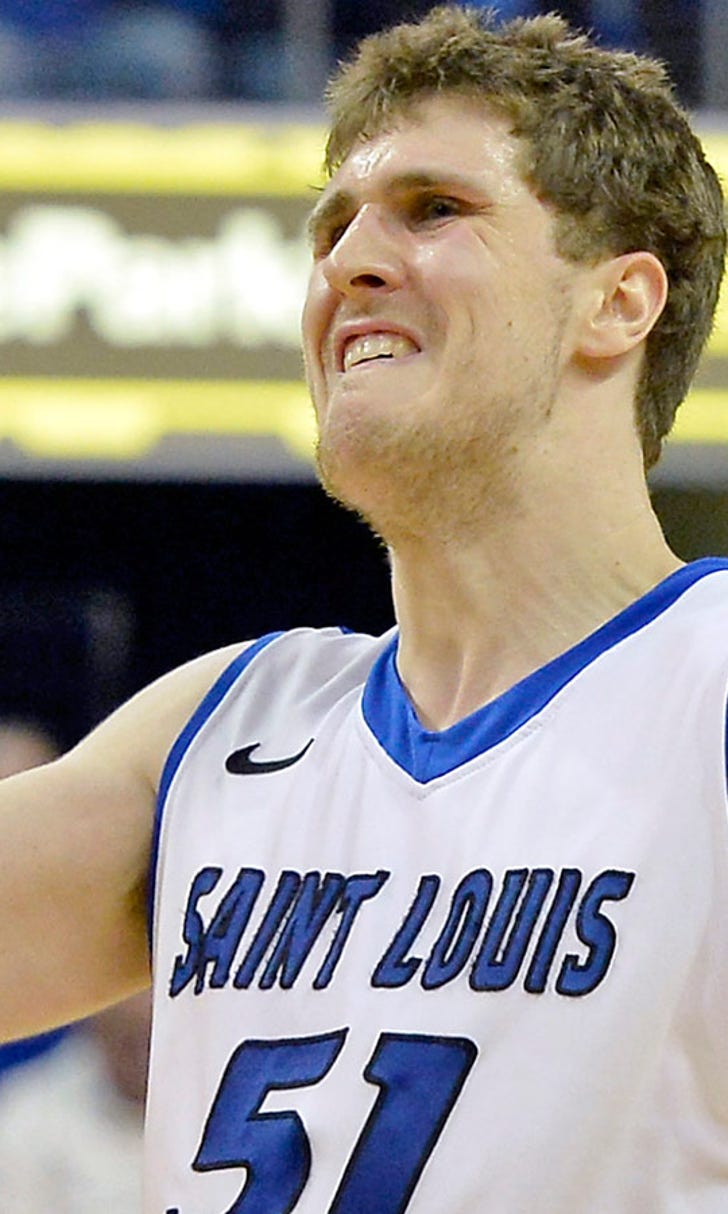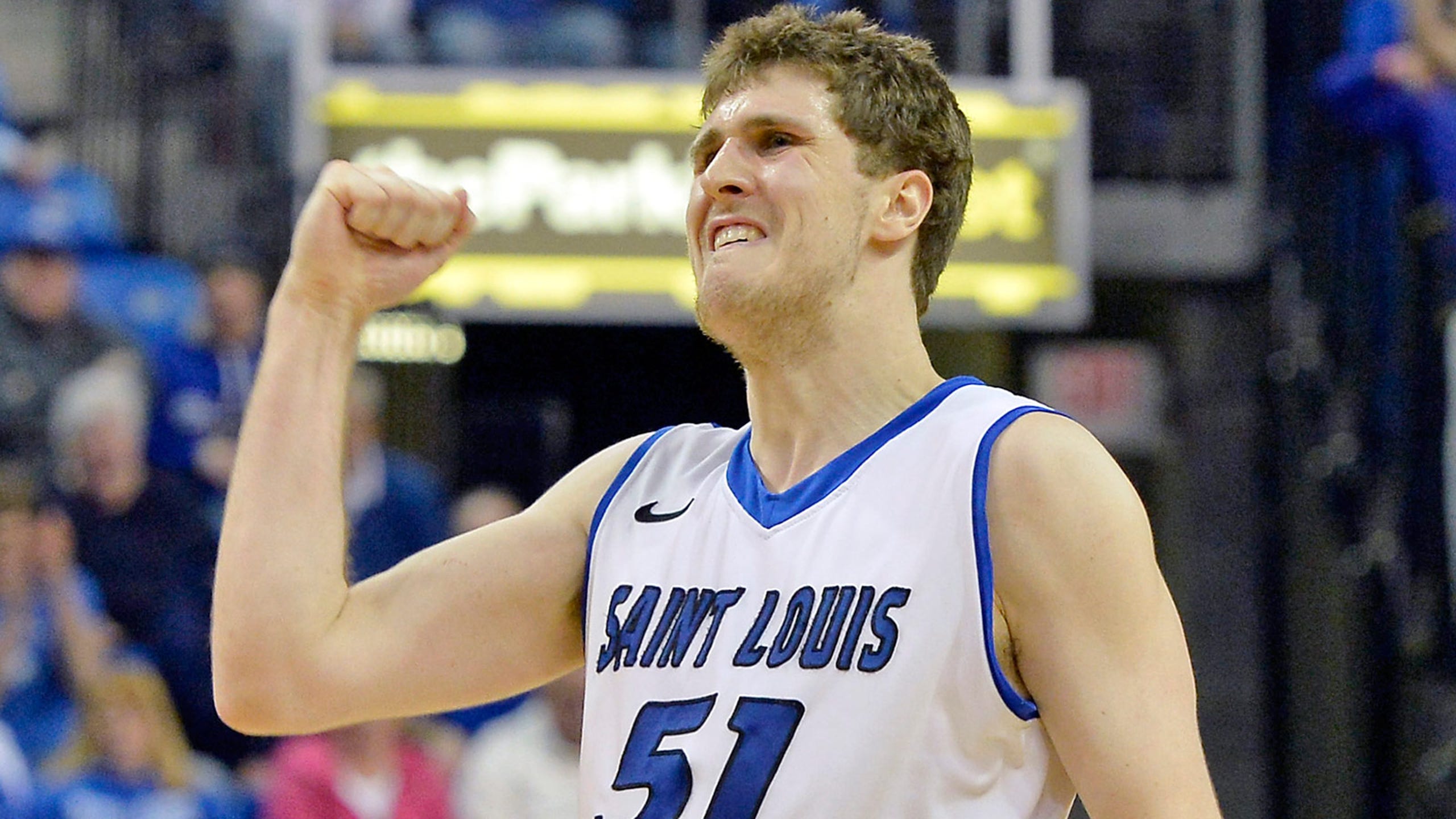 Atlantic 10 power rankings: Thanks to Rob Loe, SLU keeps top spot
BY foxsports • February 3, 2014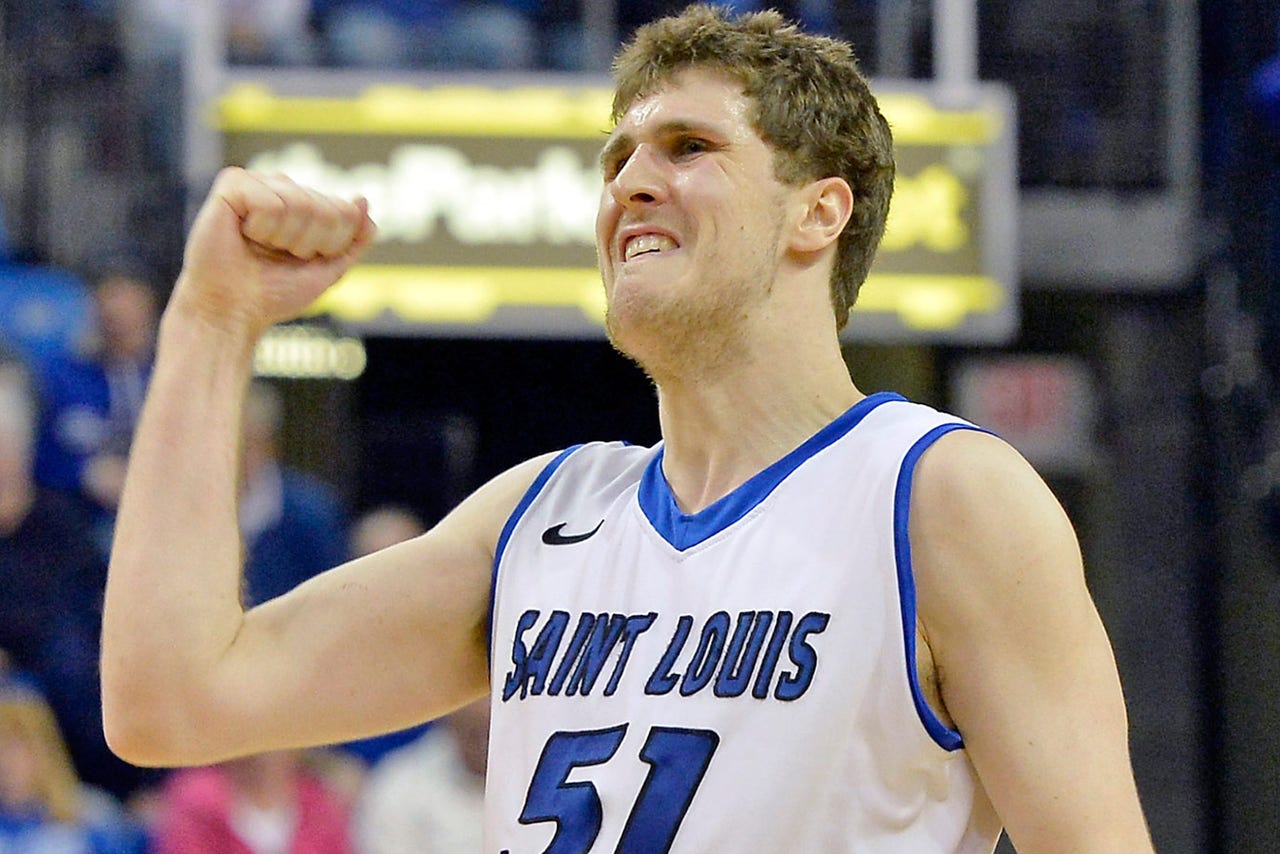 ST. LOUIS -- The Saint Louis Billikens have climbed to 13th in the Associated Press Top 25, 15th in the USA Today Coaches poll and 24th in the latest RIP rankings.
SLU ranks among the nation's leaders in most of the major defensive stats, their offense has improved and two of their five senior starters, Jordair Jett and Dwayne Evans, are contenders for Atlantic 10 Player of the Year honors.
If that's not enough to convince you that this is a team capable of making a deep run in the NCAA tournament, listen to Saint Joseph's coach Phil Martelli.
"This is a top 10 in America team," Martelli said Monday on a conference call. "What more do they have to do? They're 20-2. They lost to Wisconsin when they were undefeated, they lost to Wichita State in a (one-)possession game (late). They've won 14 straight.
"I watched (SLU play) Richmond. Richmond is beautiful to watch on offense. There's nothing there (SLU held Richmond to 7-of-30 shooting in the first half). You score by accident. You really do. They're extraordinarily well coached. They put guys in position to go to their strengths. This is a bear. This is not just a great Atlantic 10 team. This is a great national team."
Martelli admitted that he believes in "trumpeting our league as much as possible." And it's typical for a coach to build up his next opponent, and Saint Joe's plays host to SLU on Wednesday. Still, the way Martelli talked, there's no doubt he considers SLU the class of the conference at the almost-halfway point of the Atlantic 10 season.
Our power rankings do not disagree.
1. Saint Louis (20-2, 7-0)
This week: At Saint Joseph's on Wednesday, at La Salle on Saturday
Last week: Beat Richmond 77-57, beat George Mason 87-81
Dwayne Evans and Jordair Jett are considered the Billikens' best players, and rightfully so, but don't forget about Rob Loe. The 6-11 New Zealander is as important as any player on the team, according to coach Jim Crews. Loe draws praise from his coach for his high basketball IQ, which is seen in setting picks, making entry passes to Dwayne Evans and knowing where to be in help position on defense.
Loe has his moments with things that are seen in the box score, too. Like on Saturday, when he led the Billikens' overtime victory against George Mason with his outside shooting. Loe shot 7 for 12, including 3 for 5 on 3-pointers, and made all six of his free throws to finish with a career-best 23 points. As Martelli said Monday, "Loe has game. He's not just a big dude. He's a skillful guy."
2. VCU (18-4, 6-1)
This week: Rhode Island on Thursday, at Saint Joseph's on Saturday
Last week: Beat Fordham 76-60, beat Richmond 81-70
The Rams are rolling and 6-9 senior Juvonte Reddic is a key reason why. He has recorded three straight double-doubles, eight on the season, to enter the conversation for Player of the Year honors.
3. Saint Joseph's (15-6, 5-2)
This week: Saint Louis on Wednesday, VCU on Saturday
Last week: Won at Dayton 60-57, beat Massachusetts 73-68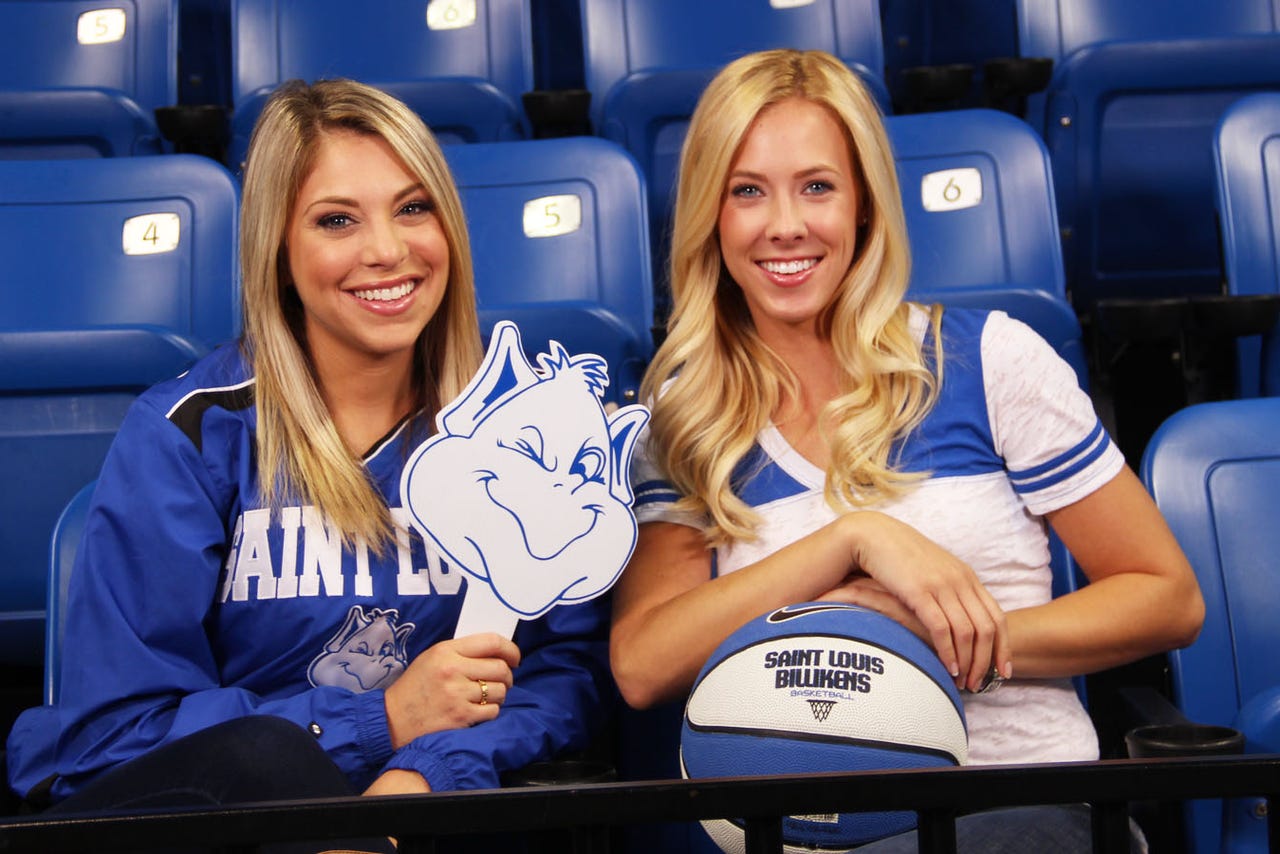 FOX SPORTS MIDWEST: Read their bios, check out their upcoming appearances and view their photo galleries and videos.
The Hawks almost blew a 17-point lead against UMass and it took a banked 3-pointer with 1.6 seconds left to beat Dayton, but momentum definitely is with them heading into a big week. SLU has won four straight at Saint Joe's.
4. George Washington (17-4, 5-2)
This week: At Duquesne on Wednesday, Fordham on Saturday
Last week: Won at La Salle 69-47, lost at Dayton 75-65
Winning on the road is difficult enough, but the Colonials also were without starting guards Maurice Creek, their leading scorer, and Joe McDonald (8.1 points, 4.1 assists) in the loss at Dayton.
5. Massachusetts (17-4, 4-3)
This week: La Salle on Wednesday, at Rhode Island on Sunday
Last week: Lost at St. Bonaventure 78-65, lost at Saint Joseph's 73-68
Minutemen coach Derek Kellogg hints he'll make changes in his lineup after his team dropped three of its past four games. "Some guys weren't playing with the energy I would like or making the plays we need them to make," Kellogg said after the loss to Saint Joe's. "They're either going to have to do it or sit on the bench a little bit more."
6. Richmond (14-8, 4-3)
This week: St. Bonaventure on Wednesday
Last week: Lost at Saint Louis 77-57, lost at VCU 81-70
Tough week for the Spiders, who were limited to 21 and 22 points in the first half against conference heavyweights last week. Solid second-half showings showed the effort is still there, though.
Watch the SLU-Saint Joseph's game at 6 p.m. Wednesday on FOX Sports Midwest Plus.

7. La Salle (12-9, 4-3)
This week: At Massachusetts on Wednesday, Saint Louis on Saturday
Last week: Lost at George Washington 69-47, beat Duquesne 71-63
The Explorers say thank goodness for Duquesne. Two of their four conference wins have come against the Dukes.
8. St. Bonaventure (13-8, 3-4)
This week: At Richmond on Wednesday, Dayton on Saturday
Last week: Beat Massachusetts 78-65
This time, the Bonnies didn't blow a big second-half lead like they did at UMass. This time, they broke it open in the second half. The victory was their first over a ranked team since 2000, 24 games ago.
9. Dayton (14-8, 2-5)
This week: At George Mason on Wednesday, at St. Bonaventure on Saturday
Last week: Lost to Saint Joseph's 60-57, beat George Washington 75-65
Rarely did a team need a win more than the Flyers, who ended a five-game losing streak with a victory over short-handed George Washington. Coach Archie Miller said his team was starting to play with a fear of losing more than a will to win.
10. Fordham (9-12, 2-6)
This week: At George Washington on Saturday
Last week: Lost at VCU 76-60, beat Rhode Island 85-79
Freshman guard Jon Severe is averaging a conference-best 19.2 points, but if he wants to stay in the lead he'd better bust out of his shooting slump. Over the past three games, Severe has made only 9 of 43 shots (20.1 percent) from the field.  
11. Rhode Island (11-11, 2-5)
This week: At VCU on Thursday, Massachusetts on Sunday
Last week: Beat Dayton 86-76, lost at Fordham 85-79
Offense wasn't a problem for the Rams last week, who averaged 83.5 points and shot 54.7 percent from the field. Now, about that defense ...
12. Duquesne (10-10, 2-5)
This week: At George Washington on Wednesday, George Mason on Saturday
Last week: Beat New Jersey Institute Tech 71-64, lost at La Salle 71-63
For the Dukes to avoid a second straight last-place finish, a win over George Mason on Saturday would be huge. The teams will meet at George Mason in the regular-season finale.
13. George Mason (7-14, 0-7)
This week: Dayton on Wednesday, at Duquesne on Saturday
Last week: Lost at SLU 87-81
They're still winless in the conference but, as you saw Saturday at SLU, they've come oh-so-close to winning, and more than once. The past six Patriots losses have been by 4, 1, 2 (OT), 6, 6 and 6 (OT) points.
You can follow Stan McNeal on Twitter at @stanmcneal or email him at stanmcneal@gmail.com.
---