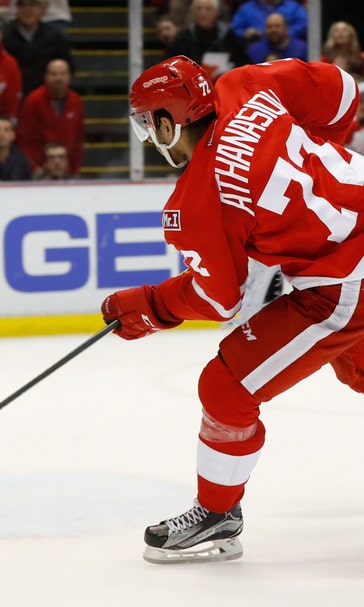 Athanasiou scores in OT to lift Red Wings over Wild 3-2
March 26, 2017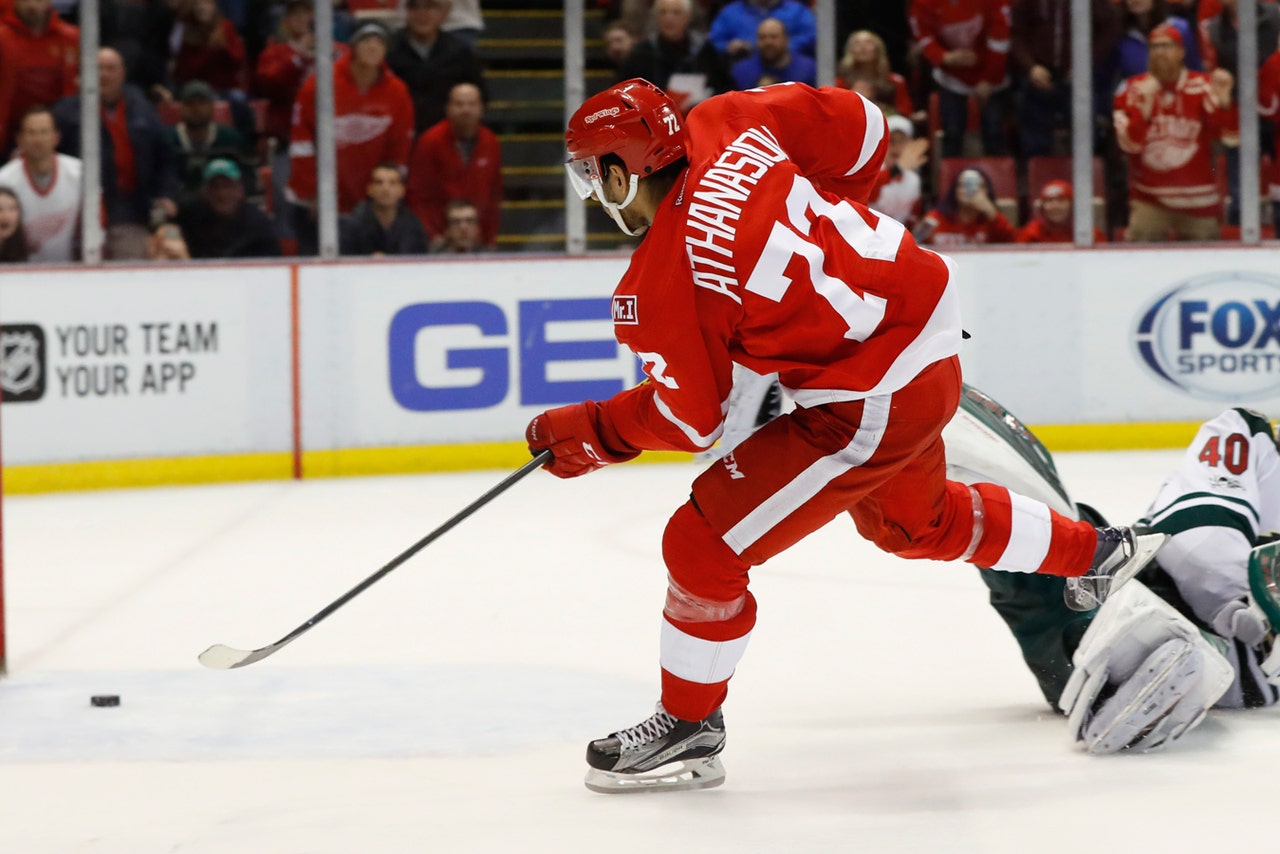 DETROIT (AP) -- Zach Parise and the Minnesota Wild know they are in the playoffs.

Now they just need to regain their winning ways.

Andreas Athanasiou scored 1:52 into overtime on a breakaway, lifting the Red Wings to a 3-2 win Sunday over the reeling Wild.

Even though the Wild also lost Saturday, they clinched a spot in the playoffs later in the night when Los Angeles lost to the New York Rangers.

"In the last four years, we've been scrambling at the end of the season just to get in," Parise said.

"Now, it's almost as if we had such a comfortable lead, we threw it on cruise control for a bit. Now, there's different parts of our game that are lacking.

"We've got to start putting pressure on ourselves and start demanding a little more of ourselves to win some games."

Red Wings goalie Jimmy Howard made the game-winning goal possible by making the last of his 24 saves in overtime.

Red Wings forward Gustav Nyquist got the rebound near Howard and made a long pass to set up Athanasiou, who faked out Devan Dubnyk with a move to his backhand before flipping the puck in the net.

"He's fast and he's got unreal quick hands at that full speed," Detroit coach Jeff Blashill said. "It's hard to defend."

The Wild played well defensively, holding Detroit to just three shots in the third period and 19 overall, but lost for the eighth time in nine games and dropped to 3-10-1 in March.

"That's the best game we've played in a month," Minnesota coach Bruce Boudreau said.

The Wild extended their postseason streak to five in Boudreau's first season behind their bench much earlier than in previous seasons.

The Wild had two leads on Sunday, but couldn't hold off the Red Wings.

Detroit's Tomas Tatar tied the game at 2-2 early in the third on a power play after teammate Mike Green scored a game-tying goal in the last minute of the first period to make it 1-1.

Dubnyk finished with 16 saves and Eric Staal and Nate Prosser scored for Minnesota.

Staal scored the first goal, on a breakaway midway through the first and Nate Prosser scored for the first time in two-plus years for the Wild late in the second.

The Wild, though, couldn't score one more to get a win.

"There's a lot of guys that have gone dry," Boudreau said. "We had a couple guys that are pretty dry that had chances and one of these days. They're going to start going in and we all hope that is soon."

Detroit is the last-place team in the Atlantic Division. The Red Wings are 4-1-1 in their past six games after a 23-game stretch in which they won just six games.

"We're just trying to play hard and win the rest of our games," Red Wings forward Justin Abdelkader said. "The guys have a lot of pride."

NOTES: Players and coaches on both benches appeared to be riveted during a break in the third period, looking up to watch replays of the Red Wings brawl with the Colorado Avalanche on March 26, 1997. ... Prosser scored in his 36th game this season after not scoring in 54 games last season. ... Tatar has a team-high 22 goals.

UP NEXT

Wild: Host Washington on Tuesday.

Red Wings: Play at Carolina Monday and Tuesday as part of a three-game, three-day stretch.
---