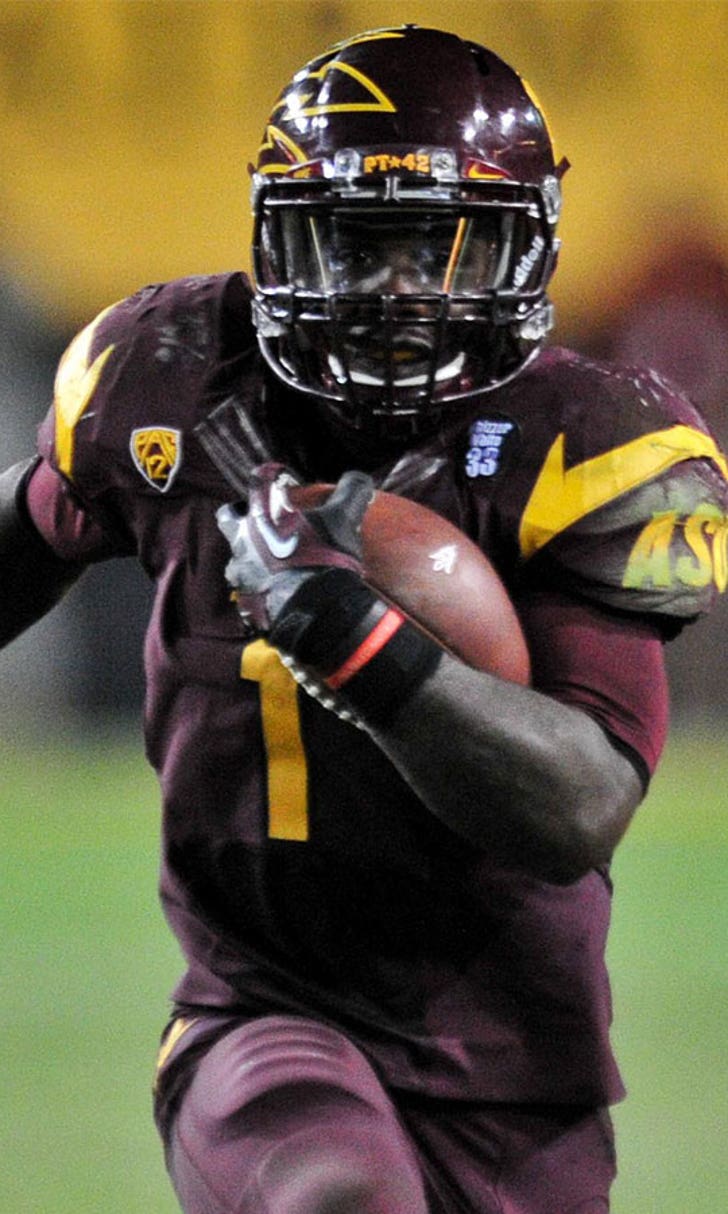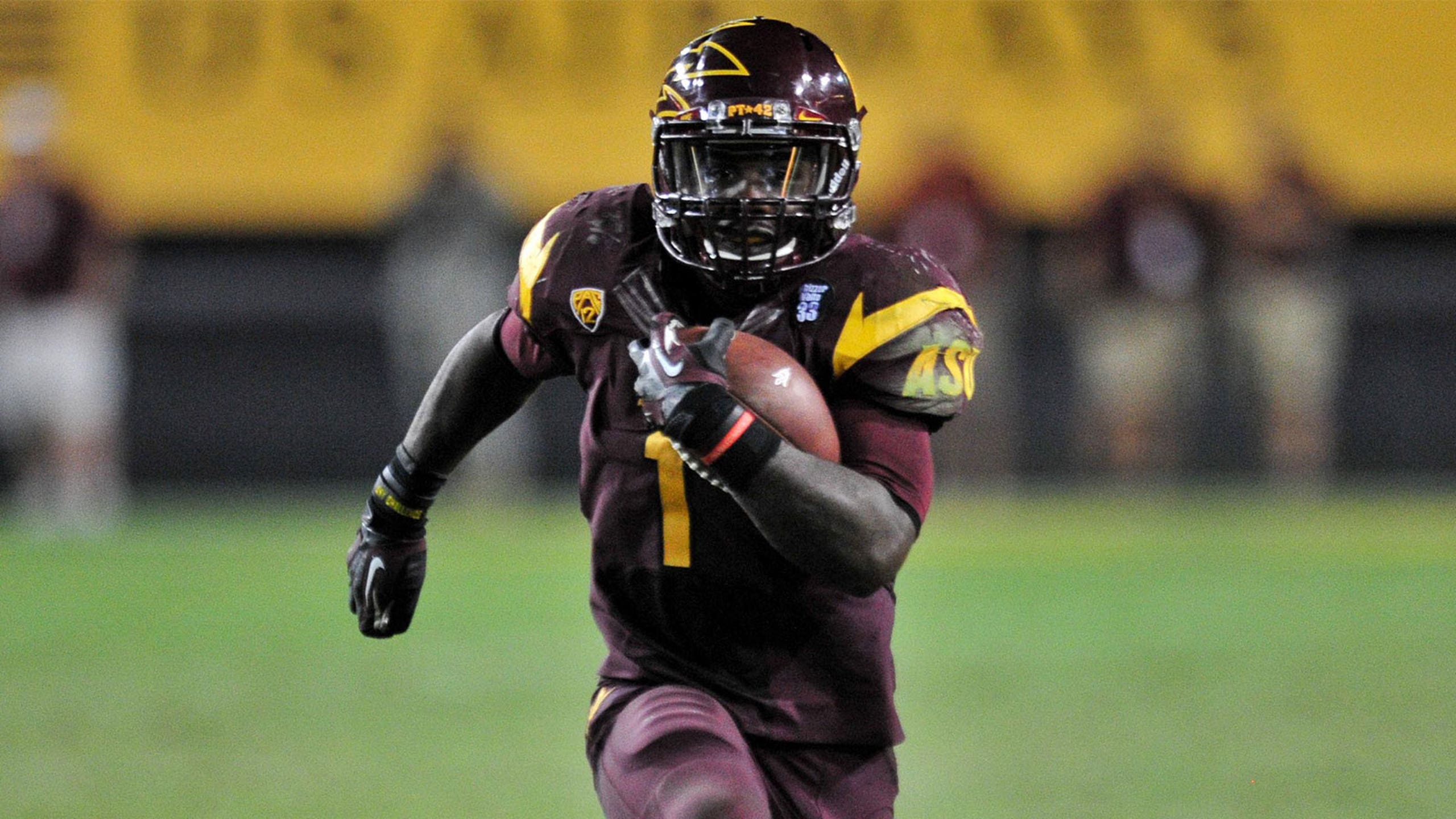 ASU's Grice drafted late; others sign as free agents
BY foxsports • May 10, 2014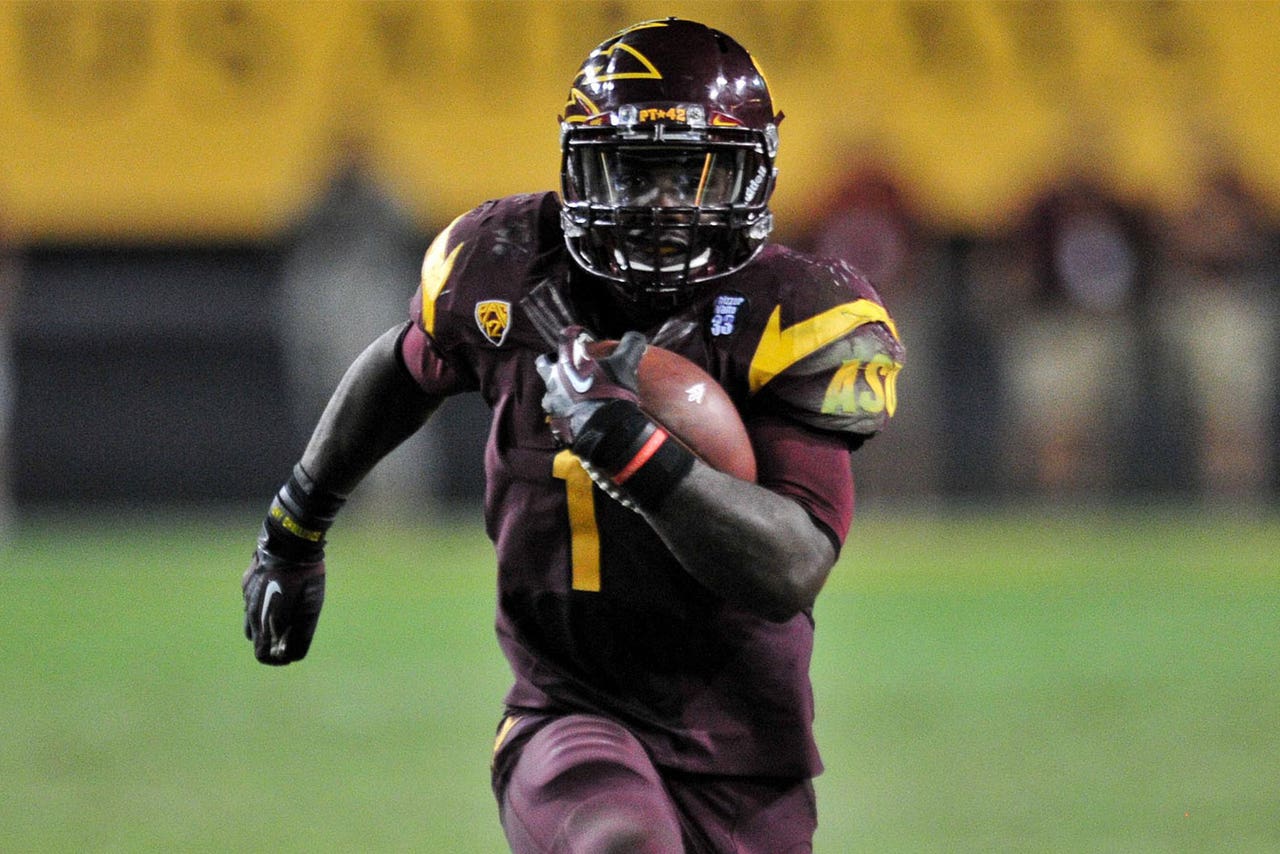 After two highly productive seasons and a few tumultuous months, Marion Grice is an NFL player, as the San Diego Chargers selected the former Arizona State running back in the sixth round of the NFL Draft on Saturday with the 201st overall pick.
Grice's draft stock likely took a hit due to a broken fibula suffered in ASU's Pac-12 South-clinching win over UCLA in November. The injury kept him out of the Sun Devils' final three games, including the Pac-12 title game and Holiday Bowl, and forced him to hold his own pro day a month after ASU's.
Grice's pro day helped him land workouts with the Patriots and Texans -- his hometown team -- and a visit with the Redskins, who opted to take Baylor running back Lache Seastrunk in the sixth round.
Grice came to ASU from Blinn College in Brenham, Texas, as somewhat of an unknown despite offers from the likes of Baylor, Oklahoma and Texas A&M as one of the higher-rated junior college players in the country. He quickly excelled as a runner and pass catcher in ASU's up-tempo offense, leading the team in all-purpose yardage the past two seasons.
Grice proved to have a knack for finding the end zone, scoring 39 touchdowns over the past two seasons, 14 of those as a receiver. He ranked fifth in the nation in scoring last season with 10.9 points per game.
"Most importantly, I'm an end zone guy," Grice told Chargers.com. "I find ways to get the ball into the end zone."
A second-team All-Pac-12 selection in 2013, Grice is the first ASU running back to be drafted since Ryan Torain was taken in the fifth round of the 2008 draft. Grice was ASU's third player taken, following defensive tackle Will Sutton in the third round (82nd overall to the Bears) and Carl Bradford in the fourth round (121st overall to the Packers).
During pre-draft conversations, Grice heard from many teams that they liked him as a potential third-down back. Grice believes he can be much more than that but admitted that he must improve his blocking to become an every-down back.
In San Diego, Grice joins a running back group that includes Danny Woodhead -- primarily a third-down back -- and Ryan Matthews, who last season led the Chargers with 1,255 rushing yards for his second 1,000-yard season.
Joining Grice in San Diego is former ASU safety Alden Darby, who confirmed shortly after the draft that he'll be signing with the Chargers as an undrafted free agent.
"I'm so ready to get on the field I might put on my workout clothes and go work out right now," Darby said, enthusiastic as always. "That's my hometown team. I grew up a Chargers fan. I've been a Chargers fan since I can remember."
Darby said the Chargers initially told him they wanted to select him with their pick in the seventh round. Things apparently changed when Baylor receiver Tevin Reese was still available, but they assured Darby that they wanted him as a safety.
The Chargers had told Darby, a first-team All-Pac-12 selection last year, in a pre-draft workout that they liked him more as a cornerback. San Diego did not draft a safety and only had four safeties on their roster entering the draft, including veteran Eric Weddle, a four-time All-Pro.
"I'm more than ready," Darby said. "Since high school, I've been an underdog, so I'm used to this position. I'm going to show up, do what I do best, and that's going to be that. Everybody's going to know my name real soon."
Fellow defensive back Robert Nelson found a landing spot as an undrafted free agent as well, tweeting that he would be joining the Cleveland Browns. Elsewhere among former ASU defensive players, linebacker Chris Young agreed to sign with the Houston Texans and defensive end Davon Coleman tweeted that he'll be signing with the Dallas Cowboys.
On the other side of the ball, offensive lineman Evan Finkenberg agreed to sign with the Miami Dolphins and tight end Chris Coyle agreed with the Texans.
Follow Tyler Lockman on Twitter
---