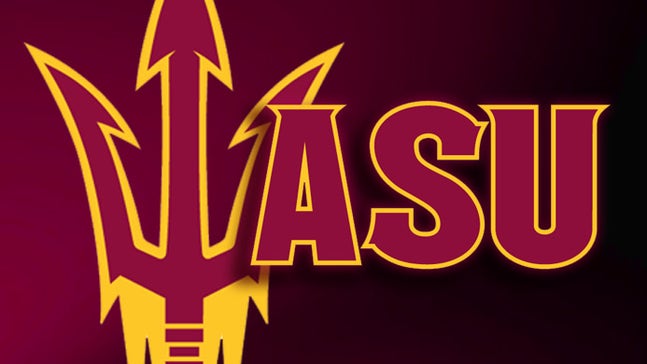 ASU takes down No. 9 Oregon to even series
Updated
Mar. 4, 2020 9:21 p.m. ET

TEMPE, Ariz. -- Starteer Ryan Kellogg struck out a career-high 12 and the offense scored nine runs in the first four innings as the Arizona State baseball team evened the series with No. 9 Oregon behind a 9-4 win on Saturday night in front of 3,272 fans at Packard Stadium.
The Sun Devils (25-21, 13-10) notched their 10th win of the season over a ranked opponent, including their eighth against top-15 teams. Head coach Tim Esmay has recorded double-digit wins over ranked opponents in three of his five seasons at ASU.
Kellogg, a left-hander, conceded four runs on two hits and two walks in the opening frame but settled down and allowed just three runners to reach second base over the next seven scoreless innings. He gave up a pair of singles in the fourth inning, but recorded back-to-back swinging strikeouts to end threat and retired 12 of the final 14 batters he faced, including a perfect fifth and seventh inning.
Kellogg has seven career wins over teams ranked in the top 15, including four over top-10 teams and four this season. He surrendered a total of eight hits and walked a pair in eight innings, his sixth outing of at least seven innings in 2014.
Center fielder Johnny Sewald had a career night as he went 4-for-4 at the plate and scored three runs, first baseman Nate Causey notched his 14th multi-RBI game of the season, which is tied for the team lead, and shortstop Drew Stankiewicz added a pair of hits, runs and RBI.
The two teams combined for seven runs on six hits in the first inning as the Ducks (36-15, 14-9) jumped out to a quick 4-0 lead, but the Sun Devils responded with three in the bottom half to pull within one. ASU then scored six runs in the following three innings, including four in the second, to take a five-run lead.
ASU chased UO starting right-hander Jeff Gold (9-1) with two outs in the third inning, his shortest outing of the season, to hand him his first loss of the season. Gold allowed nine hits, tied for his season high, and eight runs, including four earned, with one walk and one strikeout.
Kellogg loaded the bases with no outs to begin the opening frame and set up Ducks third baseman Mitchell Tolman, who drove in the first run of the game on a sacrifice fly, and left fielder Kyle Garlick, who followed with a three-run homer to center field.
The Devils countered with three runs in the bottom of the first inning behind three consecutive leadoff hits, including an RBI double by Stankiewicz and an RBI single by left fielder Jake Peevyhouse. Catcher Brian Serven drove in the third run of the game with a two-out RBI single through the left side.
A pair of fielding errors by the Ducks in the second inning allowed ASU to score four unearned runs in the frame and take a 7-4 advantage. A single, a walk and a fielding error on a grounder by Peevyhouse loaded the bases for Causey, who singled up the middle to bring home Sewald and Stankiewicz. Causey's base hit was mishandled by the Ducks center fielder and Peevyhouse scored from first. Right fielder Trever Allen added an RBI single in the next at-bat and finished the game with a pair of runs batted in.
A RBI double by Stankiewicz in the third inning and a sacrifice fly by Allen in the fourth extended the Devils' lead to five, 9-4.
Right-hander Eder Erives struck out one in a perfect ninth inning to close out the victory.
---