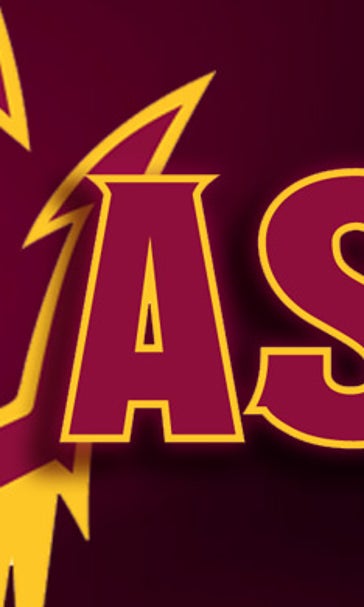 ASU softball knocks off top-ranked Oregon
BY foxsports • May 3, 2014
EUGENE, Ore -- A three-run rally in the sixth inning allowed the third-ranked Arizona State softball team to defeat top-ranked Oregon 4-2 on Friday.
With the win, the Sun Devils (43-7, 14-4 Pac-12) moved within two games in the loss column of the first-place Ducks (46-6, 17-2) in the Pac-12 standings. Oregon came into Friday's game on a 12-game winning streak, including a string of nine straight wins in conference play.
Friday's contest was exactly the kind of game that could be expected when two of the nation's best teams collide: a hard-fought, back-and-forth affair that brings out the best in both teams. In the end, it was the Sun Devils' resiliency that carried the day, as they were able to answer the Ducks' rally in the fourth inning with one of their own in the sixth.
"I think our ability to stay in the fight and punch back after a tough fourth inning was important," said ASU coach Craig Nicholson. "This is just what we have been doing the last five weeks: Coming out and making sure that we play all 21 outs.
"This team is going to fight the whole game. We are at a point right now where we truly truly believe that we are never out of it. We are going to keep battling until the game is over, and today was another example of that."
ASU took an early 1-0 lead when Cheyenne Coyle connected on a solo shot to left field in the top of the first inning for her 11th home run of the year.
The Ducks weren't able to do any damage despite posting a hit in the first inning and getting two on base via a hit and a walk in the second inning.
The Sun Devils had a chance to add to their lead in the third inning after they loaded the bases with only one out, but back-to-back strikeouts ended the threat.
Bethany Kemp singled to lead off the fourth and advanced to second on a sacrifice, but would get no further.
Dallas Escobedo, who recorded eight strikeouts, retired the first two Oregon batters in the fourth inning before Ducks center fielder Koral Costa took a 1-1 pitch over the right-field fence to tie the game. The next batter, Karine Shaver, drew a walk and then advanced to second on an illegal pitch. A single by Nikki Udria brought Shaver home, giving Oregon a 2-1 advantage.
A scoreless fifth inning would ensue, which set the stage for ASU's comeback. Elizabeth Caporuscio started the rally with a one-out double on a 1-2 pitch. Allie Buterfield, who came in to pinch-run for Caporuscio, was then able to beat the throw to third base on a grounder by Kemp, leaving the Devils with runners at the corners and only one out. Chelsea Gonzales then came on and lined a single to left field, scoring Butterfield. Also reaching home on the hit was Kemp, who took advantage of a fielding error and scored all the way from first base.
The Devils weren't done yet. With two outs, Wigness was able to reach on a fielding error while Gonzales advanced to third. Then, with Alix Johnson at the plate, Wigness went for the steal of second base and forced a bad throw that went into the outfield, allowing Gonzales to score from third.
"Obviously Liz getting it started was a huge piece, and then Chelsea's hit combined with the mistake allowed Bethany the opportunity to score," explained Nicholson. "She made a good read, got a good jump and took an aggressive approach and was able to score. And then being able to score one more run and take a two-run lead was huge for us."
Strong pitching from Escobedo and equally efficient fielding by the Sun Devils allowed ASU to keep Oregon's attack at bay over the last two innings and come away with the win.
"Dallas was outstanding today," said Nicholson. "Oregon is a very good hitting team. The key I think was her ability to keep the top three in the order off base. They got on a little bit, but we controlled them on those occasions. We felt we needed to do that, and I thought we did a pretty good job of that today."
---