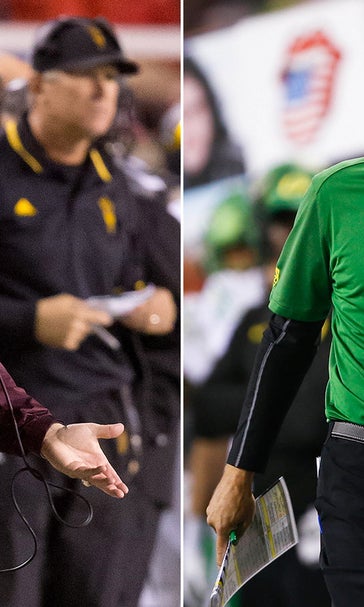 ASU, Oregon meet with no margin for error in Pac-12 race
October 28, 2015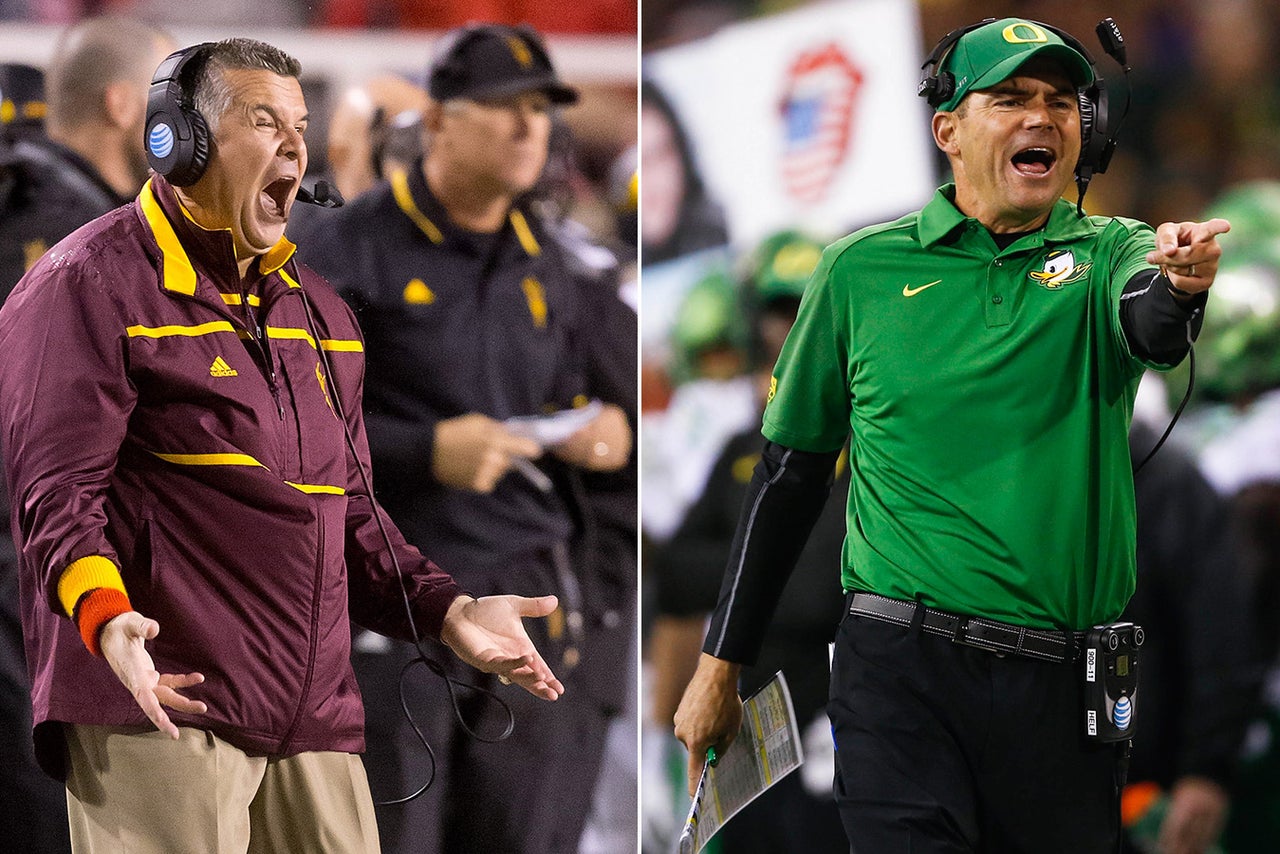 TEMPE, Ariz. -- Arizona State coach Todd Graham's voice rose as he talked to his players, reaching a shout as he told them Thursday's game against Oregon was their last chance. Lose and their hopes of winning the Pac-12 South and playing for a conference championship were done.
He could have been talking about the Oregon Ducks, too.
Oregon and Arizona State, a pair of teams that have failed to live up to expectations, will play what's essentially a Pac-12 elimination game Thursday night in the desert.
"Now there's no margin for error. There's no responding to adversity," Graham said. "You have to win every game to even have a chance."
Arizona State (4-3, 2-2 Pac-12) started the season ranked No. 15 but sputtered through the first seven games, playing well some games, falling flat in others.
The Sun Devils still had a chance to take control of the Pac-12 South two weeks ago in Salt Lake City, only to come up short in a 34-18 loss to Utah. The No. 13 Utes followed with a loss to Southern California last week but are still in control of the South at 3-1.
Oregon (4-3, 2-2) had even higher expectations despite losing Heisman Trophy-winning quarterback Marcus Mariota, opening at No. 7 in the AP Top 25 preseason poll. The Ducks have floundered their way through a season that includes a blowout home loss to Utah and a double-overtime loss to Washington State.
Oregon kept itself at the far edge of the Pac-12 North race with a hard-fought victory over Washington last week but needs to win out and get lots of help to catch No. 8 Stanford, which is 5-0 in conference.
"Just like last year when we were the greatest team in the history of football, which wasn't true, we're not the worst team in the history of football this year," Oregon coach Mark Helfrich said. "Our guys have worked hard and our best football is ahead of us."
A few more things to look for when Oregon plays Arizona State at Sun Devil Stadium:
WATCH THE BLITZ: Arizona State plays an aggressive defense, one that will send players blitzing from all over the field, often several at a time. Sometimes it has worked for the Sun Devils, sometimes it hasn't; they're first nationally with 9.9 tackles for loss per game, but 97th in giving up plays or 20 or more yards with 38. Oregon QB Vernon Adams appears to be finally healthy, so he will need to get balls out quick or use his elusiveness to extend plays and beat Arizona State's pressure.
FLYING DUCKS: Despite their struggles in the standings, the Ducks are still one of the nation's most explosive teams. Oregon is 11th nationally in total offense with 516.3 yards per game and 12th at 39.3 points per game. Though they're a spread team, the Ducks still primarily rely on the run, in particular Royce Freeman. The sophomore is seventh nationally with 997 yards and has scored nine touchdowns. The Sun Devils must play the right gaps defensively or Freeman could be gone in an instant.
DUCK DOMINANCE: Oregon has controlled the series with the Sun Devils, winning eight straight and 12 of the past 15 meetings, including seven straight in Tempe. The games have not exactly been close, either, with an average score of 47-21.
DEVILED OFFENSE: Arizona State has had one of the nation's best offenses in each of Graham's four seasons as coach, but the Sun Devils have sputtered a bit on that side of the ball this year. Arizona State is 53rd nationally with 419.7 yards per game and is 68th in scoring, averaging 29.1 points per game. The Sun Devils also are coming off one of their worst offensive performances under Graham, failing to score an offensive touchdown while managing 257 total yards against Utah. 
---
---