ASU edges Utah in overtime to take control in South
BY foxsports • November 2, 2014
TEMPE, Ariz. -- Arizona State watched as one of the nation's best kickers missed not one, but two attempts in overtime.
The Sun Devils' kicker is pretty good, too, and he made it from nearly the same spot, putting them in control of the Pac-12 South, not the Utes.
Zane Gonzalez kicked a 36-yard field goal in overtime for his fourth field goal and No. 15 Arizona State overcame an uneven performance to beat No. 18 Utah 19-16 on Saturday night.
"If he lines it up right, he's going to make it every time," Arizona State coach Todd Graham said of Gonzalez.
The Sun Devils needed him to after struggling against Utah's aggressive defense.
Taylor Kelly still showed a few signs of rust in his second game back from a foot injury, unable to get Arizona State (7-1, 5-1, No. 14 CFP) moving through most of the second half. He seemed to be under pressure on every throw and finished with 205 yards on 18-of-32 passing, with a touchdown and an interception.
The Sun Devils also were plagued by some ill-timed penalties and had to settle for field goals, which helped send the game to overtime.
Utah (6-2, 3-1, No. 17 CFP) had the ball first in the extra period and was forced to call a timeout just before Andy Phillips attempted a 35-yard field goal to avoid a delay-of-game penalty. Phillips, one of the nation's best kickers at 87 percent this season, pushed that attempt wide right and missed to the left when it counted -- his first miss in four attempts on the night.
Arizona State didn't do much on its overtime drive either, but Gonzalez made his try count, driving the ball through the uprights to send the Sun Devils charging onto the field.
The victory, combined with Arizona's loss to UCLA, gave Arizona State a one-game lead in the Pac-12 South and kept the Sun Devils' College Football Playoff hopes alive.
Next up is another big test: No. 6 Notre Dame, right back at Sun Devil Stadium next Saturday.
"We're in the driver's seat and that's where we want to be," Kelly said.
Utah had its chances to take the wheel.
The Utes kept Arizona State from running away with it in the first half by forcing field goals, and they rallied in the second half by hounding Kelly.
After a quiet first half, Devontae Booker ran for 146 yards and a touchdown in another strong game by the junior.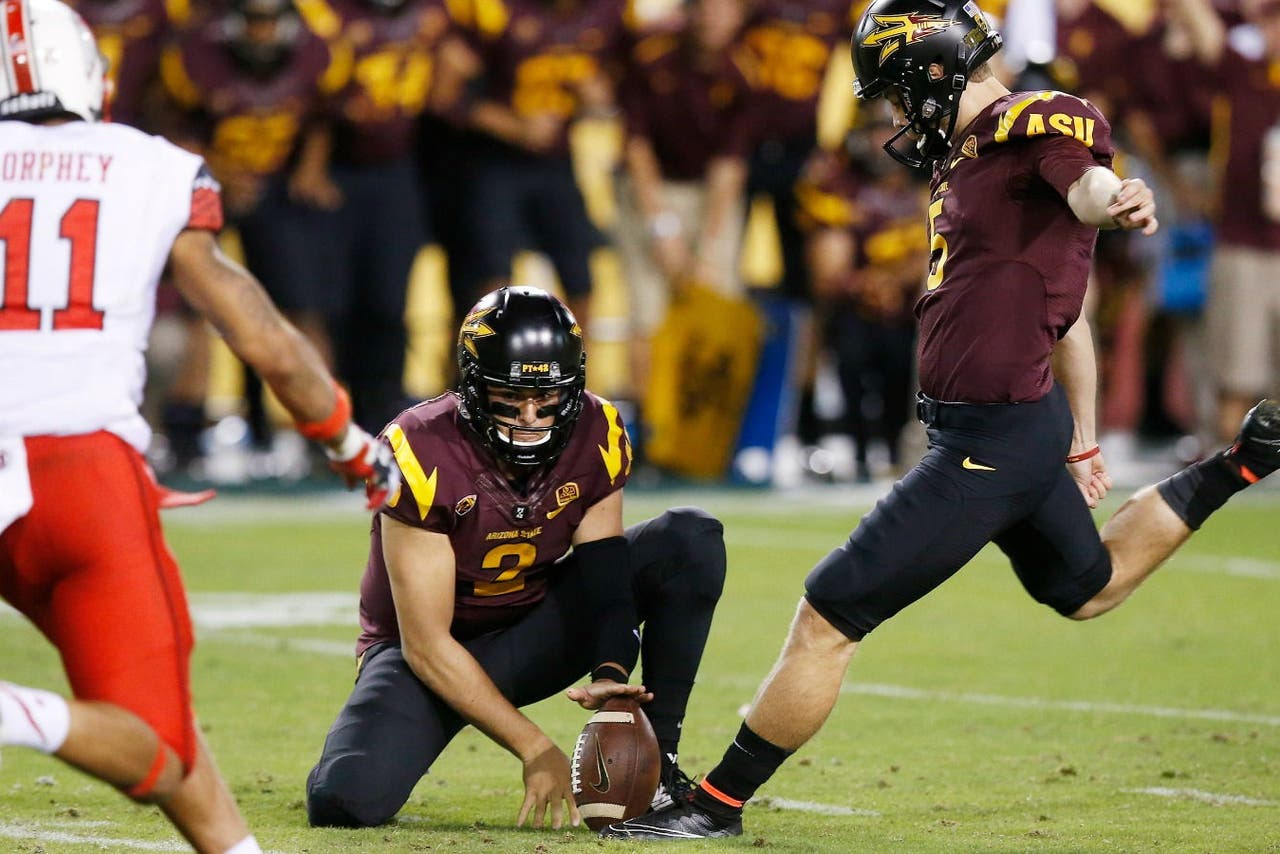 Zane Gonzalez kicks the game-winning field goal in overtime.
There just weren't enough big plays for the Utes.
Travis Wilson had a pedestrian passing day, throwing for 57 yards and a touchdown while completing 12 of 22 passes. Phillips one of the most reliable kickers in the country, couldn't come through with the game on the line, missing just his third field goal in 20 attempts this season.
The loss all but knocks the Utes out of the playoff picture.
"This is really tough -- it hurts this whole team," Wilson said. "This whole team played hard all the way until the end."
The Sun Devils settled for a pair of field goals by Gonzalez in the first quarter despite outgaining Utah 149-21. Arizona State finally got into the end zone in the second quarter, when Jaelen Strong followed a 32-yard catch-and-run with a 6-yard touchdown catch. Right after that, the Sun Devils stalled on another drive and Gonzalez missed from 50 yards.
Arizona State finally generated a bit of offense in the fourth quarter -- namely a 31-yard pass from Kelly to Gary Chambers -- yet again failed to find the end zone. Gonzalez's third field goal of the night, from 30 yards, tied at 16.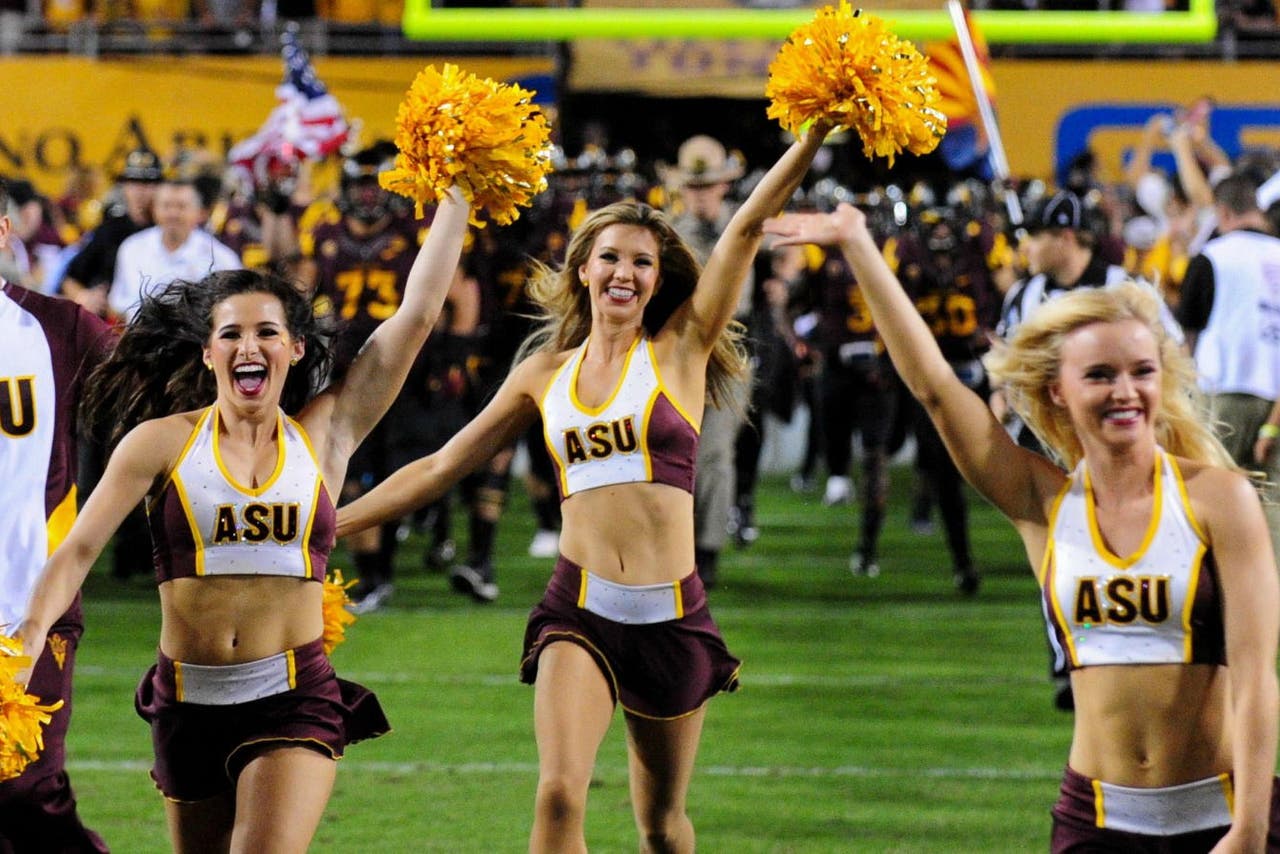 "We just hurting ourselves with penalties, misread, sacks," Kelly said. "Utah's a great defense and you can't do that to yourself."
A week after losing leading receiver Dres Anderson to a season-ending knee injury, Utah struggled to move the ball most of the first half, relegated to short throws underneath or generate much in the run game. The Utes had 97 total yards and six points -- on a pair of field goals by Phillips -- in the first half.
Utilizing Wilson more in the run game with the read option, the Utes started to find a bit of a rhythm offensively in the second half.
Utah marched quickly down the field its opening drive, scoring on a 4-yard pass from Wilson to Booker. Phillips followed with a 44-yard field goal that put the Utes up 16-13 after three quarters.
The Utes stumbled after that, though, unable to even get into field-goal range, much less score another touchdown in regulation, leaving it up to the foot of Phillips.
"I felt like our team fought pretty hard and usually those situations are something I thrive in," Phillips said. "No one is harder on themselves than I am for not putting the ball through the uprights."
---