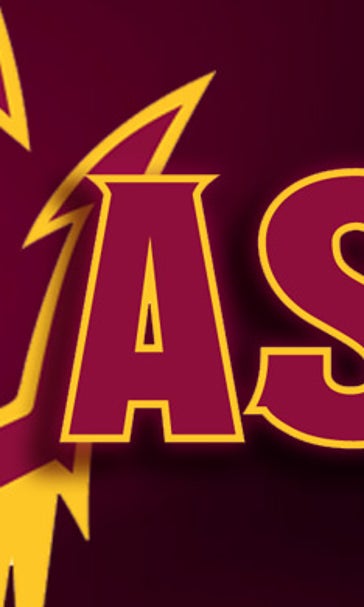 ASU baseball drops longest postseason game in 14 innings
May 31, 2015

FULLERTON, Calif. -- Jerrod Bravo drew a bases-loaded walk in the bottom of the 14th inning, leading Cal State Fullerton past Arizona State 3-2 in an NCAA Tournament game that ended early Sunday morning.
Chris Hudgins was hit by a pitch from Eder Erives to lead off the 14th for the Titans (36-22), and was sacrificed to second by Taylor Bryant. Josh Vargas was intentionally walked, and one out later, David Olmedo-Barrera drew a walk to load the bases. Bravo then took four straight balls from Erives (1-1) to force in the winning run, ending the contest that lasted 5 hours, 12 minutes.
The Titans moved into the championship round of the Fullerton Regional, while the Sun Devils (35-22) face Pepperdine on Sunday in an elimination game. The winner of that game will play Cal State Fullerton on Sunday night.
Tyler Peitzmeier (3-3) threw five scoreless innings in relief of Titans starter Thomas Eshelman, who tied a career high with 14 strikeouts in nine innings and allowed two runs and seven hits, and walked none. Eshelman struck out the side in the second and sixth innings, and the game marked the second this season he struck out 14.
Arizona State took a 1-0 lead in the first when Johnny Sewald scored on a throwing error by the catcher. Andrew Snow's solo homer in the second made it 2-0.
Timmy Richards' RBI single cut the deficit to 2-1 in the second, and the Titans tied it in the sixth on Olmedo-Barrera's RBI single.
The Sun Devils struck out a school-record 20 times, including three each by Jake Peevyhouse and Brian Serven.
---