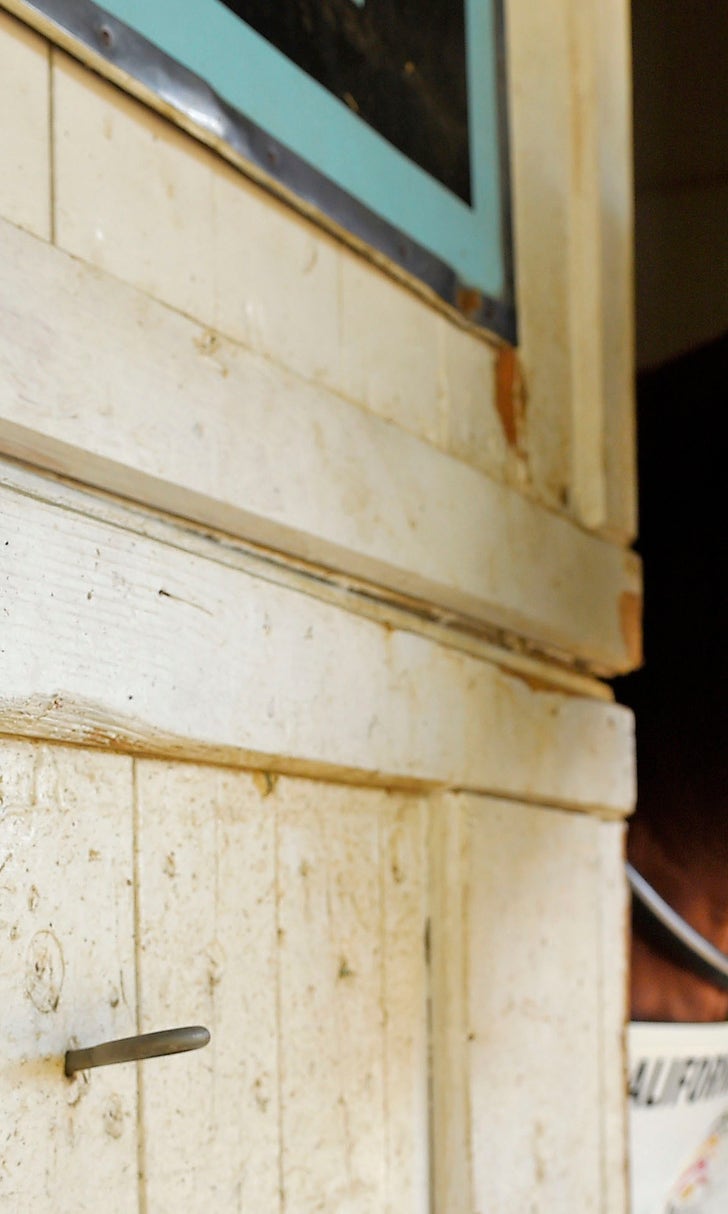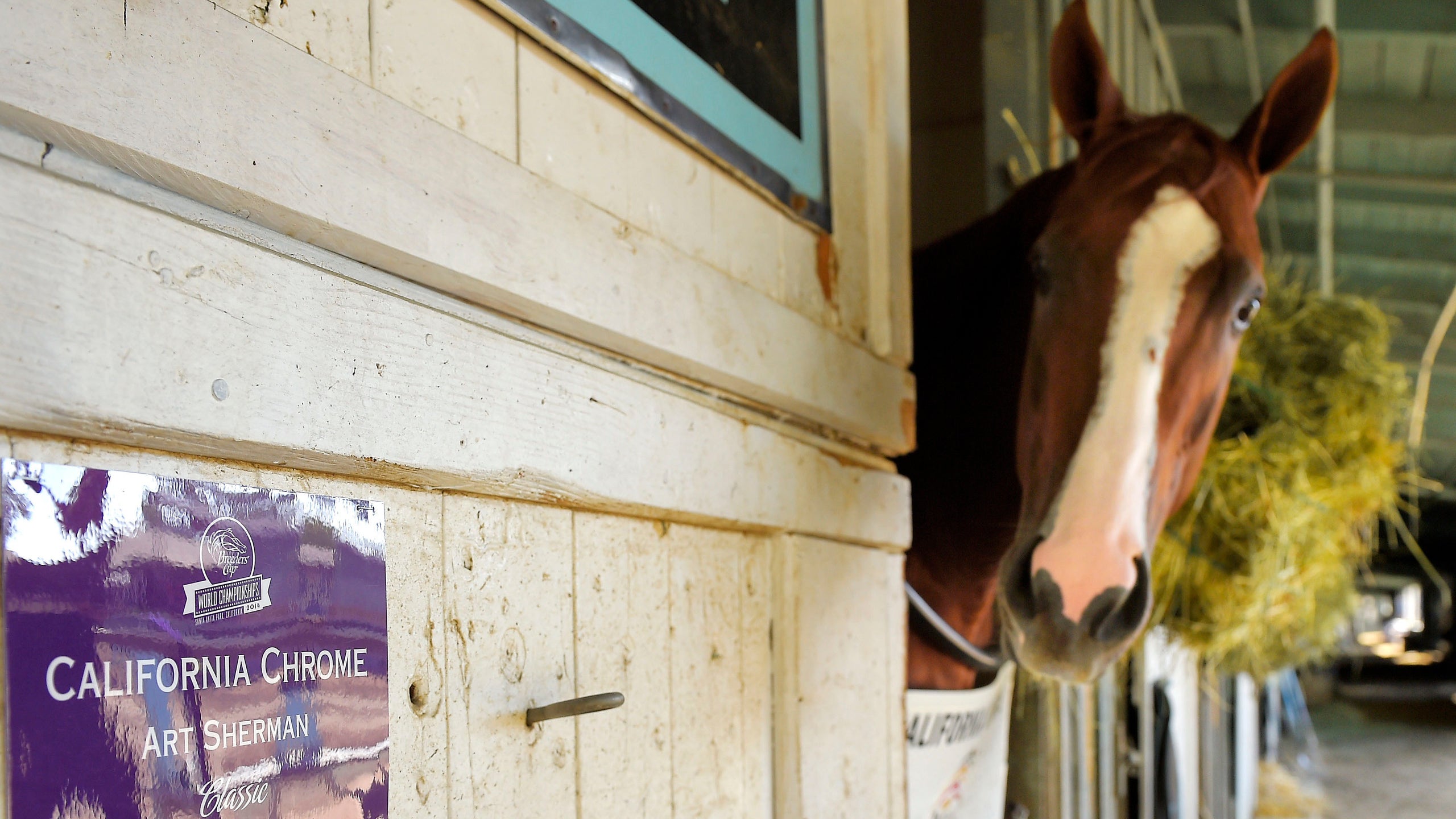 Assistant trainer: California Chrome will run 'race of life' at Breeders' Cup
BY foxsports • October 28, 2014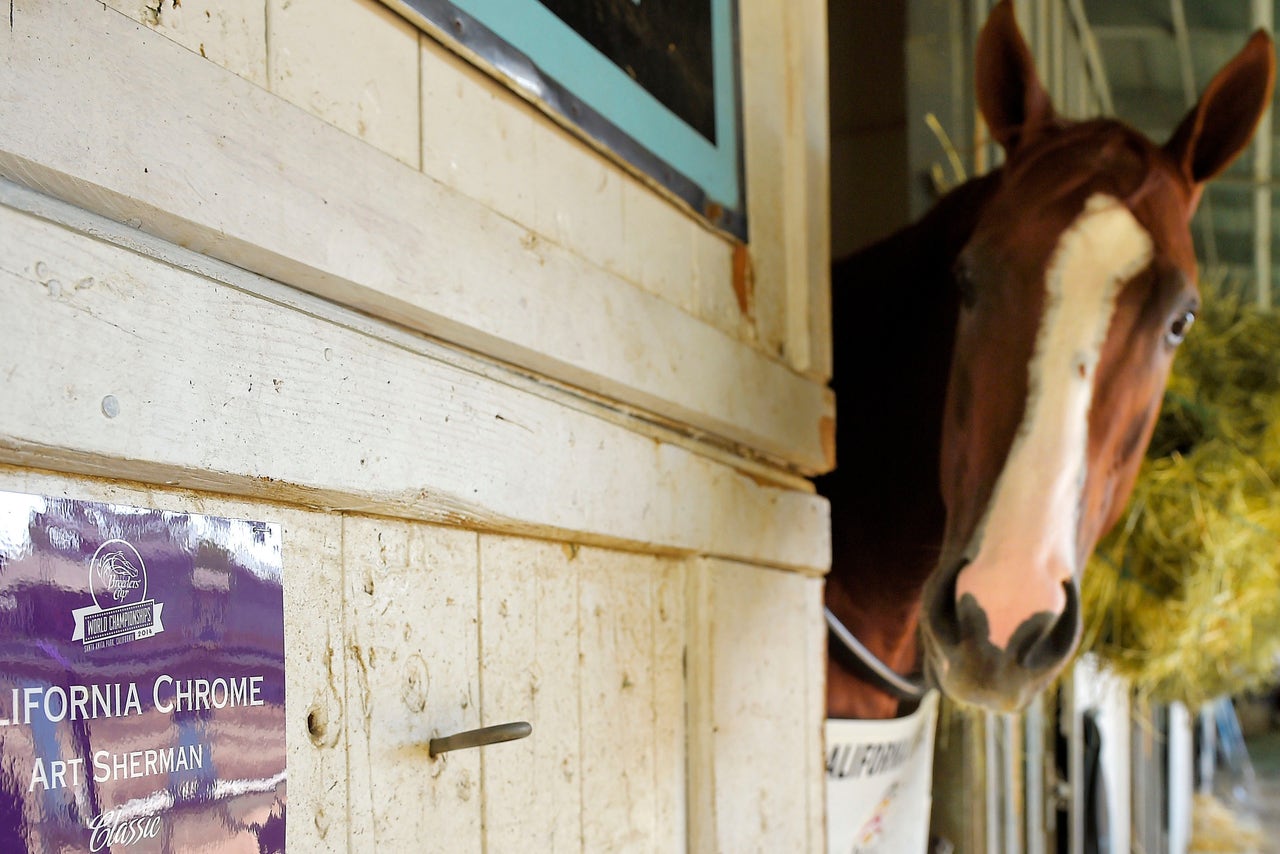 Not that long ago, California Chrome was America's darling.
The horse had the nation holding its collective breath with a Triple Crown bid on the line after winning the Kentucky Derby and the Preakness Stakes. 
California Chrome's hopes were dashed at the Belmont Stakes as it finished fourth and sustained a hoof injury after being stepped on out of the gate. That sidelined him for several months. When California Chrome returned to racing at the Pennsylvania Derby last month, he finished sixth. 
This week, California Chrome embraces its newfound underdog status at Santa Anita in the Breeders' Cup, where Shared Belief is the 9-to-5 odds-on-favorite to win. California Chrome is 4-to-1 on the morning line odds, and Tonalist, which won the Belmont Stakes, is at 5-to-1 odds. Shared Belief was injured during the Triple Crown season.
The pressure is mounting on the popular California Chrome, who has a Twitter account with 17,000 followers -- to return to glory in the $5 million Classic race on Saturday. Or else.
This could be the horse's final race if it doesn't run well.
"If he wins, obviously his value goes up. Apparently if he doesn't run his race, they're going to retire him from what I read," assistant trainer Alan Sherman told FOXSportswest.com by phone on Tuesday. "I don't see that happening. I think he'll run the race of his life."
Sherman works for his father, trainer Art Sherman, and was with California Chrome every step of the way during his quest for the Triple Crown. Asked where he read of California Chrome's potential retirement to stud, Alan Sherman said: "I read that on Facebook."
Sherman, who was surprised by the news, referred to a recent article posted on Facebook in which co-owner Perry Martin told the Sacramento Bee. "(It's) race by race now. A good BC Classic and we'll keep going. (Run a) clunker and he's off to the breeding shed."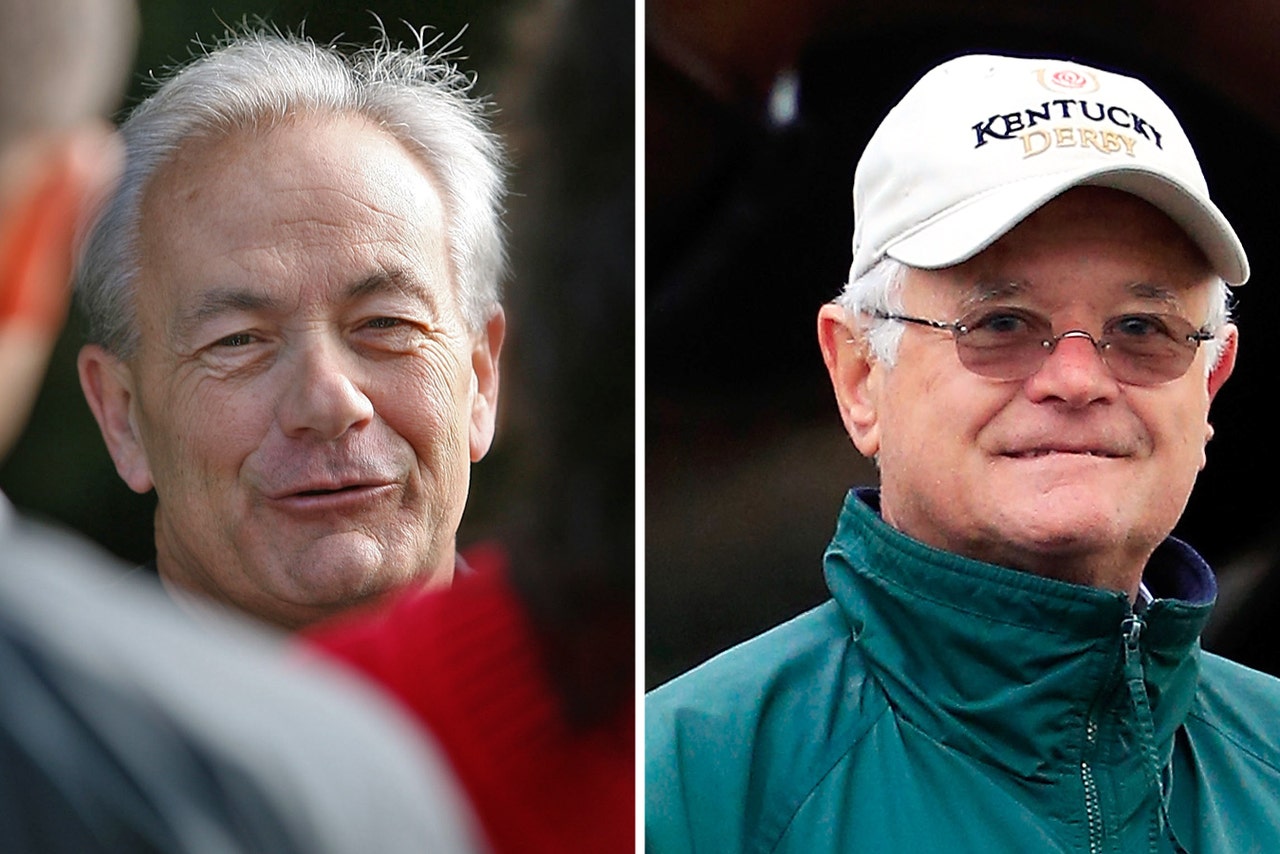 Breeders' Cup Classic clash won't come between trainers' friendship
Sherman hopes California Chrome, which hasn't won its last two races, lives up to its former billing that made purple-and-green caps with a horse's logo a fashionable thing in Los Angeles.
"It's their horse. It's completely up to them," Sherman said. "I definitely think he's going to run the race of his life this weekend."
Sherman believes California Chrome still has the confidence and talent he did when he won the Kentucky Derby and Preakness.
"Right now, I've never seen him train like he's training right now," Sherman said. "It's unbelievable. I've never seen him act as sharp, even during the whole spring. He's exceptional."
As is Shared Belief, who is unbeaten.
California Chrome and Shared Belief have never raced against one another, but there's a rivalry brewing between the horses' jockeys. Victor Espinoza is the jockey who rode California Chrome to the two Triple Crown race victories, and Mike Smith rides Shared Belief, co-owned by Jim Rome.
On Sept. 27, Espinoza was riding Sky Kingdom in the Awesome Again Stakes at Santa Anita, and he was suspended for seven days for pushing wide Shared Belief. Smith and Espinoza had a NASCAR driver-like confrontation after the race.
"I think it was unfair, the whole deal," Espinoza told FOXSportsWest.com in a phone interview. "I don't lose sleep over that. Things happen. I didn't think it was fair. I was a little disappointed by the steward (to) give me so many days. But, in a way, it helped me get a little vacation and come back and be ready for the Breeders' Cup."
On Monday, the two were sitting next to one another at the post-draw press conference. There they said were fine with one another.
Asked Tuesday if they had worked things out, without Smith by his side, Espinoza said: "At this moment, no."
That only adds to the anticipation for Saturday's race at Santa Anita. The horses have no history, but their jockeys sure do.
"I just want California Chrome to run his race," Espinoza said. "When he's 100 percent, I don't think any horse can beat him. I only worry about California Chrome. I don't worry about other horses. I'm focused on my own horse."
---