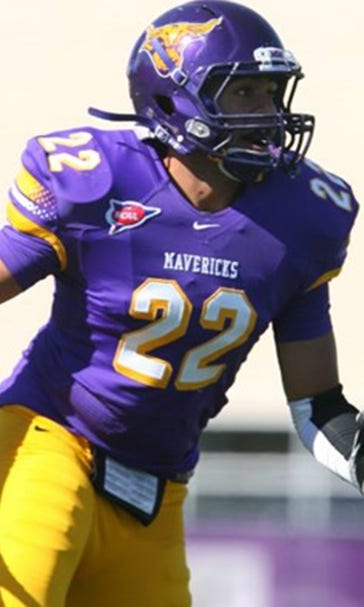 Assaulter of Minnesota State's Kolstad gets 150 days in jail
May 13, 2016

MANKATO, Minn. -- A man who pleaded guilty in a beating that left a former Minnesota State Mankato football player with severe brain injuries two years ago was sentenced Friday to five months in jail.
Blue Earth County District Judge Bradley Walker sentenced 22-year-old Trevor Shelley of St. Peter to 150 days in jail, with credit for five days already served.
Shelley pleaded guilty in March to felony first-degree assault. He admitted punching former Mavericks linebacker Isaac Kolstad outside a downtown Mankato nightclub in May 2014.
Former University of Minnesota quarterback Philip Nelson kicked Kolstad in the head after he fell. Nelson, 22, was sentenced last year to 100 hours of community service after pleading guilty to misdemeanor fifth-degree assault.
Shelley declined to speak at the sentencing.
Kolstad and his mother talked about the difficulties they have faced since the night he was injured, the Star Tribune reported. Kolstad underwent months of physical therapy, relearning how to walk and talk.
"Isaac will never be the same," his mother, Teresa, said.
Under the terms of the plea agreement, the judge would stay any potential prison time -- up to nearly 9 years was possible -- and sentence him to up to one year of local incarceration, Blue Earth County Attorney Patrick McDermott said in March.
Shelley, Kolstad and former University of Minnesota quarterback Philip Nelson were standing outside a Mankato bar in May 2014 when an argument arose after Nelson mistook Kolstad for a bouncer who had kissed his girlfriend.
Nelson shoved Kolstad, a former Minnesota State Mankato, football player, and Kolstad knocked Nelson to the ground. Shelley ran up to Kolstad and punched him once in the head, video surveillance cameras showed. Kolstad appeared to fall unconscious and hit his head on the pavement. Nelson then kicked Kolstad in the head.
---