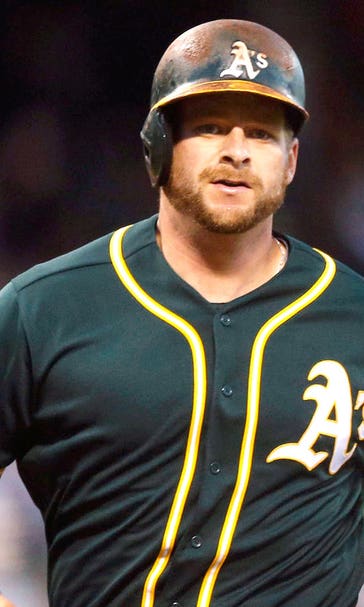 A's Vogt leads fantasy baseball scouting report for Week 3
April 21, 2015

The "fantasy sleeper" is dead.  I think most veteran fantasy baseball owners would agree.
That's not to say players aren't overvalued or undervalued at various times throughout the season. However, to believe fantasy information, analysis and advice are limited - to the extent that a solid source of production at the plate or on the bump is lingering under that proverbial haystack, rough or rock - would be naïve.
Yet, every fantasy owner deserves a shot at catching that lightning in a bottle a split-second before he strikes.  So, I'm basically going to show you my hand a few times each month.  Think of the following list of players I'm scouting – for better (Stephen Vogt) or for worse (Phil Hughes) - as my fantasy baseball cheat sheet for you to peruse.
You can create your own fantasy baseball scouting report list here.  All you need to do to create your own Scout List is click on the star to the left of the player's name in the Player Pool / Waiver Wire.
In the case of Vogt, if you would have told most "experts" a month ago that the A's catcher would be owned in 90 percent of leagues, they would have requested you lay off the hard stuff. Despite my eagerness to buy futures stock on Vogt's potential production as an everyday catcher, the A's love platoons and Josh Phegley was lingering as a battery mate. Vogt's jump in ownership is also a by-product of his insane early numbers and due to the fact that so many starting and highly-drafted catchers have hit the disabled list or are out due to injury.
You'll also notice my concentration of scouted players secure middle or corner infield spots due to lack of depth in those two player pools.  When it comes to a guy like Jason Kipnis - who many believe will finish as a top five fantasy second baseman - it's more my pessimistic stance on the Indians' offense and tracking whether or not "The JK Kid" can live up to those expectations of others.
If you have any questions, comments or to tell me how wrong I am for scouting a guy - because hey who doesn't love to tell a sports reporter he/she is wrong? - hit me up in the comment section below, on Twitter @FOXSportsFowler or our new FOX Sports Fantasy Facebook page. I'm happy to answer questions and share my thoughts on what has been an underwhelming and frustrating first few weeks of the fantasy baseball season.
---