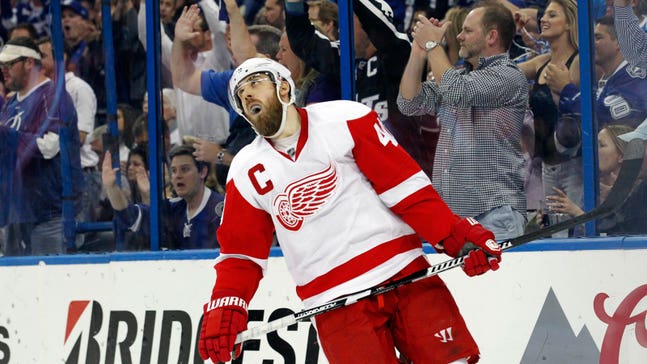 As TB knocks on door to Stanley Cup Final, Wings could say 'what if?'
Published
May. 28, 2015 1:44 p.m. EDT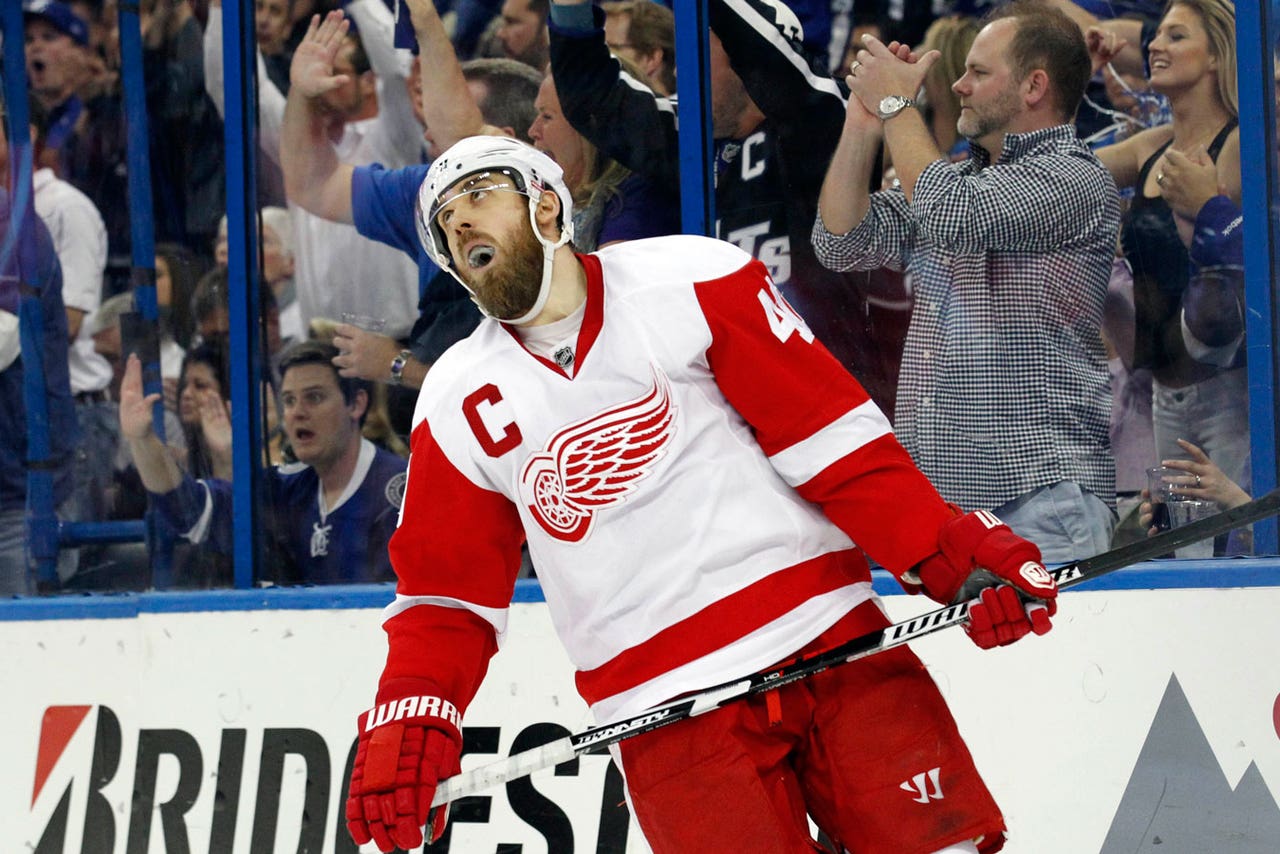 Four teams remain in the Stanley Cup tournament, a field that will be cut to two in a pair of Game 7s this weekend. And while there is little point in dwelling on it, Red Wings fans know their team was this close (hold your thumb and forefinger about a quarter-inch apart) to being one of those teams.
Remember that Game 4 meltdown at The Joe against Tampa Bay? Lightning General Manager Steve Yzerman sure will. The former Wings captain kept a low profile in that series, ducking the media whenever he could, but he was witnessing his team's Stanley Cup dream slipping away from his perch in the press box.
Detroit held a 2-0 lead with 5 1/2 minutes to go in the game that, with a win, would have given the Wings a 3-1 stranglehold on the series, with three shots at closing out the Lightning and moving on.
Yzerman knew his team was beyond dire straits.
"I thought we were done," Yzerman admitted privately in a conversation after the game with his mentor, Wings GM Ken Holland.
Then an improbable series of events took place and the smallest guy on the ice turned the series around. Detroit center Luke Glendening suffered a bad gash that nearly severed a tendon near his right thumb and all-world center Pavel Datsyuk played one of his worst periods of hockey of his career. He was unable to do what Glendening had done fairly well since the opening game of the series: Keep Tyler Johnson in check.
In a 76-second span, Johnson scored one goal and set up another by Ondrej Palat that sent the game into overtime. And after a series of defensive breakdowns that became a kind of signature of this Wings team in the final quarter of the season, Johnson scored the game-winner just 2:25 into overtime.
That span of less than eight minutes put the Lightning in position to survive the series. After evening the series at two games each, Tampa Bay managed to win two of the next three and move on. Today Tampa Bay is a victory away from the Stanley Cup Finals.
Ah, what might have been.
But Holland is nothing, if not a realist. To be sure, he would like to have seen how the team he assembled after two deadline trades might have managed. Alas, forward Johan Franzen was unable to return despite the team's hopes that he'd be available in the playoffs after battling another concussion. Winger Erik Cole also wasn't available after suffering a neck injury in the final two weeks of the season. And defenseman Marek Zidlicky couldn't play in Game 7 at Tampa after suffering a concussion in Game 6.
"That's sports," Holland said. "We thought we had the potential to make some noise in these playoffs, but in the end, we weren't good enough. We've got to find a way to get a little better."
The offseason -- from the moment the Wings are eliminated through the rush of free agency that begins on July 1 -- is the busiest time of the year for Holland. And this year has been busier than usual as he tried in vain to negotiate a new contract with his coach. Mike Babcock left for Toronto, so Holland is occupied this week talking with Jeff Blashill, who's preoccupied himself trying to win a third playoff series this spring and get the Grand Rapids Griffins into the Calder Cup finals for the second time in three years.
Blashill is expected to be introduced as Detroit's next coach at the end of the Griffins' season.
In a few weeks, Holland will meet with his pro scouts to discuss potential free-agent targets in July. That will be followed by meetings with amateur scouts to prepare for the NHL Entry Draft in Florida.
And as difficult as this playoff spring was to swallow, Holland takes some comfort his team is very close, and it's going to get better considering the outstanding prospects developing in Grand Rapids.
That explains why the Wings feel no pressure to blow up their roster and retool it. A few promotions from the minors -- scoring machine Teemu Pulkkinen and defenseman Alexey Marchenko are NHL ready -- a free agent acquisition or small trade to add depth, and the Wings should like their chances against any team in the NHL in a seven-game series.
One deal simmering on the backburner -- with Toronto for defenseman Dion Phaneuf -- is far less likely to happen with Babcock now entrenched behind the Leafs bench and having a big say in personnel moves. The Wings were hoping to unload center Stephen Weiss in swap of bad contracts as part of a complex deal.
With Weiss a healthy scratch often down the stretch and in the playoffs, it's unlikely Babcock will want him in a Toronto uniform. This is more than mildly ironic, since the Wings -- at Babcock's insistence and against Holland's better judgment -- signed Weiss to a five-year, $24.5 million deal as a free agent in 2013.
"If we're going to get better, it has to be internal," Holland said, noting that superstars are increasingly unavailable in the free-agent market, and they're typically too expensive. They're also hard to get in the draft when you're picking 15-30 every year, as Detroit typically has done for most of the last 25 years or so. "We're trying to develop our kids, which is why Grand Rapids is so important.
"We're close, but we know we've got to get a little better. When you see Tampa Bay one game from the finals, you can say to yourself 'what if.' I'd rather not do that.
"I'd rather say that at least we had the opportunity."
---