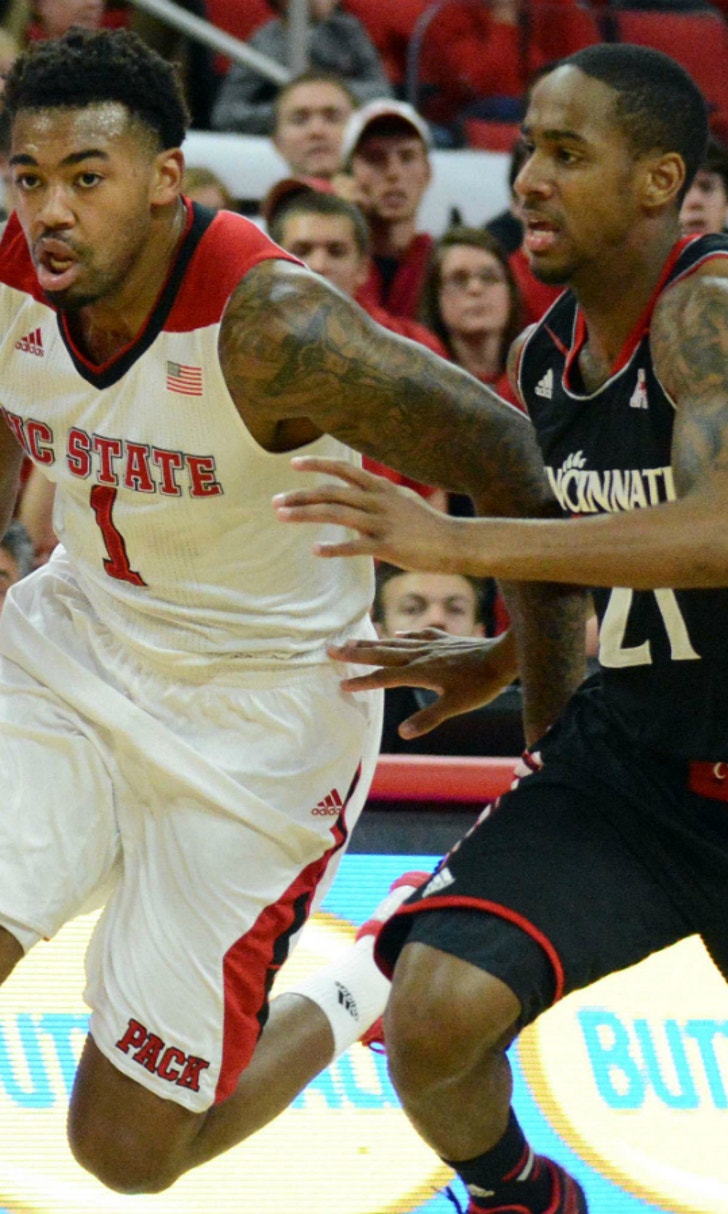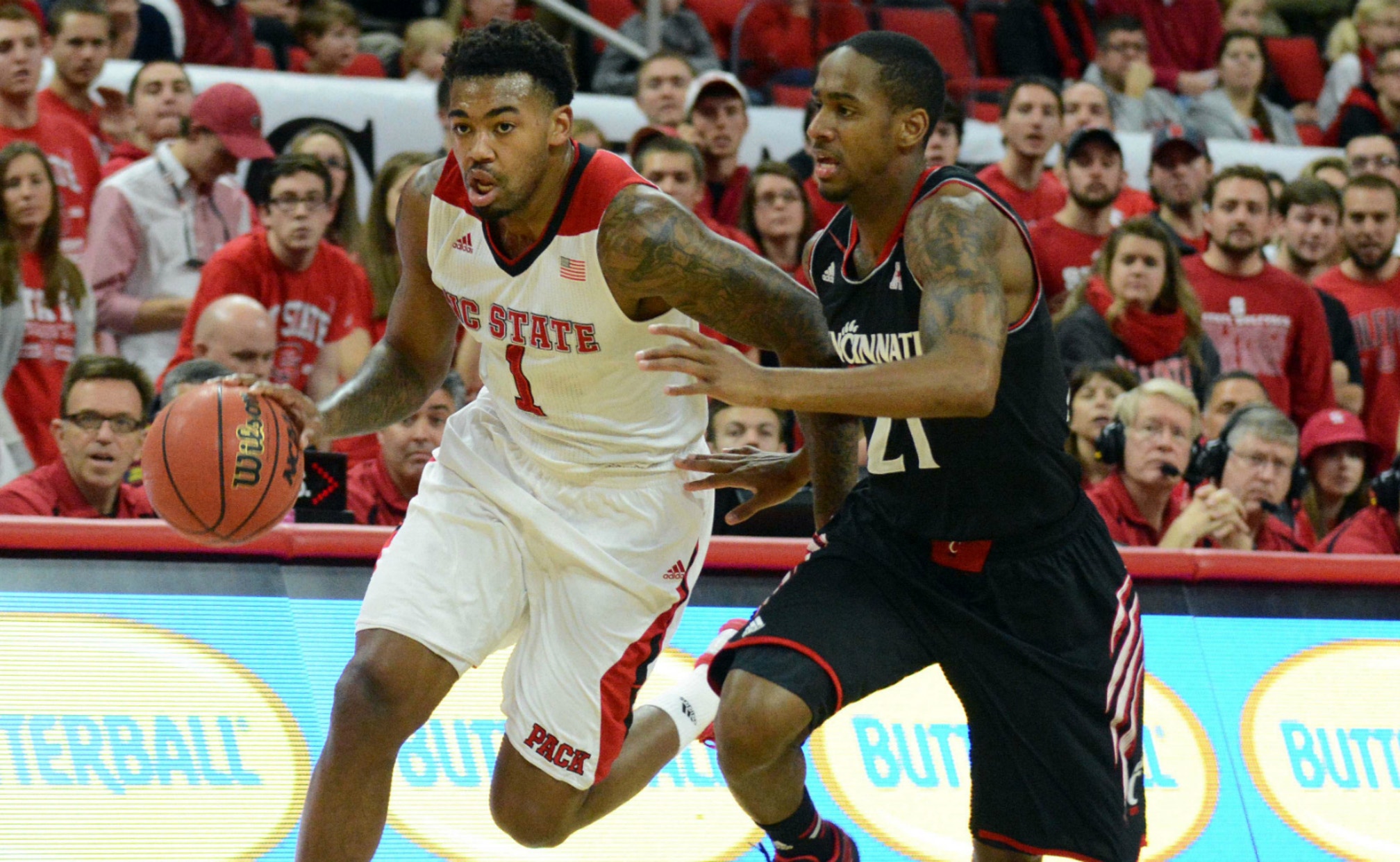 As it finds toughness, NC State learns season's possibilities
BY foxsports • January 4, 2015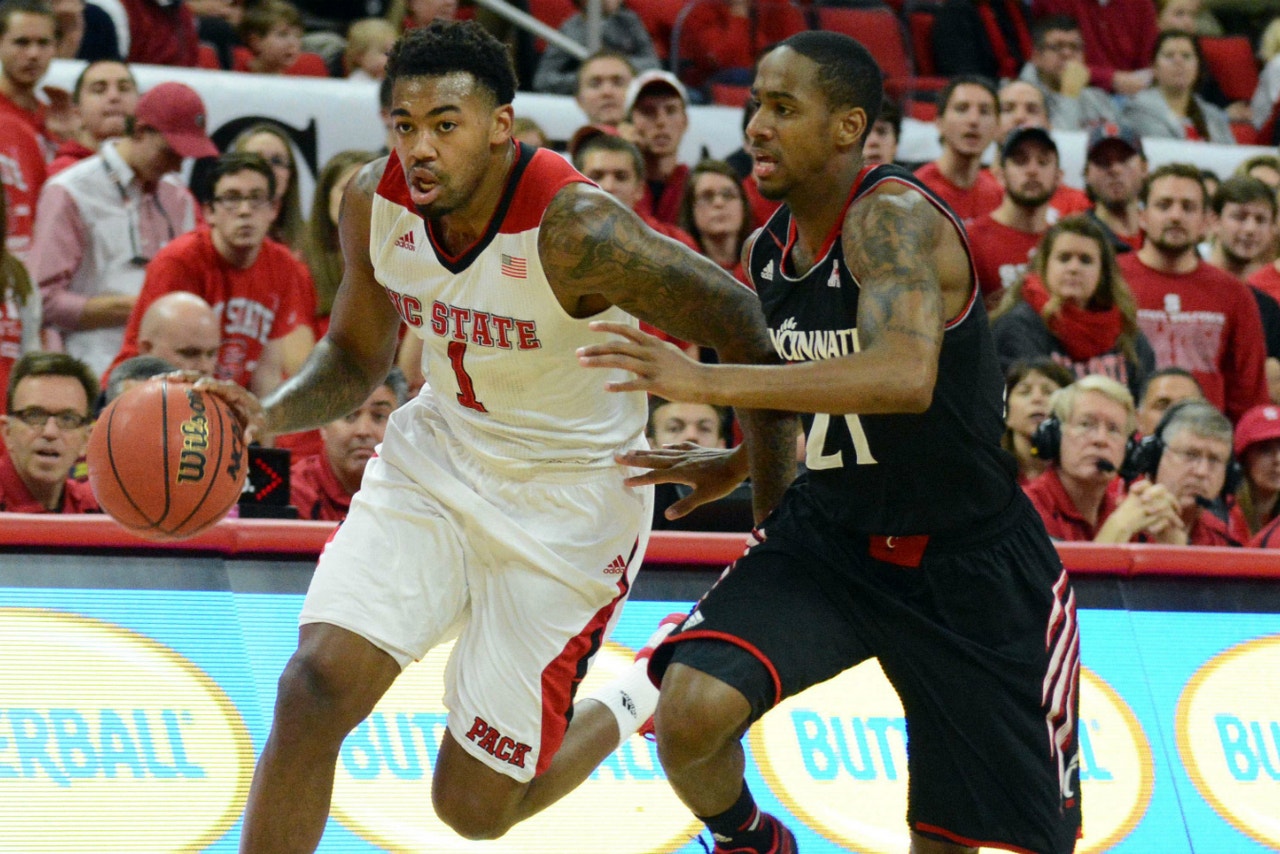 RALEIGH, N.C. -- Nothing that lies ahead for NC State this season will be easy, especially now that it's in a bit of a hole. And things won't get any easier now that the Wolfpack proved yet again what is possible when they turn their own effort level up a notch in a 68-50 dismantling of Pittsburgh on Saturday.
Sure, it was sort of a do-or-die game for the Wolfpack. Head coach Mark Gottfried lit a fire under his team in practice after a 76-60 loss to Cincinnati -- Gottfried said the fans deserved a refund after his team's performance -- and that fire continued to burn into the Pitt game. During one timeout, Gottfried grabbed the jerseys of two of his freshmen and yanked them together to be closer to him, so he could let them know in a more in-your-face way what they had done wrong.
Abdul-Malik Abu, a freshman who's played quite well and got his first start as a result of his week in practice, was one of those players.
"It was good. I like it. When Coach is fired up, I'm fired up. He always means well," Abu said. "So when a coach is fired up, he wants you to do something and you've got to listen to it and use his energy to go put out more energy out there on the court."
His team had been playing well, but Gottfried couldn't allow any slippage, and at the moment of that timeout, they had allowed consecutive transition baskets because of defensive mixups.
Still, his team was facing against not only an ACC opponent, but also a Jamie Dixon-coached Pitt team, a team and program known for its toughness. NC State experienced that toughness firsthand last year at home in a game they lost by double digits.
"They just manhandled us last year," Gottfried said. "They just took the ball right from us, just like you would a six-year-old, just went there and grabbed it, took it right away and laid it in. Emotionally beat us, too."
It's one thing to have to refocus his team after a bad performance against a lower-caliber ACC opponent. But not an opponent that generally refuses to surrender anything.
Gottfried spoke after the Cincinnati game not only about the embarrassing performance, but also about the sense of entitlement he felt existed on his team. He wanted to make it clear that no one was going to be handed playing time, or a starting job, or anything like that -- not anymore. It had to be earned.
And, frankly, this year's NC State team is going to have to play at that level most, if not all, the time.
"This is a step game. We took one step forward, learning how hard you've got to play, learning how committed you have to be to play defense. This afternoon, I thought we did a lot of things well, starting off with our defense," Gottfried said. "We had some energy and some intensity. I thought that was the biggest factor for our team in the game today.
"Now what has to happen is they have to continue that. We have to win in practice -- win, with a great practice every day. ... They were hurt the other day after the Cincinnati game. They were disappointed, embarrassed. So now it's for us, it's something we have to continue to build on. Our group has to learn what it takes to win at this level."
NC State's best player and leading scorer, Trevor Lacey, said even he didn't understand how important practice was until he got to Raleigh last year (the year he sat out). After the Cincinnati game, he and his teammates knew things would be different. They got to practice early, ready for anything and everything that could happen.
Instead, they got a pretty standard practice. But they understood quickly what Gottfried meant by their so-called entitlement, and what they had to do to change it.
"Guys were just playing that way like, 'Oh, I'm supposed to be out here' and he wanted to see guys work for their time and their position. It worked. I feel like in practice sometimes, we're too nice because we know each other, we're all friends and we know how practice is going to go sometimes we kind of go through the motions," Lacey said. "But these last couple of practices, it wasn't like that. We weren't friends on the court.
"We want to win, so we have to change our mindset when we go into practice."
This is a tight-knit group, always ready to encourage each other or pump each other up, and there doesn't appear to be animosity that exists even when one player gets minutes over another.
But they had to get a bit nastier, both individually and with each other.
That extends to the locker room as well, where both Lacey and senior Ralston Turner have to simultaneously play better themselves and take charge of the locker room. Lacey said as much, but his head coach echoed the sentiment.
"There has to be some leadership that has to emerge within the group. They have to take ownership in that. They have to hold each other accountable, too. It's not just a coach screaming and yelling every day," Gottfried said. "Sometimes when you have a large number of younger guys, they just look at each other all the time. Nobody is ready to step forward and say, 'Enough! Let's play! Let's go!' We're that team a little bit. We're going to get there, but today was just a step, one step in the right direction."
Will it happen in time? That's the question.
Right now, NC State is 11-4 and its best non-conference win is against either Louisiana Tech, Hofstra or Boise State. Maybe Tennessee. There's not much margin for error in conference play. There's no need to count them out yet, though, even without that Cincinnati win that felt like a must-win game.
In 2012, Gottfried's team was 18-11 and coming off of a four-game losing streak at the hands of Duke, Florida State, North Carolina and Clemson, but it won its final two regular-season games and reached the ACC Tournament semifinal before falling in a nail-biter to North Carolina.
In 2013, there wasn't really a question, although the Wolfpack did have a three-game losing streak (and a stretch where they lost four of five) that they bounced back from by winning six of thier final eight and getting to the ACC Tournament semifinal yet again.
Last year, a loss at Clemson in February put them at 16-10. Everything seemed lost, unless they could rack up some impressive wins, and they fell short against both North Carolina (in overtime) and Duke (again, in the ACC Tournament semifinals). But wins over Syracuse and Pittsburgh -- plus a tough non-conference schedule -- helped them get into the tourney yet again.
NC State's next three games -- all played in the course of a week -- are at No. 3 Virginia, No. 2 Duke at home and No. 19 North Carolina at home.
Assuming it wins none of those games, they'll be 11-7 and with a rematch against both Virginia and North Carolina looming, plus a trip to a top-five Louisville team, it would seem that NC State's margin for error will be sliced thinner and thinner with each loss. At least the win over a tough Pittsburgh team was the start of laying that foundation, reestablishing this team's confidence that it can beat a good team if it plays hard.
"Duke, Carolina, Virginia, you're going to come to play just because of who they are and what they've been doing the past couple years. But this helped us as far as we executed well against an ACC team. Everybody's good in this league," Lacey said. "We're not looking forward, but we have a tough stretch coming up and we know that. We still have a couple of days to prepare. We play defense like we played, I feel like we've got a good shot of beating all those teams."
Maybe it's premature to say that this season hangs in the balance.
After all, NC State has bounced back from worse.
But Lacey knows that if this team wants to get back to what it was before -- a team that was and always is at least in the NCAA Tournament conversation -- they have to show well this week.
"It could go wrong and real bad -- we could go lose three straight, four straight -- or we could win those games and we could be a team that's in the conversation," Lacey said. "So we've got to have that mindset that we want to be a team in the conversation and want to be a tournament team and make a run."
---