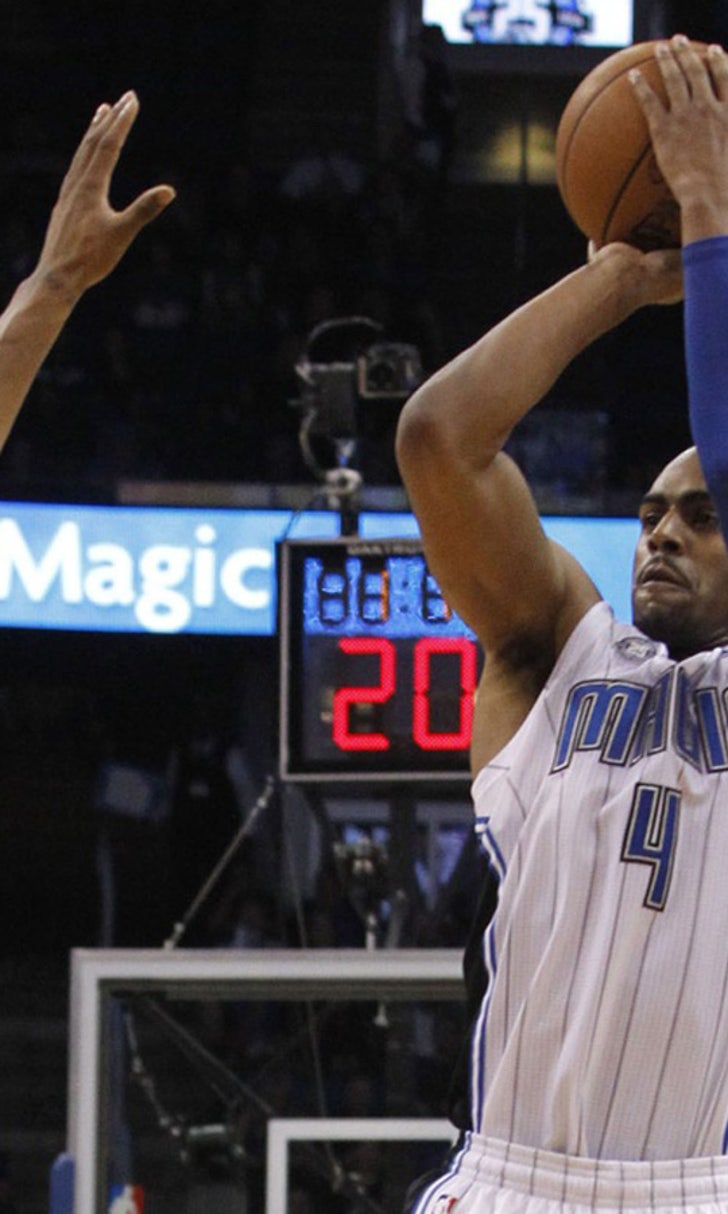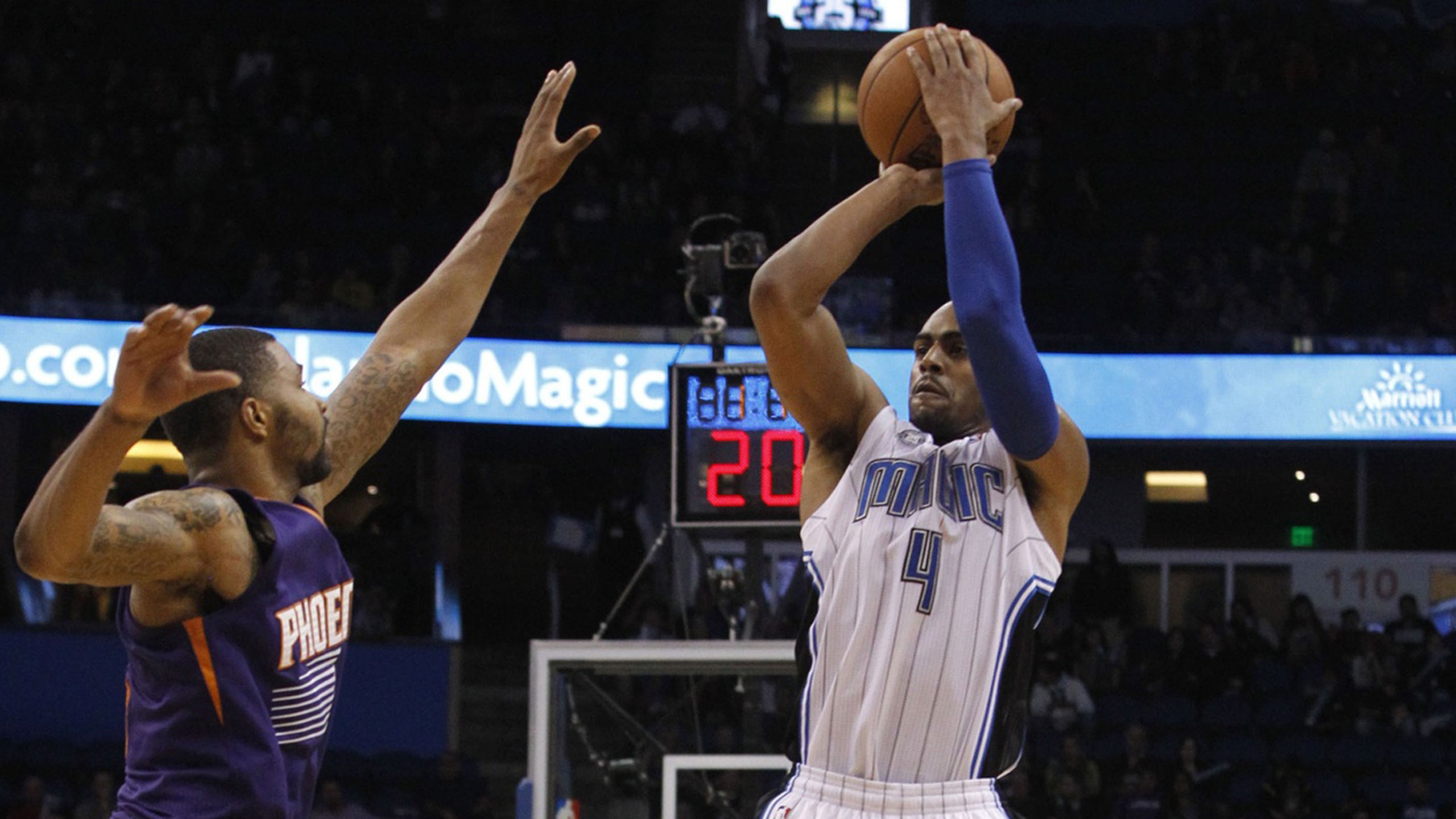 Arron Afflalo, Orlando Magic look to finish season strong
BY foxsports • April 10, 2014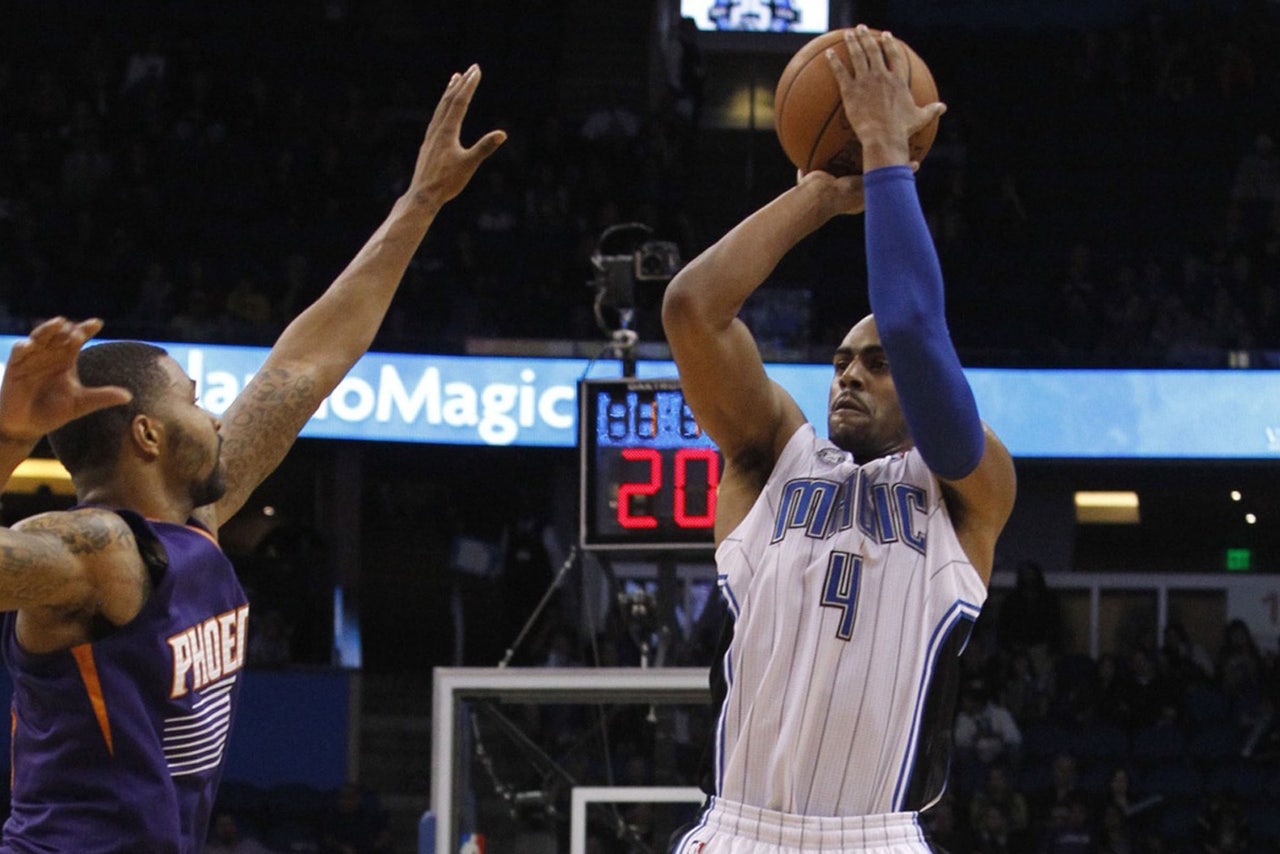 ORLANDO, Fla. -- Although Arron Afflalo led the Orlando Magic in scoring with 25 points Wednesday night in their 115-111 victory over the Brooklyn Nets, it was something he did that didn't register in the box score which might have stood out most.
Afflalo dove on the floor for a loose ball in front of the Magic bench during the first quarter with the sort of energy that wouldn't have been out of place for someone battling for a roster spot or in the thick of a playoff chase. Since he has been their leading scorer all season and the Magic will be going their separate ways in a week, neither of those descriptions applies in this case.
Still smarting from the floor burn he picked up, the veteran guard wondered afterward how smart it was for him to be so reckless with so little at stake.
"The last time," he said with a wry smile in recounting the play.
Coach Jacque Vaughn has often gone out of his way during a second consecutive season of more than 50 losses to cite Afflalo's professionalism on and off the court. Considering the players on the Magic's roster comprised the third-youngest team in the NBA as of a month ago, Afflalo and Jameer Nelson have been largely entrusted with keeping morale in the locker room at a high level.
It's a role which Afflalo admitted he has not always lived up to, particularly after missing five games shortly after the All-Star break due to a sprained right ankle.
"To be honest, after I came back from the ankle injury and got a slow start, my mindset kind of started to change, just because of the nature of our season and not being competitive for the playoffs," he said. "It was kind of a difficult thing to handle. It's just a maturity thing on my end. I've still got to show up, play, compete and go hard."
Afflalo appeared deflated a week ago when the Magic gave up 70 points in the first half of a loss to the Cleveland Cavaliers, with Kyrie Irving and Dion Waiters blowing past him and Nelson with alarming regularity. That game was part of a streak of three defeats in which he struggled shooting the ball from the floor, rarely got to the free-throw, and therefore wound up being held to single-digit scoring.
The win over the playoff-bound Nets represented only the second time since Afflalo returned from his injury March 5 that he has topped the 20-point mark. As recently as Feb. 3, he was averaging 20 points a game, a statistic which earned him serious consideration as a possible Eastern Conference reserve selection to the All-Star Game.
"These last five games, I need to make sure I show up, just close out the season strong," he said.
The Magic's ability to close out strong in beating both the Nets and the Minnesota Timberwolves is an encouraging sign. While their record in games decided by five points or fewer remains not terribly impressive (6-15), they're no longer paralyzed on offense down the stretch like they were in December when they held on for an all-too-rare road victory at Chicago.
They scored 14 points in the final 3:04 against the Nets, who began the night with the best record in the East since the beginning of 2014 (33-13). Afflalo's 3-pointer with 1:58 to go gave the Magic a 107- 101 lead, although the Nets --€" and Joe Johnson in particular --€" would not give up without a fight.
"I've noticed that this season, we've been a little bit better at closing out games," Afflalo said. "Our personnel is slightly different. But last season, we really struggled at closing games that were under five or so with a minute left. It shows a sign of maturity, a little sign of confidence from the group collectively. Hopefully it continues to get better."
Vaughn went with Afflalo, Nelson, Tobias Harris, Maurice Harkless and Kyle O'Quinn almost exclusively down the stretch. But the Magic might not have been in a position to win if not for the earlier contributions of backup guard E'Twaun Moore, who tied his season high of 17 points while going 5 of 5 from 3-point range.
"When you get good performances from role players and guys like E'Twaun, that's amazing," Afflalo said. "I'm happy for him. And hopefully his confidence continues to build in these last few games and he goes into the summer knowing how he can perform."
The Magic already have more victories this April than a year ago, when their only triumph in their final nine games came in overtime against the Milwaukee Bucks.
"It's not like we come in and it's something different every day," Vaughn said. "We're consistent in our approach. I want these guys to appreciate what they do for a living, and that's coming to work and enjoying the people around you, enjoying this game that you're blessed to have an opportunity to play. We come to work every day. We get better. That's what we do. I'll keep pushing these guys, and we'll see how far we can go."
You can follow Ken Hornack on Twitter @HornackFSFla or email him at khornack32176@gmail.com.
---