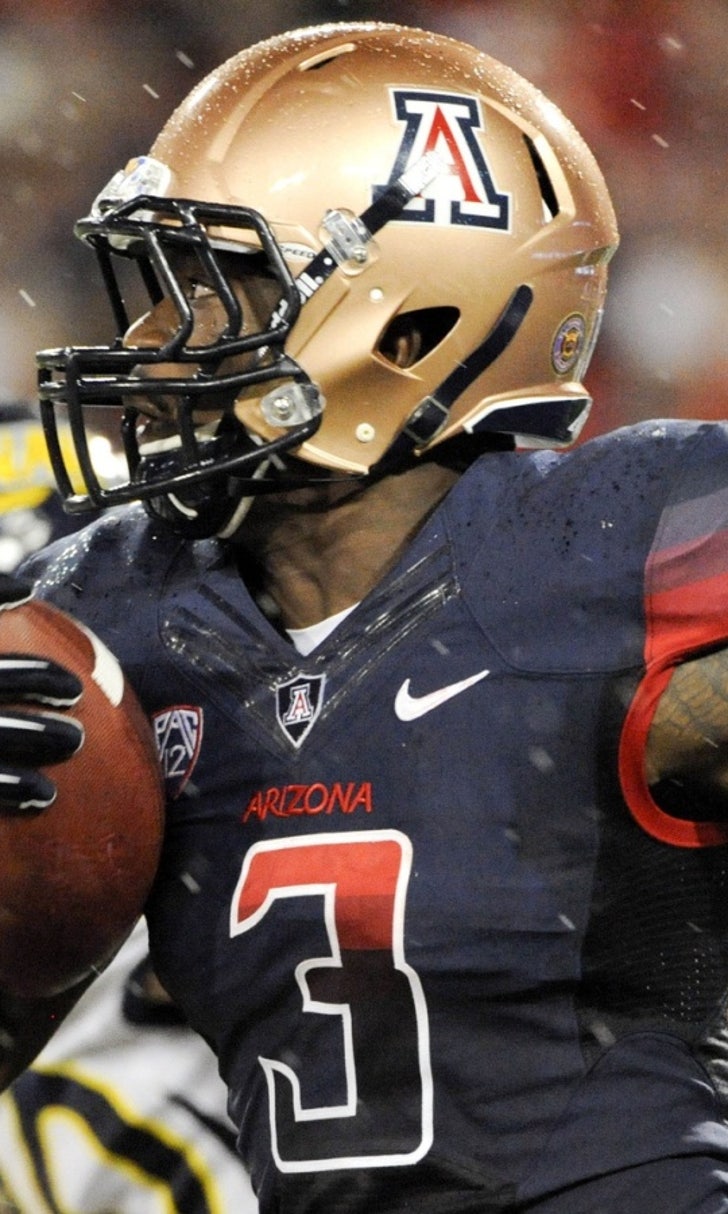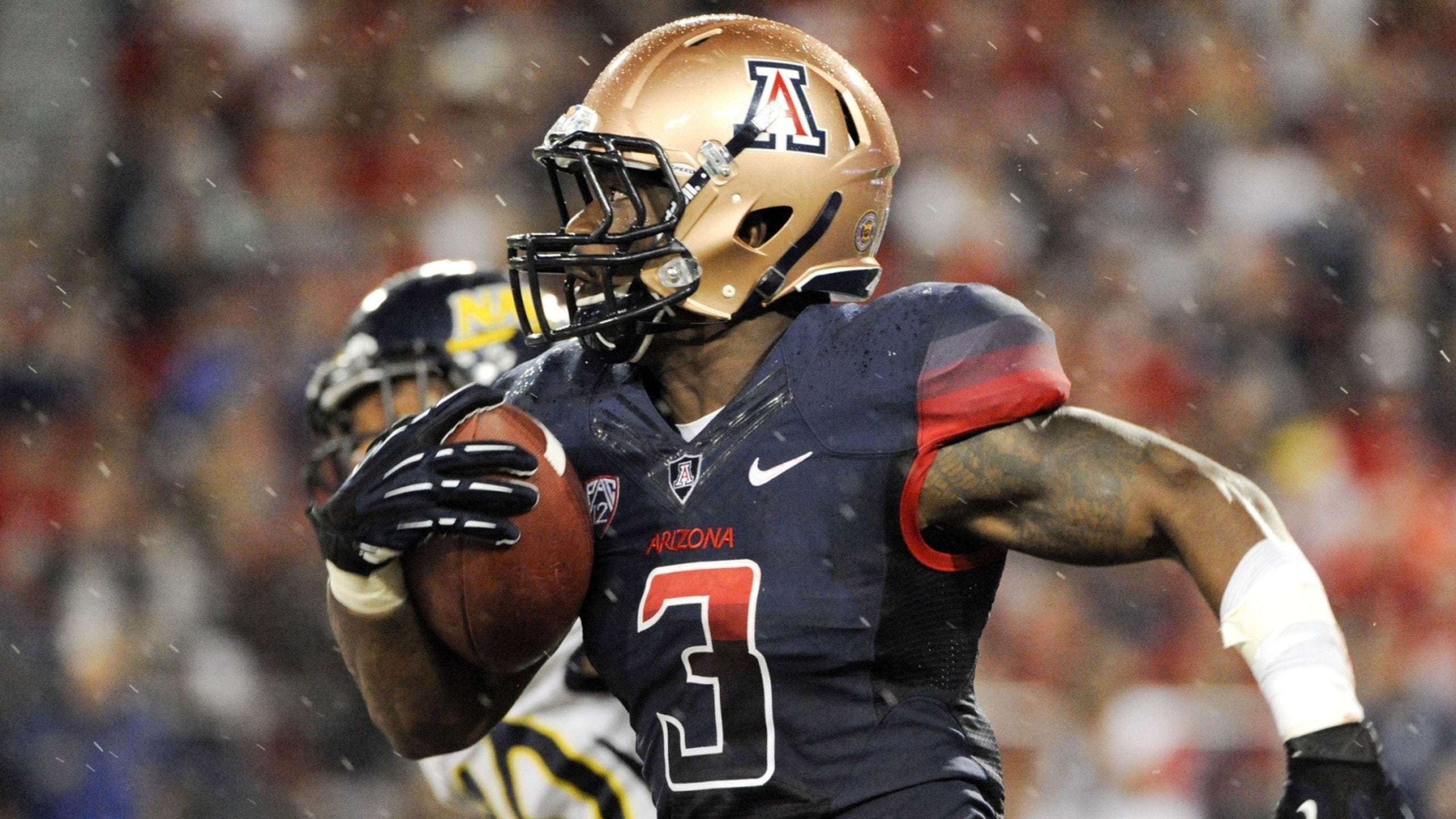 Arizona's Jenkins satisifed with past, ready for future
BY foxsports • December 16, 2013
TUCSON, Ariz. -- If only every play were a 91-yard run for a touchdown. Life would be grand.
But Arizona senior running back Daniel Jenkins realized a long time ago that life isn't like that. Not even close. It's more like two yards here, four yards there, always working for whatever you get.
But for one game this season, Jenkins, listed at 5-foot-9, 194 pounds, was big. In Arizona's season opener, Jenkins broke off a 91-yard touchdown run (the third-longest in school history) for his second score of the game in what was eventually a 35-0 win over Northern Arizona.
"Runs from the 9-yard line," he fondly recalled of the run that kick-started what turned out to be easily the best game of his five-year career at Arizona.
He finished that Friday night contest with a career-high 139 yards and two touchdowns.
He had a total of 238 yards in the next 10 games.
"People ask me all the time how I've handled it and how I've been able to maintain a level of professionalism," Jenkins said over the weekend, "but at the end of the day, you have to be professional. You may not like it, but you definitely have to maintain it."
Call it something you don't learn in a college manual: Life Lessons 501, Advanced Course.
Jenkins, a smart and thought-provoking guy who entered the season with a degree in public management and policy, took the course this year, hoping his experience might help him gain some extra credit -- and some extra work.
Life -- and fellow running back Ka'Deem Carey -- stepped forward.
"I've been really proud of him," Arizona coach Rich Rodriguez said. "Ka'Deem (Carey) is one of the best in the country, but when Daniel has had the opportunity, he's made the most of it. He's been a great leader for us.
"I'm proud of the way he finished (his career) at the place he started. He's had a great attitude, and he can play. We've always considered him a starter."
The Wildcats might have considered him one, but it didn't show up much in the numbers. And after Jenkins finished his degree last year, he was all but headed to Washington State to finish out his career before reversing course and returning to Arizona for one last opportunity. He made the most of it when Carey, an All-American, was out for the opener due to a one-game suspension.
"I can't say that I regret the decision at all, because I'm happy," said Jenkins. "It is what it is ... I'm content."
He also realizes life on the football field is far from over. Following the Advocare V100 Bowl against Boston College on Dec. 31 , he'll prepare his career for the next level. Although in actuality, he's been doing that since the moment he put on football equipment. No more than in the last year, when he was already done with school.
"I'm going to give it my best effort to get to the next level," he said. "I know I have the ability. The coaches have said I should at least try. If, God forbid, it doesn't happen, it's meant to work out that way."
If it doesn't, he quickly responded, "I'll coach."
Just last week, Rodriguez and Jenkins had a discussion about a possible future in coaching. Jenkins has the savvy to do it; he also has a wealth of insight into the game.
"I have the experience," he said, adding that he'd like to be a running backs coach. "I've done it for five years. I've played for two different coaches (Mike Stoops and Rodriguez) and five different running backs coaches. I've sucked in as much as I've can."
Rodriguez sees a more-than-capable coach in Jenkins.
"He's got a lot of recommendations from our staff," Rodriguez said. "I think he has a great career in the profession."
Whatever it is, he said, "I'm excited about every opportunity that will come my way. I'm sure I will be successful with it."
He has that much confidence in his abilities -- and his faith. It's part of what guided him back to Arizona last year. He didn't burn any bridges when he left, and he continues to feel that the circumstances of being Carey's perpetual backup were simply the way things were.
"How do I feel?" he asked. "If I didn't (feel good about his decision), then these opportunities to be a coach might not have shaped up that way. Maybe that's my route. I'm taking it in stride. I have strong faith.
"And because of that faith, whatever has happened has worked out for the best. I didn't play as much as I thought or expected, (but) it's about the experience."
And in the end, isn't that what college is all about? Save for a 91-yard run.
"Exactly," he said.
---