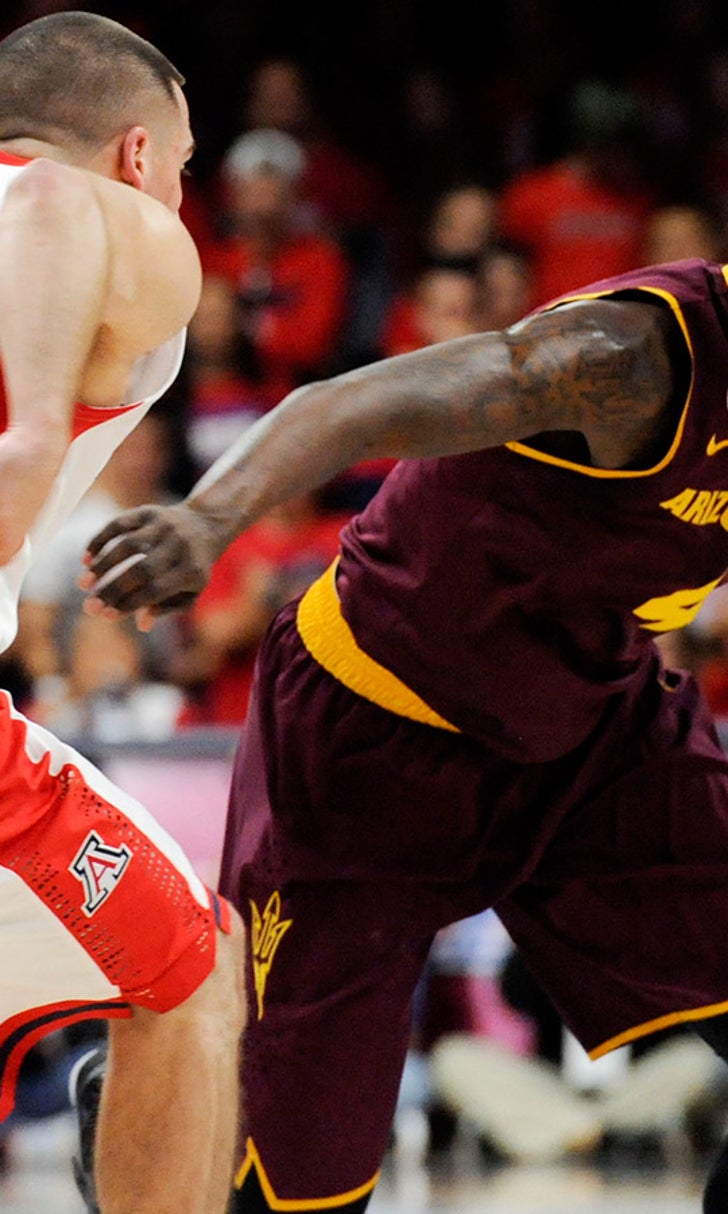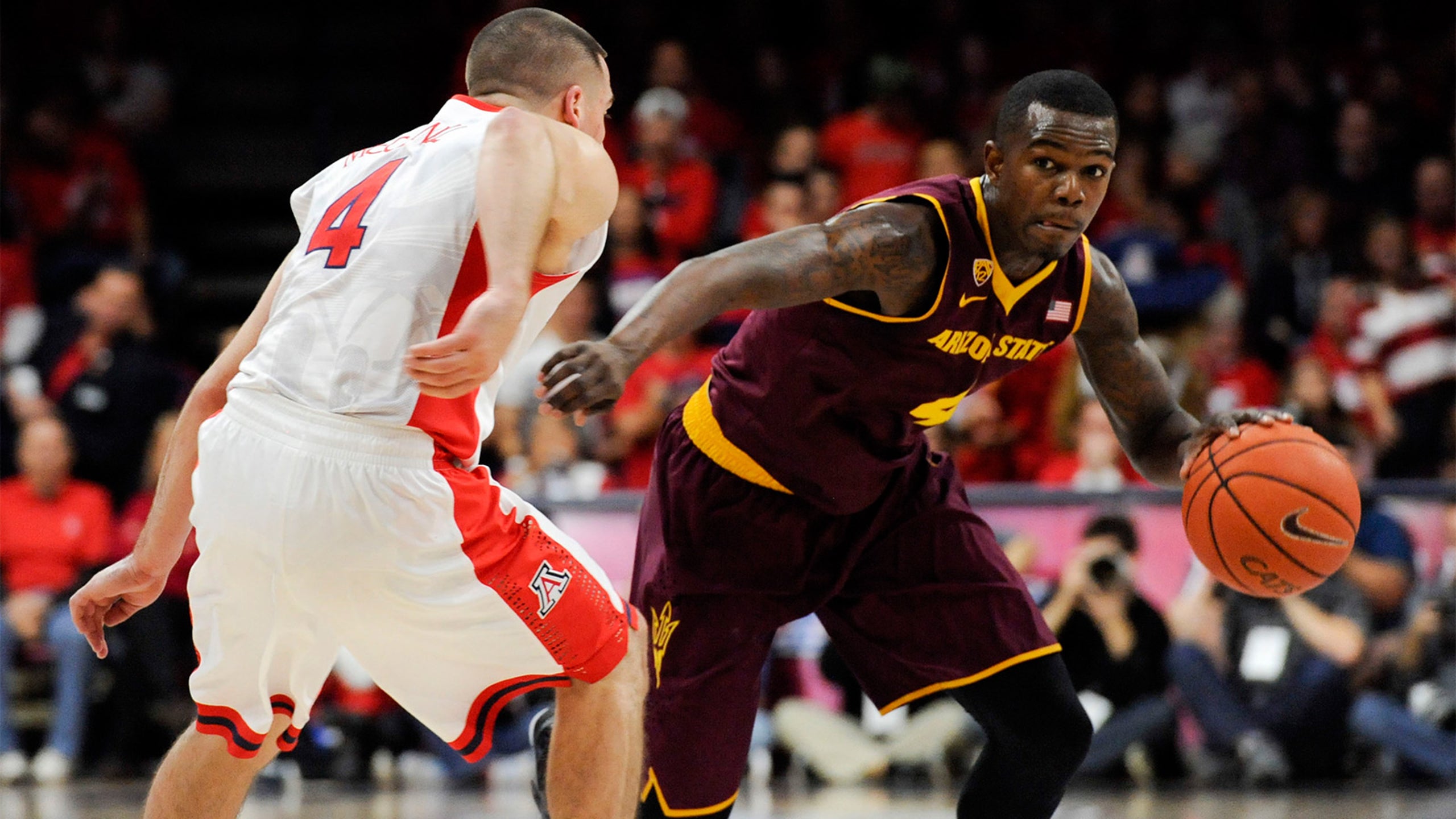 Arizona State keeps the faith through transition period
BY foxsports • January 7, 2015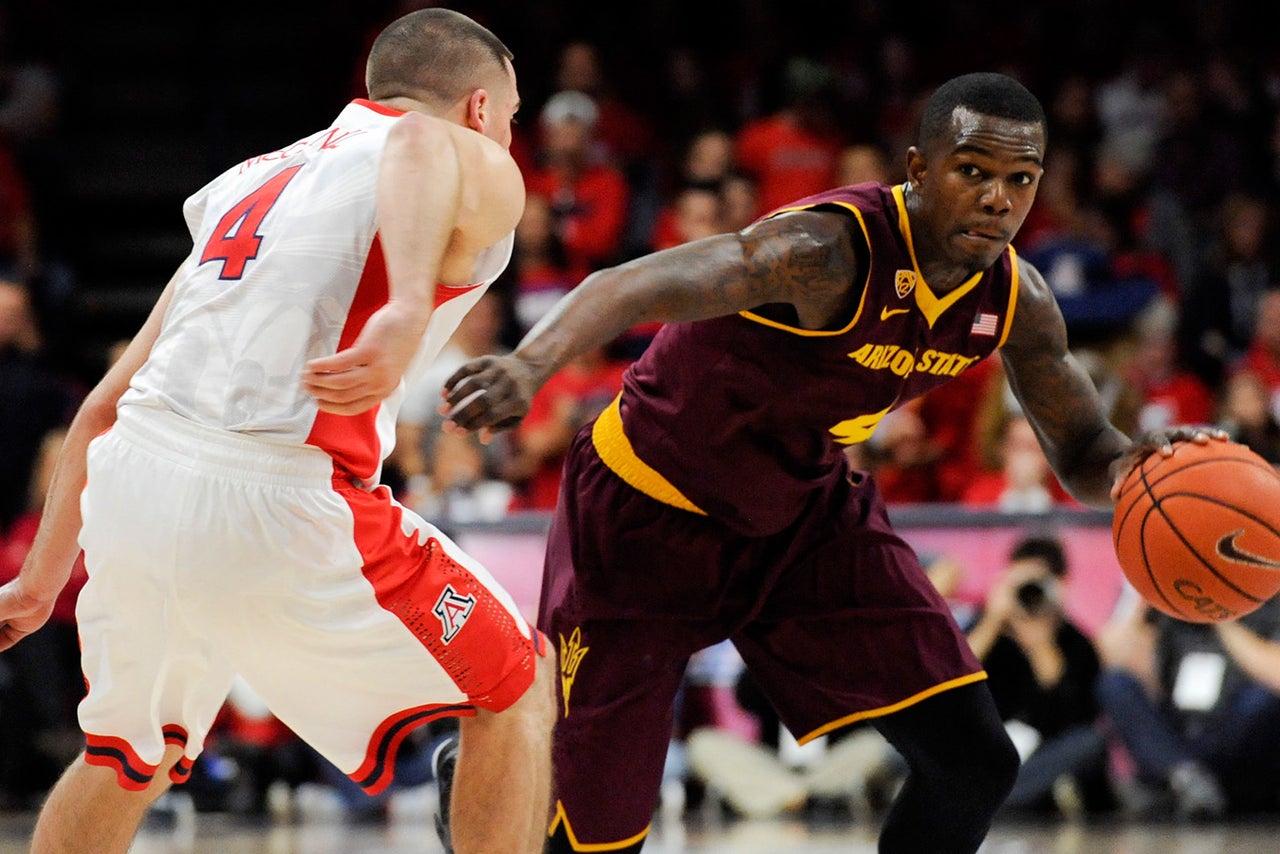 TEMPE, Ariz. -- As ASU coach Herb Sendek boarded the team bus in Tucson last Sunday night, he barely had time to take off his sport coat before receiving a text from guard Roosevelt Scott.
Scott's message: Keep your head up, coach. We'll be OK. Let's keep working.
Transfer forward Savon Goodman put his arm around Sendek at practice Monday and had basically the same sentiment, and then apologized for not delivering it to Sendek sooner.
"That's the kind of team we have," Sendek said. "It doesn't get any better than that. When you have that kind of mindset, when you have that kind of heart, I believe, no matter what the scoreboard says, you are never a loser."
If commitment and camaraderie have anything to do with it, Arizona State (8-6, 0-1 Pac-12) will be able to quickly distance itself from a 24-point loss to Arizona last Sunday on its Oregon trip this week. The Sun Devils play Oregon State on Thursday (7 p.m. MT, FOX Sports 1) and Oregon on Saturday.
Like ASU, Oregon State (9-4, 0-1) and Oregon (11-3, 1-0) had to replace plenty of firepower this season. All three schools certainly look at the other two as beatable teams, and this may be the best place as any for ASU to get back on track.
The Sun Devils struggled to get into their offense and committed a season-high 22 turnovers when they were overwhelmed by Arizona 73-49, but part of that had to do with the matchups. Arizona point guard T.J. McConnell is one of the best point guards in the conference, and he is on pace to set a school record for the best assist-to-turnover ratio. It is over 3:1 right now.
ASU point guard Gerry Blakes has been playing that position all of four games ... in his life. Blakes was considered a combo guard coming out of San Bernardino (Calif.) Community College, but the extent of his point play was bringing the ball up the floor. Sendek moved him to the point in mid-December after freshmen Tra Holder and Kodi Justice got auditions, and by the end of the month the Sun Devils had chosen to go with a lineup that included newly eligible 6-foot-6 Goodman at power forward and the 6-4 Blakes moving from off guard to the point. That also enabled the bubbly, athletic 6-3 Scott to move into the shooting guard spot. 
If Blakes has minded getting throwing into the deep end, he has not shown it. He has immersed himself in learning the position and its responsibilities. A natural leader, he now is being asked to show it in other ways after averaging about 20 points a game last season.
"As Coach Stan (Johnson) was telling me, my learning curve has to be faster than a guy who will be here four years," Blakes said. "I'm trying to study that position, be there, and learn as far as I can so I can as best as I can be at that position for our team.
"I've always been a leader as a basketball player, but it is a whole different world at point guard. I just want to be able to lead my team with the ball and without the ball. To contribute without even scoring, as point guard would do. I want to affect the game in a different way at that position."
That has included a mindset change.
"I've been a scorer all my life," Blakes said. "Now the team is relying on me to get other people shots. Now it is mentally embedded in me. I just want to go out and perform. It has been an adjustment, but the coaches have faith in me, and that's why I'm there, to learn and progress."
The Sun Devils will give Blakes some space as he adjusts. He is the team's leading scorer at 11.9 points per game among players who have been eligible all year. Goodman (13.0) and forward Shaquielle McKissic (10.5) are the only others scoring in double figures.
"It's difficult. It's a challenge," Sendek said of Blakes' new role. "For the first time, he is not just responsible for himself but for the other four guys on the court. That's what comes under the umbrella of being a point guard. So not only is he a new guy, but he is playing a new position.
"But he is not going to do it by himself. I still am very positive about Tra. He is the one true point guard we have in our program, and I think he is going to be a very good player for us. He's just a young guy making the transition."
Follow Jack Magruder on Twitter.
---