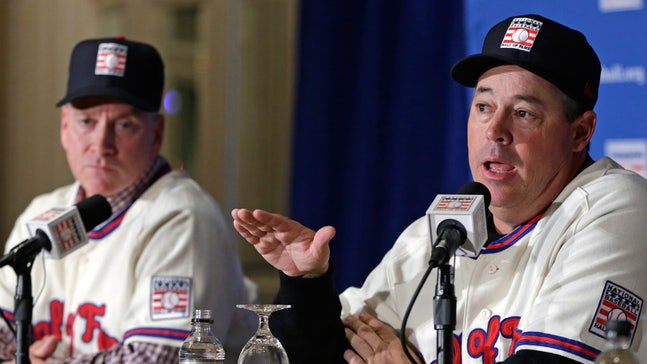 Are the good old days gone forever?
Updated
Mar. 4, 2020 8:42 p.m. ET

Chris Archer made his league-leading 19th start on Wednesday, which gives him a chance to reach 35 outings. To do it, though, he would need to pitch every fifth day for the rest of the season. Recent history suggests that just isn't happening.
If my message today was that pitching on three days' rest is an artifact of another time, I'd be 30 years late to the party. I don't think anyone expects the Rays—especially the Rays, but, honestly, any team—to turn Archer around from his Wednesday start to go on short rest Sunday and squeeze an extra outing out of him. That's not how teams do business anymore.
I'm not making any attempt to reverse that trend (except maybe I am; we'll see). What might have crept up on you, though, is this: We're maybe a decade from seeing as many starts on five days' rest as on four. Remember the four-and-a-half-man rotations the Braves used in the 1990s? Greg Maddux was the last man (ever?) to start 36 games in a season, in 2003. Tom Glavine started 35 or more times in six of the eight full MLB seasons from 1993 to 2002, leading or co-leading the league in all six of those campaigns. That mentality is long, long gone. Rotations have five full members, without exception, and if one of those guys gets hurt or fails too monumentally to be allowed to continue, the next-best option is given a full share of the starts in his stead.
This bears mentioning, because Matt Harvey made it known this week that he doesn't like being part of a six-man rotation. After a less-than-stellar Saturday start that came on six days' rest, Harvey said the extra rest threw off his preparation and fed into his struggles. Harvey's starts this season, by days of rest on which he was pitching, starting with his second outing: 4, 4, 5, 5, 6, 4, 4, 4, 5, 5, 5, 5, 4, 5, 6.
I'm not calling Matt Harvey soft or accusing him of excuse-making. I have no trouble believing that having to adjust one's preparation schedule to constantly changing rest patterns would pose a problem. Pitching is unlike almost any other specific skill in American team sports, in that it must be constantly, carefully honed and relies on stable repetition, yet is dangerous. I imagine almost any pitcher would like to have a perfectly consistent rest pattern because that would allow him to manage and perfect a routine that might allow him to improve and condition himself consistently, without adding any risk for injury. In essence, if you always had the same amount of time between starts, you could probably throw more, or throw more effectively, during that time. You could probably condition your circadian rhythms to work on a more reliable cycle, the way night-shift workers do. You could probably do a lot of things a very little bit better, and it might be enough to really matter.
No, I don't blame Harvey for his frustration, but as his manager said in reply, he's going to have to adjust. The league won't. Six-man rotations might not be part of the immediate future, but they're probably part of some future. It's the way the league has been inexorably moving for 40 years, and in defiance of all odds, it's continued even over the last half-decade, as starters have consistently been removed sooner and relievers have racked up more and more outs. Baseball teams have learned the lessons that might plausibly have pushed the game back toward four-man rotations and have responded by substantially shortening starter outings and (perhaps) lessening the need for the fourth day of rest. They've seen the research on the times-through-the-order penalty and on fatigue's relationship with injury risk and on the value of playing bullpen matchups, and they've reacted, but never by putting the ball in starters' hands more often, not even their best starters' hands.
The Rays, with their wily ideas for beating much richer teams, have taken to a full-fledged shuttle system for the fringes of their pitching staff, optioning everyone who can be optioned, it seems, to allow them to cram usable, fresh relief arms onto the roster at times and in places where other teams couldn't. That's how they've managed to call upon an MLB-high 27 pitchers already this season, a number only 20 teams since 2010 have surpassed in an entire season. Only, the Yankees—the very behemoth the Rays are hoping to outfox by doing this—have also used 27 arms. Every team is flush with options, guys they know (or hope) they can call upon to get a few outs in middle relief, enough to ensure that if the rest of the roster does its job, they'll get the win.
Pitching staffs can't grow any more, not really, without an attendant expansion of the roster to accommodate them. That's probably coming, so it won't be long before Matt Harvey's comments sound strange in hindsight. The 26th man on an MLB roster won't be a much-needed bench bat or even a ninth situational reliever, but rather, the sixth starter for every team's rotation. Japanese pitchers and college pitchers will have their adjustment curve to MLB routines considerably flattened. Everyone will go right on asking pitchers to pitch on different rest intervals; it'll just be a question of whether one gets five days of rest or six. Or seven, I suppose. Julio Urias will one day complain about that.
It shouldn't be this way. Since the talent gap between pitchers at the back end of most bullpens has eroded almost into oblivion, good relievers should be used on three-day rotations. Starters should go on five-day rotations. When off days or rainouts allow it, the weakest links in those chains should simply be relegated to the pool of spare parts, the edge of the staff, to await the team's next time of need. It's not going to be that way, though, and if Matt Harvey wants it to be, he should put in for a transfer to Atlanta, circa 1993.
---
---