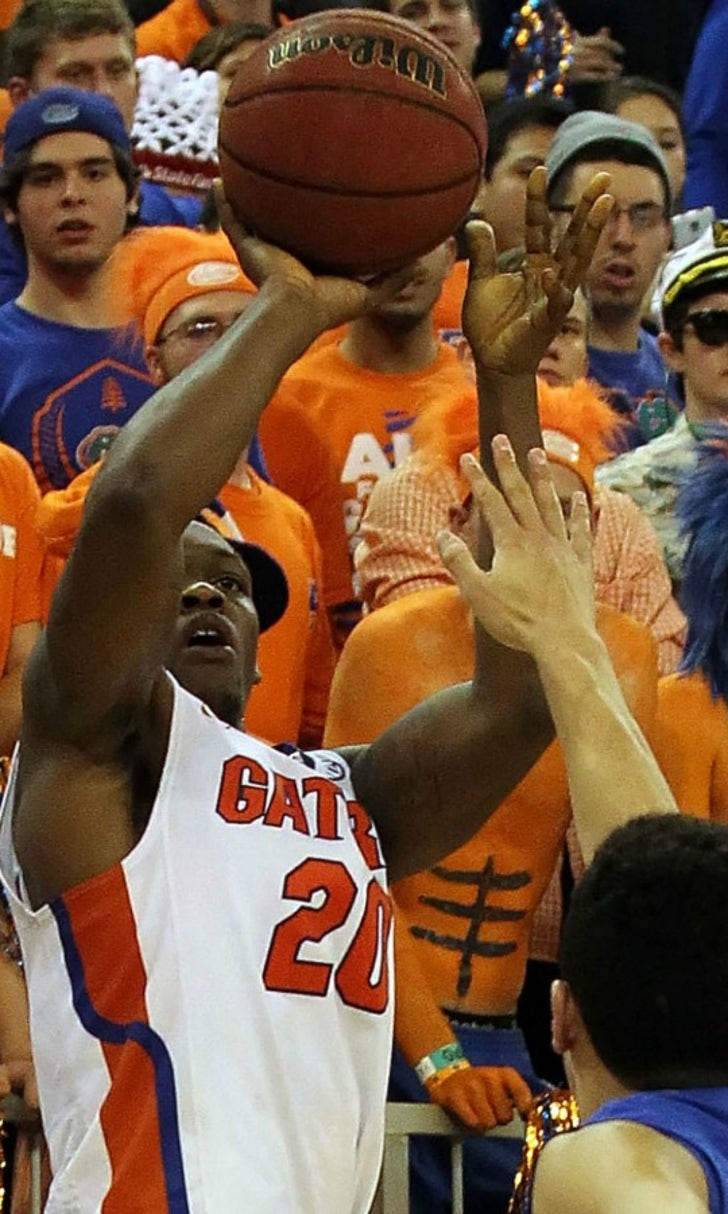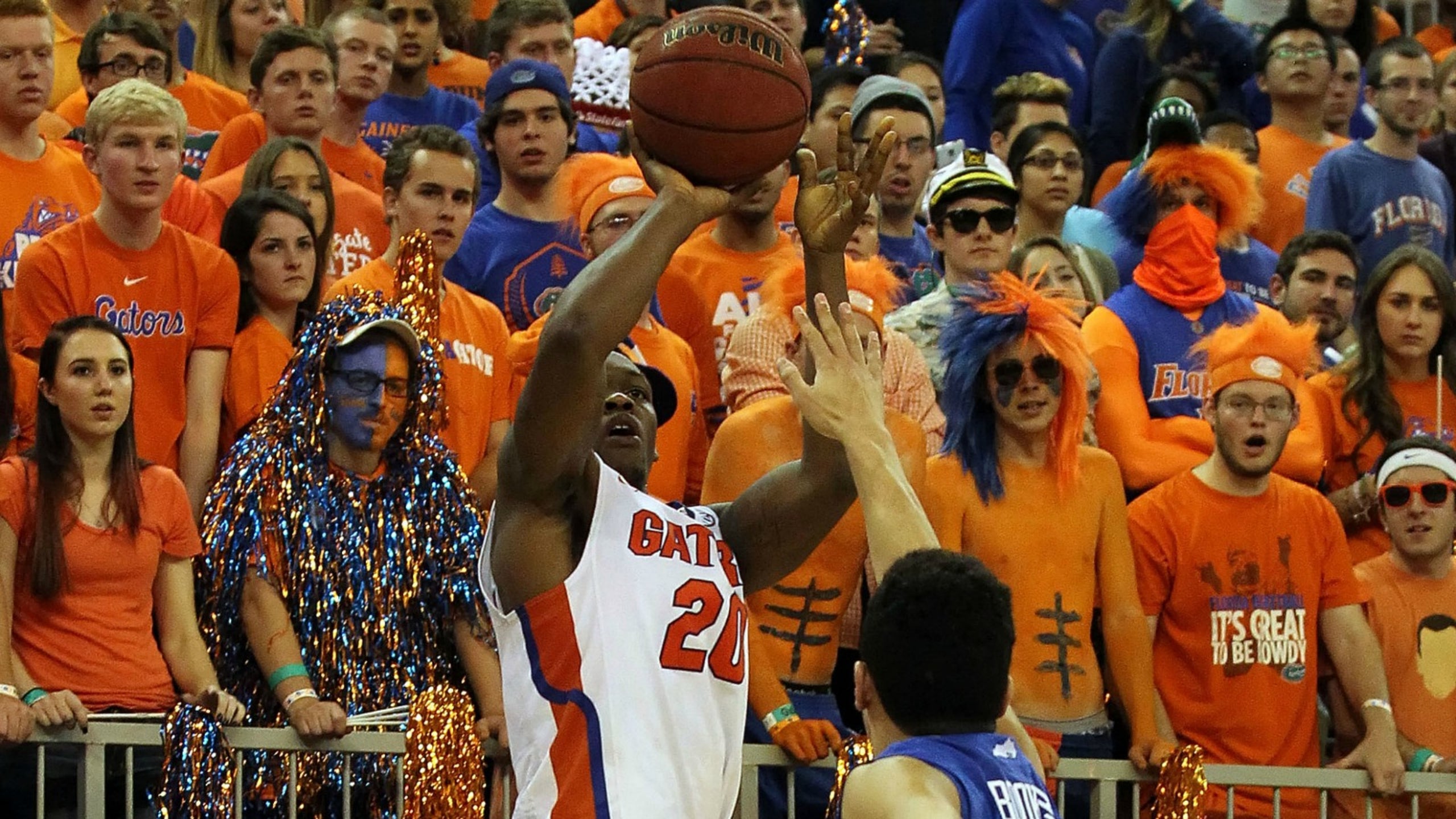 Ankle injury prevents Michael Frazier from potential big performance against Kentucky
BY foxsports • February 8, 2015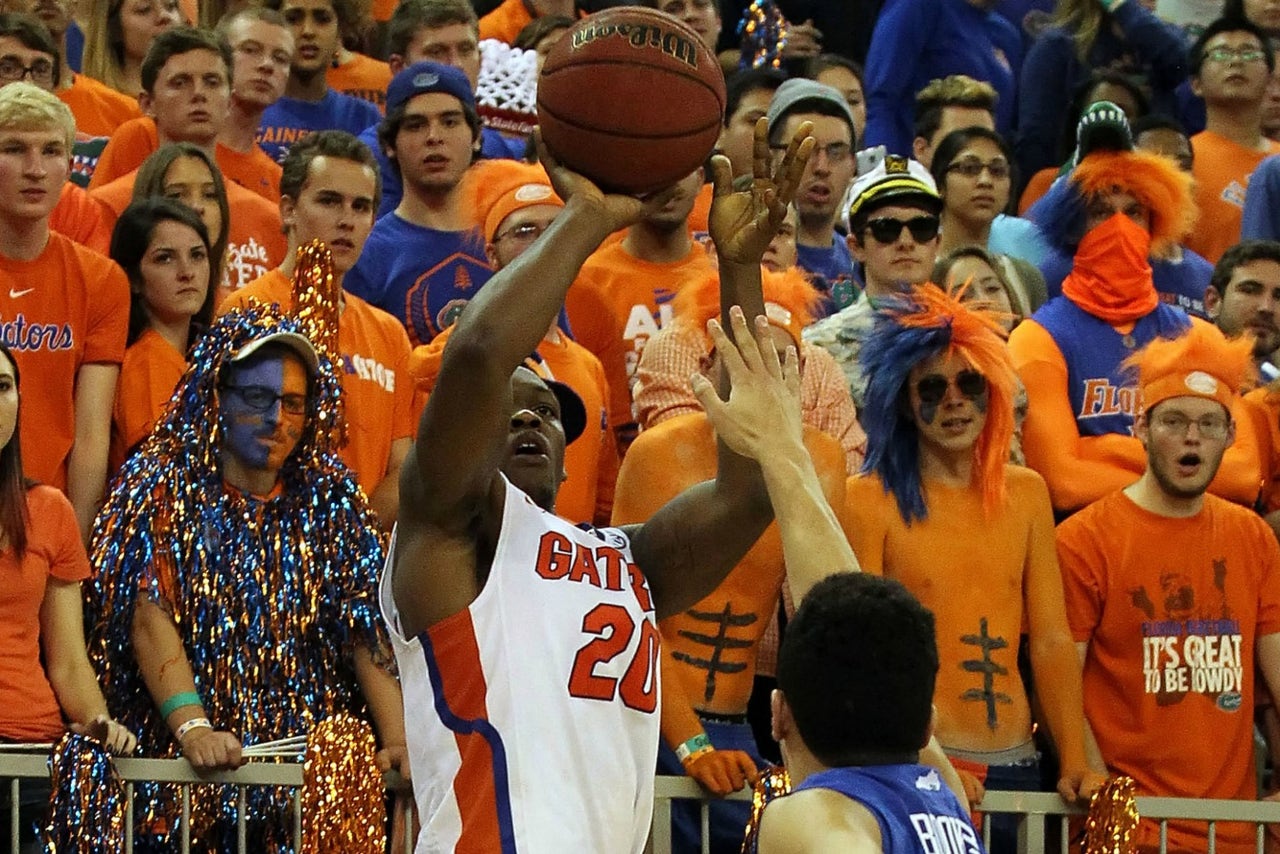 GAINESVILLE, Fla. -- Michael Frazier II had that look in his eyes Saturday night. That torrid stare a shooter unleashes when he's feeling it. Really feeling it.
Frazier flashed it from the start of Florida's 68-61 loss to No. 1-ranked Kentucky at a sold-out O'Connell Center.
He scored the Gators' first points on a 3-pointer, and when he hit a jumper with 11:50 left in the first half to give Florida a 16-9 advantage, Frazier turned his gaze to the Rowdy Reptiles courtside and encouraged them to make even more noise.
Before the game, a predominant storyline was that for the Gators to pull off the upset against the undefeated Wildcats, they would need to be effective from behind the 3-point line.
And few in college basketball are better from beyond the arc than Frazier, who earlier this season set the school record with a 3-pointer in 41 consecutive games. Frazier entered Saturday's game second in the SEC in 3-pointers made (53) and 3-point field goal percentage (.396).
For most of the first half Frazier looked comfortable in his zone, hitting 3 of 4 shots, including a pair of 3-pointers, the second one in Kentucky defender Devin Booker's face to give Florida a 26-18 lead with 7:19 left before halftime.
The upset watch was on as the O'Dome roared louder than it has in a while.
However, Frazier would not score another point, suffering an ankle injury late in the first half to finish with 10 points. The injury appeared to happen when he dribbled the ball off his foot and scrambled for the loose ball with around 5:30 remaining before halftime.
The turnover led to a Kentucky score and soon afterward, Frazier left the game momentarily. When he returned, Frazier had a noticeable limp that he played with the rest of the half.
In the final seconds of the first half, Frazier played with only one shoe.
He lost his left shoe in the sequence of play and was on the court as Chris Chiozza drove to the basket for a layup with 13 seconds left that put Florida ahead 32-30, and then on defense as Kentucky's Tyler Ulis missed a 3-pointer at the first-half buzzer.
Frazier started the second half but was ineffective. He left the game for good with 11:41 remaining and the Gators down 47-44. He is listed day-to-day with an ankle sprain.
"I appreciate him trying, but he wasn't able to help us," Florida coach Billy Donovan said. "He tried to go back in there. He was hobbling around."
Donovan knew Frazier was limited when he gave up a 3-point shot to Kentucky's Aaron Harrison with little resistance.
"I just said he had to come off the floor," Donovan said.
Without Frazier the Gators were able to keep it close, but too many missed free throws and a pair of missed 3-pointers by Chiozza in the final minutes -- both were good shots but rimmed out -- left the Gators to wonder if the outcome might have been different if Frazier had been on the floor.
The Gators missed him.
"He's one of our better scorers," said guard Eli Carter, who finished with 11 points. "It was hard for us with him not out there. He wanted to be out there. We just tried to attack and take what they gave us. We had a lot of open looks."
The best look of all was in Frazier's eyes as he shot. Once it was dimmed on the bench, all he could do was watch.
"He plays a big part," forward Dorian Finney-Smith said. "When he's on the court, he spaces the court and it opens driving lanes. But he couldn't go. He played good the first half."
---