Angels' Santiago sharp in first spring training outing
March 6, 2015

Milwaukee ace Kyle Lohse and Los Angeles rotation hopeful Hector Santiago both had solid spring training debuts in the Angels' 3-2 victory over the Brewers on Thursday.
Lohse, 13-9 with a 3.54 ERA last season, allowed one hit and one run with three strikeouts in 2 1-3 innings.
Lohse retired the first six batters he faced. He allowed a leadoff double to C.J. Cron in the third. He later scored on Mike Trout's infield single off reliever Ariel Pena.
"It felt really good," Lohse said. "It was kind of a continuation of what I've been doing in my bullpens and my live (batting practice outings). I was going out and just doing what I normally do: get ahead of guys and try to mix it up."
Santiago struggled early in 2014 and was demoted to the minors. But he recovered to go 6-9 with a 3.75 ERA. He allowed one hit with a walk and a strikeout in two scoreless innings.
"That was intense," Santiago said. "I started breaking a sweat before the first pitch."
Cron had 11 homers and 37 RBIs as a rookie last year and is in line to receive more at-bats this season, along with newcomer Matt Joyce, with Josh Hamilton's status uncertain. Cron went 2 for 2.
"C.J. was on some pitches," Angels manager Mike Scioscia said. "We know what a threat he is on the offensive side. Hopefully, he's going to grow from where he was last year."
Scioscia said he would use Cron against righties and lefties.
"He projects out as a guy who hits against anybody," Scioscia said. "His upside is definitely to be an everyday hitter. He'll get there. It's going to take a little bit of experience. He's made some adjustments."
STARTING TIME
Lohse was happy with his first outing of spring training.
"(I'm) just trying to get back in that groove right now and remember the little things you do in between pitches to get your mind right," Lohse said. "Everybody needs a reminder of the small stuff. Once we get going, I'll worry about refining the stuff, but right now, if I could stay right there and build my pitch count right up I'll be pretty happy with the spring."
Santiago is believed to be in a three-way race for the fifth and final spot in the Angels' starting rotation with newcomers Andrew Heaney and Nick Tropeano.
TRAINER'S ROOM
Angels: Right-hander Garrett Richards will next pitch to live hitters, according to Scioscia. Richards had a breakthrough season in 2014, going 13-4 with a 2.61 ERA, before rupturing the patellar tendon in his left knee last Aug. 20 at Boston while covering first base. Richards took fielding practice off a mound for the first time Wednesday.
TROUT FISHING
Trout, the defending AL MVP, swung at the first pitch and flew out deep to right-center field in his first at-bat. He told reporters earlier in camp that he could do more first-pitch swinging in an effort to cut down on his league-leading 184 strikeouts from a year ago. He took a pitch before singling in a run in his second trip to the plate.
"I'm looking to drive the ball and cut down on the strikeouts," he told reporters Thursday.
Scioscia downplayed any major adjustments in Trout's approach to the plate.
"I don't think Mike's going to change too many things," Scioscia said. "But I know a couple of things like being able to bring a bunt here and there to a game and being able to jump on the first pitch, they're going to be small adjustments.
"He's already made adjustments to get from point A to point B. There's obviously no major overhaul. He's going to be as aggressive as he needs to be. It's not going to be anything major. Mike's going to play his same game."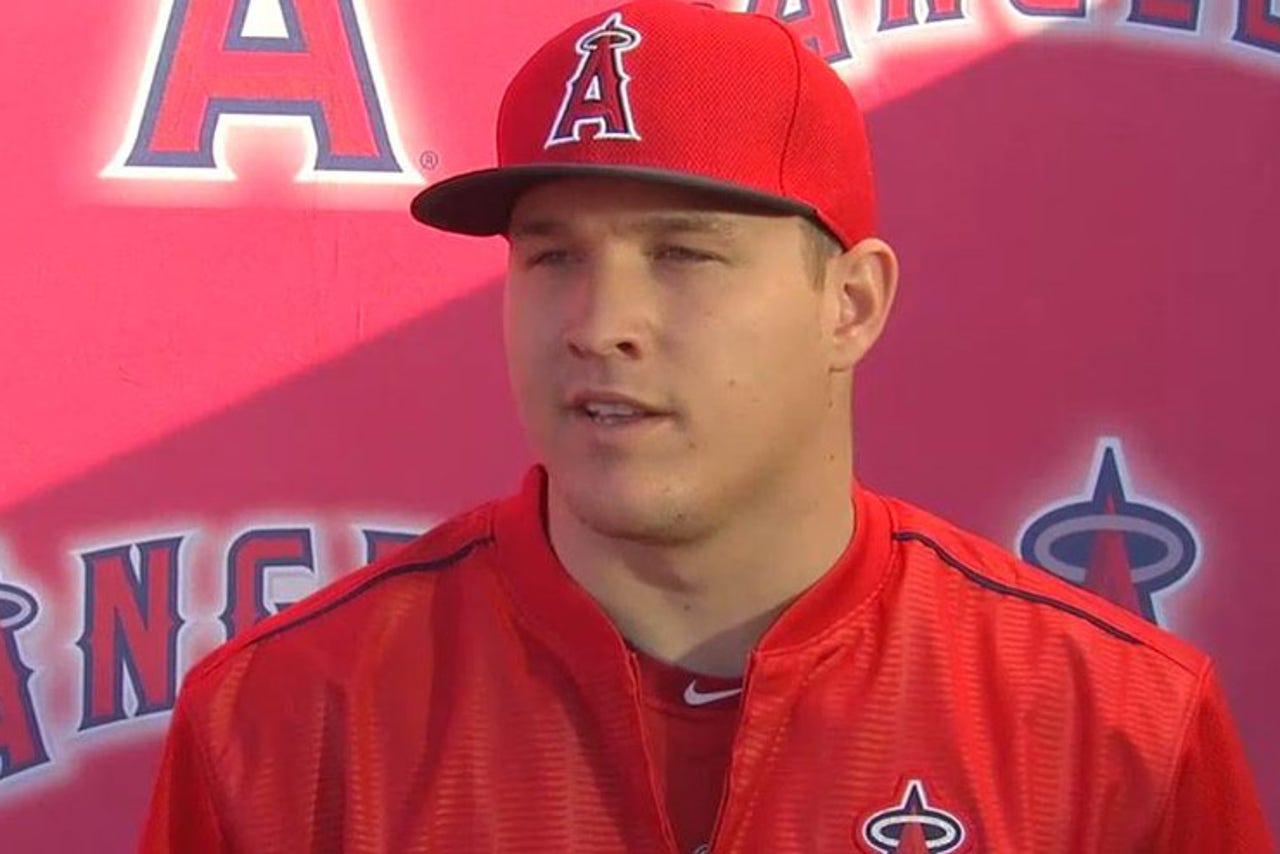 Mike Trout's quiet offseason was by design following MVP campaign
ON THE CLOCK
Santiago said he noticed the new between-innings clock that demands pitchers be on the mound with 20 seconds remaining on the two-minute clock.
"It definitely came into play," he said. "You turn around toward second base and it's like, `Woo, 12 seconds.' I felt that I was rushing sometimes because of the clock. I guess it's good for us (as) we're not thinking too much. I think it's going to be OK. The first day is when you figure it out."
Lohse was also aware.
"I still have to slow down," Lohse said. "I was too fast. (Umpire) Jerry Lane was telling me 20 seconds is when they want me on the mound and I finish up at 50, so I'm always standing out there behind the mound waiting for that clock to click down to 20. I try to work fast and get the job done and get out of there."
---