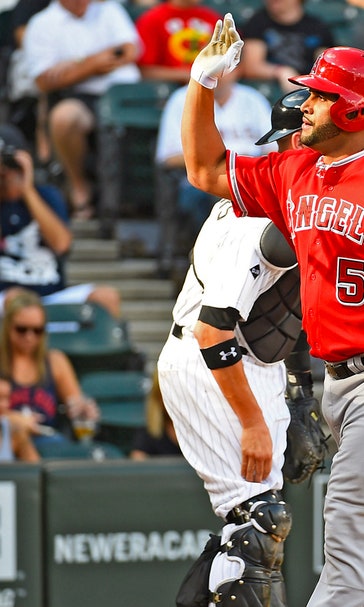 Angels hold off White Sox to complete DH sweep
BY foxsports • July 2, 2014
CHICAGO (AP) -- Kole Calhoun homered and scored twice as the Los Angeles Angels held off the Chicago White Sox 7-5 to complete a doubleheader sweep on Tuesday night.
Howie Kendrick added two hits and scored two runs as the Angels won their second straight and moved to within 3 1/2 games of first-place Oakland in the AL West.
The Angels beat the White Sox 8-4 in the opener of a twin-bill quickly arranged after Monday's game was rained out and are now 5-0 against Chicago this season.
Jered Weaver (9-6) worked 5 2/3 innings for the win, allowing nine hits while striking out six. Chicago starter Scott Carroll (2-5) took the loss after pitching six-plus innings and giving up seven runs and 10 hits.
The Angels manufactured three second-inning runs on four straight singles and a fielder's choice, including RBIs credited to Kendrick, C.J. Cron and Grant Green.
The White Sox got two back with Conor Gillaspie's first home run of the season, a two-run shot that drove in Alexei Ramirez with no outs.
In the fifth, Calhoun stroked Carroll's 1-0 pitch into the right-field bullpen, scoring Green for a 5-2 lead. Kendrick scored on Hank Conger's sixth-inning single for a 6-2 lead.
The White Sox added three runs in the sixth as Gillaspie's RBI single scored Ramirez, while Dayan Viciedo's homer with one out brought home Gillaspie, cutting the deficit to 6-5.
In the seventh, Carroll left with two runners on and no outs. White Sox reliever Jake Petricka walked two batters, forcing in Calhoun for a 7-5 Angels lead.
In the first game, Mike Trout hit a three-run homer, Albert Pujols followed with No. 509 of his career and Garrett Richards allowed two hits in eight innings.
Josh Hamilton also homered for Los Angeles, his first since June 3.
Trout's shot off starter Hector Noesi (2-6) evened the score at 3 in the fifth. Pujols put the Angels ahead with his 17th of the season, tying Gary Sheffield for 24th place on the career chart.
Jose Abreu hit his major league-leading 26th home run in the first to give Chicago a 3-0 cushion. Baltimore's Nelson Cruz also has 26 homers.
Richards (9-2) quickly recovered and improved to 5-0 since May 30. He struck out nine, walked two and matched his longest outing of the season.
"I think I was the same pitcher from beginning to end," Richards said. "I wasn't going to let three runs in the first ruin my day."
Noesi didn't allow a hit until the fifth, when Collin Cowgill beat out an infield single. He was pulled with none out in the sixth and was charged with five earned runs and three hits. He walked seven and struck out seven.
NOTES: White Sox manager Robin Ventura said left-hander Chris Sale (7-1, 2.30 ERA) is a worthy All-Star candidate despite spending a month on the disabled list. "You're looking at a guy at the top of his game," Ventura said. "His numbers prove it." . Abreu became the first player in Major League history with 26 home runs in his first 70 games. He also extended his hitting streak to 16 games, matching Ross Gload's record 16-game run in 2004. . Pujols was in the lineup despite a swollen lymph gland near his right groin. "It shouldn't be anything that's going to impact what he needs to do," manager Mike Scioscia said. . The Angels acquired Rich Hill from Boston for cash earlier in the day. The left-hander had a 3.23 ERA in 25 relief appearances for Triple-A Pawtucket.
---