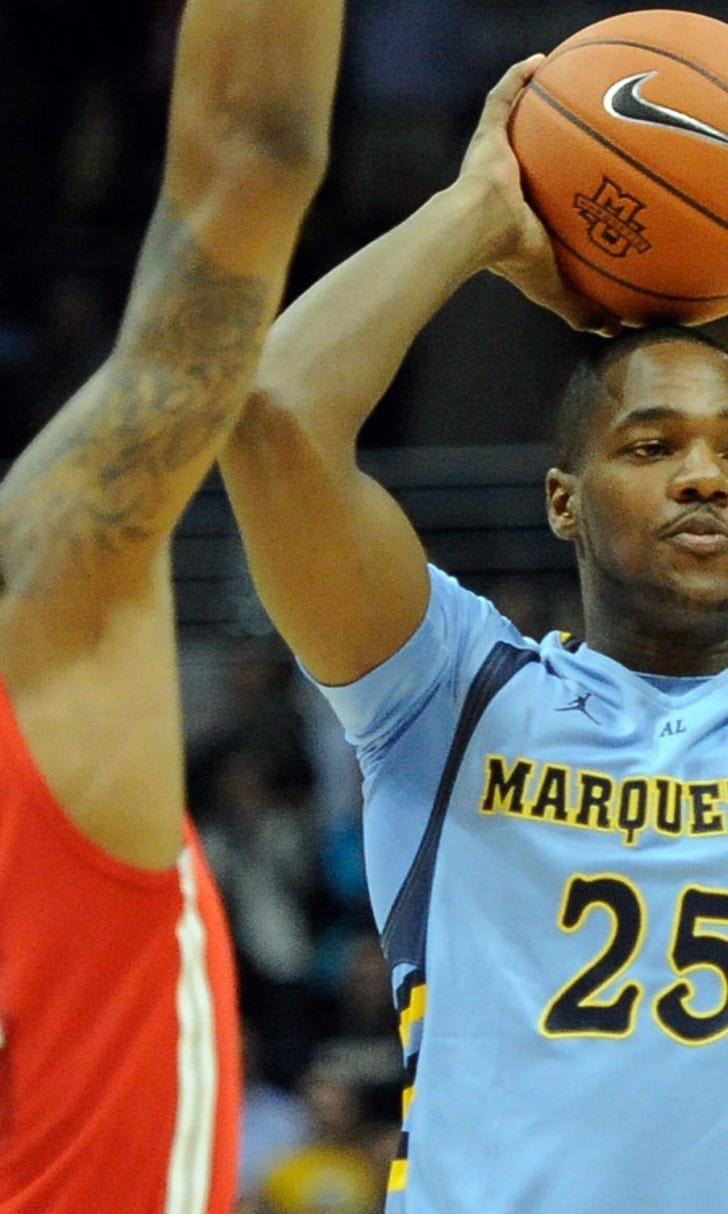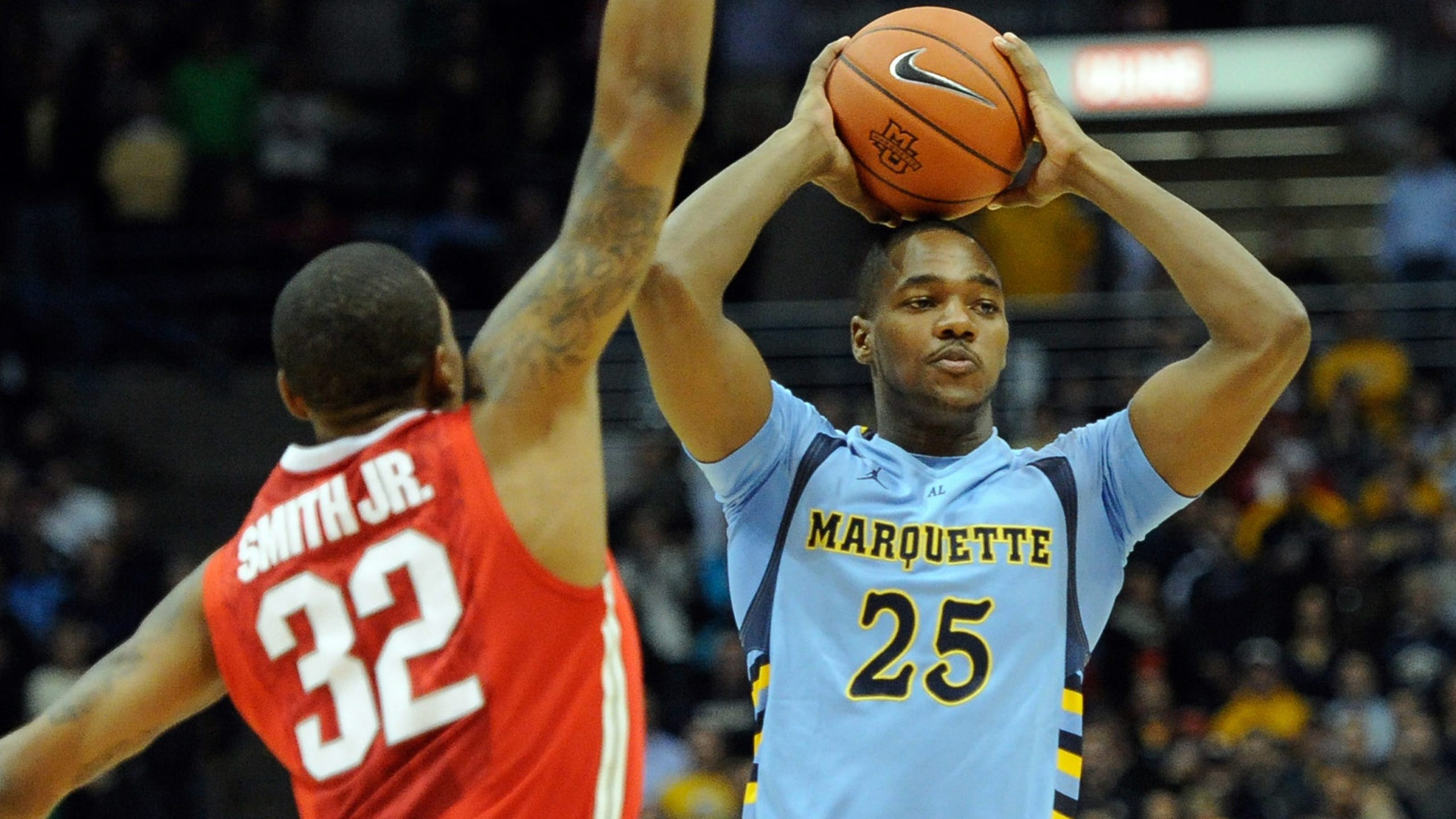 Andrew Gruman: Can't count Marquette out of NCAAs just yet
BY foxsports • January 21, 2014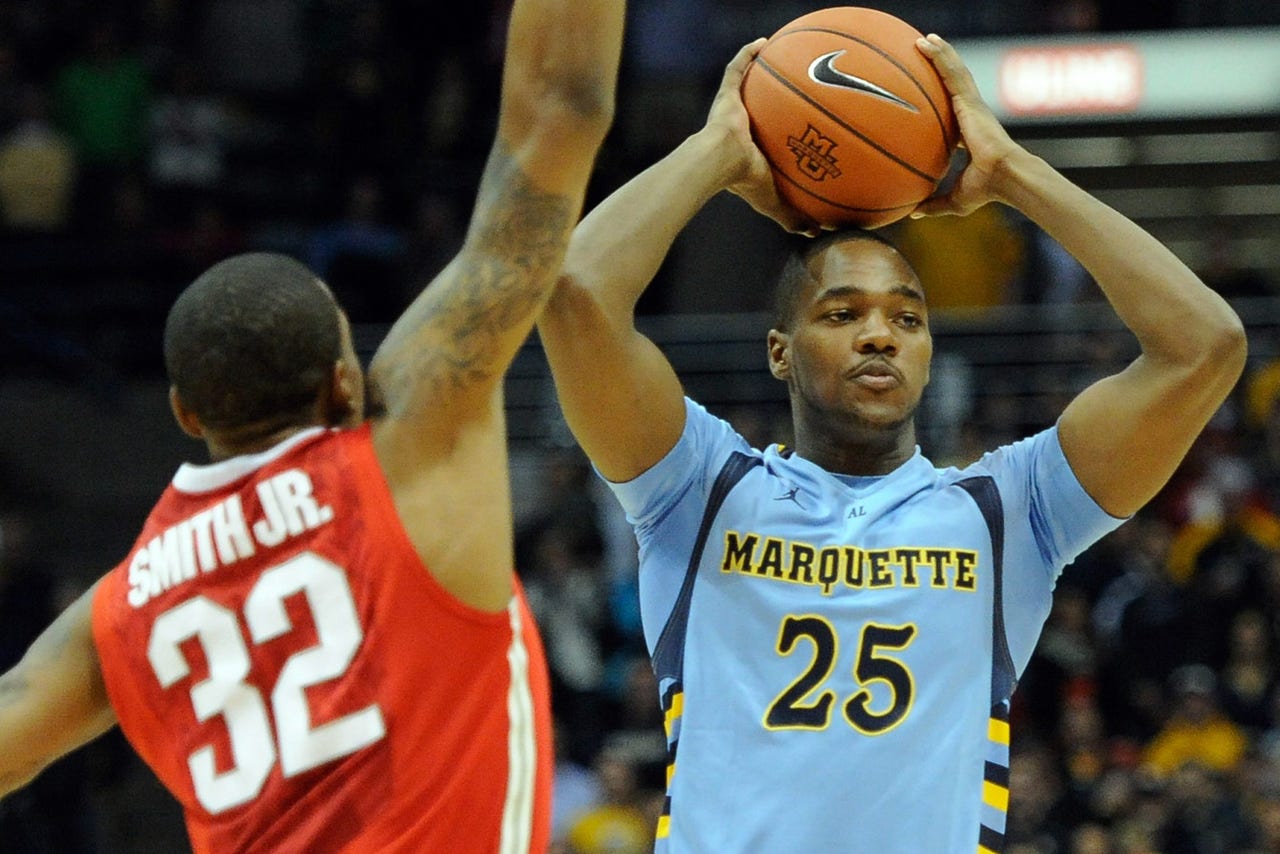 One win isn't a cure all for Marquette, and it's NCAA tournament hopes aren't drastically different Tuesday than they were before beating Georgetown.
But the Golden Eagles aren't dead quite yet. What Monday night's overtime win at Georgetown could be is the first step in what could be a season-saving run. Let's make one thing clear: I'm not saying Marquette is definitely going to extend its NCAA tournament streak to nine or even string consecutive wins together.
However, opportunity is staring Marquette right in the face starting with Saturday's game against No. 4 Villanova at the BMO Harris Bradley Center. Nine of the Golden Eagles' final 11 games are against teams in the top 100 of the RPI, including three against the top 10 and six against the top 50.
Now, the question must be asked: Is Marquette, currently 87th in the RPI, good enough to win the vast majority of those games? Barring a run through the Big East tournament, that's what it's going to take to avoid the NIT.
Thus far, the answer has been no. It would be hard to say the Golden Eagles are capable of rattling off a big run with any kind of certainty, but Buzz Williams and company have been in this position before and got the job done.
In the 2009-10 season, the Golden Eagles sat at 11-8 overall and 2-5 in the Big East on Jan. 23. Marquette won nine of its next 10 -- including three overtime wins -- and finished the season winning 11 of 14 with two Big East tournament wins.
Only two of those wins over ranked teams, and Marquette will likely play at least three Top 25 teams in this upcoming stretch.
How do the two rosters compare? Well, they don't really. The 2009-10 Golden Eagles had future NBA Draft picks Lazar Hayward, Jimmy Butler and Darius Johnson-Odom, while the current squad doesn't have that kind of developed talent.
To have any chance at making the tournament, Davante Gardner and Jamil Wilson are going to have to play at a high level. Jake Thomas is going to have to be a consistent threat from beyond the arc, either John Dawson or Derrick Wilson is going to have to step up at point guard and Todd Mayo needs to provide a big scoring boost off the bench.
Breaking the schedule down further, Marquette will probably need to win home games against Butler, Georgetown and St. John's and on the road at St. John's, Seton Hall and DePaul to have any hope.
The Golden Eagles still have chances to get wins over the top 50 of the RPI with a home and home with Villanova and Providence to go along with home games against Creighton and Xavier. Marquette may need to go 9-2 or better in its last 11 games just to firmly be on the bubble.
At this moment, a streak like that is hard to envision, just because the margin for error is so small for this team.
Offensively, the Golden Eagles haven't been good enough to win games over top competition. Marquette is 148th in the country in offensive efficiency at 1.028 points per possession, sitting among the likes of Liberty, Weber State and Boston University.
Marquette was slightly better offensively against Georgetown, overcoming a slow first half to score 1.14 points per possession. That number was aided by scoring a staggering 15 points on eight overtime possessions, including not allowing a defensive rebound the entire extra session.
A few positive signs did come out of the win over the Hoyas. First, Steve Taylor Jr. finally looked healthy and contributed 14 points and eight rebounds in 23 minutes. The talented sophomore can make a big difference down the stretch if he truly is over the knee pain that's held him back this year.
The other big takeaway from Monday's win was Dawson. Seldom used, the freshman point guard broke out for 12 points and just one turnover in 31 minutes. Caution must be used since he had only scored 14 points all year before the Georgetown game, but point guard play like it got Monday would be huge for Marquette.
This whole season has been a series of 'what if's' for the Golden Eagles. Where would this team be with Vander Blue? Would a healthy Duane Wilson would have made a difference? Was the non-conference schedule too challenging for this team?
The fact of the matter is that Marquette is a very limited team this year. It seems stuck in the middle, caught somewhere between being a good team and a bad team. Being average doesn't get you to the NCAA tournament, as average is for the NIT.
The Golden Eagles are an NIT team right now, but I've learned to never count them out when there's still an opportunity. While the window is cracked open slightly, Marquette could close it on itself in a hurry.
Follow Andrew Gruman on Twitter
---