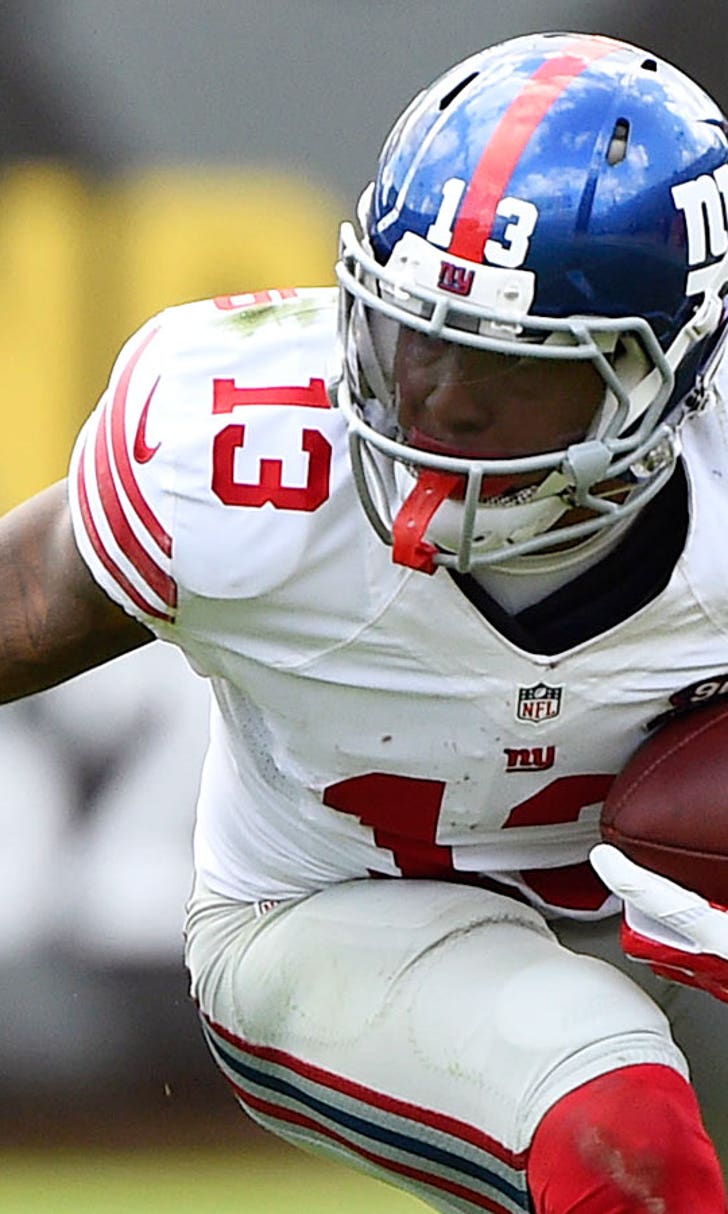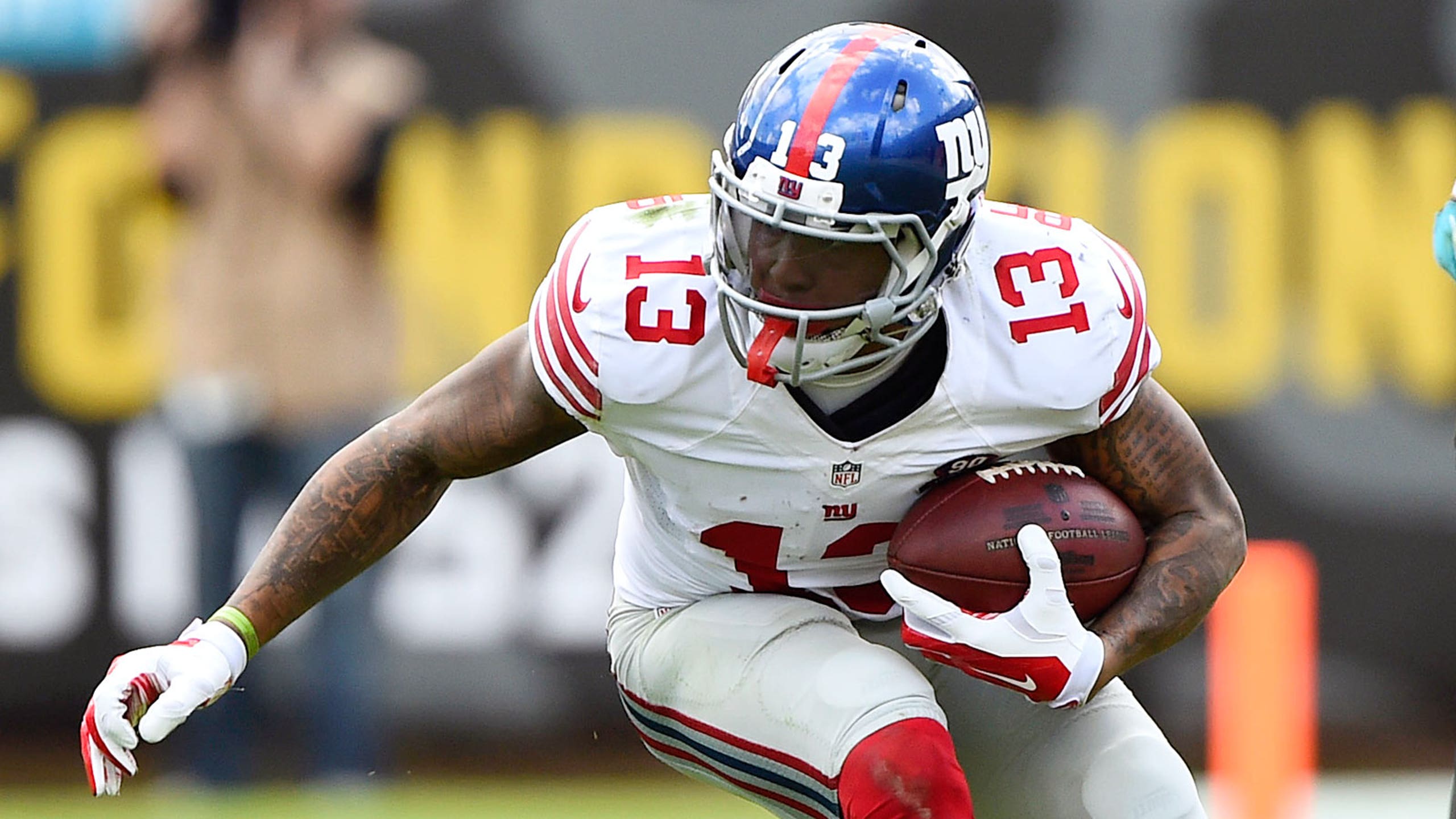 All-Purpose Playbook: Week 16 NFL underdog picks, DraftKings picks & more
BY Brett Smiley • December 19, 2014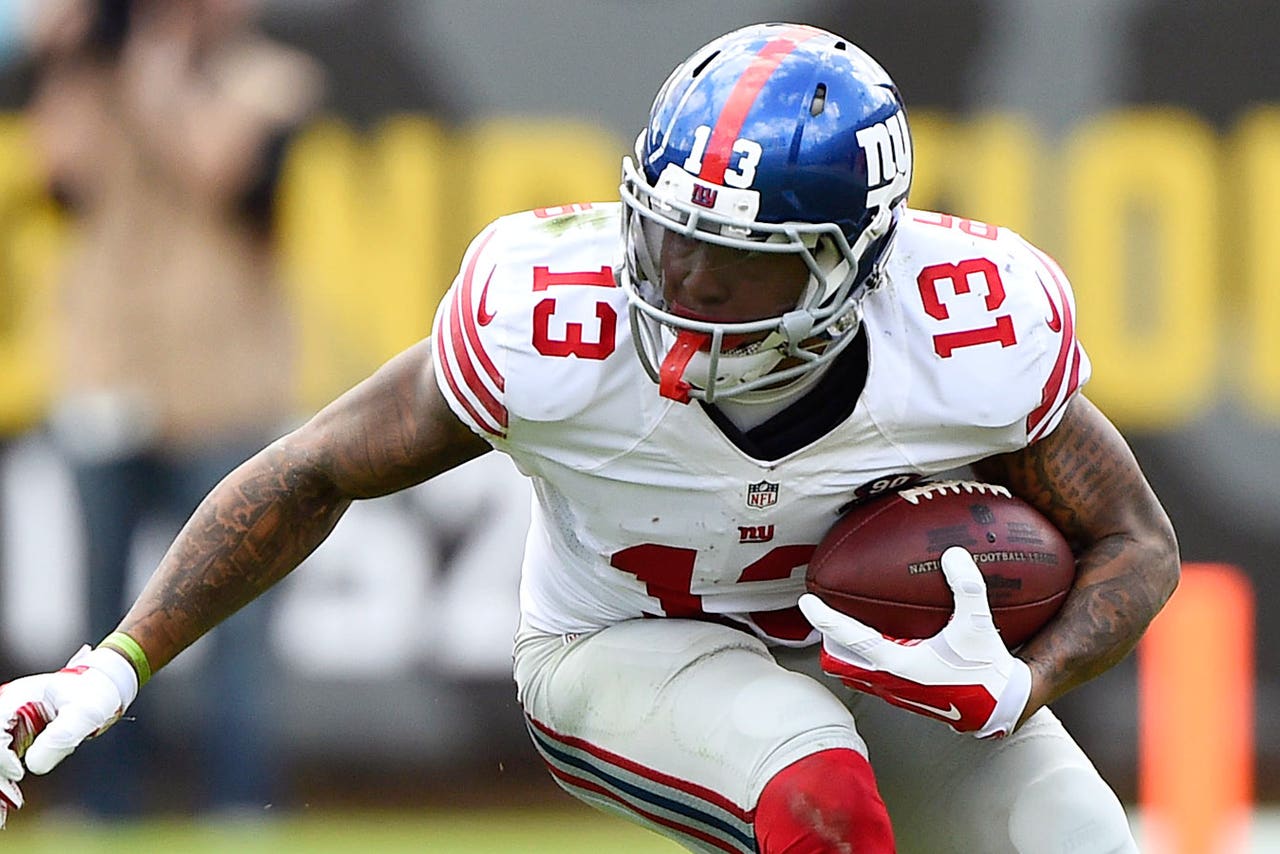 Welcome to the All-Purpose Playbook, a Buzzer column that is (1) either a guide to many things NFL and wagering, such as underdogs and totals and daily fantasy football or (2) a road map to hell. Check back here on Thursdays for more football picks, a smattering of GIFs and occasional nonsense.
Follow me @brettsmiley on Twitter, and you can email me with any questions or comments at basmiley [at] gmail [dot] com.
Pretty decent week last week! We scored two underdog wins and one loss, evening the season record at 14-14. Plus for the "not a dog" pick, we had the Bengals over the Browns for Johnny Football's first start. I use the term "first start" loosely, because what we watched was actually a total debacle, a reality check for fans and the young quarterback himself.
Speaking of Johnny Manziel, how about that walk-off "money" sack last night?!
Yessir, that one earned Jaguars defensive tackle Sen'Derrick Marks $600,000 because the sack marked number 8.5 for him on the season, triggering a sweet bonus in his contract. And who said the epic battle of 2-12 teams wouldn't be exciting?!
Titans-Jaguars on National TV is Exhibit A on why the NFL should stop exerting effort to block legalized sports betting nationwide #PROPBETS

— Brett Smiley (@brettsmiley) December 17, 2014
Crap, I did. OK, let's get to this week's picks.
UNDERDOG PICKS OF THE WEEK: LAND OF MONSTERS AND THIEVES
New York Giants +6.5 at St. Louis Rams
Reason No. 1 through No. 13 why I like the Giants in this spot is Odell Beckham Jr. Can we just give him Offensive Rookie of the Year honors today and get it over with?
Since getting fully up to speed in Week 8, the dynamic rookie has shredded every secondary he's faced. Apparently he's so good that he's convinced opposing cornerbacks that he's actually not that good, perhaps avoiding greater attention. Take this quote from Washington defensive back David Amerson about Beckham's 12-catch, 143 yards and 3 touchdown performance.
"He's a good player," Amerson said after the game. "I'm not saying he's not. But it's not really that difficult. He just sat down in zones and he catches the ball. He's very good at that. They threw him a lot of balls, so of course he has a lot of yards, but I wouldn't say he was difficult to cover. I wouldn't say that."  
OK. Of course there's more to this game than one player. The Giants' offensive line will have its hands full but a quick-hitting passing attack should help neutralize (somewhat) the Rams' pass rush, which has really turned it on in recent weeks and now has the defense ranked No. 7 overall according to Football Outsiders' DVOA rankings.  
The Rams have allowed only 12 points total over its last three games (including shutouts over the Oakland Raiders and the Washington Snyders). It's too bad they're not in the NFC South, where they might be 10-4 right now. This Giants team is still fighting, too, led on defense by rookie linebacker Devon Kennard, resurgent defensive end Jason Pierre-Paul and safety Antrel Rolle, who would like another contract that will keep him in blue through the end of his career.
Lastly, here's a sketch of the New York Giants' game plan for this week that North Korean hackers provided to me:
Minnesota Vikings +6.5 at Miami Dolphins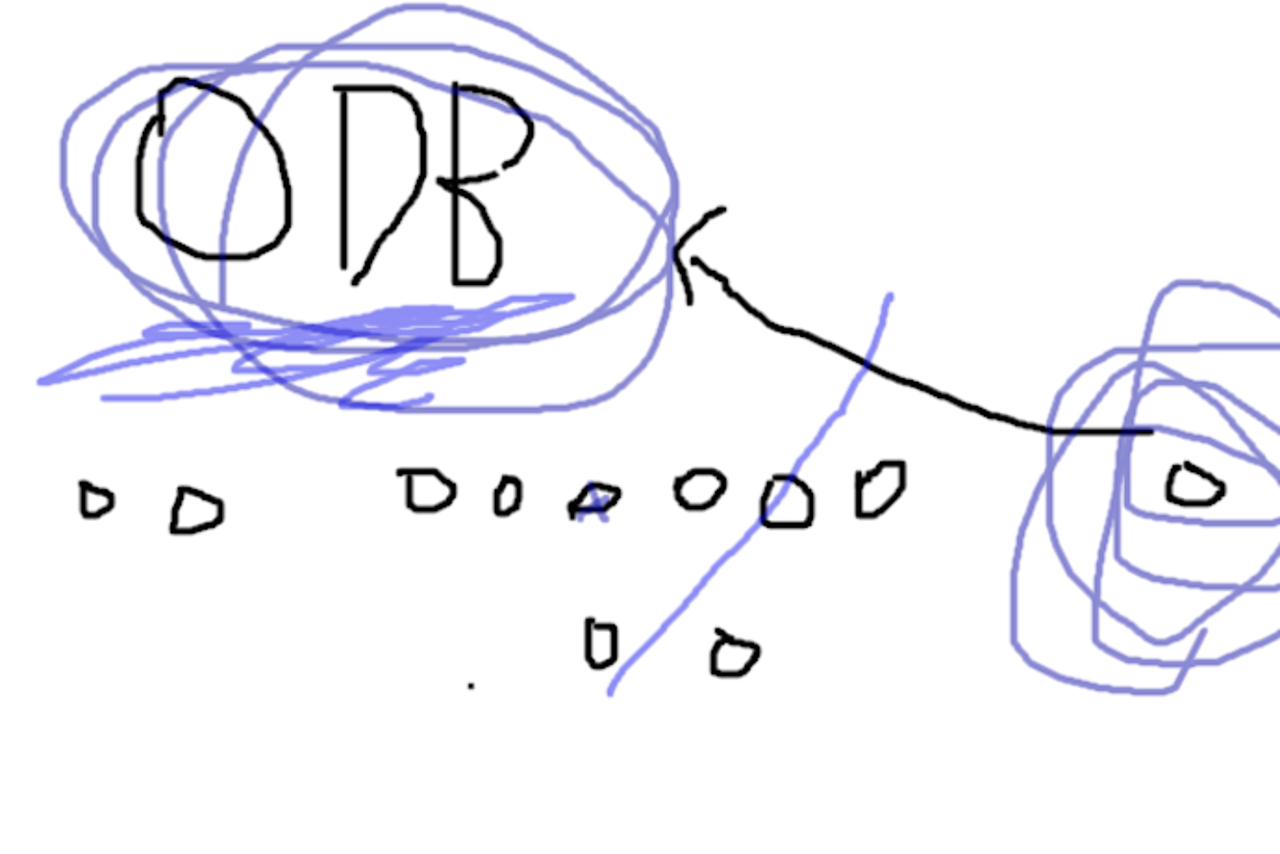 The Dolphins are laying nearly a full touchdown, why? (This line moved to 7 but quickly bounced back to 6.5.) Since bludgeoning the Chargers in Week 9 they've done a whole lot of "meh," losing four of six and effectively ending their playoffs chances.
You know I'm a big Mike Zimmer fan and I think he rallies the troops (er, Norsemen) again for this excursion into Miami. I'm not sure who's going to carry the ball for the Vikings this week -- a banged up Matt Asiata (foot), a hologram of Adrian Peterson, maybe Robert Smith -- but the Dolphins are highly beatable and we just want a relatively close game. I think the Dolphins will try to grind this one out with Lamar Miller against a malleable run defense.
Gimme those points!
Tampa Bay Buccaneers +11 vs. Green Bay Packers
Listen, I don't enjoy backing bad teams. It feels uncomfortable and scary but if we're going to get this underdogs record above sea level, I think we're going to have to go swimming with the pirates, yes, even against the mighty-but-not-as-mighty-as-last-week-before-they-lost-at-Buffalo Green Bay Packers.
If we were to go to the racetrack, line up horses and had to choose between (1) wagering on a good-looking, healthy stallion that holds its head high or (2) taking the sickly horse with uneven legs and a long, despairing face that's ridden by an aged, mediocre jockey -- clearly the stallion is the pick. But if that troubled horse has, say, a four-furlong head start?
I digress. This is not a horse racing column but the point is, the Buccaneers are getting a lofty 11 points. That's … a lot of points.
I realize the Packers are capable of exploding for 35 in a single half, yet they're just 2-5 against the spread on the road this season and look less Packers-y away from Lambeau Field. Nevertheless, 85 percent of bettors are willing to lay the 11-spot right now. The Packers get a chance at redemption against a Gerald McCoy-less defense that was already pretty rough, but asking Green Bay to cover 11 on the road is asking a lot. I wouldn't bank on high backdoor cover potential but it's there with receivers Mike Evans and Vincent Jackson on the outside. Let's ride (or twerk) into the sunset with the troubled horse.
San Diego Chargers +1 at San Francisco 49ers
Just barely a dog but I'll take that point. The 49ers are officially out of the playoffs at 7-7 after a spanking in Seattle last week in which the offense once again looked disjointed and Colin Kaepernick inaccurate.
This season, how do teams fare the week after playing a physical Seattle team? Per OddsShark.com, Seattle's foes have now lost eight in a row straight up and against the spread the following week. Coincidence? I don't know. I don't think so.
Here's the injury report on first- and second-string 49ers running backs Frank Gore and Carlos Hyde:
Both are still suffering from Seahawks middle linebacker Bobby Wagner. Here's the play where Gore suffered a concussion:
Basically, Gore made the mistake of running into Wagner. Gore is expected to play but reports say that Hyde (ankle) will probably be sidelined for this one.   
Also, now that San Fran's head coach Jim Harbaugh is in full-blown career exploration mode (hello, Michigan!) and the season is lost, what kind of effort are you going to get from the team this week?
On the other side, Philip Rivers is fighting through back and chest injuries but he's returned to practice and will suit up. He won't have top wideout Keenan Allen but I think the Chargers will rally around Rivers and an improved defense and leave Levi's Stadium with a win.
What say you, Rivers?
THE REALLY ILL-ADVISED, WAY, WAY UNDER SPECTACULAR
Let's go with a 3-team, 6-point teaser on this one. Who's with me?
The ironic thing when I take unders is that I wait all week for these football games to start and as soon as they begin, I just can't wait for the clock to run down. It's like I'm rooting against my own continued enjoyment.  
Anyhow, we've got here a fun pack of what should be defensive battles that will stretch from 8:25 p.m. ET Saturday night through Sunday's night game.
Clearly, the linemakers don't think there will be a lot of scoring in any of these contests. I agree, but I agree even more if we tack on an extra six points. The 49ers offense stinks but its defense is solid, the Raiders average 15.2 points per game and the Bills don't exactly light up a scoreboard, and the Cardinals are starting third-stringer Ryan Lindley against a defense that's allowed 3 touchdowns in the past 4 weeks.
Let's do it!
DRAFTKINGS DISCOUNT PICKS OF THE WEEK
If you're reading this in the first place you probably know what daily fantasy leagues are all about, but if not: You draft a team within the bounds of a salary cap, join a contest, turn on Red Zone Channel and pray. It's a lot of fun. More information here.
Note: These picks are for Sunday games/contests only.
Quarterbacks:
Tony Romo ($7,400) vs. Colts: We're not scraping the bottom here like we'll do momentarily, but I think Romo is pretty good value where he's priced, nearly $1,600 less than the opposing QB, Andrew Luck. Romo has tossed three touchdowns in back-to-back games and this one has the makings of another shootout.
Alex Smith ($5,600) at Steelers: I know this is kind of crazy, but the Steelers have been very friendly to opposing QBs, allowing 28 passing touchdowns (only the Snyders, Bears, Eagles and Jets have allowed more) against nine interceptions and 3,690 yards already. This MIGHT be the week that a Chiefs wideout finally breaks the season long touchdown-less streak. Maybe?! Explore what you can do at other positions with Smith at QB.
Running backs
Lamar Miller ($4,400) vs. Vikings: He's averaging 4.7 yards per carry and finally gets a crack at a softer run defense after facing the Patriots, Ravens, Jets, Broncos, Lions and Bills -- six of the top seven run defenses according to ProFootballFocus. That's insane. Release Miller!
Pierre Thomas ($3,800) vs. Falcons: The over/under on this NFC South Fiesta is 56. I want as many players in this game as possible. Mark Ingram is the starter but Thomas continues to rack up receptions out of the backfield -- now 43 catches for 354 yards in the 10 games he's played. Those catches add up. Let's just hope he rips one for a big gain.
Tre Mason ($4,600) vs. Giants: The Giants have allowed some big games to running backs, already over 1,500 yards and 10 touchdowns. If Mason continues to get the number he's been getting since Week 9 (about 18 totes per game), it ought to translate to a decent number against Big Blue.
Wide receivers
Jarvis Landry ($5,300) vs. Vikings: Landry finished one yard shy of his first 100-yard game at New England last week and continues to consistently rack up receptions. Even if he doesn't score, Landry probably will provide repeated dopamine satisfaction blasts each time he registers a blip on the live-scoring application.
Marques Colston ($4,600) vs. Falcons: Colston is past his prime but still collects targets and has a touchdown in three of his past four games.
Donte Moncrief ($4,100) at Cowboys: It's looking like Colts stud wideout T.Y. Hilton may sit out this week with a hamstring injury. If he suits up, he'll be limited. Either way, Moncrief stands to get a more of Andrew Luck's attention, which usually results in chunks of yardage or compliments.
Tight ends
Eric Ebron ($3,000) vs. Bears: Looks up who the Bears are playing this week. Lions. Looks up the Lions tight end numbers. Eric Ebron is your very high-risk but dirt-cheap play of the week.
Dwayne Allen ($3,800) vs. Cowboys: Priced $800 less than Coby Fleener despite getting 13 more snaps than Fleener last week (53 vs. 40). Allen's only got 29 catches on the season but eight have gone for touchdowns. It's all about them TDs.
Defense/Special teams
New England Patriots ($3,300) at New York Jets: Tom Brady gets the headlines but the Pats D has really stepped up this season, forcing 23 turnovers (four of them turned into touchdowns) and tallying 36 sacks. This week they get a very interception-prone Geno Smith. Smells like POINTS to me.
Detroit Lions ($3,100) at Chicago Bears: Jimmy Clausen will be making his first start against the league's top-rated defense. That feels like a bad combination, exactly the type of combination we want and for a fairly reasonable price.
No, we can't end our time there. Here we go:
Good luck this week, everyone!
Follow me @brettsmiley on Twitter, and you can email me with any questions or comments at basmiley [at] gmail [dot] com.
---