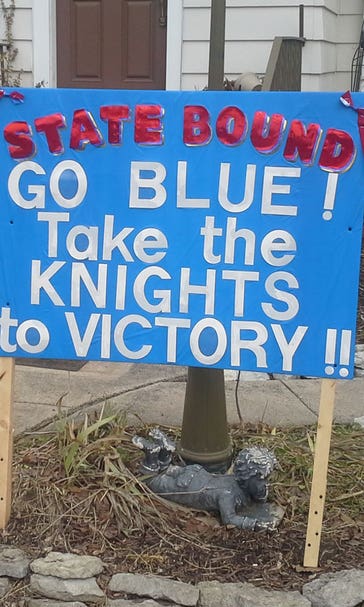 'All in' and 'all out' make Convoy's tournament run special
March 20, 2014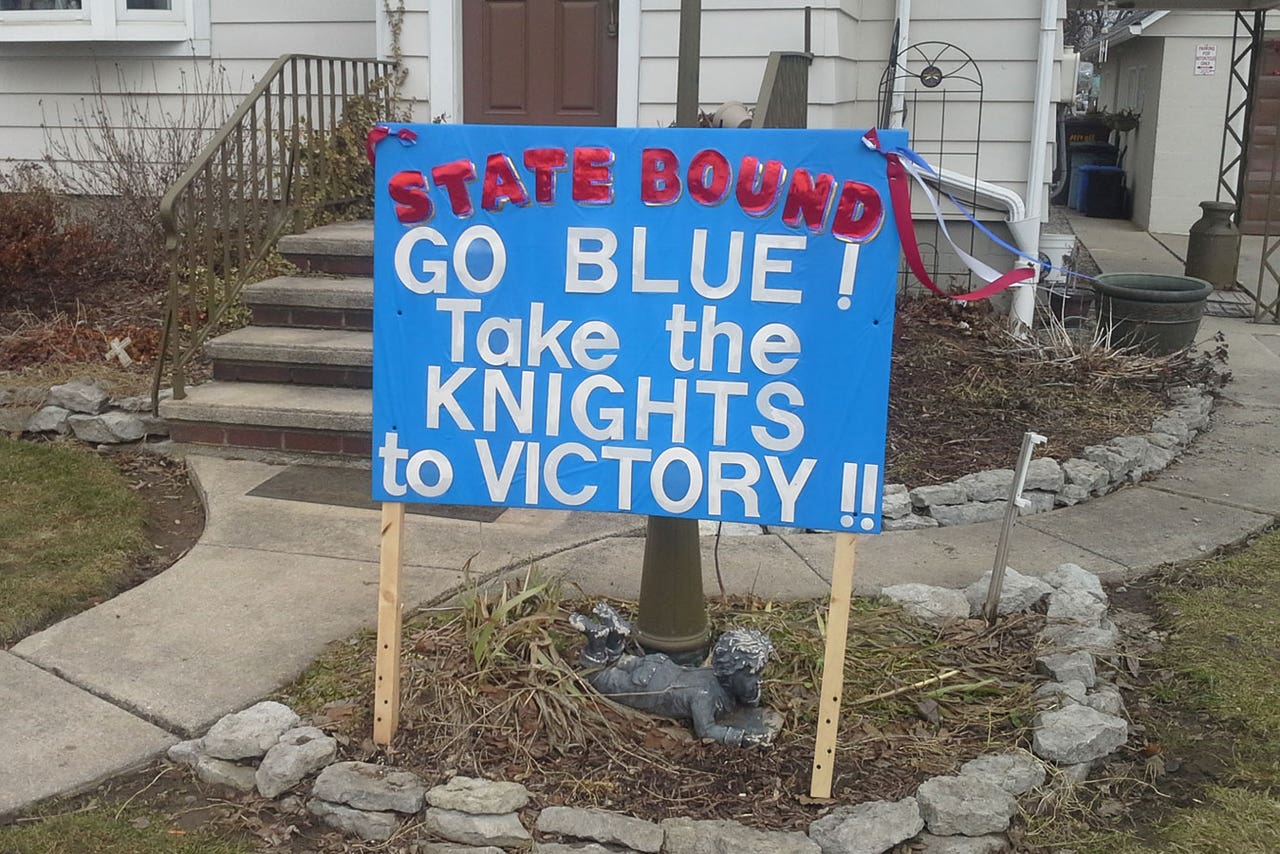 CONVOY, Ohio - The first thing you notice is the house directly across from the school, the one with the signs in the front yard. Word on the street is it lights up red and blue at night, too, and most everybody in town this week has driven by honking both at the decorated house and the school.
The school. As in one. One building, K-12, all Crestview Knights and all in for the 27-0 Crestview basketball team that plays Thursday night in the Ohio High School Athletic Association Div. IV state basketball tournament.
There are more words and more pictures and more decorated houses -- most of them have basketball hoops in the driveway, by the way -- to describe the fever and the fervor with which this Northwest (think way, way west) Ohio town has embraced this team and this tournament, but numbers paint a better picture.
More than 1,000 tickets and 1,000 red Crestview T-shirts with blue and white type have been sold in the school this week.
Convoy's population in the 2010 census was 1,085.
It's more than numbers, though. Despite the excitement and the ticket sales and the buzz, Crestview coach Jeremy Best thinks it was a pretty normal week here in Small Town, USA. His team has experience, a few players were part of the Crestview baseball team that made the state tournament last year and except for a brief, school-wide sendoff before the team got on a regular yellow school bus -- "a big, old Twinkie," Best said -- on Thursday morning.
Sitting in his regular office below the gym that's named for Ray Etzler, who coached Crestview High for 28 years and in the 1970s coached the Knights to their first state tournament, Best said his team's maturity and "business-like approach" makes him believe they'll be ready to play Thursday night, that no tape measures to prove the basket is still 10-feet tall or any other motivational tactics will be necessary. Asked if he's thought about the last thing he'll tell his players before sending them to the floor, Best at first hesitated then said, "just tell them one more time...how proud of them I am."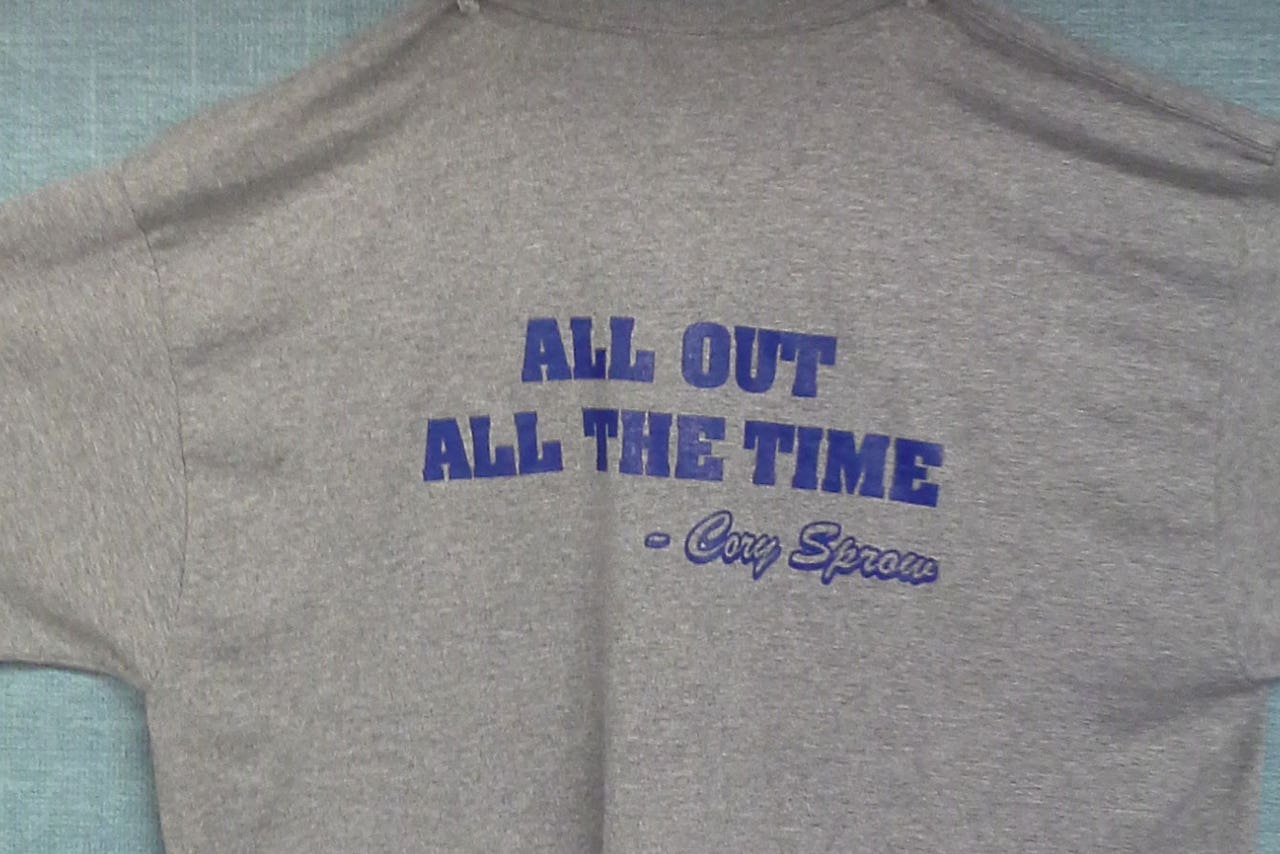 The motto.
Then, Best started crying. And not just a little bit.
March, man.
Best was a young(er) coach back in 2003 and his current players were in elementary school, but almost all of them were there and remember the thrill of Crestview getting to Columbus and the agony of coming up short, when the Knights lost in the state final. The Knights lost in the district finals in both 2012 and 2013 but have steamrolled through this year's tournament.
This time around, Best is going to make sure his players enjoy every second of the experience, starting as soon as that big, old Twinkie pulled out of the school Thursday morning.
"They're going to remember this weekend for the rest of their lives," he said. "I want them to see things, meet people, enjoy it. But nothing's going to change their focus. Every guy believes we're good enough to cut down that net on Saturday.
"People call off work or plan little vacations -- thousands of people -- and come to Columbus, gather with old friends, scalp tickets, meet up at the same places. I really think the Ohio state basketball tournament is one of the greatest events going, and to be a part of it is just a thrill.
"Kids today are on social media, they have different interests, they're wired differently. I don't worry about the stage being too big for our kids because most guys have played in AAU tournaments where they're used to going on the road, used to playing against the best competition and under pressure. There aren't 12,000 people at an AAU game, though. It's still a thrill for a kid to get his name called and step on that floor."
Sixteen teams statewide, four in each division, make it this far. The state tournament tipped off Thursday morning with the Div. II semifinals, Norwalk vs. Dayton Thurgood Marshall, a city vs. country, public school vs. public school matchup that's the appetizer for a 2 p.m. game between Columbus Bishop Watterson and star-studded Akron St. Vincent-St. Mary, a matchup of power vs. flash and a rematch of last year's title game won in the final minutes by Watterson.
There's going to be a lot of good basketball this weekend. There are already a lot of good storylines.
Upper Arlington's team could jog to the Schottenstein Center -- the Bears are here for the first time since 1939. Cleveland East Tech made it for the first time since 1972 and plays an all-Cleveland Div. I semifinal vs. Lakewood St. Edward, a loaded, veteran-laden team that's probably been Ohio's best team all year and has an emerging star in junior Kipper Nichols.
Matchups make games -- Crestview makes matchups about as fun as a root canal. Through five tournament games, the Knights are only allowing 32 points per game. Only three times in 27 games has an opponent scored 50 or more on Crestview.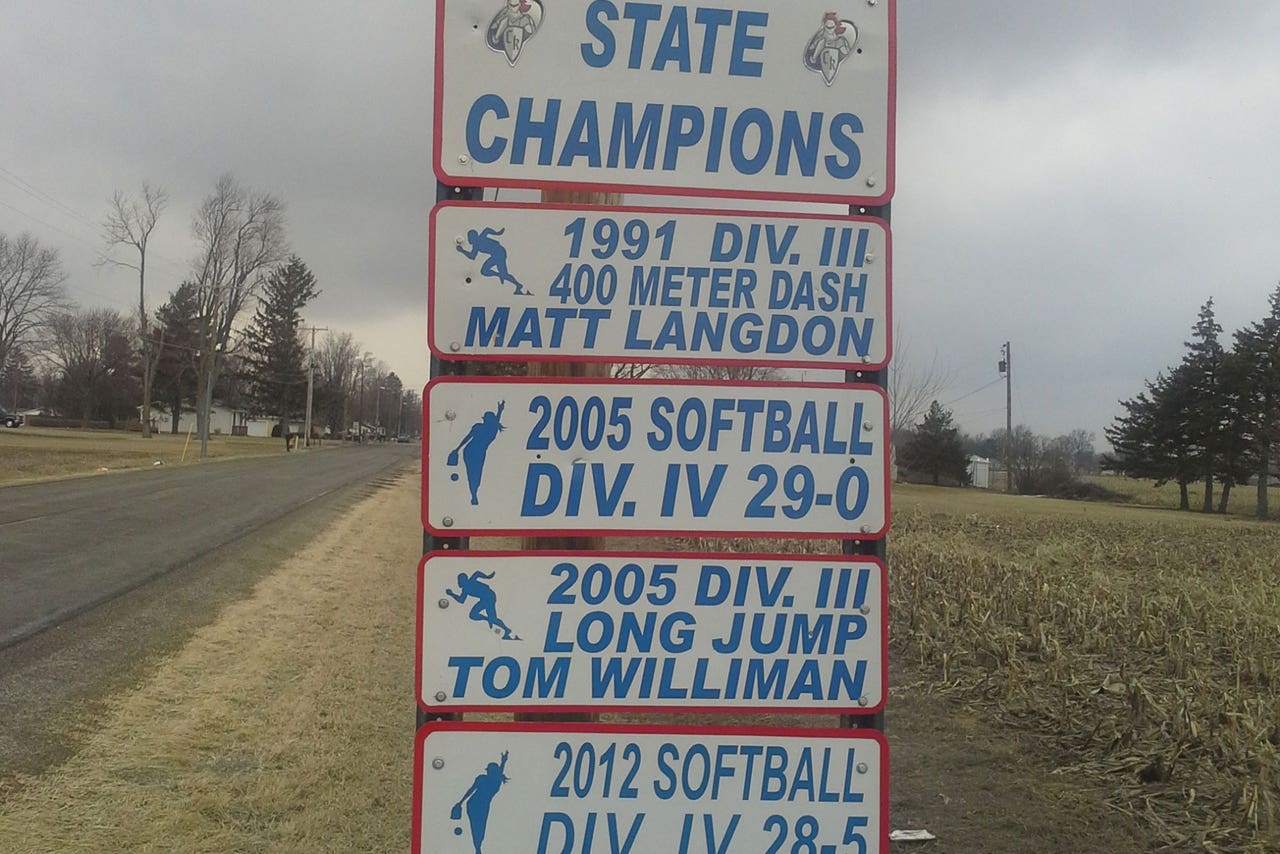 The history.
"We don't always hit shots," forward Tyson Bolenbaugh said. "But we always play defense."
On the bulletin board in the home locker room at Crestview hangs a sign that simply says, "Defense," and under it hangs a T-shirt that says "All Out, All The Time," and is attributed to Cory Sprow, a friend and coaching cohort of Best's who was killed in an auto accident last year.
These Knights believe in both principles. Best trusts point guard Cam Etzler to get the ball to Damian Helm, Bolenbaugh and Connor Lautzenheiser, and he knows the effort he'll get from Preston Zaleski, who was a 5'9, 150-pound quarterback last fall "and would run through a brick wall" for this basketball team to keep playing. Best has three seniors who don't play much, but they're first to jump in a drill at practice and salute their teammates during games.
"No complaints," the coach said. "All on board."
That's a team. This is a team with an entire town behind it.
Where is Convoy, anyway?
It's just a few miles from the Indiana border, fewer than 30 miles from Fort Wayne. It's 35 miles the other way to Lima, almost 100 miles southwest of Toledo and just a little longer than that to the northwest from Dayton.
Depending on the route, it's 130-140 miles from Convoy to Columbus.
The Crestview Knights are coming. The whole town of Convoy is coming along.
---