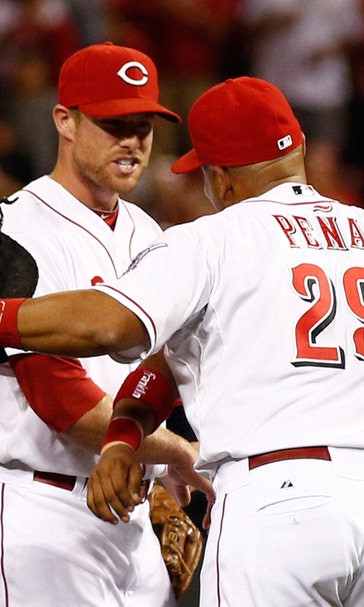 All hands on deck as Reds rally past Pirates
July 12, 2014

CINCINNATI -- Things couldn't have gone much worse for the Reds through the first six innings against Pittsburgh Friday night. Starting pitcher Mat Latos had left the game with lower back spasms, adding to the team's injury woes, and the Pirates had a 5-1 lead after scoring a run off of reliever Carlos Contreras.
Until this past Tuesday night against Chicago the Reds hadn't come back from more than two runs all season to win a game. Now they've done it twice.
Five straight hits in the eighth inning with two outs -- a solo home run by Devin Mesoraco and then singles by Ryan Ludwick, Chris Heisey, Ramon Santiago and Brayan Pena -- off of Pittsburgh All-Star Tony Watson produced three runs and capped the Reds' rally to a 6-5 win at Great American Ball Park. Watson, a left-hander, had allowed runs in just four of his 43 previous appearances this season and hadn't given up more than one run in any appearance since last August.
Those stats all became moot in the eighth inning.
"Tonight was exciting because it was a total team effort," said Pena, who drove in Heisey for the game-winning run. "Everybody did something."
The Reds are now 50-43 and in third place in the NL Central, just 1½ games behind Milwaukee after the Brewers blew a 6-0 lead to second-place St. Louis on Friday and lost 7-6. The Cardinals are one game behind Milwaukee. Pittsburgh remains 3½ games back in fourth place.
Pena wasn't exaggerating. Prior to the game the Reds had to place second baseman Brandon Phillips (thumb) and utility player Skip Schumaker (concussion) on the disabled list. They called up Contreras and Curtis Partch from Triple-A Louisville to help lighten the load on a had been taxed the past few days against the Cubs after playing a doubleheader on Tuesday and going 12 innings on Thursday. They also brought up outfielder Donald Lutz.
All three would play a role in the comeback.
The Reds were looking for a long outing from Latos and given how he had been throwing the ball since returning from the disabled list a month ago there was no reason to doubt his ability to deliver.
Instead, Latos said he injured himself throwing a pitch to Gaby Sanchez leading off the third inning. In the fourth, Latos gave up a one-out solo home run to Andrew McCutchen for the Pirates' first run that tied the game, and then a three-run bomb to right field by Pedro Alvarez that gave Pittsburgh the lead.
Latos pitched a scoreless fifth inning but was taken down for a pinch hitter in the bottom of the inning. The night was the continuation of a season-long battle with his body for Latos.
"It felt like (Zack) Cozart or Santiago came up behind me and stabbed me in my lower back," said Latos. "Me coming out in the (fifth) inning isn't something we wanted to do. We had a chiropractor come in here and adjust me and see if we could get it to calm down, and it calmed down for a little bit. It gave me two more innings and I was able to get through the fifth but that's not what I want to do. I want to go farther in ball games. But the fifth is a lot better than the third inning."
Contreras settled down after giving up a double to McCutchen and a RBI single to Russell Martin in his first three batters to retire the final five he faced with four strikeouts. He struck out the side in the seventh on just nine pitches.
The Reds closed the deficit to 5-3 with two unearned runs in the seventh, an inning in which Lutz had a pinch-hit single. Partch walked three in the eighth but left the bases by striking out Ike Davis, who had hit two grand slams off the Reds this season, once for the New York Mets and once for Pittsburgh.
The eighth inning began routinely for Watson as he retired Todd Frazier and Jay Bruce on fly balls. Then Mesoraco hit his 16th home run of the season into the first row of the left field upper deck bleachers. Four straight singles and a ninth inning by Aroldis Chapman that featured three strikeouts on 14 pitches, including 11 fastballs all clocked at 99 mph or better, and the Reds had their win. Chapman was pitching for the fourth straight day but you wouldn't know it.
"I don't want to say this came out of nowhere but jeez it show a ton of character on behalf of our club and Chappy coming in on his fourth straight day and shutting the door was tremendous," said manager Bryan Price. "It's been going on for awhile. We've had our share of injuries coming out of spring training and the first couple of months and currently (but) there's never been a theme of we're not supposed to win. The theme is we expect to go out there and pitch and defend and play good situational offense. We've played great baseball for 40-45 straight games where everything has been working well for us. I just think everyone is completely in."
---