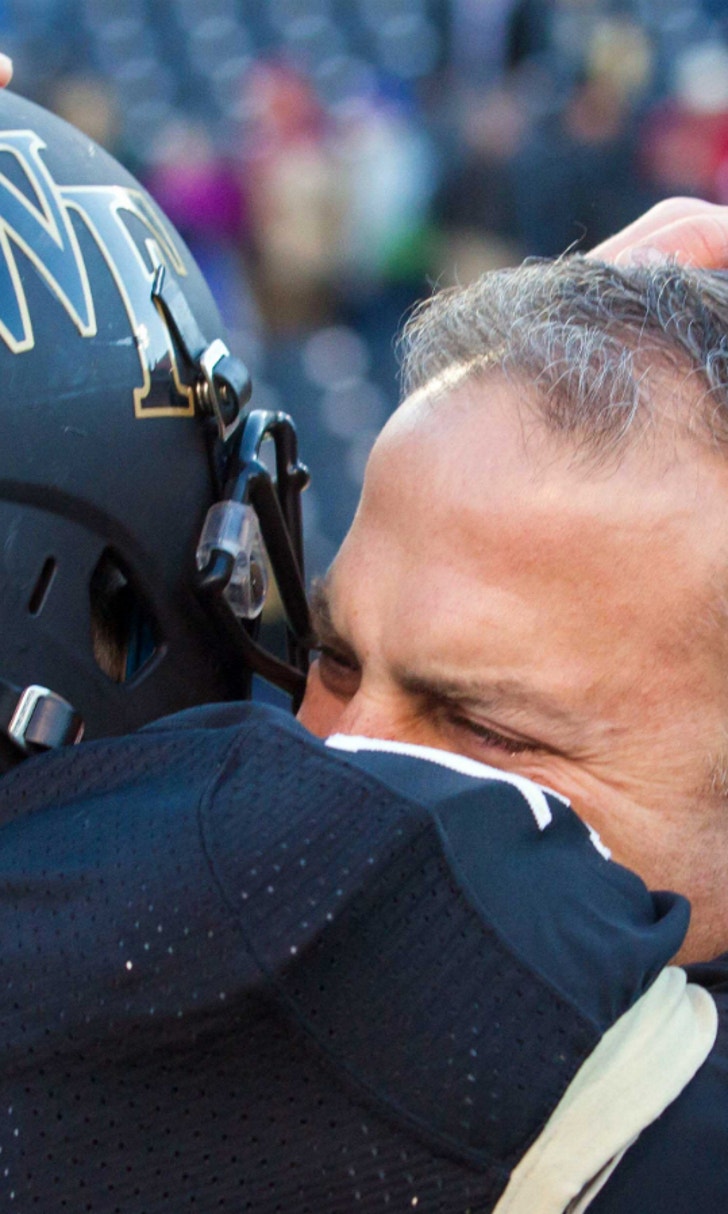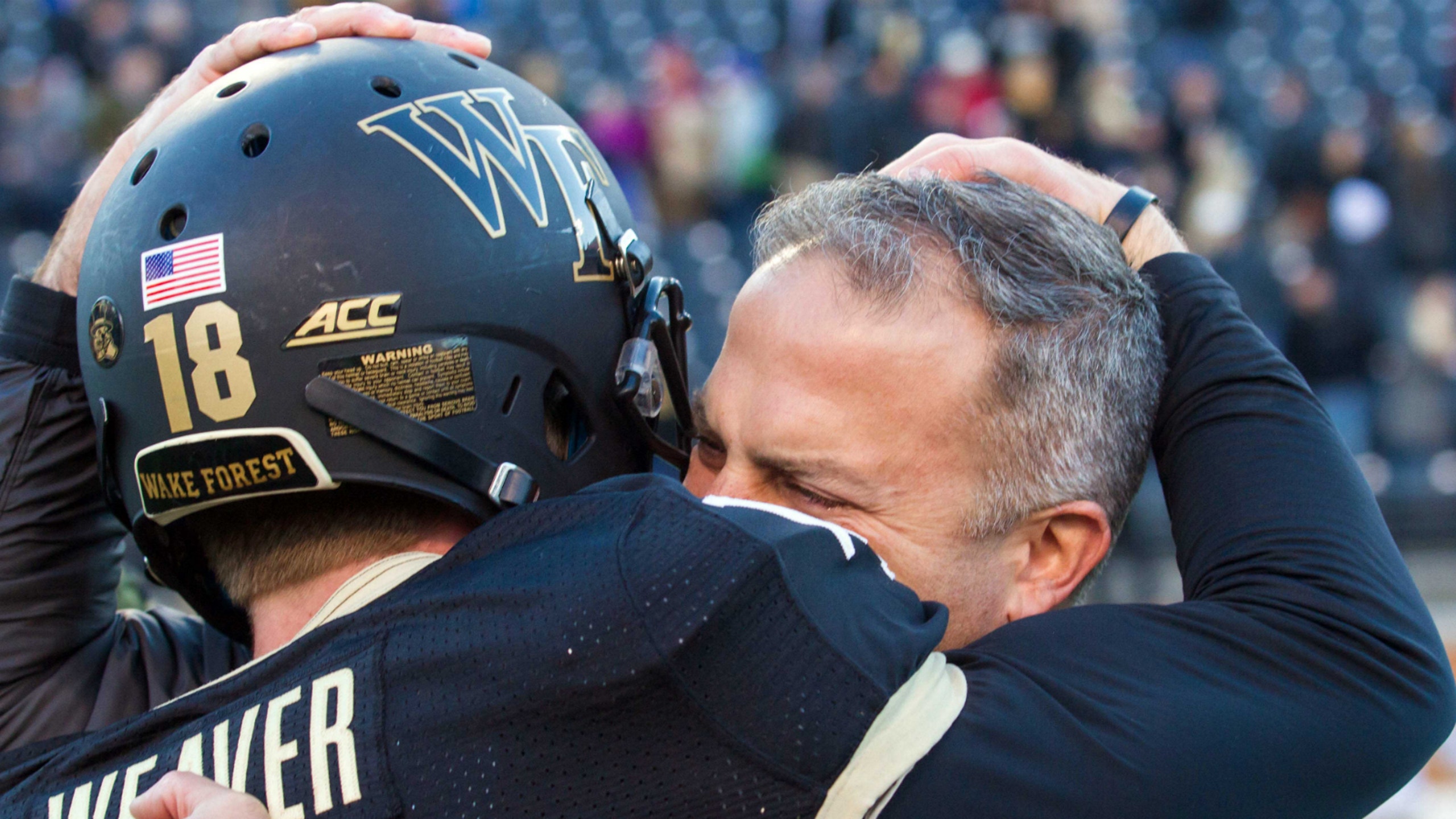 ACC Power Rankings: Head-scratching results muddle the league's middle tier
BY foxsports • November 24, 2014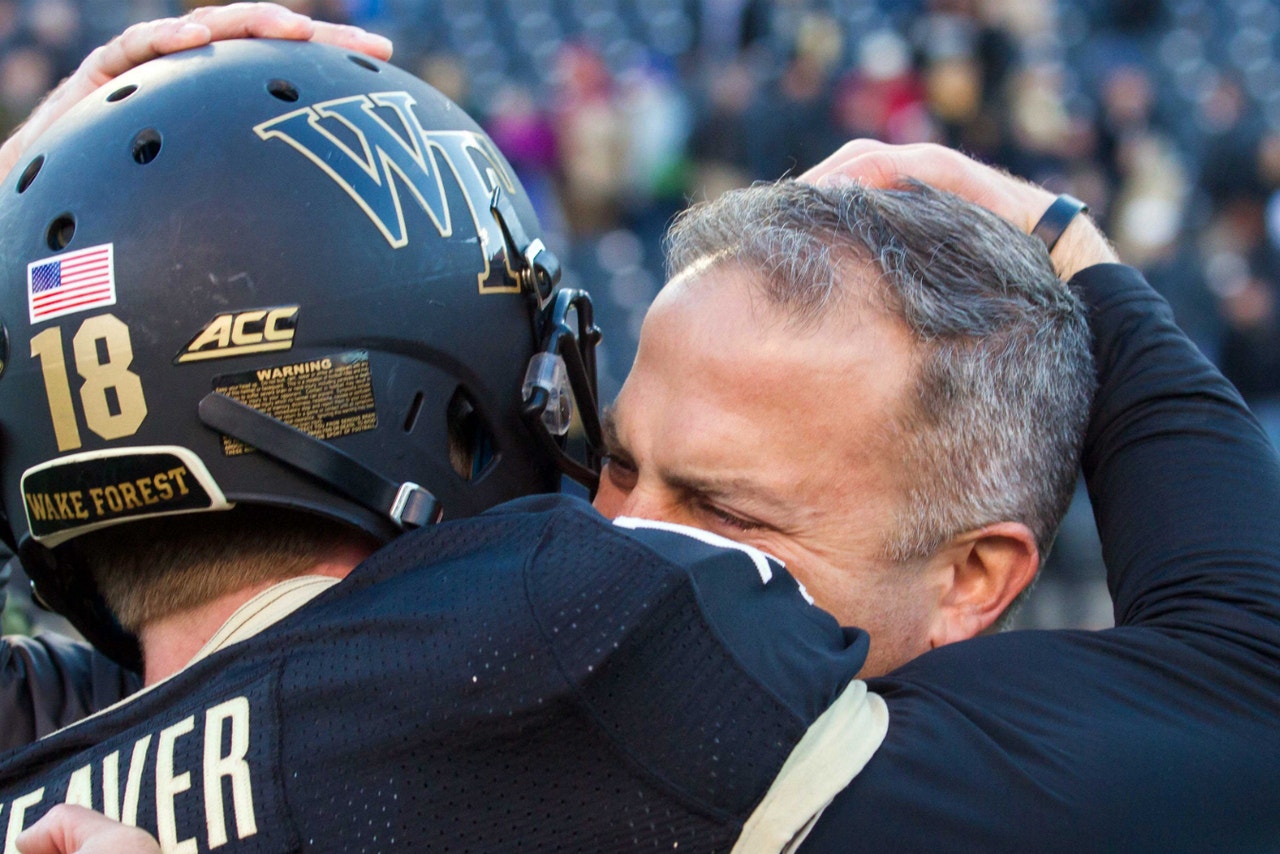 With only season-finale games against rivals -- both in-conference and out-of-conference -- looming, the ACC has to bounce back from what was a pretty tough weekend, all things considered.
A ranked team dropped out in No. 25 Duke as they were shellacked by a .500 North Carolina squad at home, and a Miami team that has looked good most of the year got blown out by a 4-6 Virginia team. Oh, and Virginia Tech and Wake Forest battled to a 0-0 tie at the end of regulation that somehow saw Frank Beamer with his arms raised triumphantly as Wake kicker Mike Weaver's field goal missed. Relief, maybe, but joy? After that? Beauty is in the eye of the beholder, I suppose. But that Wake Forest overtime win was enough so send the Hokies tumbling down the rankings and get the Deacons out of the cellar of this week's power rankings for the first and likely only time this season.
Last week: 1 (W 20-17 over Boston College)
Next up: Florida
Florida State's win over Boston College was evidently so much less impressive to the coaches' poll voters compared to Alabama's eventual thrashing of FCS Western Carolina that it caused the Seminoles to move down a spot. And it makes sense, after all -- in a rain-soaked game, the team that primarily runs the ball pushed the team that primarily throws the ball -- but it's still not really impressive. It's almost like a loss.
Seriously though, all Florida State can do is keep winning. While most have turned their eyes to Georgia Tech as the next possible opponent that could knock off the Seminoles, don't look past Florida. Now that Will Muschamp has been let go, the Gators certainly have nothing to lose, and there's still plenty of talent on that roster, particularly on defense. So who knows. It's not likely, of course, but it's not impossible. As we say here every week, Florida State still has its issues, but one of those issues -- fortunately for them -- is not yet a mark in the loss column.
Last week: 2 (Bye)
Next up: at No. 8 Georgia
After a bumpy beginning of the season, Georgia Tech -- through a combination of fortune (it's not their fault Clemson's best QB got hurt early against them, and they still won convincingly) and standard midseason improvements -- has rounded into form, and maybe even into one of the best three teams in the ACC. The offense has always been nearly unstoppable (unless it stops itself, but the same could be said of almost any offense), and the defense has finally improved to the point where it can make a positive difference, too.
Georgia is still a good team without Todd Gurley, but they're beatable, and this might be Georgia Tech's best chance in awhile. Of course, Georgia Tech has lost 12 of the last 13 in the series and head coach Paul Johnson has one win against the Bulldogs (2008), losing five straight since. A lot rides on this one -- if Georgia Tech wins and then beats Florida State in the ACC title game, it could potentially be looking at a premier bowl. Lose, then lose again to Florida State and the Yellow Jackets will find themselves in a lower-tier bowl at best.
Last week: T-3 (W 31-28 at Notre Dame)
Next up: Kentucky
Nothing is ever a given when these two in-state opponents get together. Louisville has been perhaps the most consistent team in the ACC this year while Kentucky has lost five in a row, but the Wildcats had a bye leading into this game, which should help.
Louisville managed to win a game at Notre Dame where its quarterback went 8 of 21 passing, largely because of their dominance on the ground (they had 229 yards including four sacks and held the ball for more than 10 minutes longer than Notre Dame). The Cardinals' defense is still one of the nation's best, holding Everett Golson in check for 236 yards passing. Louisville's schedule has been brutal, but the Cardinals have more than proven they belong in a Power 5 league and were not a product of an AAC schedule. This might be one of Bobby Petrino's better coaching jobs to date.
Last week: T-3 (W 28-0 over Georgia State)
Next up: South Carolina
Clemson is not perfect. But the Tigers' three losses have come to teams that are currently all in the top 16 of the AP poll, two coming against teams in the top eight. Even against Georgia State, Cole Stoudt was far from dynamic, but yet again, the defense did more than enough, holding Georgia the Panthers to 10 first downs and 40 yards rushing on 33 attempts (155 yards total).
The question of whether Deshaun Watson can come back at quarterback looms large as the Tigers host South Carolina, trying to snap a five-game losing streak to the Gamecocks. With Watson, they have an excellent chance. Without him, not so much. It's more or less that simple, as South Carolina is 6-5 and has one win over a Power 5 team since Sept. 20. Now's the time for Dabo Swinney & Co.
Last week: 7 (L 20-17 at No. 1 Florida State)
Next up: Syracuse
There are a lot of really good 6-5 teams in America, believe it or not, but Boston College might be one of the best of the bunch. The Eagles haven't been great this season, but they've had some really impressive wins and performances. Head coach Steve Addazio has done a great job with this team -- they've now beaten USC, pushed both Clemson and Florida State to the brink and, for the most part, won the games they were supposed to win. Even the loss to Colorado State earlier this year looks a lot better, as the Rams are 10-1.
Really, the loss to Pitt early this season and a home loss to Louisville are the only stinkers. It was a rain-soaked affair in Tallahassee, which plays to Boston College's advantage, but they still gave FSU everything they could handle and it was no fluke, as the Eagles have proven all year.
Last week: T-3 (L 45-20 to North Carolina)
Next up: Wake Forest
Things sure can change quickly in college football. About 10 days ago, Duke was 8-1 and had to only beat two of its final three opponents to win the Coastal Division for the second straight season, and it was climbing in the rankings as its only loss was certainly not a bad one (at Miami). Fast-forward less than a week and Duke found itself losers of two straight games, both at home, to a middling Virginia Tech team and a UNC team sitting at .500. The Virginia Tech game was close, but North Carolina dominated Duke from the opening kickoff. Duke had lost six turnovers all season before losing six in the last two games alone, and quarterback Anthony Boone has completed 48.5 percent of his passes in the last three games throwing four interceptions after throwing three in Duke's first eight games.
All that being said, a win over Wake gives Duke nine wins in back-to-back seasons for the first time in program history, so plenty left to play for.
Last week: T-3 (L 30-13 at Virginia)
Next up: Pittsburgh
Seriously, Miami? You push Florida State to the brink, you don't have a bad loss on your schedule (every other loss on Miami's schedule was to a team that is now in or just dropped out of the top 25 -- at Louisville, at Nebraska, at Georgia Tech and Florida State), and then you lay an egg at Virginia?
Miami had been competitive in almost every other game it had played this year -- even at Louisville in freshman quarterback Brad Kaaya's first start in the season opener. The Hurricanes were not competitive against Virginia, fortunate to score a late touchdown to make the margin seem slightly better than it was (else it would have been 30-7). The argument for what Al Golden was building at Miami was a strong one, and it still might be. Miami was unlucky with its ACC slate this year and is clearly a better team this year. This kind of a letdown loss, though, is typical of what's plagued this program the last decade or so as it's tried to return to dominance.
Last week: 9 (W 45-20 at No. 25 Duke)
Next up: NC State
This probably shouldn't be all that surprising. This is Larry Fedora's third year as North Carolina's head coach, and with a game to go in this year's regular-season -- as David Hale of ESPN pointed out -- Fedora has gone 7-11 in the first six games of each season and 14-4 after that. That's a pretty dramatic turnaround, especially considering the last two years, that improves to a combined 3-9 start and 10-2 in the back half.
Schedule plays into it some, but in the last two years, UNC has won just three of its first 12 games and none of those wins have come against the Power 5. In fact, just one of the wins in the first six games came against a Power 5 team, and that came in Game 6 of 2012 (Virginia Tech). So Fedora is 1-10 against Power 5 teams in the first half of the season and 12-4 in the back half, including 1-8 ACC in the first half and 12-4 in the back. If only the Tar Heels could start seasons faster, maybe they wouldn't be in this position, but either way, they're going to their second straight bowl game under Fedora (would be three, had they not been ineligible in 2012) and that offense is playing as well as any in the ACC. 
Last week: 11 (W 30-13 over Miami)
Next up: at Virginia Tech (11/28)
Talk about unfortunate scheduling. Virginia didn't ever really have much of a chance to gain any traction this season, what with non-conference games against UCLA and BYU, but it had been competitive in almost every game it had played until this recent stretch here where it lost close ones to Duke and UNC, then got blown out by Georgia Tech and couldn't capitalize on a good start at Florida State. But now, the Cavaliers find themselves a win away from bowl eligibility and that win over Miami might have been enough to save Mike London's job. He would sure feel a lot better about his job security, though, if Virginia can snap a 10-year losing streak to Virginia Tech, particularly as the Hokies are coming off of a bad, bad loss at Wake Forest.
The game this weekend will not only be for bowl eligibility, one would think, but also determine a lot about the futures of both programs.
Last week: 10 (W 30-7 over Syracuse)
Next up: at Miami
Syracuse is not good, but still, good for Pittsburgh for getting some good feelings back and snapping a three-game losing streak and a skid where the Panthers lost six of their last seven. Pitt's defense did its job after a tough few weeks, holding Syracuse to 255 total yards, while the offense continued to hum along for 445 yards. Now, Pitt gives itself a chance to get to bowl eligibility -- and a better chance than originally thought, if Miami is going to come out as lifeless as it did last week at Virginia. A friendly ACC slate wasn't enough for Pitt this year, and while there are quite a few close ACC losses the Panthers would surely like to have back, they'll like regret that they couldn't take better advantage.
Last week: 12 (Bye)
Next up: at North Carolina
With neither team playing for bowl eligibility anymore (both teams have already earned it), Dave Doeren and his team will go into their biggest rivalry game of the year at North Carolina with a weight lifted off their shoulders. The Wolfpack's two wins this year have come against the two worst teams in the ACC (Syracuse and Wake Forest), but they dominated the Deacs two weeks ago, and NC State certainly showed flashes in what they did against teams like Louisville and Florida State, even in losses.
Now, a well-rested Wolfpack will look to generate even more momentum than it already earned with its bowl berth locked up by beating North Carolina for the first time since 2011. The Tar Heels are hot, so it won't be easy, but this rivalry is always a strange one.
Last week: L 6-3 at Wake Forest (2OT)
Next up: Virginia
There really are no words for what transpired on the football field between Virginia Tech and Wake Forest on Saturday. And there were no points, either -- at least not in regulation. Not a single point. It was the first time that has happened since 2005, when Arkansas State beat Florida Atlantic 3-0 in overtime. Virginia Tech didn't run its first play inside the Wake Forest 30-yard line until the fourth quarter, and it didn't reach the Wake Forest red zone until overtime, when, you know, you basically start there.
The Virginia Tech offense has been up and down all season, but it was downright ghastly this past weekend. The Hokies had three turnovers, 17 first downs, you name it, they did it poorly. Somehow, still, two of Virginia Tech's three Power 5 wins this season are against ranked teams, and on the road, no less (Ohio State and Duke), and then they lose games like this one. Go figure. Who knows with this bunch -- the defense is still excellent, but the offense is a hot, hot mess.
Last week: W 6-3 over Virginia Tech (2OT)
Next up: at Duke
Credit to the Deacs and first-year head coach Dave Clawson for getting an ACC win, which should alone almost warrant him at least an ACC Coach of the Year vote or two with this roster. The Wake defense has been scrappy all year, particularly at home, and Wake's 74 rushing yards were a season-high against a Power 5 opponent. It was still an ugly, ugly game, and one Wake actually could have won sooner had kicker Mike Weaver, who has been good all year, not missed three field goals, particularly a short one at the end of regulation that would have won it. Wake might have lost to the team below it in the power rankings, but the Deacs have clearly not given up on the season and are playing well in spite of ... well, everything, and they deserve credit for that.
Last week: L 30-7 at Pittsburgh
Next up: at Boston College
Syracuse has just one win over a Power 5 opponent all season, and that was at Wake Forest. Ever since quarterback Terrel Hunt went out with a broken leg, everything has been going downhill for the Orange. They've been struggling mightily on offense as they got down to their fourth-string quarterback last week (although second-stringer A.J. Long returned last week against Pittsburgh), but they'd faced some good defenses. Pittsburgh's defense had been struggling in its own right, and yet Syracuse could only muster 255 total yards and just 106 on the ground. Syracuse's defense has been pretty good all season in spite of it all, but this season just has to be chalked up to a combination of bad luck and bad scheduling breaks in Scott Shafer's second year.
---