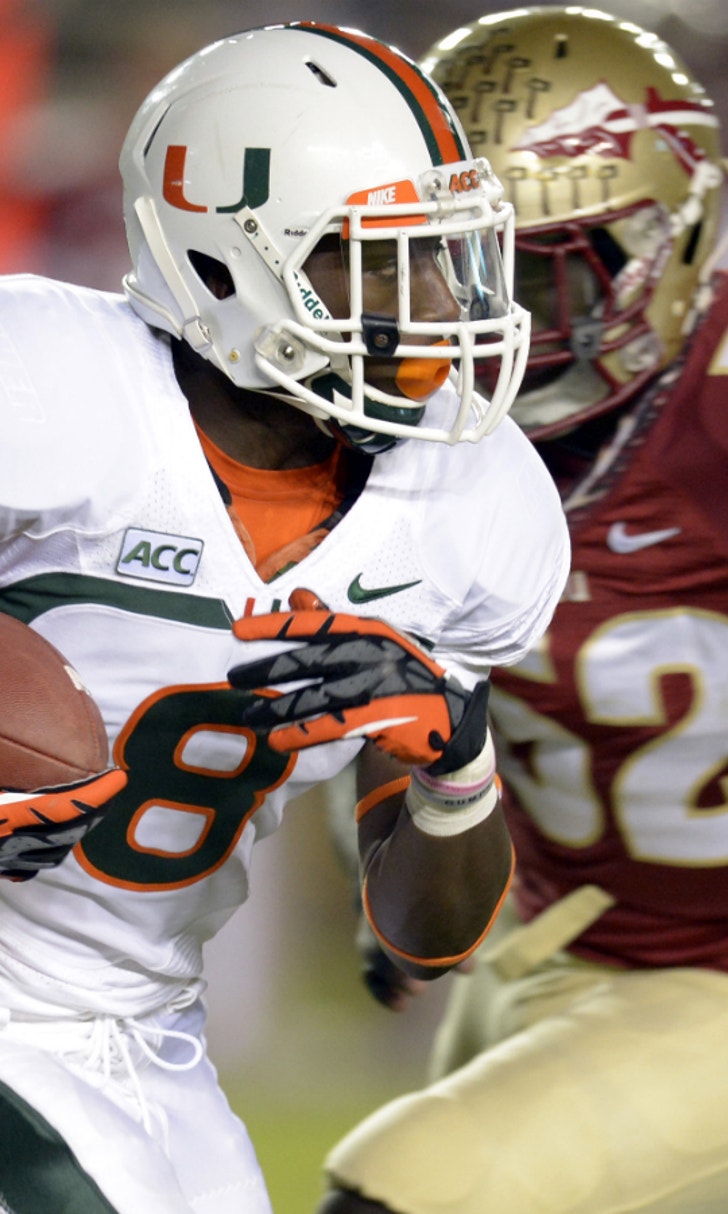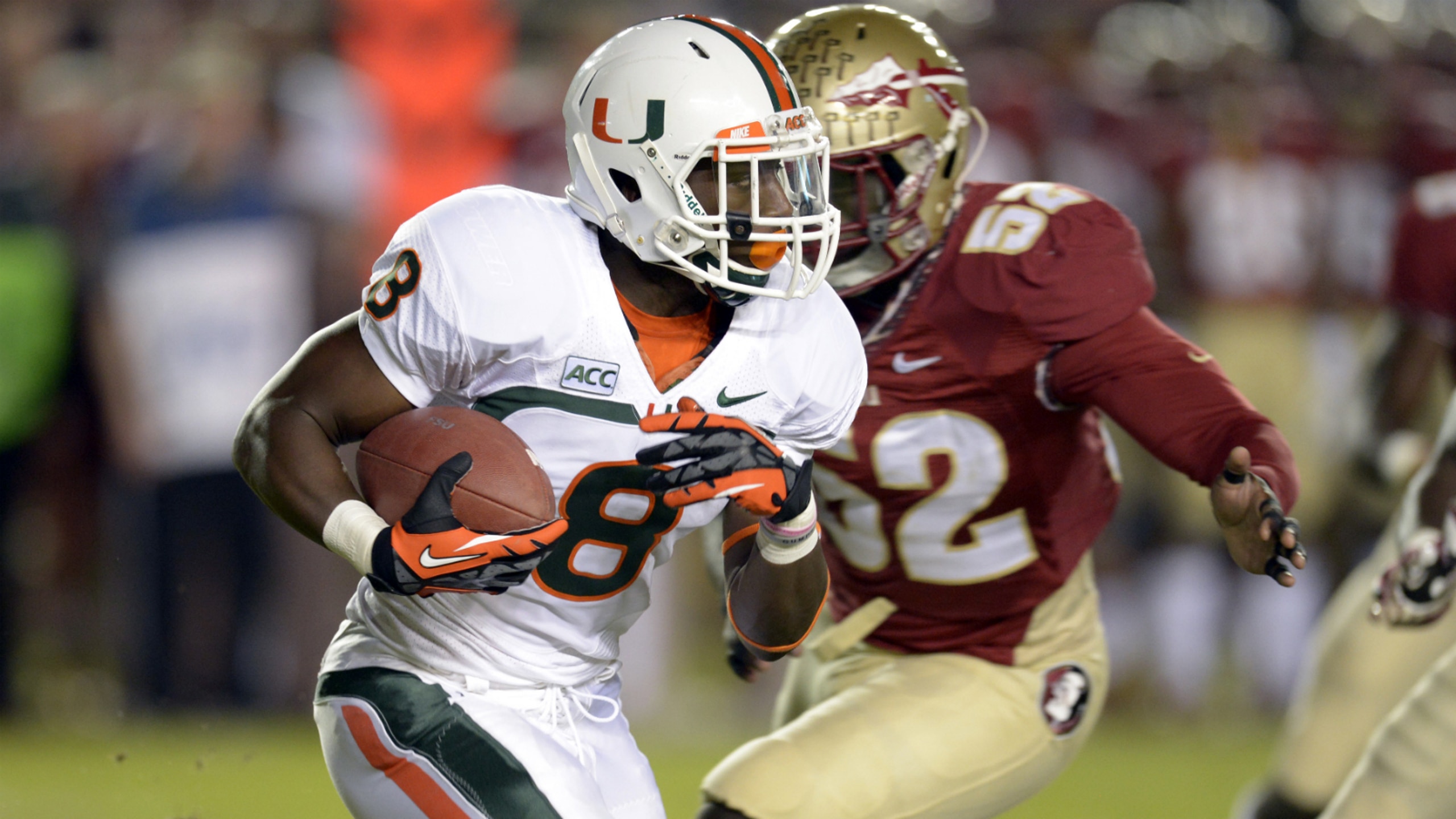 ACC Countdown: No. 4 Miami
BY foxsports • August 13, 2014
Miami has the talent to win the Coastal Division. 
The Hurricanes have had talent before, though, and this year the Hurricanes have a brand new quarterback. Is this year's group experienced enough to finally take the Division crown for the first time since joining the ACC? And against a punishing ACC schedule with little to no margin for error, can Miami's talent finally rise above the mediocrity that has plagued the rest of the division?
Two of the best players in the ACC on each side of the ball, junior tailback Duke Johnson and senior linebacker Denzel Perryman, headline the returners for Miami.
Johnson rushed for nearly 1,000 yards in just eight games last year -- even while missing part of some of those eight games with injuries -- averaging 115 yards per ame and a whopping 6.3 per carry. He's been spectacular since his arrival in Coral Gables and if he can stay healthy, he'll be one of, if not the, best backs in the ACC. Oh, and he'll be running behind a fantastic offensive line that's probably second-best in the ACC behind Florida State.
The wide receivers are almost all back as well, including talented sophomore Stacy Coley and junior Herb Waters, not to mention senior tight end Clive Walford.
Perryman's return bolsters a front seven that brings back quite a bit from last season, including defensive end Anthony Chickillo (an All-ACC candidate). The secondary returns a combined 55 career starts and will feature experienced talent.
At the skill positions, Miami is pretty loaded, all things considered. But it did lose starting quarterback Stephen Morris and leading receiver Allen Hurns, who had almost double the yardage of the second-leading receiver (Coley, 591 yards). But between Coley, Walford, Waters and even senior Phillip Dorsett, Miami will be just fine at receiver.
Quarterback remains the question mark. Morris' backup Ryan Williams was set to take over, but he tore his ACL in the spring. It looked like it would then be redshirt freshman Kevin Olsen (at least for the first few games), the brother of Carolina Panthers tight end Greg, but he's struggled in fall camp and is reportedly facing a suspension of at least one game.
On the other hand, transfer Jake Heaps and true freshman Brad Kaaya are flourishing. And so it will be one of the two, at least until Williams can get back healthy. If he does, based on reports from the spring and the limited action Williams has seen so far, Miami will be set at quarterback. But until he comes back healthy, that will be an issue for the Hurricanes.
Miami's offensive line should still be very good, but it did lose All-ACC second-team right guard Brandon Linder and the mercurial Seantrel Henderson. But the returners -- particularly Ereck Flowers and Jon Feliciano -- are as good as it gets in the conference, and there are plenty of players in the rotation that have seen significant playing time.
Defensive end Shayon Green, who led the Hurricanes' defensive linemen in tackles for loss and was second in sacks last year, is gone. But there are plenty of candidates to replace his production, including third-down specialist Tyriq McCord and raw-but-improving sophomore Al-Quadin Muhammad. Chickillo is more than capable of stepping up, too.
With Perryman as a playmaker and with experience on the back end, Miami's defense may have lost a few pieces but has plenty of experienced pieces with upside.
It would be easy to say the quarterbacks are under the microscope, but there's still a lot unknown about Williams and how he'll even play if and when he returns. Miami was fairly confident in him, and Johnson said at ACC Kickoff that he thought Williams could be back by Game No. 4. If that's the case, there are fewer question marks there. 
So it's on the defense, a unit that's been consistently littered with elite recruits over the past few seasons especially, but it hasn't put out anything resembling elite results just yet.
After holding four of its first five opponents to under 420 total yards last year, the Hurricanes allowed six of its final seven opponents to eclipse that mark and five of those opponents racked up at least 500 yards. Miami tallied 16 sacks in its first four games and 14 in the last nine games combined. That's not good enough, considering the talent Miami has, and against this year's schedule, it needs to be much better. Miami won't resemble the Miami of old unless that happens.
With this schedule, it's tough to say that merely reaching the eight-win mark wouldn't be a success. But this is Miami, and all of the players have said their goal is to get back to being "The U," as it was known during the program's dominance. One step in that journey has to be winning the division, which Miami still has not done since joining the ACC.
It won't be easy -- Miami's two Atlantic Division crossovers are Louisville and Florida State, and two of the four out-of-conference games come against Nebraska and Cincinnati. That's not easy by any stretch, and there are two likely losses on that schedule already, both in ACC play.
That gives Miami little margin for error to win the Coastal.
But year after year, the Coastal has been a mess and Miami has failed to take advantage. If Miami goes 6-2 in ACC play and somehow loses the Coastal, you could still call the season a success. If Miami goes 5-3 or worse and can't reach the top of a muddled Division, even with all but one of its biggest divisional games at home, that's not going to be a success by the standards Miami has set for itself.
Yes, it's at home, but this is the same Duke team that ran all over the Hurricanes to the tune of 358 yards. It was the most rushing yards allowed by the Hurricanes last season. Miami racked up 565 yards of total offense, but was outscored 41-13 after the first quarter. Miami had been decimated by injuries by that point, and it was their first game without Johnson. Still, it was striking to watch Duke basically dominate the game.
Duke returns most of its roster, and is going to be very good again this year. Will Miami be ready and able to match the Blue Devils? Miami also could potentially have Williams back by then -- will he be the starter upon his return, or will Kaaya or Heaps keep the job?
There are no breaks on this Miami schedule after September ends, really. For Miami to take the Coastal Division, it will need to win the winnable games like this one. But it won't be easy, particularly if Miami's defense isn't up to the challenge. Game 5 last year was when things started to fall apart for the Hurricane defense. This will be Game 5 in 2014. Will this season be different?
Miami started off strong last season and got a marquee win (against Florida) before falling back to Earth a bit in conference play. The same thing could happen this year, even though Miami opens 2014 with a new quarterback at Louisville, in a game that will likely be a loss. After two easy non-conference games, a tough but winnable game at Nebraska is all that stands between the Hurricanes and the rest of ACC play (save a one-game break -- if you can call it that -- against Cincinnati). It's a tough schedule, and one that has very few so-called easy games.
At the very least, it should keep the Hurricanes focused.
Assuming Louisville and Florida State are both losses, Miami would have to win every other Coastal Division game it plays this season to finish better than 5-3 in league play. Is that possible? Well, frankly, yes -- its only Coastal road games are at Georgia Tech, Virginia Tech and Virginia, and it will host everyone else. Miami has a bye before it faces Virginia Tech and a few extra days of prep before it gets UNC at home after said Thursday night game in Blacksburg. If it's going to happen, it needs to be this year.
The Coastal is there for the taking, if Miami is willing and able. Considering Miami's recent history, that's no guarantee.
---