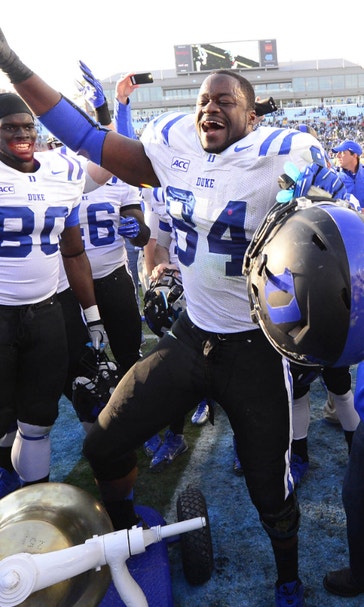 ACC Coming Attractions: UNC-Duke highlights weekend of avoiding traps
BY foxsports • November 20, 2014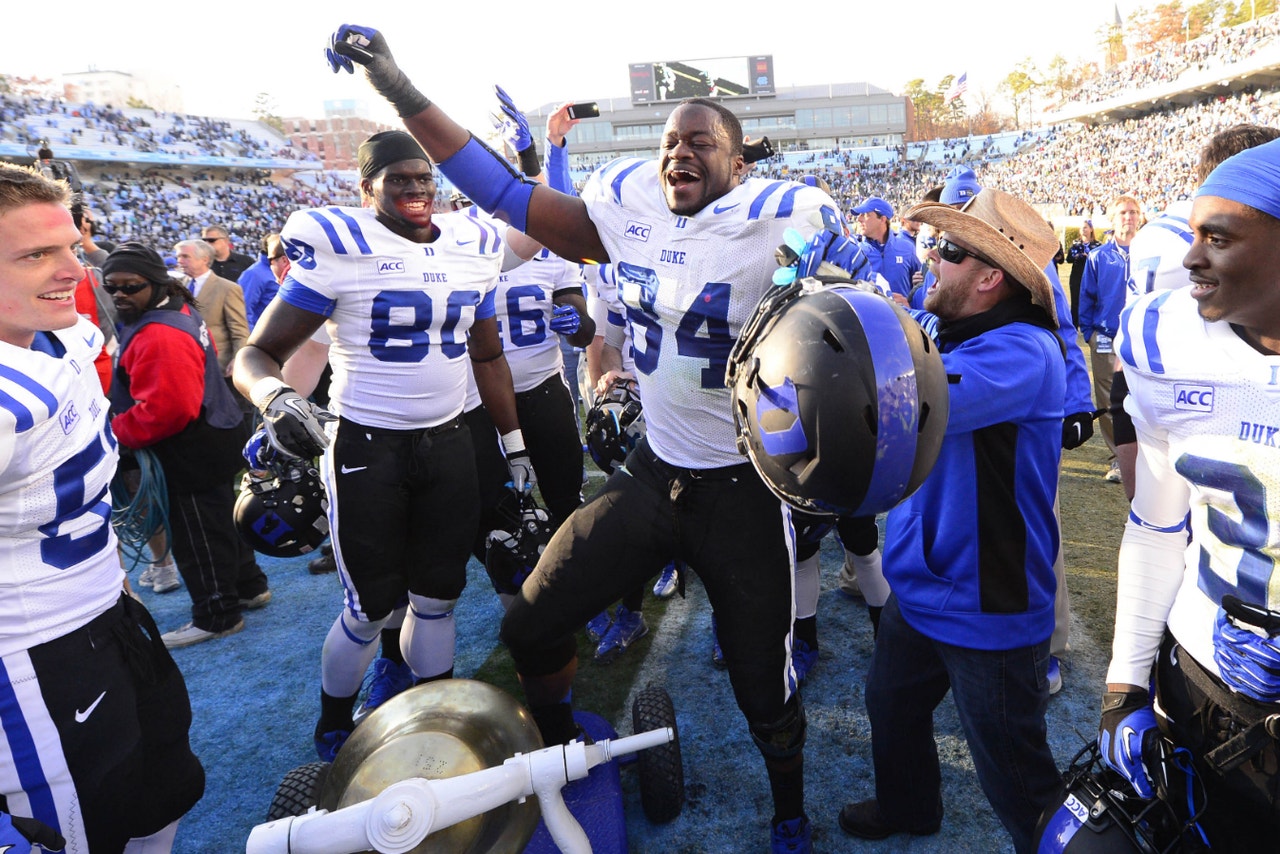 Other than a Thursday night showdown because Duke and North Carolina, this week is kind of the preamble to a huge final week of ACC football. But that doesn't mean there's not something at stake in a lot of these games, as teams fight for bowl eligibility or to keep what they've already earned, in the case of a Florida State, to this point. Stay tuned!
Every year North Carolina and Duke meet in football and play for the Victory Bell, which the winner then keeps in the locker room and on the sidelines during games, painted in the winning team's colors. For a long time, that bell resided in Chapel Hill. But it's been in Durham since Oct. 2012, and Duke -- which needs to win its final two games to win the Coastal Division crown for the second year in a row -- wants to make sure it stays there. Meanwhile, the Tar Heels are one win away from a bowl game and would love nothing more than to play spoilers to their rival.
Get your popcorn: Top Gun. Because, as a reader pointed out, Duke is basically Iceman. No mistakes. Ice cold. And Carolina is Maverick. When things go well, they go really well. And when they go poorly, they go very poorly. 
This matchup isn't technically as exciting as it would have been a few weeks ago when both were ranked, but Louisville traveling to South Bend to face Notre Dame for the first time is pretty darned exciting anyway. Louisville's defense, which forces turnovers galore and has been excellent, going up against a Notre Dame offense that is explosive and can score, but prone to turnovers.
Also, these two are the newcomers of the league. Louisville is the darling, of course (the full member who has brought the league pride with its play), and Notre Dame being the not-quite-full member that the ACC is kind of giving the side-eye to right now as if "No, no, they're still not with us, pay no attention to this late-season collapse."
Get your popcorn: Footloose. Because that's about being a new kid who rocks the boat. Louisville has come pretty close to doing that twice now (Florida State and Clemson) -- can they actually do it this time?
OK, strategy is the wrong word for what Florida State has been doing in the first half of games, where it lulls its opponent to sleep and lets them get a big lead before storming back in the second half to win, sometimes convincingly?
FSU has faced deficits of a field goal or more in ACC play (counting Notre Dame) seven times after at least one quarter (combined, those total 118-41). They've outscored those opponents 218-47 the rest of the way. In the three games FSU found itself facing a deficit of multiple scores (NC State, Louisville and Miami) -- combined deficit of 68-14 -- it stormed back and outscored those three teams by a combined margin of 114-30. Can they keep it up, if they face another deficit against a Boston College team that won't be afraid?
Get your popcorn: Ali. The biopic starring Will Smith culminates in Africa, where we see Ali execute his infamous "rope-a-dope" strategy against George Foreman to win the fight. Isn't that basically what Florida State is doing?
Miami and Virginia have dealt with plenty of disappointment this season, and much of it for both teams has had to do with their schedules. Miami is a bit different in that after falling early on, the Hurricanes didn't really lose to anyone they shouldn't (even Georgia Tech, arguably Miami's worst ACC loss considering the circumstances of the game at Louisville, is ranked). But the schedule with Louisville and FSU as crossover opponents has helped ensure that they can't win the Coastal crown. Virginia looked like a brand-new team this year, hanging with UCLA and beating Louisville, until it suffered a setback at Duke and has been on a four-game skid since.
Get your popcorn: On the Waterfront. Yes, the famous "could've been a contender" quote, but it's also all about Marlon Brando's character pushing past his own disappointments and doing the right thing.
Syracuse is out of the bowl conversation at 3-7, but former Big East rival Pittsburgh can still get there if the Panthers win out. After Syracuse, Pitt gets Miami, so it doesn't look likely but you never know. It has to win this one first. Syracuse is on its third or fourth quarterback with injuries riddling the offense, and Pitt can't get out of its own way.
Get your popcorn: Honey I Shrunk the Kids. Syracuse head coach Scott Shafer, with his postgame podium-pounding and perpetually purple face, is starting to remind me of a like a perpetually angry suburban dad trying to put together a piece of furniture or live his sports dreams vicariously through his son. Or, more specifically, the next-door neighbor dad in this movie.
---