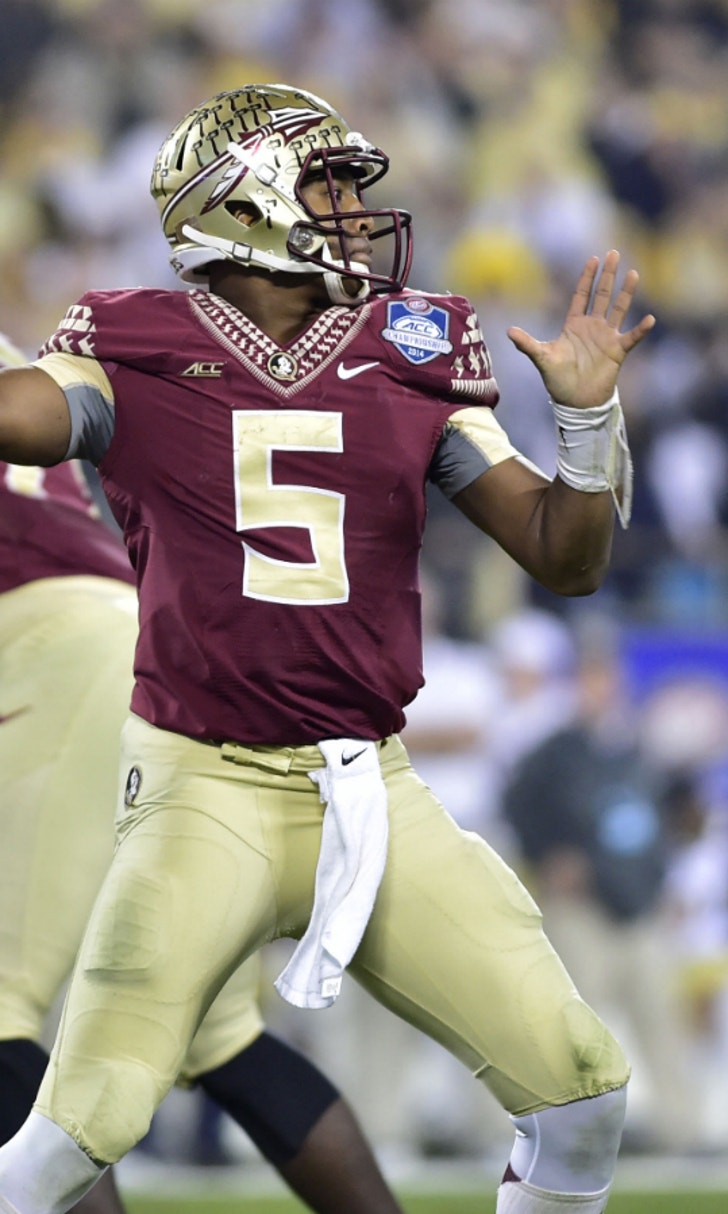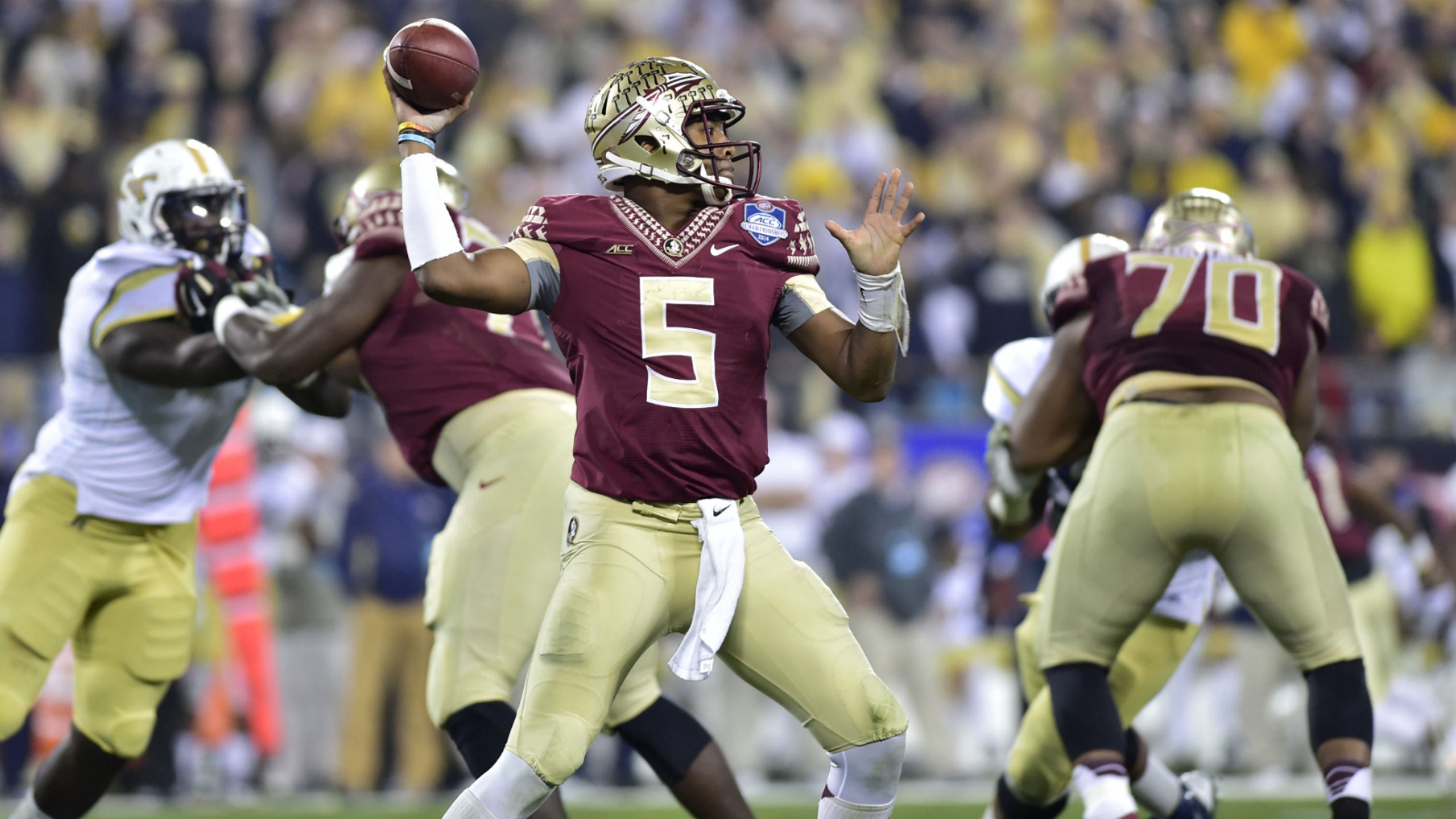 ACC Bowl Bits: Fertile proving ground for ACC with eight Power 5 matchups
BY foxsports • December 9, 2014
The way the bowls have been restructured is unfortunate for some of the so-called Group of 5 teams, but the fans win as the Power 5 teams will in many cases face off against each other come bowl season.
This year is no different, as the ACC -- which placed 11 teams in bowls, including one in the College Football Playoff -- will get a chance to prove its mettle against other Power 5 leagues in eight of its 11 bowl games. Obviously, the one on January 1 -- No. 3 Florida State in the national semifinal against No. 2 Oregon -- is the most important, but winning some of the others along the way against other Power 5 leagues never hurts either, and would help to back up the ACC's strong overall year.
Rose Bowl (National semifinal): No. 3 Florida State vs. No. 2 Oregon (Jan. 1): Well, this was an unexpected matchup, as most assumed that Florida State would take on Alabama in the Sugar Bowl, a game that would make geographic sense for both. Instead of the 11th-ranked Alabama defense, the red-hot Seminoles offense gets the No. 82 defense in the country -- Oregon. FSU's defense has had its struggles, and Oregon's offense is No. 3 nationally, so that will be something to watch, of course. Oh, and it will likely pit this year's Heisman Trophy winner against last year's, too, if you needed more storylines.
Capital One Orange Bowl: No. 10 Georgia Tech vs. No. 8 Mississippi State (Dec. 31): When Mississippi State passed Michigan State in the final CFP rankings, that shook up the rest of the ACC's bowl order. But Georgia Tech knew it was going to the Orange Bowl, win or lose. In a way, it's an even better opportunity for both the ACC and Paul Johnson's team to prove themselves yet again, this time against an SEC opponent. One of the undying narratives about the offense is that when an opponent, like in a bowl game, has time to prepare for it, it can shut it down (ignoring the fact that some of the opponents are just, you know, better). Johnson would love nothing more than to make that notion look silly.
Quick Lane Bowl: North Carolina vs. Rutgers (Dec. 26): Well, North Carolina got to avoid its dreadful Shreveport bowl and instead has to settle for ... Detroit. Either way, the Tar Heels drew a Power 5 opponent that is not all that powerful. Rutgers has an OK offense and a defense that has given up 6.7 yards per play against Power 5 opponents, 97th nationally. Even Carolina's porous defense hasn't been that bad (6.28). The Tar Heels have a decent enough shot of winning and getting some positive momentum going into next season, though it won't be near the bump last year's win over a 9-3 Cincinnati team was.
Bitcoin St. Petersburg Bowl: N.C. State vs. UCF (Dec. 26): If the experience of in-state rival East Carolina was any indication, N.C. State had better make sure its Hail Mary defense is ready to go. UCF, the AAC champs two years running, has had a pretty good season, losing only to Penn State, at Missouri and ... at Connecticut? UCF's offense has been inconsistent, but the Knights defense is fourth nationally in yards per play allowed (4.29). It will be a stiff test for a Wolfpack offense that looked unstoppable in its final two games, but Dave Doeren and his team will be able to build on the extra practice time and maybe even with a bowl win.
Military Bowl: Virginia Tech vs. Cincinnati (Dec. 27): Cincinnati looked like a trendy pick for that Group of 5 spot before the year began, but a 2-3 start to the season derailed any hope of that. The Bearcats finished the season by winning seven straight, though, and quarterback Gunner Kiel will provide for a great matchup against Bud Foster and that Virginia Tech defense. It will be interesting to see how the Hokies, who barely squeaked into a bowl to continue their streak in the first place, respond to facing a team that beat them in their last meeting (2012).
Hyundai Sun Bowl: Duke vs. No. 15 Arizona State (Dec. 27): Duke couldn't win two of its final three games down the stretch to secure the Coastal Division crown, but the Blue Devils still sit at 9-3 and drew a marquee bowl opponent in the Sun Devils. Arizona State had a similarly disappointing finish, losing at Oregon State and at Arizona in two of their final three games (only the Oregon State loss was the head-scratcher). Arizona State is young and talented, while Duke is older and more experienced. This is a big opportunity for Duke football, which has still not won a bowl game yet under head coach David Cutcliffe in spite of all the progress that's been made.
Duck Commander Independence Bowl: Miami vs. South Carolina (Dec. 27): The Battle of Who Could Care Less? Both teams are going to come into this one disappointed and unenthused, more than likely, so neither can really play that card. South Carolina started out this season in the top 10 before getting blown out at home in the season-opener and losing four of five at one point midseason, including at Kentucky and at home to Tennessee, to finish 6-6. Miami was picked to win the Coastal even with a tough schedule, and still sat at 6-4 after giving FSU all it could handle. The Hurricanes then lost their final two games in lackluster fashion against Virginia and Pitt. A win here would do wonders to make the Miami fanbase feel better about Al Golden.
New Era Pinstripe Bowl: Boston College vs. Penn State (Dec. 27): This is an intriguing matchup of strength on strength, as Boston College's powerful rushing attack will face a Penn State defense that is stingiest in the nation against the run (allowing 84.8 yards per game). Penn State's defense also allowed 30 or more points just twice, and the Nittany Lions have two wins this season in which they have scores less than 20. They also pushed Ohio State until the very end, but then ended the season losing two in a row. It will be a great showcase for Steve Addazio and his dudes if they can move the football against a very stout defense.
Russell Athletic Bowl: No. 18 Clemson vs. Oklahoma (Dec. 29): Clemson looked like it was headed to the Citrus Bowl before the Mississippi State/Michigan State switch. This is still a bowl they will certainly take, and the Tigers have never shied away from a chance to prove their mettle against a Power 5 foe. It would be hard to argue Oklahoma had a disappointing season considering all its losses were to top-11 teams by close margins -- until the last four games, when they got blown out by Baylor, beat Texas Tech and Kansas and then lost to a 5-6 Oklahoma State team. Oklahoma still has plenty of talent, though, and Clemson will be in for a long night if quarterback Deshaun Watson is shut down for the remainder of the year for surgery to repair his torn ACL. Clemson's defense will still relish and take pride in this opportunity, though.
Belk Bowl: No. 20 Louisville vs. No. 13 Georgia (Dec. 30): This might be the best bowl of all the ACC's non-playoff matchups. Louisville's defensive coordinator will be a familiar name and face to Georgia, as Todd Grantham -- much-maligned during his time in Athens -- has resurrected his career and led the Cardinals to a fantastic season on the strength of a dominant defense. Storylines aside, the numbers dictate this one will be fun. It's strength on strength, as Louisville's defense is sixth nationally in yards per play surrendered (4.58) while Georgia averages 6.82 per play on offense (seventh).
Lockheed Martin Armed Forces Bowl: Pittsburgh vs. Houston (Jan. 2): There were one too many ACC teams for all of its bowl tie-ins, so Pittsburgh ended up getting picked up by a non-ACC bowl. Surprisingly, this might be a bit of a tricky matchup for Pittsburgh as the Cougars rank 24th nationally in yards per carry allowed (3.54), so James Conner might not be able to run roughshod on them like he has everyone else. Houston's offense has been inconsistent and turnover-prone, though. But this is the type of bowl game the ACC really needs to win, as it's one of the only ones that it will be an outright favorite in.
---