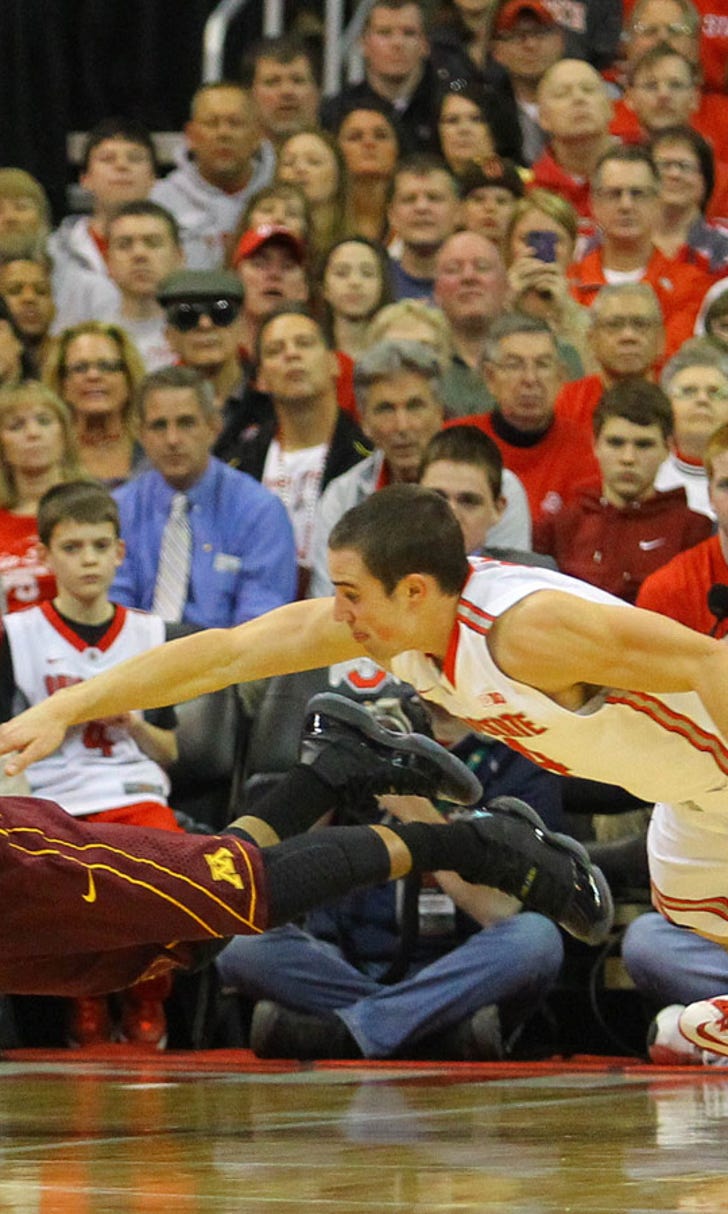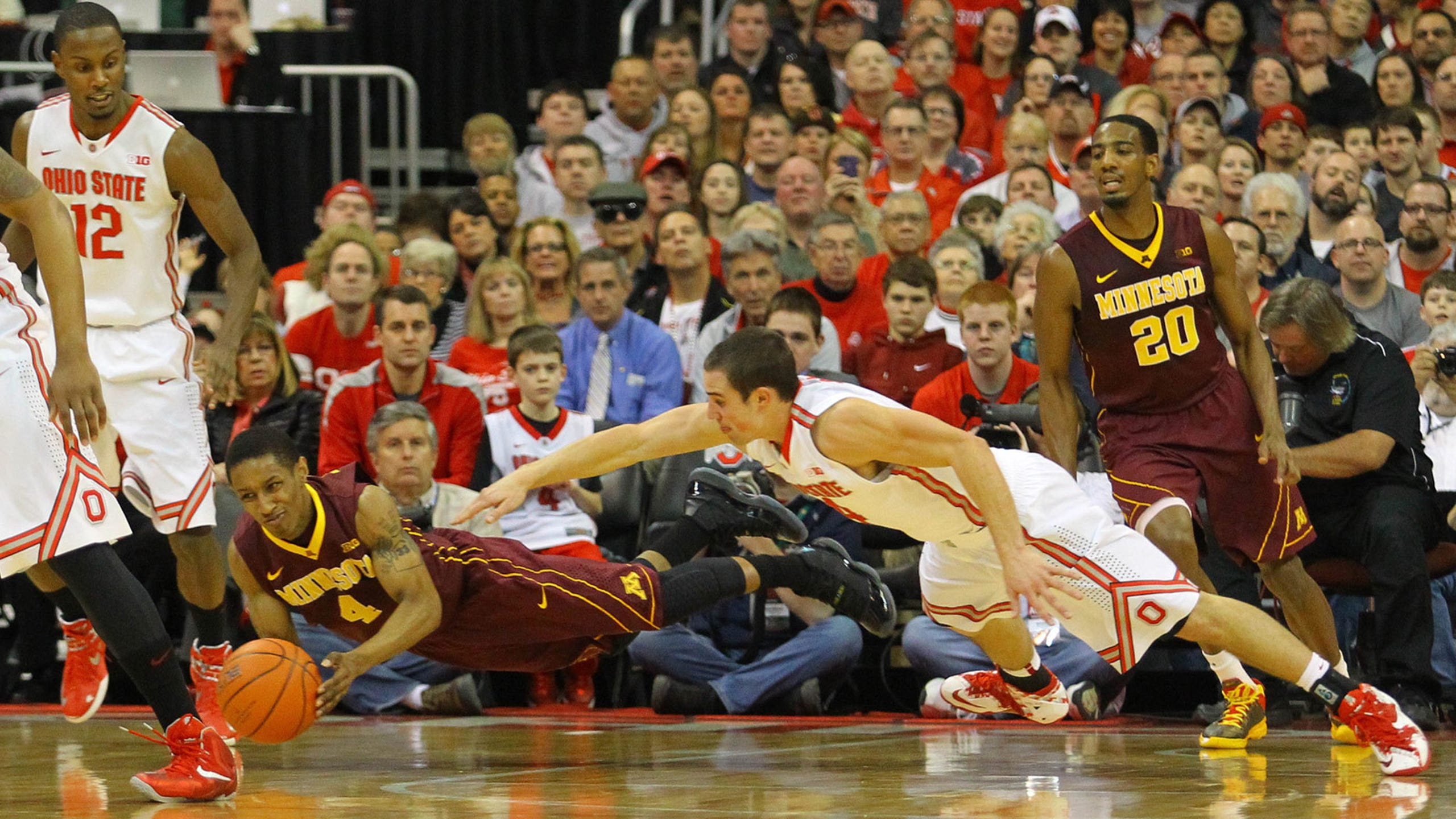 Aaron Craft: One of a kind
BY foxsports • March 19, 2014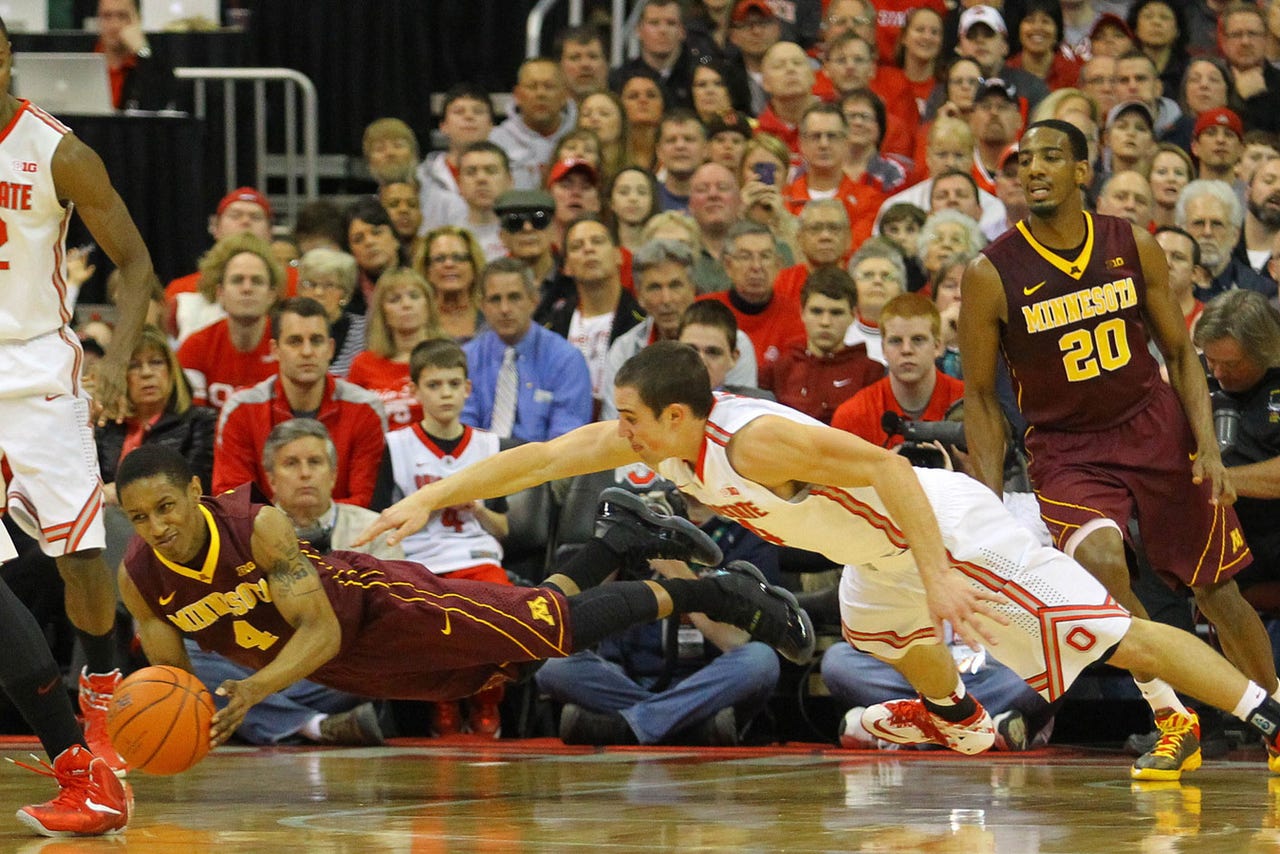 The first time I ever saw Aaron Craft play basketball, I couldn't have been more wrong about what I was seeing.
Before Craft plays his last game in an Ohio State uniform, I wanted to share that story.
He's been really good for a long time -- I've made a lot of terrible jokes about his 17 years of eligibility on Twitter and posted one John Havlicek picture that actually was funny -- and even though Craft fights any attention or individual praise, he's going to be long remembered by Ohio State fans and anti-Buckeye people alike; he's had not just an incredibly successful career but a very unique one, too.
Craft is and has been a human floorburn with an incredible IQ, basketball and non-basketball. A great teammate, great achiever, relentless. A winner on every level. Called by many coaches not just the best on-ball defender in college basketball but one of the greatest they've ever seen.
Not bad for a small-town kid with a broken jumpshot, right?
Writing this quasi-eulogy now isn't to say that Ohio State is doomed immediately in this NCAA tournament. It is a little bit of a just-in-case deal, though, because this Buckeyes team doesn't have the firepower other teams Craft played on did. But it has been good in stretches, is almost always good defensively -- teams follow their leader -- and has played well of late. Momentum matters in March. Experience does, too.
Timing matters. For Craft, timing really mattered.
He came through the high school ranks playing AAU ball with Jared Sullinger, who as a tenth grader was both already committed to Ohio State and preceived as a program changer. When Craft's recruitment opened after the mess at Tennessee with Bruce Pearl, it was Sullinger who spoke up and asked Thad Matta to recruit Craft -- or at least to give him a second and third look. Matta did, Craft signed up, and they came in as part of a loaded recruiting class that had a bunch of accolades but no other point guard. Those six freshmen joined a gifted team that had everything but a point guard.  
Enter the kid with the rosy cheeks, the kid who came off the bench but was the in-charge guard as a freshman for a team that was No. 1 in the country almost all season. He's now one away from 120 career wins. He already owns the Big Ten's all-time steals record and is going to finish in the top five in assists. Only one other player, Gary Grant, is in the top 10 in both.  
When Ohio State went to the Final Four in Craft's sophomore year, I went in search of people from his past. I found a former point guard at another Northwest Ohio high school who called playing against Craft "pretty much the most miserable experience ever." I found a small college coach who said he "prays to the Basketball Gods that his young son would one day defend half as well as Craft."  
The next year, he hit a 3-pointer out of nowhere to keep Ohio State alive in the second round of the tournament and the Buckeyes went to the Elite Eight.
"Unique" fits, right?
Anyway, about that story I promised. It must have been December of 2008, and I'm sort of guessing because I went to a daylong high school showcase event at the College of Wooster for some working reason but it wasn't to see Craft. I had heard of Craft and knew he was committed at the time to Tennessee, but I didn't get to his team's game until about halftime. It was an early-season game and very early for Craft, who just a week or two earlier had quarterbacked Liberty-Benton to the state football finals.  
It wasn't pretty. In fact, I most remember spotting an old friend who coaches high school ball in Northeast Ohio and was there scouting Tallmadge, Liberty-Benton's opponent that day, and we did more talking than watching. We noticed Craft and we talked about him, but at the time he wasn't an especially unique player on the College of Wooster court that afternoon. There were few signs of what was to come.  
Sitting in those bleachers, we gave him every cliched label a white point guard could receive: Scrappy, feisty, hustler, intense, competitive. He was clearly an athlete, but he spent more time chasing down balls that bounced off somebody's knee or shin than he did scoring. In many cases, those balls bounced off his knee or shin.  
At one point I turned to my friend and said something like, "I am not really sure what this kid is going to do at Tennessee."
Friend looked at me like I had three eyes.  
"Yeah," I said. "He's going to Tennessee."
"No. The real Tennessee? Like, Rocky Top? Or Tennessee-Martin?"
"The real Tennessee. Really."
Then we just kind of watched as both teams traded misses and turnovers, Craft missed a bunch of free throws and Tallmadge threw in something crazy like a 35-footer by a 5'6 kid to win at the buzzer. My friend packed up his scouting notes and went home; I went back to my computer and whatever work I was doing that day, and both of us were pretty sure we'd never see, hear from or talk about Aaron Craft again.
I've probably covered 75 of Craft's college games in person. During or after at least 40 of them, I've texted that friend with some kind of sarcastic comment about what we thought we knew.
"Great evaluator you are," I like to write.
"Geniuses," he'll say.
And we laugh, and then Craft does something again like he did on Senior Day against Michigan State, and we send texts all over again. Craft hasn't had the best senior year, and there are moments he'd like to have back and realizes he won't.
Matta wouldn't trade them or him, though. It's a good thing he's a better evaluator than my friend and I.
Ohio State isn't currently in the top 25 -- generally the most meaningless poll on the planet, by the way -- but the Buckeyes are a top program nationally, and Craft's play has been a big part of Ohio State becoming that. Maybe Ohio State is not a truly elite, top-of-the-top basketball power, but it's just outside of that group. Matta's Buckeyes win and win consistently and win in March, and Craft is a living link of the David Lighty-Jon Diebler time, to Jared Sullinger and Deshaun Thomas, to LaQuinton Ross and maybe Marc Loving and whomever is going to step up next. It's been hard to recruit a point guard with Craft in the way.
("Craft has been there so long he once stole the ball from Jalen Rose" joke goes here).
Craft has been there so long that in February, the Illinois student section reverted to just making stuff up on its dirt sheet and not trying to rattle Craft with the same jokes. True story.
He's had all A's and one singular B throughout his four years of school at Ohio State. He's been asked to show off his Rubik's Cube solving skills on camera so many times that he feels like he should have signed up for the carnival. He's proven more than just me wrong.
Two weeks ago, I asked him if he thought his career was an underdog success story.
"I have no idea," Craft said. "I think I'm only an underdog to the people that are out there -- not so much you (media) guys in general -- but people outside of the game. I just try to do my best to enjoy the time that I've had to play. Ever since I was little, it's just been trying to find a way to be a small part of the team. It's continued and it's worked out pretty well."
Indeed.
Besides Craft and Sullinger, also on that AAU team were Adreian Payne, Juwan Staten, Jordan Sibert and J.D. Weatherspoon. Loaded is a understatement.
I once asked Payne how any opponent ever got a rebound with he and Sullinger on the court together.
"I suppose they didn't," Payne said, only laughing slightly.
Then, I asked him if the gaudy numbers were true, if that team really won more than 230 games over its high school years and lost fewer than 10.
"Ask Aaron," Payne said. "He would know."
Now, we know that he would. And probably does.
The Rubik's Cube and the speaking engagements and the Make-A-Wish foundation stuff is all part of his unique legacy, whether Craft understands that or not. Guys just don't do all that. These days, basketball players major in basketball. They're busy. They're under pressure and in demand. Guys just don't get a 3.9 and try to save the world on their off days.
Craft did. Craft has.
He's been very special. And though he neither wants to hear it nor think about the end, it's near. And it's indisputable.
Aaron Craft's career has been unforgettable.
Even if he did really stink that day against Tallmadge.
Follow on Twitter FSOhioZJackson
---