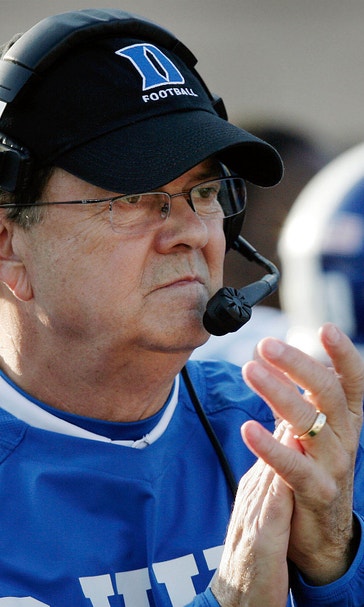 A special look into the life of a Duke grad assistant
BY foxsports • July 4, 2014
This year, a young, energetic Midwesterner who talked a mile a minute broke down tape of the safeties, stopping every so often to look at the assembled media expectantly as they furiously took notes, trying to keep up.
"Does that make sense?" he'd ask, waiting to make sure everyone was still with him.
His energy was simultaneously exhausting and invigorating, but he was certainly memorable. After his segment, Cutcliffe came into the room, beaming with pride at his young protege. He told the room this young man -- graduate assistant Matt Guerrieri -- had a very bright future in this profession.
So how did Guerrieri, who played safety at Davidson College (an FCS school) and graduated just a few years ago, find his way to Duke, after just one year as a graduate assistant at Lenoir-Rhyne, a Division II school?
"I was lucky," Guerrieri said, grinning.
As the old saying goes in sports, though, you have to be lucky and good.
But when it comes to the world of coaching -- a lot of competition for just a few spots each year -- you have to be lucky, good and an extremely hard worker. Guerrieri is certainly all three.
He ended up in the coaches' box while he was on crutches, getting a whole new perspective on the game from up high. Then, when he lost the crutches, he was down on the sideline charting plays. During the week, he'd do his rehab and then go straight to practice to help.
He got one full year of being a starter as a senior, and after he graduated, he stayed on in the spring and did anything and everything the coaches asked him to do -- morning runs with the players, meeting with various players on the team, whatever was asked of him. He knew this was what he wanted to do with his life.
Of course, a lot of other people want to be coaches, too.
Seven of those 15 graduated college in 2010 or later. Just like Guerrieri, they're young, hungry and willing to work their way up the ladder. Every coach has to start somewhere -- even Nick Saban was once a graduate assistant -- and this is where most start.
The good news for Guerrieri and the like is that the NCAA increased its graduate assistant limit from two to four back in 2012. Two can be involved in coaching, and two can't. Right now, there are only three listed on Duke's official website, so the Blue Devils may add more. They had four last year.
Guerrieri's head coach at Davidson, Tripp Merritt (who has since been let go), made some calls for him. He got in touch with former Duke head coach Fred Goldsmith, who was then the lead coach at Lenoir-Rhyne.
Merritt was as far as it went as far as Guerrieri's connections, but he obviously spoke highly of him. That's step one in the process, as you can't even get your foot in the door for interview unless people are willing to vouch for you.
He had some former coaches offer him opportunities at lower levels, like Division III, but he went in for his interview at Lenoir-Rhyne knowing that was the one he wanted. Then-defensive coordinator Mike Houston -- now the head coach at the Citadel -- didn't take it easy on him.
"He just wanted to see how I'd respond to being put under pressure."
Obviously he passed the test, but it wasn't easy. The whole process wasn't easy, even to get on the staff of a Division-II school.
"The biggest competition in any of these things is former players. So there was a lot of former guys at Lenoir-Rhyne," Guerrieri said. "And then you compete with guys coming from, let's say, Division III schools who want to get to a Division II school who may be a full-time position coach, but want to jump in a level and will go to a lower status of being a graduate assistant.
"That's kind of how it happens. So, good competition. And at (the FBS) level, it's crazy competition for these jobs."
Guerrieri knew that. But he also knew he wanted to get to a Division-I staff as quickly as he could. If he was going to do that, he was going to have to work at it. And with very few real connections in the coaching industry, he knew he was going to have a very hard time.
So, he thought to himself, he'd make his own connections.
"I just said, 'hey, as hard as I can work, I'm going to go meet as many people as possible'. So I met the guys (at Duke) obviously when I worked camp," Guerrieri said.
To make himself stand out, he wrote handwritten letters to every staff member he worked with at every single camp. At least 45 letters in total, he estimated.
Guerrieri would work a camp, write the letters in the day or two he had off in between, put them in the mail, then work another one. "A lot of time, long nights, just sitting there, handwritten letters," Guerrieri said.
So yes, he was lucky in that the timing worked out. But he worked plenty hard at it, too.
The work hasn't stopped since he reached his goal, though. In fact, it had barely even begun.
Graduate assistants have to take graduate school classes -- hence the title -- and work towards an advanced degree. That's one serious time commitment. Then there's -- well, everything else a graduate assistant has to do. Which is, all told, a lot.
No one at Duke grilled Guerrieri on his x-and-o knowledge during the interview, but they did grill him on his knowledge of various computer programs. That's because graduate assistants spend a lot of time using them, whether it's the film editing software (DV Sport) or Microsoft Office, making a spreadsheet or a graph or even just drawing the playbook.
"So we're doing all of that, and then we can run all of our data analysis within that system. The've got ways that we can run reports," Guerrieri said. "We get these big charts and graphs that run reports. So when Coach Knowles is making a defensive call, he knows, okay, 80% of the time they run this play out of this formation."
It's an hour per game to do that, Guerrieri estimated. That's on top of, again, a courseload of graduate school work (Guerrieri is working towards his masters degree in Christian Studies), going to practice -- oh, and recruiting.
It doesn't seem like there's enough time in the day for all of this work, which goes on throughout the season and in the off-season. But Cutcliffe is not big on making any of his assistants work insane hours, and the team practices in the mornings anyway. So there's always a time at night when he and the rest of the staff have to go home and get sleep.
"It's busy. You've got to love it, though," Guerrieri said, grinning. "Coach Cut says every day, he'll say 'I never come into work.' He never works. He's like, 'When I start to work, then I'll retire.' It's not work to him. It's not work to me. It's awesome.
"You just have to be smart with your time, invest your time wisely and put in a lot of work. I'm no stranger to hard work, so I enjoy that. I think it gives me a way to try to get an edge and keep on becoming a better coach and building better relationships."
That's all well and good, and Guerrieri's hard work has continually paid off for him. The Duke safeties a year ago had a great year, led by Ohio State transfer Jeremy Cash, who earned Second Team All-America honors. That's reward enough for him.
There's a window, though. The maximum number of years one can be a graduate assistant is three, and even that takes a certain amount of graduate school coursework to get that third year.
As a GA, their coursework is paid for, but they don't make a full-time salary. It's "plenty", though according to Guerrieri -- enough for him to rent an apartment with a roommate, and to live. Even if he wanted to have another job for extra income, there would be no time to do it.
It's all about timing. Guerrieri is entering Year 3, though, and there's no telling what will happen moving forward. So he tries not to look too far ahead.
When he got to Duke in 2012, the Blue Devils hadn't been to a bowl game since 1994. Since Guerrieri's arrival, they've been to back-to-back bowl games and won the ACC's Coastal Division Championship a year ago.
The timing worked out beautifully for him in that aspect, so why wouldn't it keep working out for him? Life isn't always fair, of course, and plenty of assistants toil away in the lower ranks for years and years before getting their chance. But good things tend to happen to people who work hard, and it's clear Cutcliffe likes something about him.
"It's funny. I don't know. I don't know if (Cutcliffe) has ever told me," Guerrieri said, laughing, when asked what that something was. "No, I think it's a willingness to work and do things the right way and take constructive criticism. I'm a young guy. I don't know all the answers in coaching. It's something that you try to learn as much as you can.
"Just try to be a sponge and soak in as much as you can. So I think it's probably been a willingness to learn and a willingness to work that he respects, and thinks that if I continue to do that, then I'll have some success in the business."
---