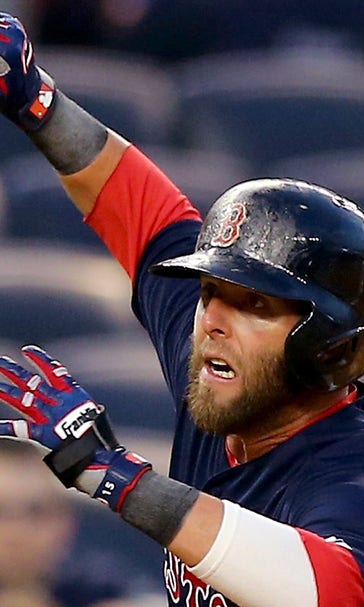 A quieter Pedroia? Say it ain't so!
April 12, 2015

We've had great fun in the media over the years relating stories about Dustin Pedroia's amusingly brash demeanor. But so far this season, he has been a different guy.
Red Sox bench coach Torey Lovullo noted that Pedroia not only was quiet on the bench before the team's opener in Philadelphia, but also restrained in the dugout after both his first and second home runs in that game.
Lovullo, recalling that Pedroia often returns to the dugout after a big hit, shouting, "Daddy's back!" finally asked the second baseman, "Where's daddy?"
Pedroia's unspoken answer: "Daddy" is on a mission. 
Correction: Pedroia is always on a mission, as he reminded me when I asked him about the exchange at Yankee Stadium on Friday.
The difference now is that he's healthy, free of the thumb and wrist ailments that hampered him for much of the past two seasons.
As manager John Farrell put it, there is something "burning" in Pedroia -- a desire to be the hitter he once was. Through five games, at least, the signs are good -- Pedroia is only 6-for-25, but he has two homers, a double and three walks for an .865 OPS.
So, where's daddy?
Pedroia said he plans to be quieter this season and consistent in his approach, knowing he must play 162 games.
OK, I'll say it for him, invoking the prison in his native Arizona that he referenced last season.
He's going to get hotter than Tent City!
---