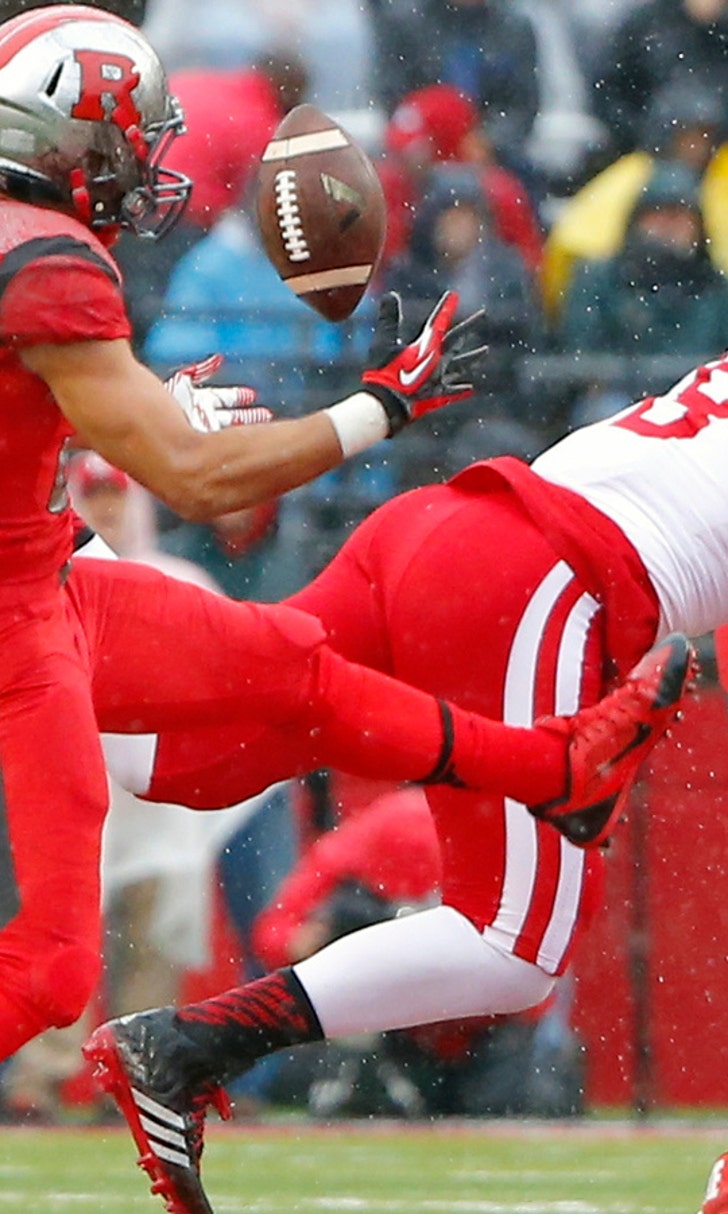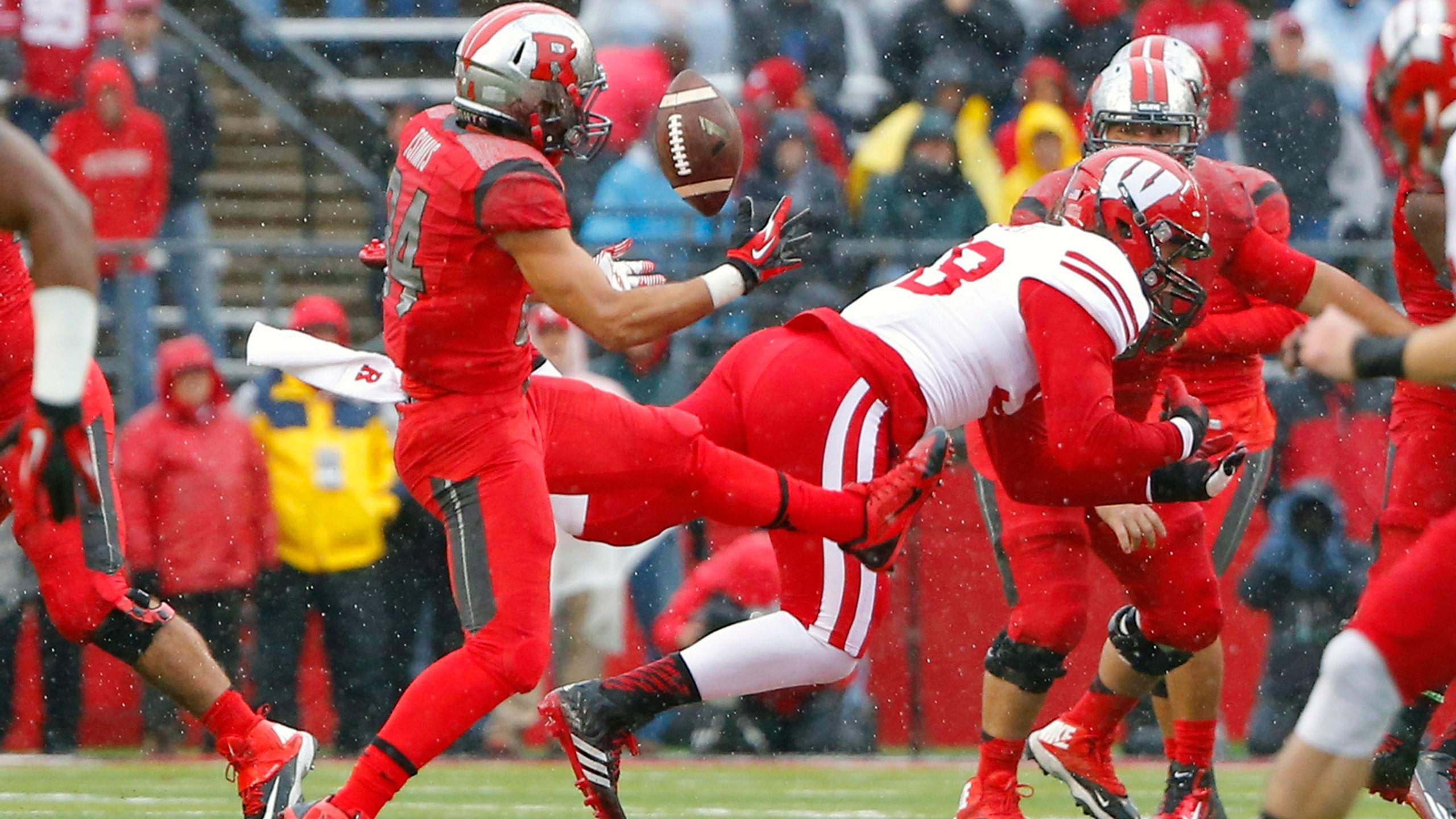 5 things we learned: Badgers at Scarlet Knights
BY foxsports • November 1, 2014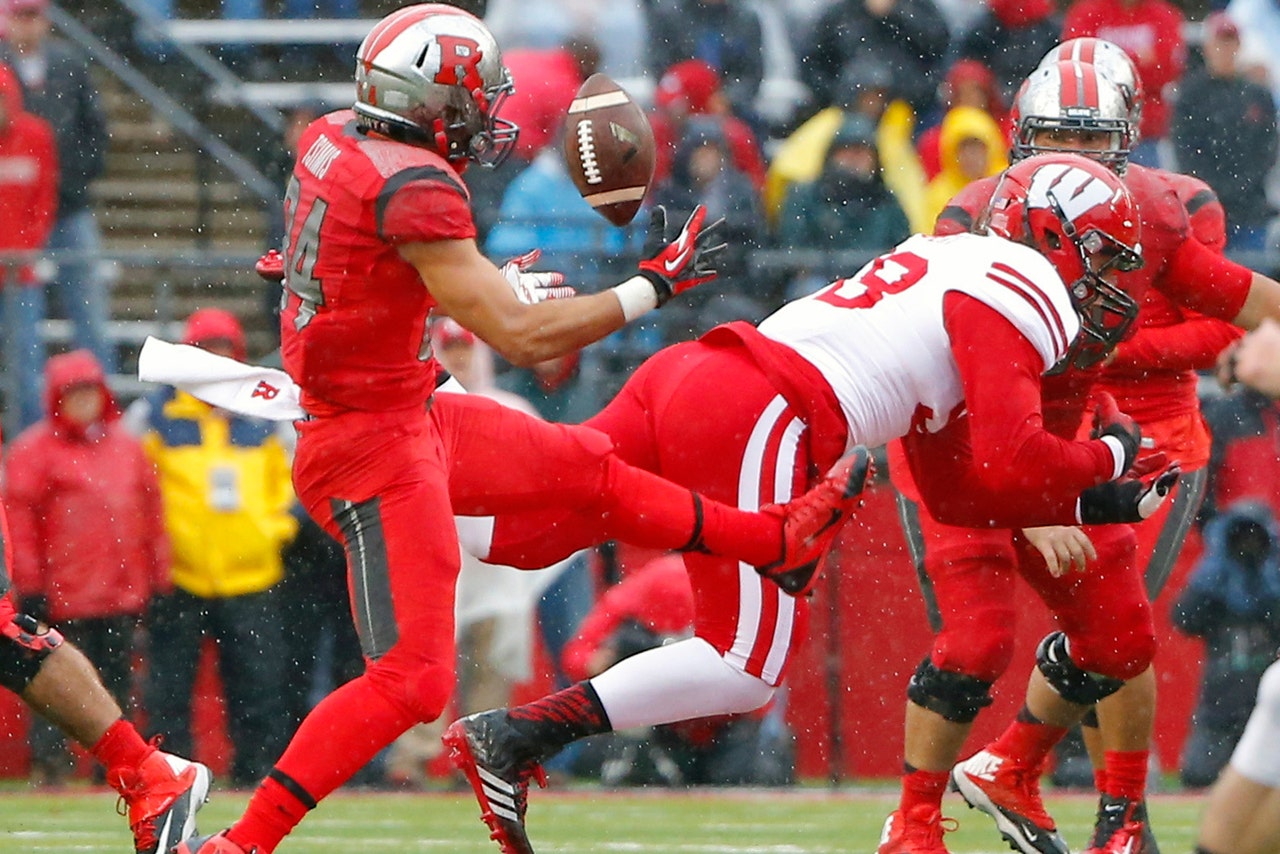 For the second consecutive week, Wisconsin absolutely obliterated an opponent from the Big Ten East. Hey, welcome to the Big Ten, Maryland and Rutgers.
This time, Wisconsin hammered Rutgers 37-0 on Saturday at High Point Solutions Stadium in Piscataway, N.J. That's a combined score of 89-7 against the Terrapins and Scarlet Knights. And someone thought their additions would enhance the Big Ten as a football conference?
Here are five things we learned from Saturday's victory:
1. Wisconsin's defense is playing at an extraordinarily high level
If you thought last week's performance against Maryland was good, consider the stranglehold Wisconsin's defense put on Rutgers. The Scarlet Knights finished with a paltry 139 total yards of offense and averaged 2.5 yards per play. In the first half alone, Wisconsin held Rutgers to two yards or fewer on an astounding 21 of 26 offensive plays.
Saturday's performance marked the first time Rutgers had been shut out since Nov. 23, 2002, against Notre Dame.
"Fantastic job by the defense," said Badgers coach Gary Andersen of his defense following the game on the television broadcast. "They swarmed all day long. They did exactly what they had to do to get the shutout there at the end. It's nice to see the young kids get in there and (be) able to keep the goose egg on the scoreboard. Those kids were prepared again this week and the staff did a tremendous job. It's fun to watch."
Badgers safety Michael Caputo led the charge with seven tackles, linebacker Vince Biegel added five with a sack and linebacker Marcus Trotter tallied four tackles with a sack and an interception.
Wisconsin's defense has allowed 314 yards over the past two games. How good is that mark? Only 11 teams entered the week surrendering fewer yards than that per game.
2. The Bart Houston punter experience continues
Andersen wasn't kidding when he said last week that he'd continue to use Houston, a third-string quarterback, in rugby-style punting scenarios the rest of this season. Houston handled Wisconsin's first three punts, while Drew Meyer -- the guy brought to Wisconsin to punt full-time -- watched from the sideline. Given the poor weather conditions (wind and rain), it made some sense to opt for low line drives that wouldn't hang up in the air.
Still, it's hard to believe Houston finished the game with four punts and Meyer only two. Houston averaged 35.5 yards per punt. Meyer averaged 32.5 yards on his two tries, though one of those attempts was intentionally short to pin Rutgers inside the 10-yard line.
It will be interesting to see if Houston continues to be used as the team's rugby-style punter for the remaining four regular-season games. Field position battles are huge, especially in games that are likely to be close against Nebraska, Iowa and Minnesota. Trusting a quarterback to handle such a big role speaks to the coaching staff's confidence in Houston.
3. Yes, Wisconsin still possesses the best 1-2 running back tandem in the country
This should not come as some great surprise. Wisconsin entered the day ranked second nationally in rushing offense (338.4 yards per game). The Badgers finished Saturday's game below that mark -- 298 yards -- but the play of tailbacks Melvin Gordon and Corey Clement continued to amaze.
Gordon carried 19 times for 128 yards with two touchdowns. His first score was impressive and came on a third-and-3 from the Rutgers 13-yard line. He burst through the middle, juked linebacker Quentin Gause, outran defensive back Lorenzo Waters and hurdled a tackle attempt from defensive back Gareef Glashen before reaching the end zone. Later, Gordon reversed field and scored a 51-yard touchdown to give Wisconsin a 27-0 lead with 13:11 left in the third quarter.
Gordon banged up his left knee trying to catch a Stave pass when tight end Sam Arneson ran into him as he completed his route with 13:04 left in the game. He did not play the rest of the day, but Andersen said Gordon was fine.
Clement, meanwhile, had a happy homecoming in New Jersey. He finished with 14 carries for 131 yards with two touchdowns and scored on runs of 43 and 36 yards. In his last three games, Clement is averaging 128.3 yards per game and appears to have found his rhythm as a complement to Gordon.
4. A.J. Jordan made his presence felt
Jordan hasn't heard his name called much, if at all, this season. But he came up with one of the bigger plays of Saturday's game, racing through the middle and blocking a Rutgers punt to set up Wisconsin's first score.
Jordan blocked the punt at the Rutgers 33, and it caromed off his hands out of bounds at the 20. Three plays later, Gordon scored a 13-yard touchdown to put Wisconsin ahead 7-0 with 2:48 remaining in the first quarter.
Jordan is one of many players in Wisconsin's program to have waited his time to see the field. The redshirt junior began his career as a wide receiver before converting to safety in the past year. This season, he has recorded three tackles but is an integral special teams member. Sometimes, the little plays make all the difference in a game.
5. Wisconsin's passing offense remains an enigma
Just when it seemed as though the Badgers had figured out how to maximize the abilities of both Joel Stave and Tanner McEvoy, they put together a performance that was flat. Of course this team isn't going to throw for 300 yards with a running game as strong as the one Wisconsin has. Nobody is asking for 300-yard games, though. All Badgers fans want is some consistency.
On Saturday, Stave completed 7 of 16 passes for 81 yards with no touchdowns or interceptions. He didn't hit any big play-action passes like he did one week earlier against Maryland, but he also didn't do anything to cost the Badgers in any way. His longest completion went for 24 yards.
McEvoy, on the other hand, really struggled as a passer. He finished 1 of 4 for six yards, and his three incompletions were ugly. First, he missed a deep play-action pass to receiver Alex Erickson, who was open by at least 10 yards down the left sideline. McEvoy overthrew a diving Erickson in the end zone. Later in the drive, he overthrew tight end Sam Arneson.
In the third quarter, McEvoy made a poor throw that was intercepted with 2:50 remaining. McEvoy also ran five times for 20 yards, but his inability to complete more passes continues to frustrate.
"We hit a couple of them last week," Andersen said after the game of the open play-action passes. "We've called them layups all year. Maybe I should change the name to see where it goes. We'll keep working on it. Those kids want to make those plays. The receivers and the tight ends want to catch and the quarterbacks want to get it to them. We'll keep grinding away at it."
Follow Jesse Temple on Twitter
---