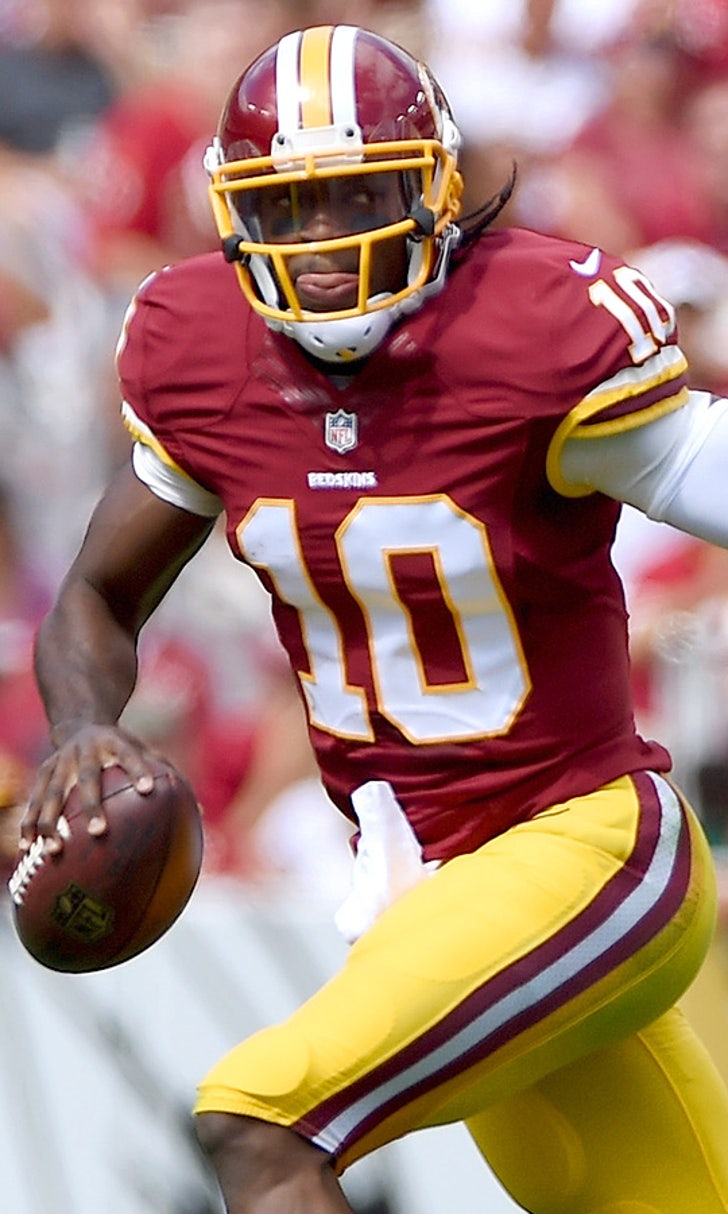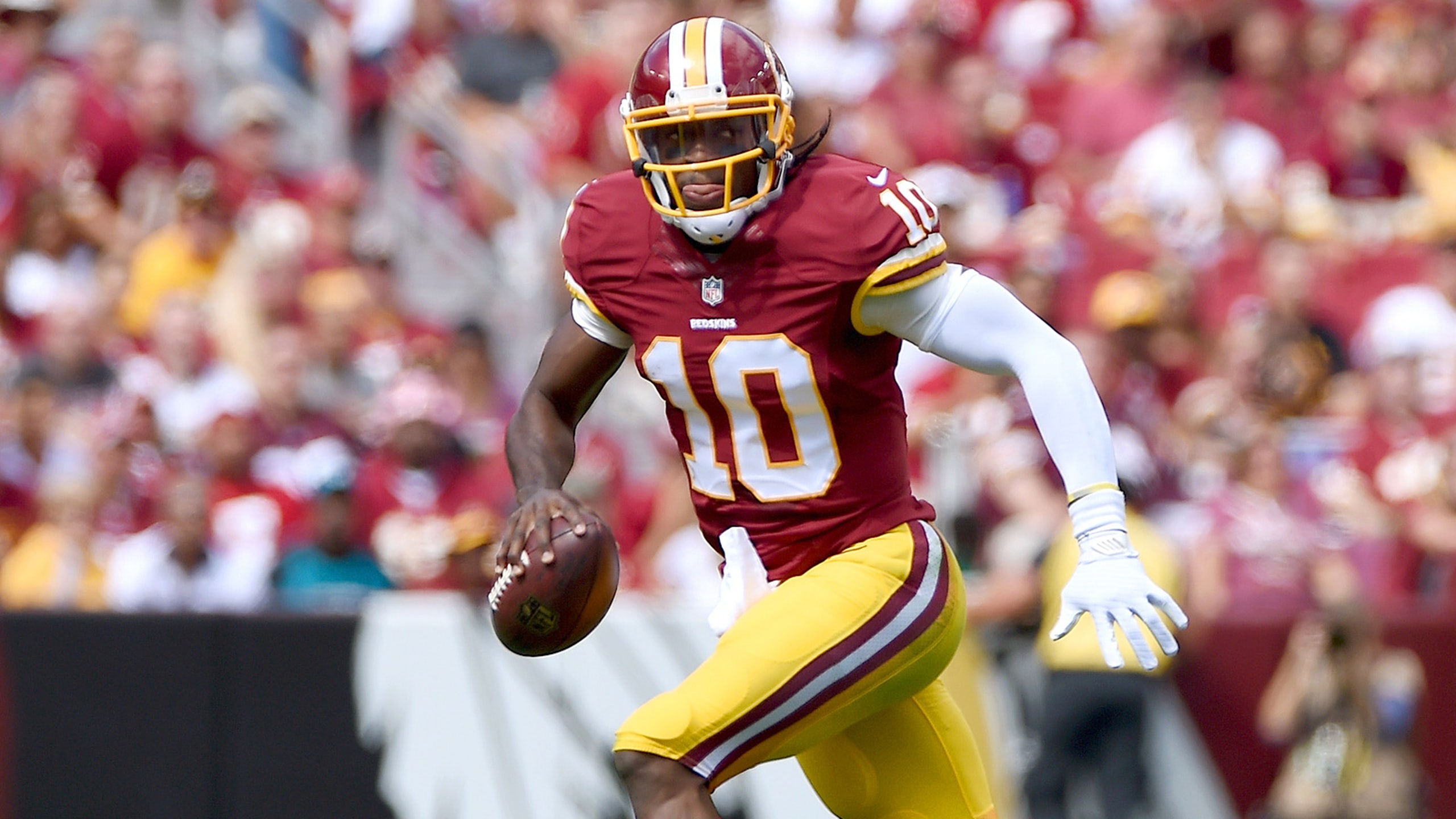 5 things to watch: Redskins at Vikings
BY foxsports • November 1, 2014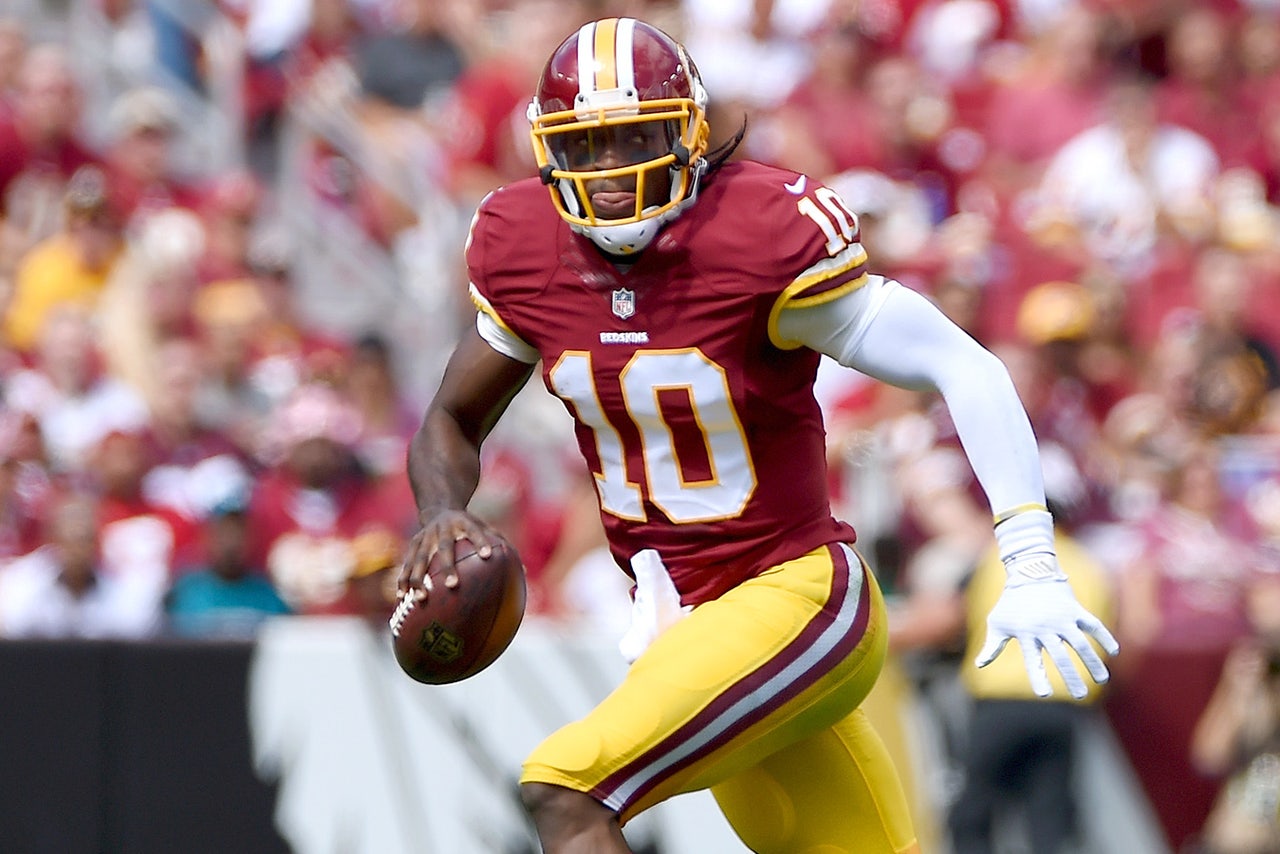 Thanks to Anthony Barr, the Minnesota Vikings returned home this week feeling good and not having to discuss another late-game collapse.
Minnesota is 3-5 and has one game left before the bye to really begin a stretch of positive feelings. The Vikings host Washington (3-5) on Sunday.
Here are five things to keep an eye on during Sunday's game:
1. Questions for the quarterbacks
Entering Sunday, both teams feel they have their long-term quarterbacks in place. At the same time, questions exist for Minnesota's Teddy Bridgewater and Washington's Robert Griffin III.
Griffin returns to the starting role after missing the past six games with an ankle injury. Griffin hasn't been the same dynamic player he was as a rookie because of injuries. After yet another injury to his legs, how will Griffin respond?
Washington has a lot invested in Griffin to make sure he turns into a quality quarterback. Since running for 815 yards as a rookie in 15 games, Griffin has run 513 yards in his past 15 games. In the first two games this season, Griffin accounted for zero touchdowns. Can he recapture the magic and promise of his rookie year?
For Bridgewater, he needs to continue to show he is avoiding mistakes and handling pressure. Bridgewater didn't commit a turnover last week after having five in the previous two games. With the offense struggling to pick up yards, taking care of the ball is even more important. Washington's defense has produced only eight takeaways this season, tied for the sixth-fewest in the NFL.
2. Handling the blitz
Bridgewater will need to be careful with Washington's defense, though. Washington defensive coordinator Jim Haslett has run one of the most blitz-heavy schemes in the NFL this season. Last week, Washington battered Dallas Cowboys quarterback Tony Romo in a win. Washington is tied for ninth in the league with 21 sacks.
Meanwhile, the Vikings have still allowed the second-most sacks in the NFL (28). But Bridgewater was sacked just once last week and showed a knack for getting the ball out of his hands quickly in hurry-up situations. Bridgewater will have to be quick on the trigger again this week.
3. Defense of Washington
Washington enters with the league's seventh-best offense in terms of yards gained. Yet, Washington is 23rd in scoring. The team is gaining 391.9 yards per game but has scored just 21.4 points per game. Washington is fifth in the league in passing despite playing three quarterbacks.
Meanwhile, Minnesota has relied on its defense the past three weeks, a unit which is really coming together under coach Mike Zimmer. The Vikings are ranked eighth in total defense (323.8 yards per game) and are tied for 11th in scoring (21.6 points per game). Minnesota's defense has allowed three touchdowns in the past two games.
If Griffin is slow in his return, it will show. The Vikings defense, second in the league with 25 sacks, will be able to get after Griffin. Running back Alfred Morris hasn't been the same effective runner he was the past two years. Morris is averaging just 3.9 yards per carry. Minnesota's run defense has improved since the loss at Green Bay and gave up just 66 yards on the ground to Tampa Bay last week.
4. Deep speed
Washington's offense isn't without playmakers, at least in name. Morris and wide receiver Pierre Garcon -- who led the league in receptions last year -- are in the midst of down seasons. The newcomer has sparked Washington's offense. Receiver DeSean Jackson is averaging 20.8 yards a catch this year. Jackson has 32 catches for 664 yards and three touchdowns and is doing just what he did in Philadelphia the past several years -- taking the top off the defense.
There are few receivers in the NFL who can stress a defense as much as Jackson with his ability to run past defensive backs and make long catches. Jackson has nine catches of 20 yards or more this season, tied for 10th in the league. He leads the NFL with four catches of 50 yards or more this season.
Minnesota's starting cornerbacks will be tested deep. But the Vikings have allowed the 10th fewest pass plays of 20 yards or more this season, giving up 22 such plays.
5. Williams vs. Griffen
When Jackson is lined up with Minnesota cornerback Xavier Rhodes, it will be an exciting matchup to watch. Perhaps just as interesting will be Vikings defensive end Everson Griffen, the reigning NFC defensive player of the month, going up against Washington's two-time Pro Bowl left tackle Trent Williams.
Griffen can't get away from his responsibilities in Zimmer's scheme, but no two players are playing better at their position right now than Griffen and Williams. Griffen is third in the league with eight sacks, which already ties his career high.
According to Pro Football Focus, Williams has allowed one sack all season and just six quarterback hurries. Williams is Pro Football Focus' fourth-highest graded tackle this season.
Follow Brian Hall on Twitter
---