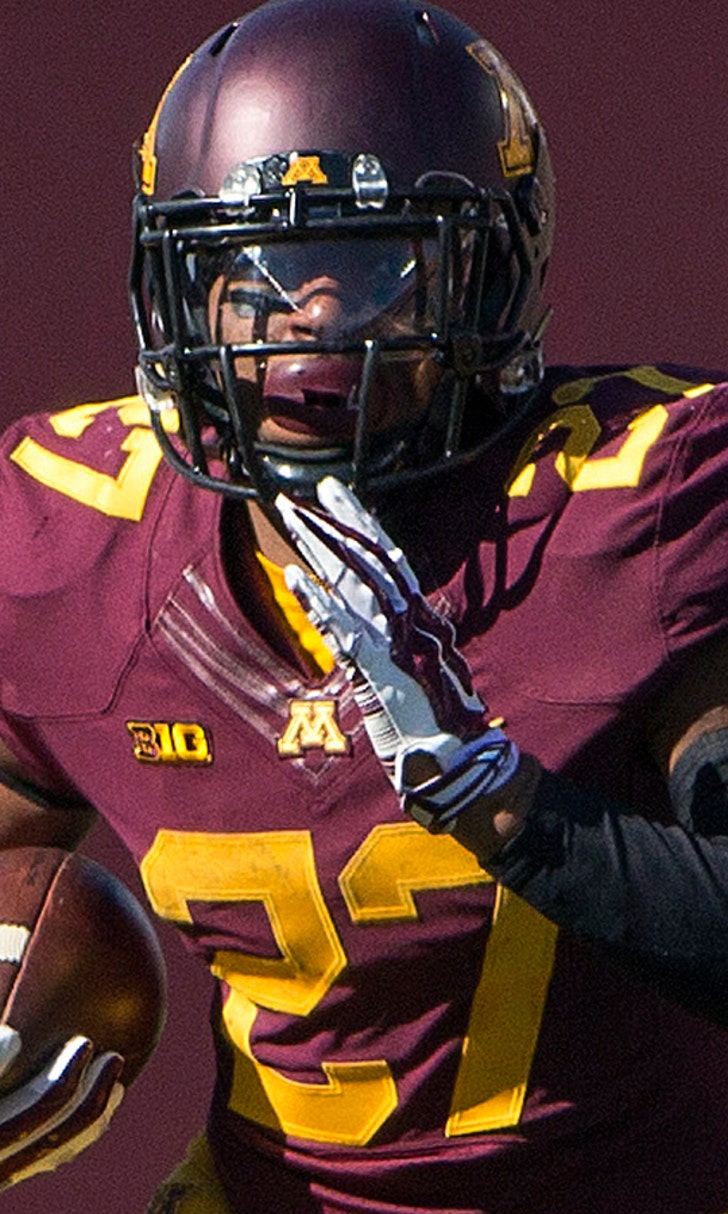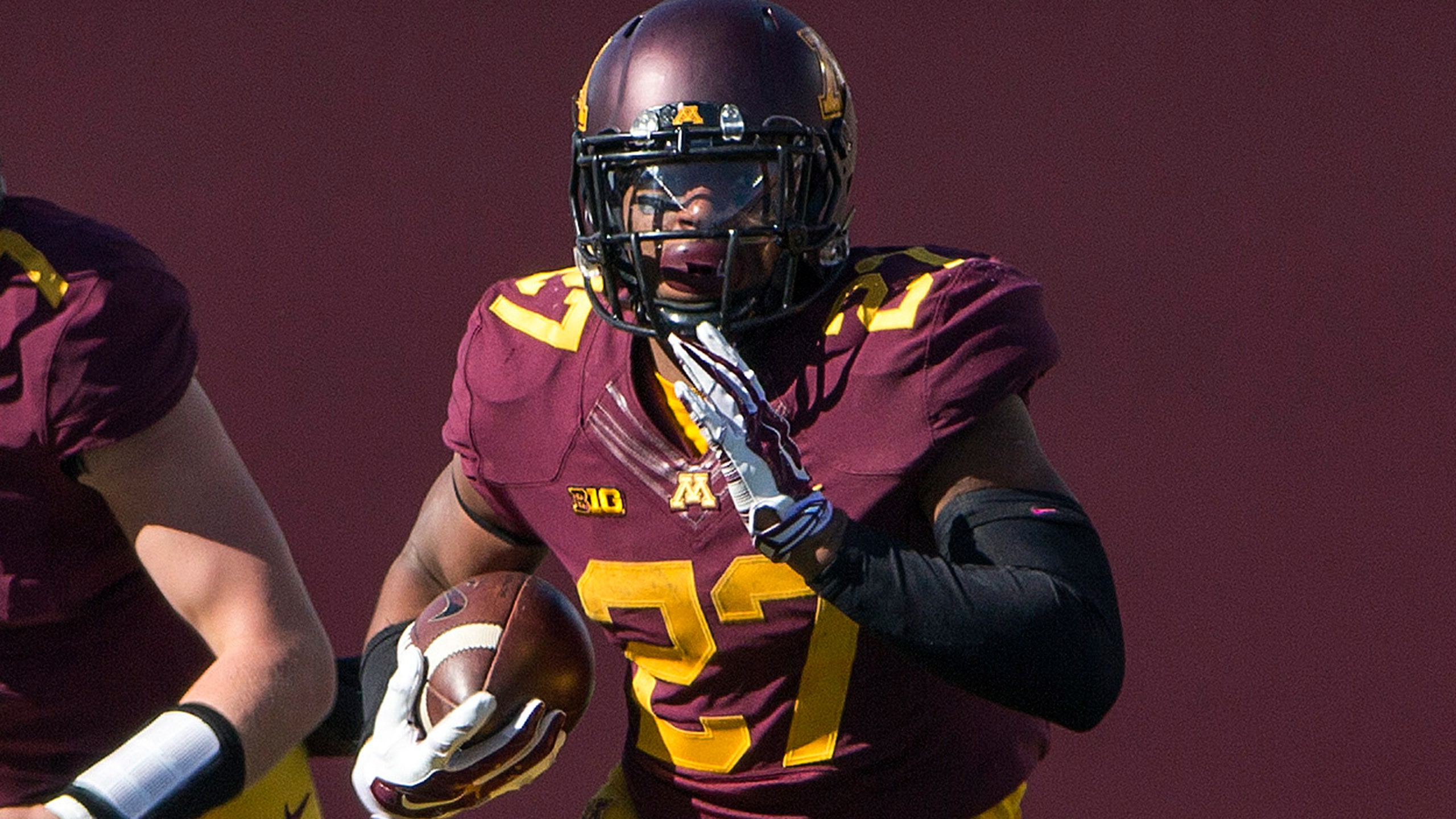 5 things to watch: Gophers vs. Illini
BY foxsports • October 24, 2014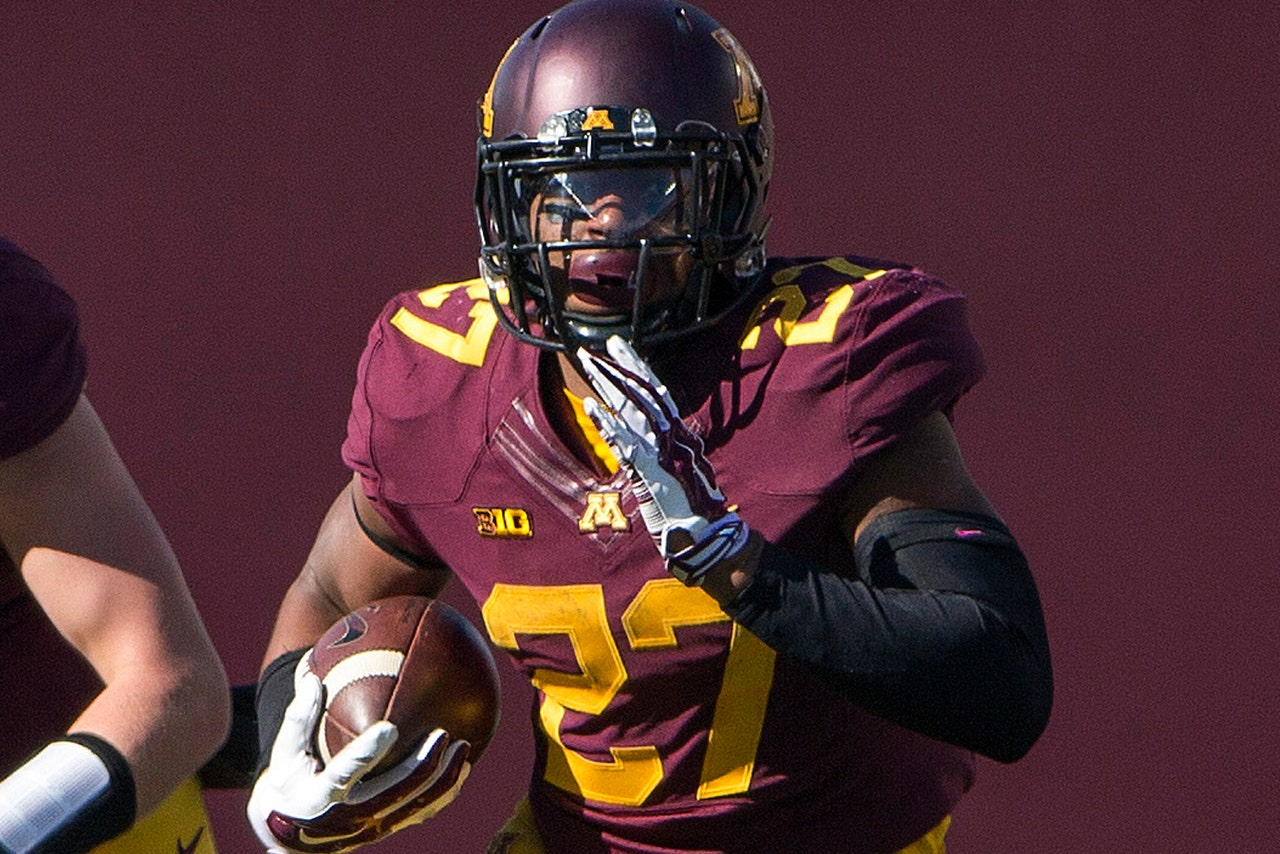 MINNEAPOLIS -- The University of Minnesota football team continues to find ways to win. After last week's one-point victory over Purdue, the Gophers are now 6-1 and in first place in the Big Ten West. Minnesota looks to improve to 4-0 in conference play when it takes on Illinois this weekend. Here are five things to watch when the Illini host the Gophers on Homecoming.
1. Can the Gophers avoid another slow start?
Many expected Minnesota to win -- and win easily -- at home against Purdue last weekend. While the Gophers did win, it didn't come easy. Minnesota's defense uncharacteristically surrendered 31 points by halftime, which was more than it had allowed in an entire game before that point. The Gophers eventually did make some second-half adjustments, though, and held the Boilermakers to seven points after halftime en route to a 39-38 come-from-behind win. Facing an Illinois team that can move the ball and put up some points, Minnesota can't afford to get off to another slow start, especially on the road. Even though the Illini have had their struggles and are 0-3 to start the Big Ten season, the Gophers won't want to tempt fate two weeks in a row by trailing early. Expect Minnesota to set the tone right out of the gates as it looks for its second road win of the year.
2. Another test for Minnesota's secondary
The Gophers' defense has been solid for much of the season, and that includes the secondary. Minnesota has allowed just one 300-yard passing game all year. Illinois, meanwhile, has had two games of 450 or more passing yards as the Illini boast the top passing offense in the Big Ten (304.6 yards per game). The Gophers' secondary gave up a few big plays last weekend against Purdue and was burned on a screen pass that went for big yardage and a touchdown for the Boilermakers. Still, Minnesota held Purdue to 153 passing yards to eke out a one-point win. In its two 450-yard passing games, Illinois attempted at least 50 passes each time. The Gophers have seen 50 pass attempts twice this year, with mixed results. Western Illinois threw 57 times for 310 yards and two touchdowns in the season opener against Minnesota, while Northwestern needed 50 attempts to get 269 passing yards. If the Gophers can limit Illinois' passing game, Minnesota's defense should be in pretty good shape.
3. The tale of two quarterbacks
For really the first time all year, the Gophers will be facing a two-quarterback offense. Michigan used both Shane Morris and Devin Gardner when Minnesota won earlier this year in Ann Arbor, but Gardner wasn't used until late, after Morris was both dinged up and struggling. Illinois, meanwhile, will likely use both Reilly O'Toole and Aaron Bailey at quarterback in Saturday's game. The Illini did that last time out against Wisconsin, as Bailey entered in the fourth quarter and wound up rushing for 75 yards. O'Toole is definitely more of the passer in that twosome, but Illinois coach Tim Beckman said earlier this week that both quarterbacks will play. In seven games this year, O'Toole has thrown for 524 yards, three touchdowns and four interceptions while completing 55.3 percent of his passes (42 for 76). Bailey, who made his season debut against Wisconsin, attempted just five passes in that game and has just 10 attempts in his career. But he ran for 83 yards on 20 carries last season as a freshman and had 75 yards on 12 carries against the Badgers. It will be interesting to see how Illinois uses both quarterbacks throughout the game.
4. David Cobb must be licking his chops
Cobb, Minnesota's senior running back, is currently fourth among all Big Ten players in rushing yards per game (144.7). His 1,013 rushing yards rank fifth in the nation, a testament to how good the Big Ten's running backs are. Cobb has a chance to pad his stats a bit this Saturday as he goes up against the worst rushing defense in the conference. Illinois has allowed a whopping 271.1 rushing yards per game this year, almost 80 yards per game more than the next-worst team (Maryland at 198.3). Wisconsin had two backs -- Melvin Gordon and Corey Clement -- top the 100-yard mark two weeks ago against the Illini. One game before that, Purdue's Akeem Hunt racked up 177 rushing yards against the porous Illinois defense. And Nebraska's Ameer Abdullah, who's currently fourth in the country in rushing yards, ran for 208 and three touchdowns in a win over the Illini. In fact, Illinois has allowed at least one 100-yard rusher in six of its seven games this year. Now it's Cobb's turn to try to rack up the yardage, as the Gophers will surely give him the ball early and often on Saturday.
5. Is 7-1 on the horizon?
With last Saturday's win over Purdue, the Gophers became the first Big Ten team to become bowl eligible by improving to 6-1 overall. Minnesota is now 3-0 in the Big Ten for the first time since 1990, and Saturday's game against Illinois is one that, on paper, the Gophers should win (Las Vegas has Minnesota as 5.5-point favorites). A victory Saturday would lift Minnesota to 7-1 for the first time since 2008. Perhaps more notably, it would give the Gophers a 4-0 record in the Big Ten, something the program hasn't achieved since 1967 -- the last year Minnesota won the Big Ten. Given what lies ahead on the Gophers' schedule (games against Iowa, Ohio State, Nebraska and Wisconsin), a 7-1 record would give Minnesota even more confidence and momentum heading into the final stretch of the season.
Follow Tyler Mason on Twitter
---